Wahoo KICKR vs Tacx NEO Smart Bike Comparison | Ultimate Indoor Endurance Trainers
Should you get an indoor smart bike? We compare Tacx NEO Bike Smart vs Wahoo KICKR.
---
Because you want a realistic, highly accurate indoor cycling experience, it's time we compared the Tacx NEO Bike Smart with the Wahoo KICKR BIKE!
Now that indoor training bikes are smart, can simulate the feel of an outdoor ride down to road surface vibration, inclines, super reliable metrics, and let you explode into sprints while not freaking the whole house out (they're crazy silent!), folks are buying them up! When the season, weather, or any variety of obligation means that you've got to find a way to get your cycling endurance training done inside, you want the next best thing to the real outdoor deal! And Tacx and Wahoo fit the bill, and then some! But which smart bike trainer should you buy? We cover all the details below—so let's ride!
---
The Tacx NEO Bike Smart Trainer
Tacx NEO Bike Smart Trainer Indoor Ride Features
Take your training indoors with realistic ride feel and highly accurate data with these Tacx NEO smart bike features:
Ride like outside with Dynamic Inertia that controls mass inertia and compensates for weight, speed, and angle of inclination.
Road Feel works with Tacx software or the Zwift app to make your trainer vibrate and simulate riding on different road surfaces, such as cobblestone and gravel.
Get ultimate immersion while you ride. Gear feel mimics the sensation of your chain jumping into a different gear. When connected to an external power source, descent simulation accurately simulates a downhill drive.

Analyze your pedaling technique and develop a more effective stroke as the NEO Bike Smart trainer measures the position of your left and right legs.

Keep track of your performance and progress with reliable, consistent measurements—no calibration needed. Power, speed, and cadence are measured accurately within 1%.
Go ahead and explode into sprints! The well-balanced design of NEO Bike Smart ensures maximum stability, even up to 2,200 watts.
Climb away! Train on realistically simulated inclines up to a 25% gradient.

Smart technology and the internal design of NEO Bike Smart ensures that you won't wake the whole house on those early morning or late night indoor rides. It's super-silent!

Customize your bike by adjusting the pedal, saddle, (tri) handlebar, bar tape, and crank lengths. It can even be set according to the exact settings of your road or tri bike.
Indoor Cycling Training Options
Get crazy compatibility! NEO Bike Smart communicates via BLUETOOTH® Smart technology and ANT+® FE-C protocol, working with a number of popular training apps such as TrainerRoad and Zwift.

Go stand-alone if you want. When not connected, the Tacx NEO smart bike will simulate a flat road; the faster you ride, the higher the resistance.

Enjoy Tacx software and track your performance on your Garmin bike computer—NEO Bike Smart can connect to multiple devices simultaneously!
Explore a library filled with more than 100 high-quality, real-life videos that let you experience the rush of riding the steep hills of the Alps or the cobblestone roads of Milan.

Meet your race goals with structured training plans designed for your fitness level. Race live opponents, upload GPS data, ride with 3-D maps, and more!

Stay smart and keep cool with a 4.5" display that has USB chargers so you can power up your devices. Built-in interactive fans are automatically controlled by your power and heart rate.
Tacx NEO Equipment Specs
Physical dimensions: 54.7" x 29.5" (1390 x 750 mm)
Height: 46.1" (1170 mm)
Weight: 110 lbs (50 kg)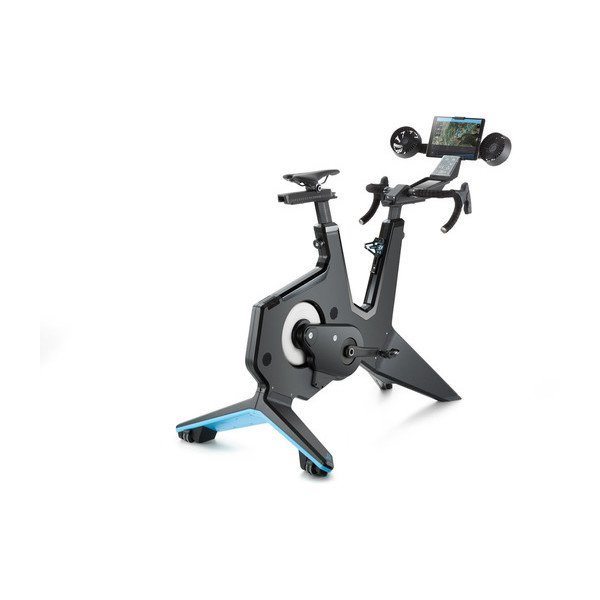 ---
Wahoo KICKR Smart Indoor Bike Ride Features
Blur the line between virtual and reality during you indoor training experience with these Wahoo KICKR BIKE smart trainer features:
The Wahoo KICKR BIKE Experience
Get accuracy, responsiveness, and realism on your indoor ride with KICKR optimized flywheel technology.

Get a virtually silent riding experience from the balanced, belt-driven motor.

When connected to your smartphone, tablet, or computer, the Wahoo KICKR BIKE auto sets your resistance via your favorite app or software.

The KICKR BIKE flywheel and enhanced motor is an innovative technology that emulates the power and inertia experienced during outdoor riding. It provides the most realistic ride feel especially when using virtual riding/training platforms like SYSTM, Zwift, and TrainerRoad.

The KICKR BIKE simulates grade changes in real-time by not only providing changes in resistance, but also physically raising and lowering the bike to match ascents up to 20% and descents as steep as -15%.

Get power accuracy that provides power measurement of +/- 1% and generates up to 2200 watts of resistance.

 

KICKR stays accurate—no need for a calibration procedure.

The Wahoo app gives you guided instructions on how to set up the KICKR bike and personalize the fit to mirror your outdoor bike using 3 options—professional fit, measure my bike, and measure my body.

Adjust the fit of the KICKR BIKE with easy access quick-release levers across 5 points—stack, reach, setback, saddle height, and frame height.

A combined electromagnetic flywheel and motor allow for quick braking to create a precise feel while shifting and riding downhill.
Indoor Cycling Training Options
ANT+ and Bluetooth capabilities allow it to connect to both smartphones and GPS devices simultaneously or separately.

KICKR BIKE supports up to three simultaneous Bluetooth connections for a trouble-free start to your workout.

The control unit on the KICKR BIKE contains an lock/unlock button, which allows you to turn on and off the physical tilt control of an app while still allowing the app to control the resistance.

Get info quick during your ride with the LED display that indicates gear selection and grade percentage.

Get speed, distance, power, and cadence on your indoor ride on the KICKR BIKE without connecting any extra sensors.

KICKR HEADWIND brings innovative climate control to your indoor training experience. Pair to your KICKR BIKE and as your speed or heart rate increases, so will the fan speed.

Connect the KICKR BIKE to any ELEMNT Bike Computer to relive rides or perform planned workouts.

Works with popular training apps such as SYSTM and Zwift.
Wahoo KICKR BIKE Equipment Specs
Physical dimensions: 54" x 14" x 35" (1350 x 340 x 880 mm)
Weight: 93 lbs (42 kilograms)
---
The PlayBetter Bottom Line
We recommend ...
Both of these smart bikes for indoor endurance training are top of the line with smart features that shine.
But, in a nutshell, with the Tacx NEO coming in at $300 less, you get a more stable bike with super realistic ride feel technology that pushes it a bit beyond the KICKR.
For that and the compatibility of the brilliant Garmin bike computers we're in love with to round out the whole ecosystem, we recommend the Tacx NEO Bike Smart trainer.
If you would rather bring your outdoor bike in to train, check out our Tacx smart indoor bike trainers below!