Best GPS Golf Watches Under $250 | Bushnell ION EDGE vs Garmin Approach S12 vs Shot Scope V3

We Compare the Best Affordable Golf GPS Watches from Bushnell, Garmin, and Shot Scope!

For all you golfers out there who just want a wearable made exclusively for golf, we're comparing the best GPS watches under $250! You go to the course to escape the daily grind, not bring it with you. You didn't come here to check your email or your heart rate ... So why pay for all the added fluff when all you want is accurate distances and knowledge about the course and your shots? But who makes these precise golf gadgets with golfing features you can trust? Only some of the biggest names in golf like Bushnell, Garmin, and Shot Scope. In this article, we compare 3 easy-to-use, easy-to-read, highly affordable, all-about-golf GPS watches: The Bushnell ION EDGE, the Garmin Approach S12, and the Shot Scope V3. Read about each GPS watch in their sections and compare golf watch features, styles, and prices in our comparison table below!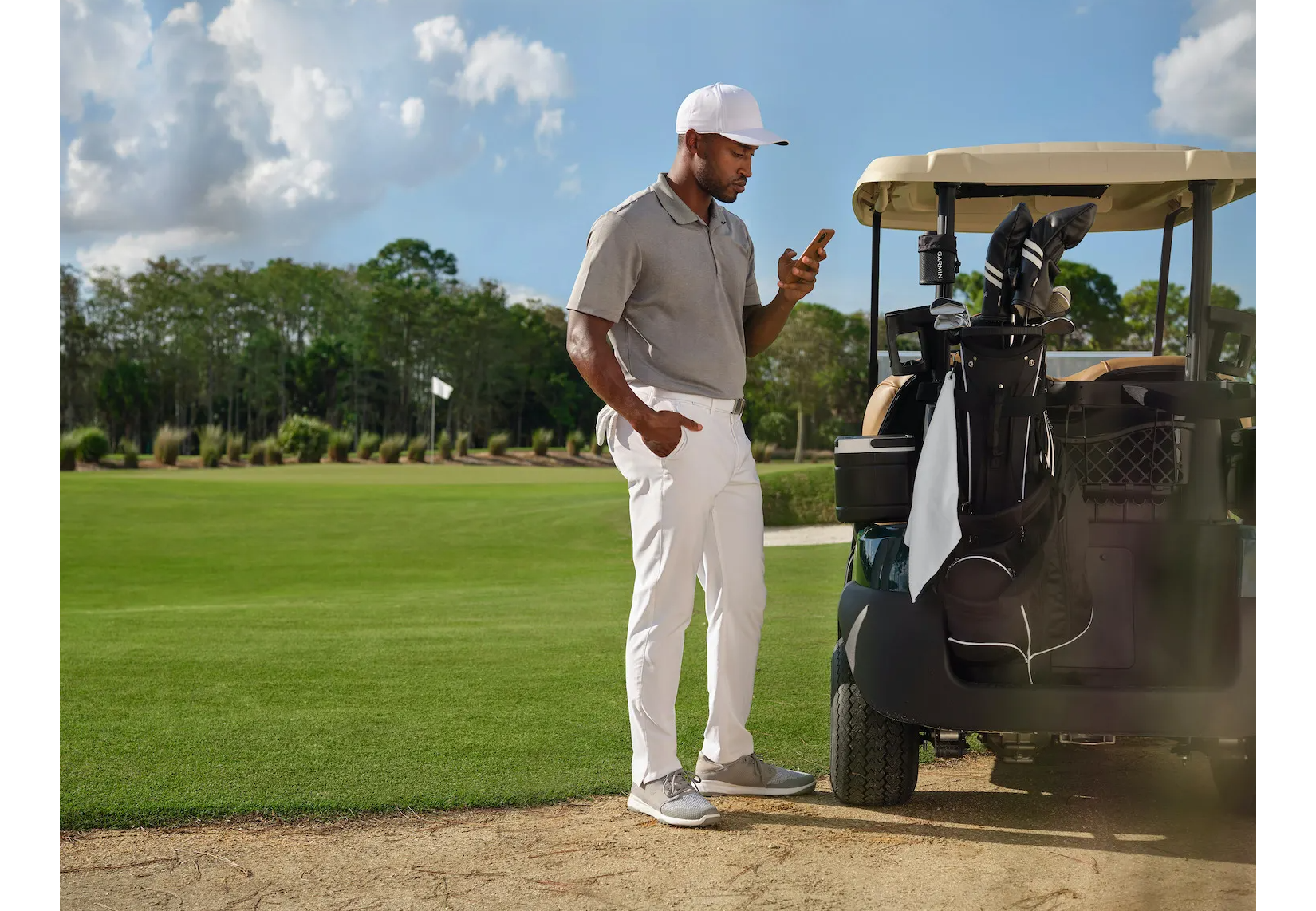 ---
---
Features in Common for These Golf GPS Watches Under $250
Displays That Make It Easy!
The Shot Scope V3 and Garmin Approach S12 offer easy-to-read screens, even in bright sunlight, while the ION EDGE comes with an easy-to-use touchscreen.
Easy-to-read Front, Middle, & Back Distances!

All of these affordable GPS golf watches offer accurate, easy-to-read distances to the front, center, and back of the green.
36,000+ Preloaded Courses
Worldwide!

These golf GPS wearables are stuffed with preloaded golf course maps from all over the world: 36,000+ (Shot Scope V3), 38,000+ (ION EDGE), or 42,000+ (Approach S12).
Don't just get distances to where you want to go; get the yardage to where you don't want to end up too!
The Garmin Approach S12, Shot Scope V3, and Bushnell ION EDGE all feature score-keeping and stat tracking.
Battery Life for the Golf Life!
Get more rounds in with these watches that have advanced battery life, even in GPS mode!

AFFORDABLE GPS GOLF WATCHES:
Bushnell ION EDGE vs Garmin
Approach S12 vs Shot Scope V3


The Bushnell ION EDGE Golf GPS Watch
The Bushnell ION EDGE is a golfer's watch. You want something specifically for your golf game that is super easy to use, ultra accurate, and isn't weighed down by a million features and modes and settings (and price tag of only 149.99!) that have nothing to do with golf.
Get more time on the course between charging with longer battery life—15+ hours compared to the previous ION2 Bushnell golf watch. The ION EDGE GPS golf watch also has a NEW touchscreen display. Now you can cycle through your golf features with ease, which include GreenView with moveable pin placement, Dynamic Green Mapping with front and back distances shown based on a golfer's line of play, a super handy shot distance calculator, and auto hole advance. Get up to six hazard distances per hole, plus 38,000+ preloaded courses worldwide. And with the Bushnell Golf App that is free with your purchase you get access to hyper helpful features like Hole Layouts with Distances and 3D Flyovers with Distance! With auto course recognition, the course shows up on your ION EDGE GPS watch as soon as you show up, with auto course updates via the Bushnell Golf App.
The Bushnell ION EDGE is for golfers who want a strictly golf GPS watch that will help them dial into distances and improve their club selection and shots.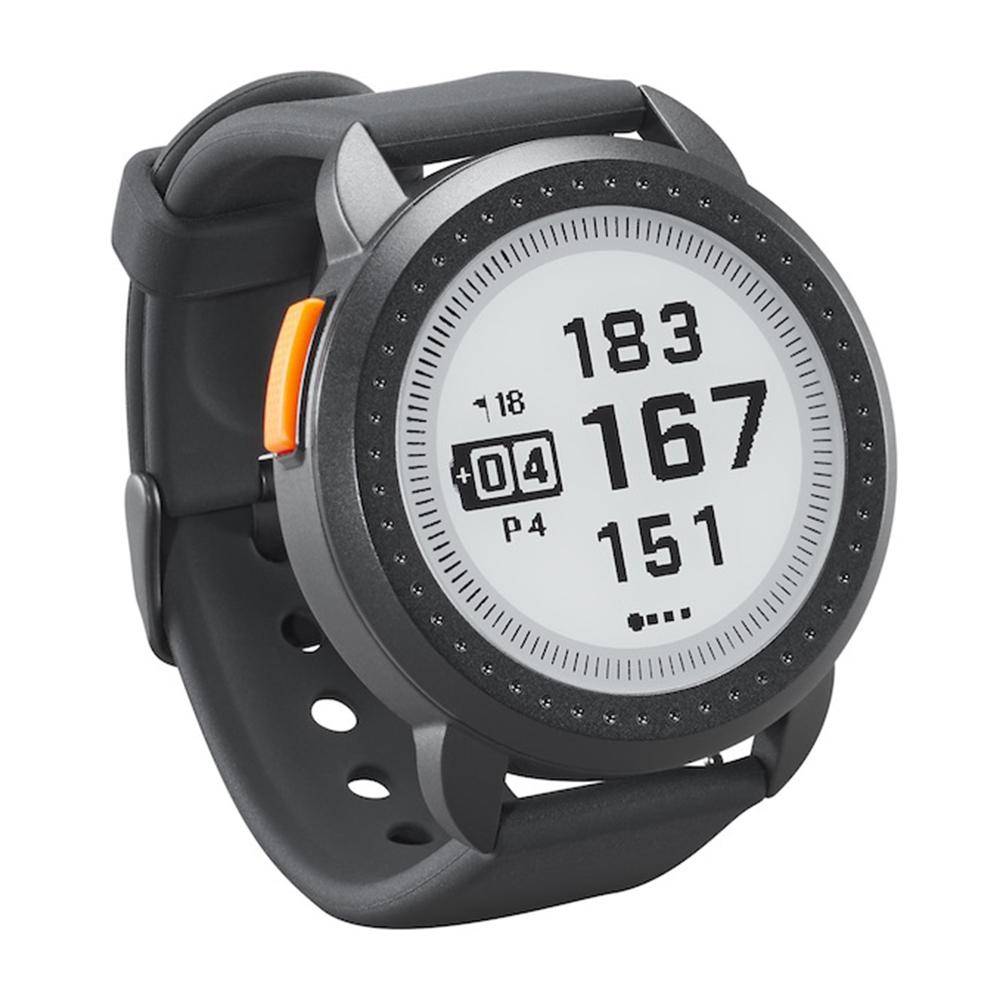 ---
The Garmin Approach S12 GPS Golf Watch
Keep it simple on the course with the Garmin Approach S12 GPS golf watch. For a very reasonable price of $199.99, you get nothing but you and Garmin's fundamental golf technology on the green all day.
On even the brightest days, the S12's sunlight-readable screen will connect you with your favorite on-course features. Use Garmin's convenient digital scorecard. Get ultra accurate, easy-to-read distances to the green—front, middle, and back. Locate hazards and doglegs and know how far they are. And you can do all of this on over 42,000 courses worldwide with S12's preloaded maps of golf courses. Just jump on the course and the Garmin Golf app will auto-search your course.
The Approach S12 weighs only 1.2 oz and is water resistant (5 ATM). Plus, you'll get a whopping 30 hours of power from this Garmin battery in GPS mode (10 weeks in watch mode!). Want more options for your game? Pair the Approach S12 with the Garmin Approach CT10 club tracking sensors (sold separately) to get more stats on your clubs. Pretty impressive for the most basic watch in the Garmin Approach lineup!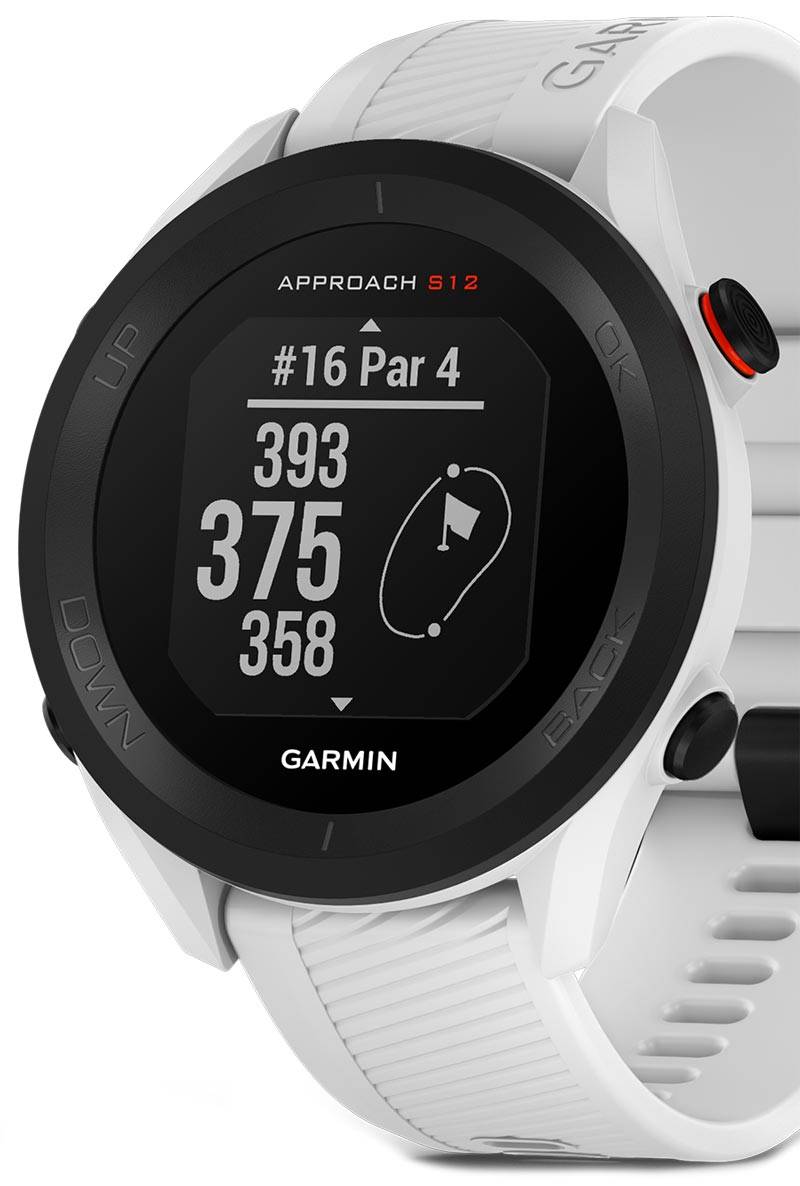 ---
---
The Shot Scope V3 GPS Watch for Golf
Shot Scope V3 is an advanced, strictly golf, GPS watch for a not-so-advanced price of $219.99. This all-golf wearable comes with built-in automatic shot tracking and statistics platform. Front, center, and back GPS distances and hazards are clearly visible on the daylight readable color screen, while the Power-Sense strap and tracking tags ensure every shot is recorded automatically while you play.
After your round, upload and analyze over 100 statistics on your game with the free mobile app and web dashboard statistics platform, including strokes gained analytics. Complete with over 36,000 preloaded courses worldwide and no additional costs or subscriptions, Shot Scope V3 is a golf GPS watch loaded with features that can help you improve your game!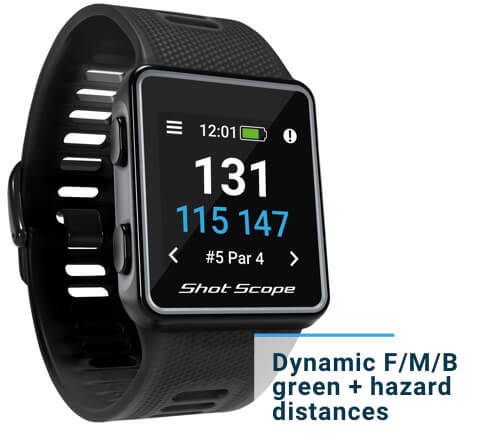 ---
WE RECOMMEND ...
The Bushnell ION EDGE for golfers looking for the best deal! It's a legit golf GPS watch from one of the biggest names in golf that takes the reins when you step on the course—for a minimal dent in your budget!
The Garmin Approach S12 GPS golf watch for golfers who like to keep their budget and game clean and focused. Choose the Approach S12 and be confident that you are getting accurate golf features and high-quality materials and technology made easy.
The Shot Scope V3 GPS watch for golfers who want some pretty impressive high-end features in a wearable made simply for the golf course for a not-so-high-end price!
---
COMPARE ION EDGE & APPROACH S12 & SHOT SCOPE V3
Bushnell ION EDGE
Garmin Approach S12
Shot Scope V3

Black, White & Granite Blue

Round Touchscreen Display

Round .9" Sunlight-
Readable Display

Square, 1.3" Diagonal Display

Watch mode: Up to 10 weeks
GPS mode: Up to 30 hours

GPS Mode: 10+ hours
Watch Mode: 10+ days

GreenView with moveable
pin placement
Dynamic Green Mapping with
front and back distances shown
based on golfer's line of play

Shot distance calculator

Up to six hazard distances per hole

Auto course recognition

Auto hole advance

Scorekeeper w/ Basic Stats

Hazard/layup distances

38,000+ Worldwide Courses

Accurate easy-to-read back,
middle, front green
distances + hazards
Bushnell Golf app free
with purchase

42,000+ Worldwide Courses

Accurate Back, Middle, Front
green distances

Digital scorecard

Bluetooth smart connectivity

Yardage to doglegs/layups

Measure shot distance

Stat tracking

Auto coursview updates

Greenview with manual
pin position

Hazards and course targets

Round timer/odometer

Automatic club
tracking compatibility

1-Year Garmin Warranty

36,000+ Worldwide Courses

Dynamic back, middle, and
front green distances

Strokes Gained analytics

16 tracking tags with smart
GPS chip for automatic
club recognition
Every shot is plotted on
a map of the course
Front & carry distance
for every hazard

Measures the last shot distance

Interactive features; Medals,
Leaderboards and Course Hub
Free mobile app and web
dashboard statistics platform

3 golf modes

Statistics on Tee Shots, Approaches,
Short Game, Putting, Scoring
and full round/season
Over 100 statistics that can be
broken down by lie type, distance,
club used, proximity, round, season
and much more

Free 2-Day Shipping


Free 60-Day Returns

PlayBetter Customer Service

Free 2-Day Shipping


Free 60-Day Returns

PlayBetter Customer Service

Free 2-Day Shipping


Free 60-Day Returns

PlayBetter Customer Service
---