Is Orange Whip the Best Golf Swing Trainer?
Find Your Golf Swing with the Orange Whip Trainer — The Best Golf Swing Trainer!
There are many golf training aids out there. But how do you know which is the best golf training aid? That depends on where you want to improve. If you are trying to find your swing, we think the Orange Whip might be the best golf swing trainer available. After all, it has been voted the #1 teaching and training aid by PGA and LPGA professionals. You will see the orange ball sticking out of many a bag on the pro tours.
Orange Whip was created by PGA pro, Jim Hackenberg, who was determined to find a way to convey the "feel" of the golf swing motion to his students—amateurs and pros alike.
If you want to get out of your head and back in your swing, read on about what makes the Orange Whip one of the best golf swing trainers and then get one in your workout and you warmup—right here on the PlayBetter Golf Store, where you get FREE 2-day delivery and FREE 60-day returns!  
Watch this video on how to use the Orange Whip swing trainer and for Orange Whip trainer drills!
---
---
3 Reasons to Get the Orange Whip Trainer for Your Golf Swing!
Bring Tempo, Timing & Balance to Your Swing!
The Orange Whip golf swing trainer will help you feel and learn golf swing motion by teaching you to swing in rhythm while maintaining your balance.
Strengthen your golf muscles, especially your core. The weight and swinging of the Orange Whip causes you to engage your abs and sync your whole body in your swing.
Get warmed up on the course before a round. Because the Orange Whip trainer is much heavier than a regular club, just a few swings can have your muscles nice and loose. The pros trust it, and so do we!
---
The idea of the Orange Whip swing trainer developed from the need for students to learn the athletic golf swing motion. It consists of three key parts: a weighted orange ball, a counterweight, and a very flexible shaft.
In place of the club head, the orange ball allows you to focus on swinging naturally without worrying about the position of the club face. It's weighted to promote a fluid swinging motion rather than a choppy, hitting motion. The counterweight balances the Orange Whip trainer, stabilizing your swing throughout.
The unique bendy shaft, forces you to swing in rhythm, causing your arms, upper body, and lower body to synchronize. The result is a swing that is balanced and has a tempo that promotes more consistent shot making on the course.  
The Orange Whip golf training aid is available in four sizes:
---
Find Your Swing with the Orange Whip Golf Trainer
You need to "feel" your golf swing. What's one of the first things that needs to happen: That metal club needs to flow freely.
Imagine if you simply let a club twirl in your hand, allowing centrifugal force to cause it to make its circular path. Then imagine gripping it with your hand and try to intentionally move it in a circle with your hand ... you would lose most of the force that was generated naturally thanks to physics.
The Orange Whip lets you practice swinging freely, without thinking about hitting, in order to find that more effortless, yet powerful swing. Your body learns to balance with the natural tempo that is promoted when swinging the weighted Orange Whip.
The Orange Whip is simple, yet effective. You can feel the feedback. You are either in sequence with a continual rhythmic motion, or you are out of sequence and the orange ball slams into the ground. You'll adjust into your swing by "feeling", not thinking.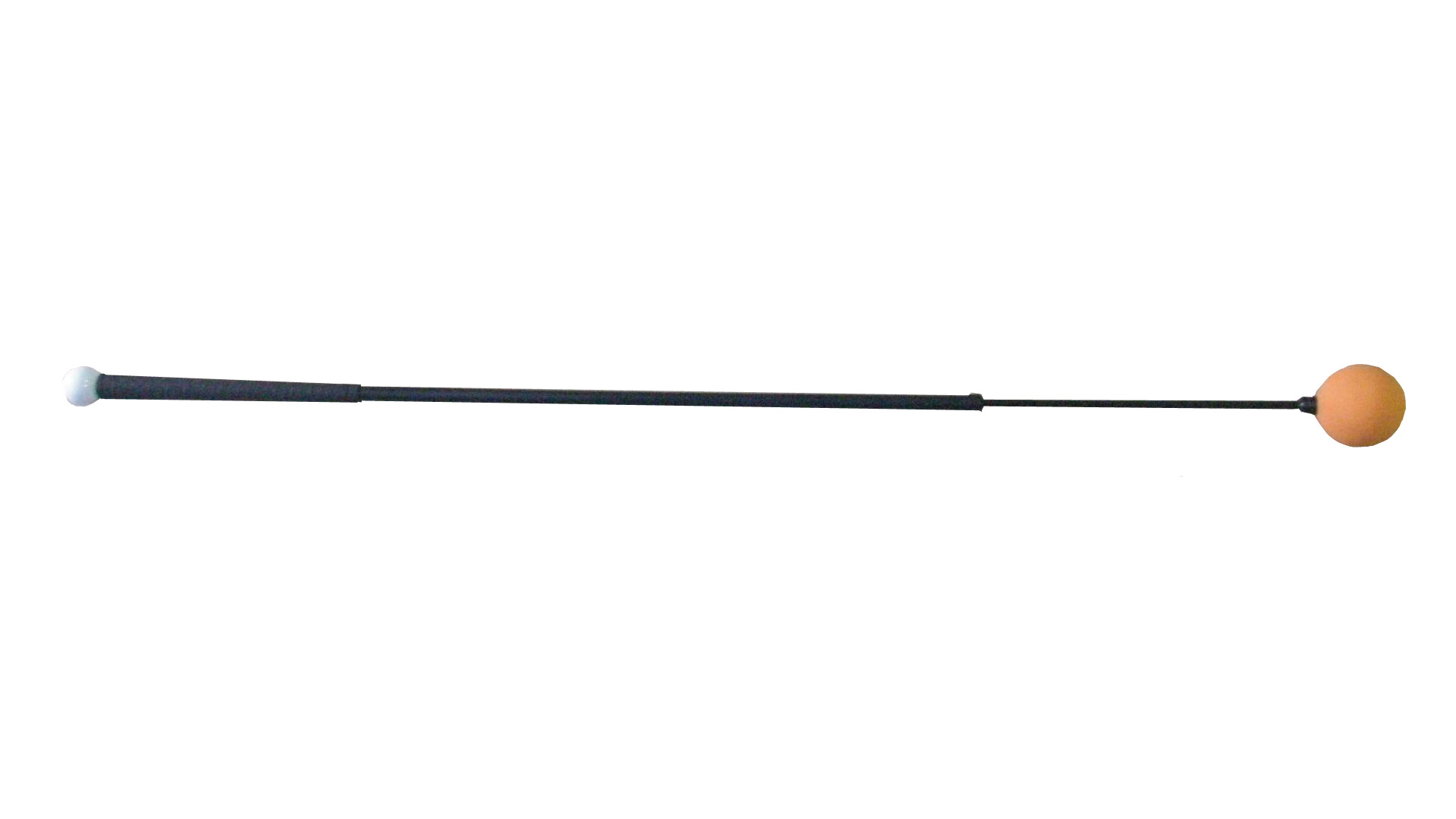 ---
---
With the Orange Whip trainer, you never have to go to the the first tee-box stiff and feeling unable to swing.
Most of us don't get in a 30 minute plus warmup before a round, but no one likes to spend their first few shots loosening up. Several swings with the Orange Whip will not only get your golf muscles warmed up and your body feeling flexible, but it will also get you tuned in more quickly to that balanced swing motion that you've been finding while practicing at home with your Orange Whip.
The Orange Whip is heavier than a club and reminds you of how your swing should feel and what your body needs to do to be in sync with the motion.
There's a reason you'll see that orange ball popping out of loads of pros' bags on PGA and LPGA tours—in addition to being a great golf training aid at home, it's perfect for warming up on the course!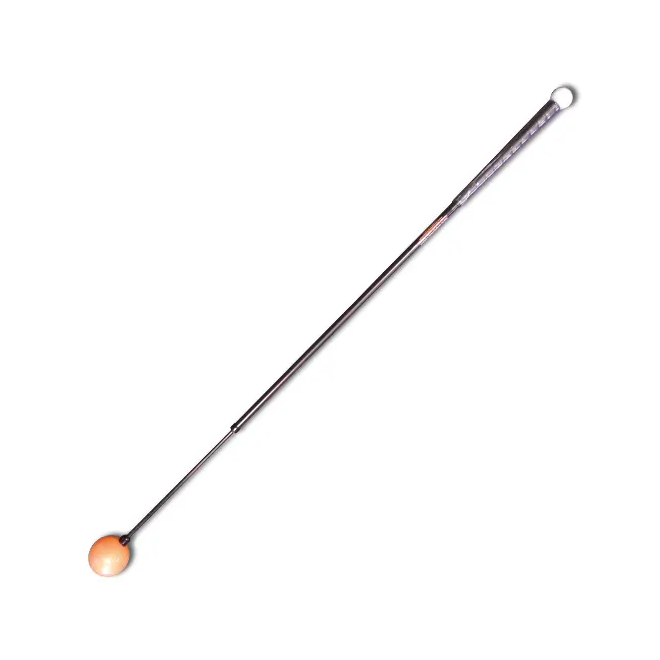 ---
Core Workout with Orange Whip Drills
Using the Orange Whip can give you a pretty solid, low impact core workout.
Because the Orange Whip swing trainer weighs more than a club, you are swinging more weight while promoting synchronization through out your whole body. Staying in balance with the motion of the swing requires engagement in your core.
The Full-Size Orange Whip trainer — Length: 47 in. Weight: 1.75 lbs.
The Orange Whip Mid-Size — Length: 43 in. Weight: 1.7 lbs.
The Orange Whip Junior — Length: 38 in. Weight: 1.3 lbs.
The Orange Whip Compact — Length: 35.5 in. Weight: 1.6 lbs.
There are several Orange Whip drills for developing skills that also help strengthen your golf muscles and increase your flexibility. You can find them in the video above.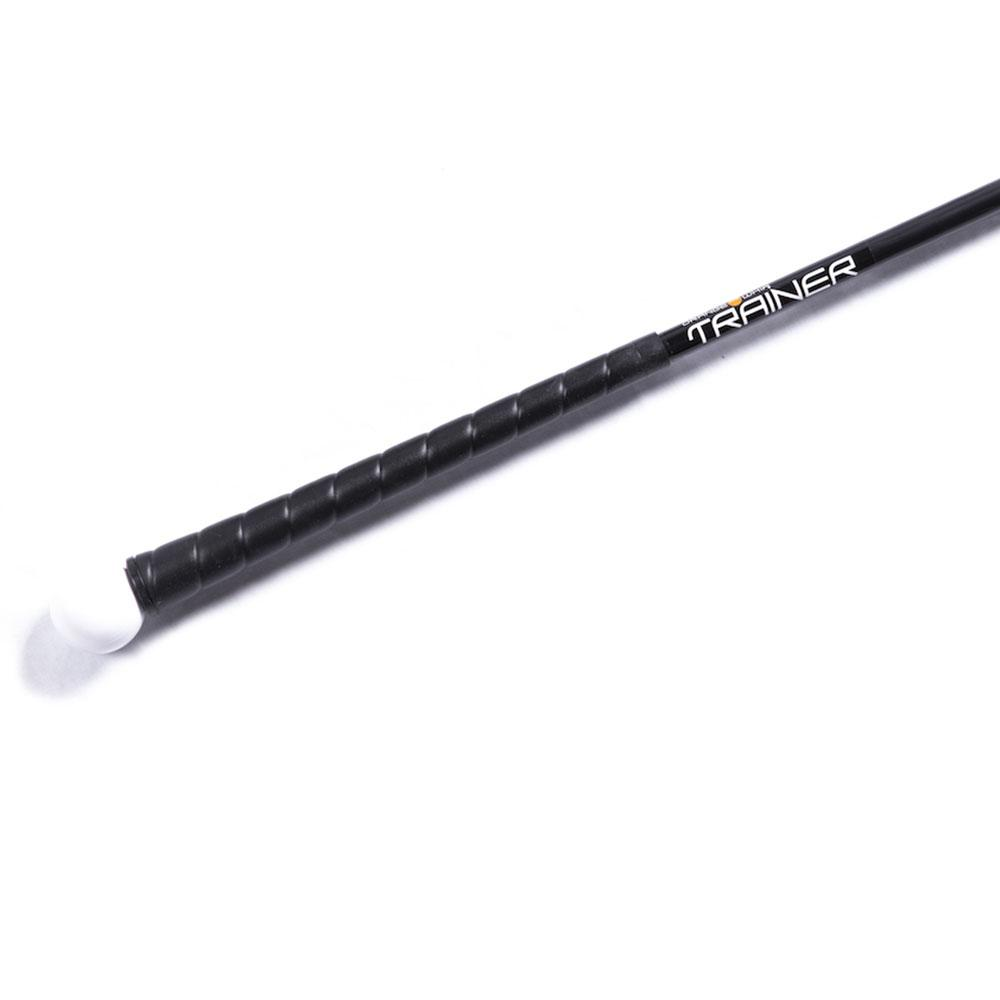 ---
The PlayBetter Bottom Line
Get out of your head and into your swing with the Orange Whip golf swing Trainer!
It's simple, yet effective. You don't have to learn any high-tech golf gadgets or software ... just give yourself over to the laws of physics with this bendy shaft and weighted tool that will help you feel your swing! And the price is perfect on this golf training aid that the PGA and LPGA voted #1 golf teaching and training aid!
Get it on the PlayBetter Golf Store and get FREE 2-day delivery and FREE 60-day returns.