Top 6 Best Portable Golf Launch Monitors You Should Buy in 2022 | Buyers Guide
Which Is the Best Golf Launch Monitor?
Garmin Approach R10 vs Swing Caddie SC300i vs Rapsodo vs FlightScope Mevo/Mevo+ vs SkyTrak

Chalk up the last few years as a standout era for the best golf launch monitor! First, Swing Caddie made some solid upgrades to their SC300i golf launch monitor and MySwingCaddie app. Then Garmin came out of nowhere with the almost too good to be true Approach R10 portable launch monitor and golf simulator. And while these latest personal golf launch monitors—the R10 especially because of its simulation capabilities and outrageously low price—are like gifts from the golf tech gods, they drafted off some pretty impressive early golf launch monitors.
In this comparison, we pulled the six best golf launch monitors in our PlayBetter collection—Swing Caddie SC300i, Garmin Approach R10, Rapsodo MLM, FlightScope Mevo and Mevo+, and SkyTrak—and are giving you the pros and cons of each. The we'll finish with the flourish of a golf launch monitor comparison table!
---
---
Features We Love to Find in the Best Golf Launch Monitor
Get critical insight about your swing with ball flight metrics like carry distance, ball speed, ball spin, launch angle, and more.
Few launch monitors have it, but we LOVE seeing club path metrics in the Approach R10! Understand your shot shape with club path, club face, and angle of attack!
Analyze your swing! A great launch monitor lets you record your swing through a companion app and will overlay your metrics in the video.
The best golf launch monitor has the juice to outlive your obsession with your swing or an impromptu session with friends!
Companion apps like MySwingCaddie and the Garmin Golf app let you do more with your portable launch monitor data!
... Also a Golf Simulator?
 Sometimes, a golf launch monitor is also a home golf simulator ... and only one time, so far, has it been priced as low as $600. Yes, we mean the Approach R10.


COMPARING THE BEST GOLF LAUNCH MONITORS
APPROACH R10 vs SC300I vs RAPSODO vs SKYTRAK



Best Golf Launch Monitor 2022 — Garmin Approach R10
For several reasons, the Garmin Approach R10 has our vote for best golf launch monitor! Aside from a sweet suite of features—including club path metrics—and the fact that it is also a simulator, the price alone is enough to make an earnest golfer whip out their credit card. This 3-receiver Doppler technology launch monitor can go anywhere and requires a mobile device that has the Garmin Golf app downloaded. You can opt for the premium app subscription ($9.99 a month or $99 a year) for access to simulation features, including 42,000 golf courses worldwide.
Garmin Approach R10 Pros
It has club path, club face, and angle of attack metrics that you won't find on golf launch monitors/simulators for less than $5,000. Yes, that's a 5 with 3 zeros!
The Approach R10 has all the other metrics you could want, like ball speed, launch angle, launch direction, club head speed, back swing and down swing times, and more! See them all in the comparison table below!
This personal golf launch monitor is highly accurate, especially outside. Our friend Gabe at Let's Play Thru has tested it against other golf launch monitors and simulators, including SkyTrak, Mevo, and the GC2.
Game modes with rich visual graphics and multiplayer games and challenges.

Garmin's own simulation on 42,000 courses worldwide and access to E6 Connect (for iOS and PC only).

Super easy setup.

10 hours of battery life.

Did we mention that it is only $600?!!!
Approach R10 Cons
Gabe from Let's Play Thru found the indoor distances to be a little under what they would be on the range. He and we are confident that Garmin can adjust this with a firmware update.

The R10 does not have putting. If that's a super important must-have for you on the course simulation, you'll want to know that.

The E6 Connect simulation is currently not available (this could change) to Android users through the Garmin app. It is, however, available for PCs.

Like some golf launch monitors, the Approach R10 will not automatically recognize you clubs because it uses Doppler-based technology as opposed to camera-based.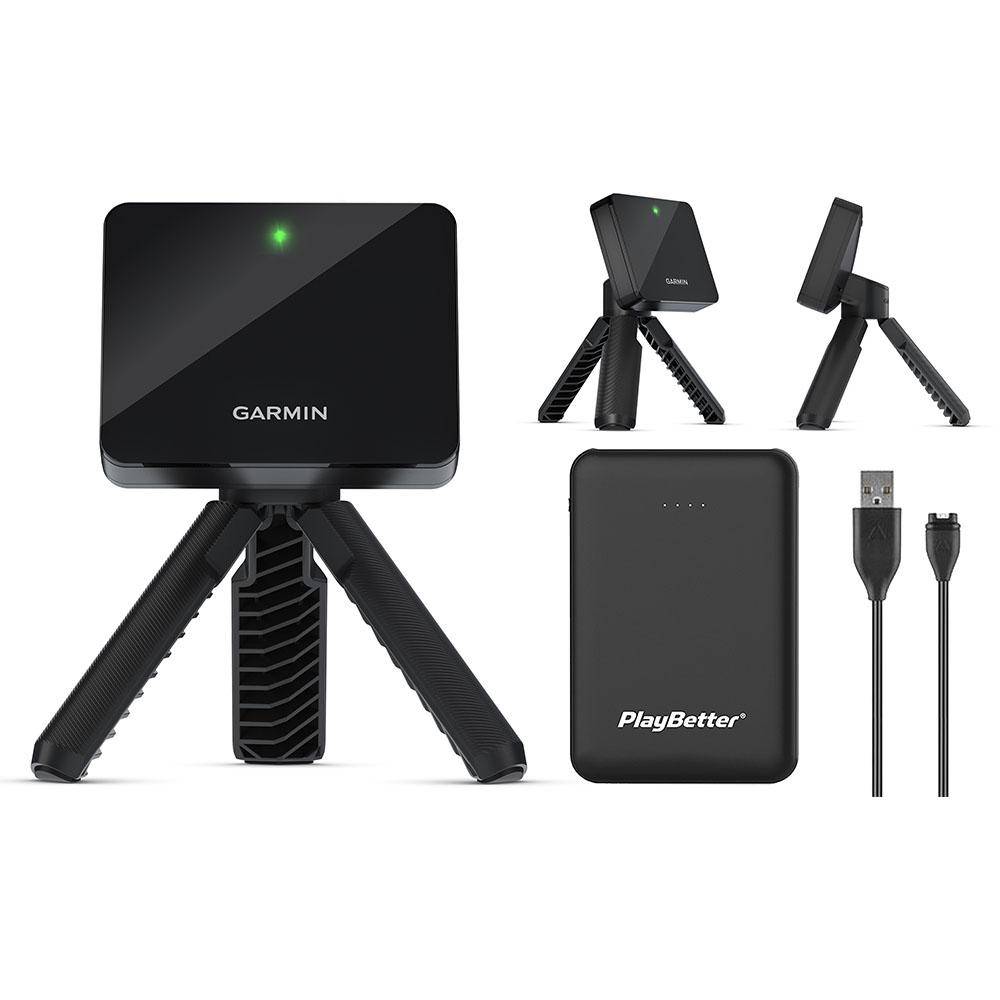 ---
---
Best Portable Launch Monitor — Swing Caddie SC300i by Voice Caddie
The Voice Caddie Swing Caddie SC300i personal golf launch monitor will spoil you with its upgraded features and technology. How would you like an extremely accurate launch monitor that will show you all your data on its own screen, AND allow you to see it in real-time on your phone, AND call out your distance every time, AND has a remote to easily switch up clubs? Talk about catering to your user preferences ... And the fun continues off the course, when the MySwingCaddie app will read you a bedtime story all about the in-depth analysis of your shots that day.
Swing Caddie SC300i Pros
Instant on-screen readouts of your shot.
Shows you 6 key data parameters on the screen of the golf launch monitor unit, including distance, smash factor, swing speed, ball speed, launch angle, apex, and spin rate (in app).
You have the option to see your data in real-time in the app installed on your smartphone if you prefer.
Swing video with auto recording.
Several ways to analyze your swing in the MySwingCaddie app
Newly updated and tested Doppler radar and barometric pressure sensors.
The Voice Output feature announces shot distance automatically after each shot, so you don't have to walk over to the device to read it each time you hit.
The SC300i golf launch monitor includes a remote so that you can change mode, club, or target distance without having to walk to the monitor each time between shots.

Long battery life of 12 hours.
SC300i Golf Launch Monitor Cons
Although it has the requisite basics, the Swing Caddie SC300i doesn't have quite the amount of metrics as the R10 or the Skytrak, which may be appealing to some who don't want devices overcrowded with numbers, along with the comparatively lower price.

Not compatible with simulators.

Other than that, we've got nothing. We love this golf launch monitor!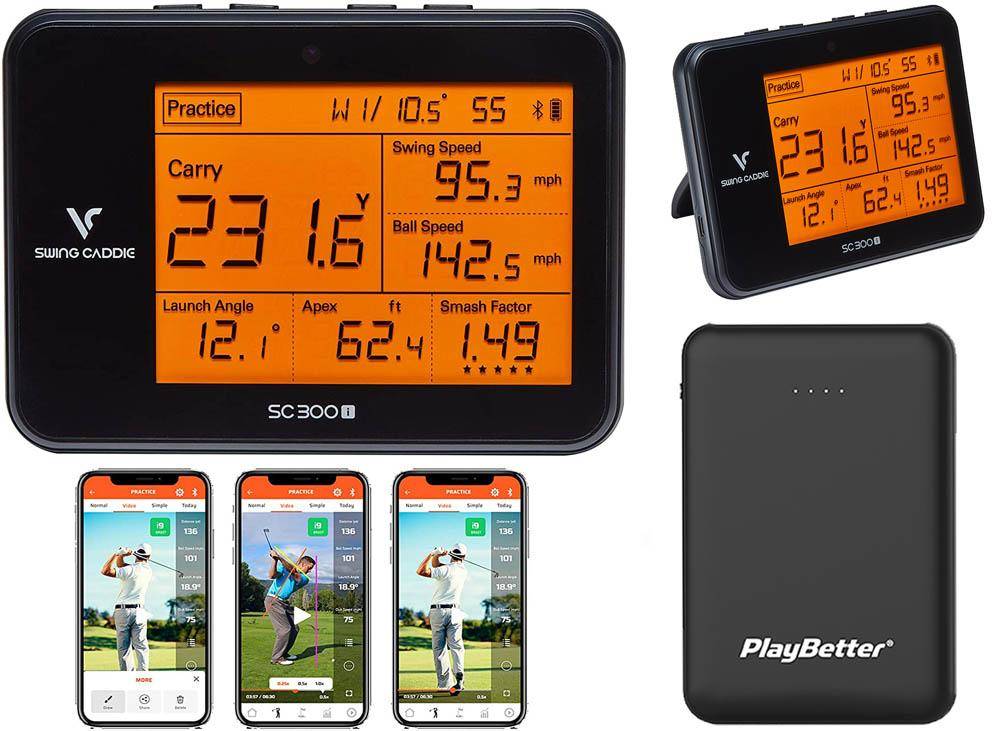 ---
---
Best Mobile Launch Monitor — Rapsodo MLM
Dial in your game with the Rapsodo mobile launch monitor that uses the power and convenience of your own iOS device to deliver pro-grade launch data for golfers of all skill levels. Get professional-grade accuracy both indoor/outdoor with the Rapsodo golf launch monitor that harnesses the power of your iPhone and combines it with machine-learning to provide you with feedback that is trusted by the pros. Check out all the impressive features you get with this unique personal golf launch monitor—whether you're in your basement, backyard, garage, or at the driving range!
Rapsodo MLM Pros
The Rapsodo Golf Launch has key features you'll love like smart club recognition, shot tracer, GPS shot map, video playback, club gapping, interactive game/sharing, shot library, indoor/outdoor net with select iOS devices.
Metrics that include distance, ball speed, club speed, smash factor, launch angle, and launch direction.
The Rapsodo works anywhere you can hit balls!

A unique experience for iPhone users!
Rapsodo Cons
The Rapsodo is limited to iPhones only.

Has limited metrics compared to the R10 and SkyTrak.

The Rapsodo MLM is not compatible with golf simulation.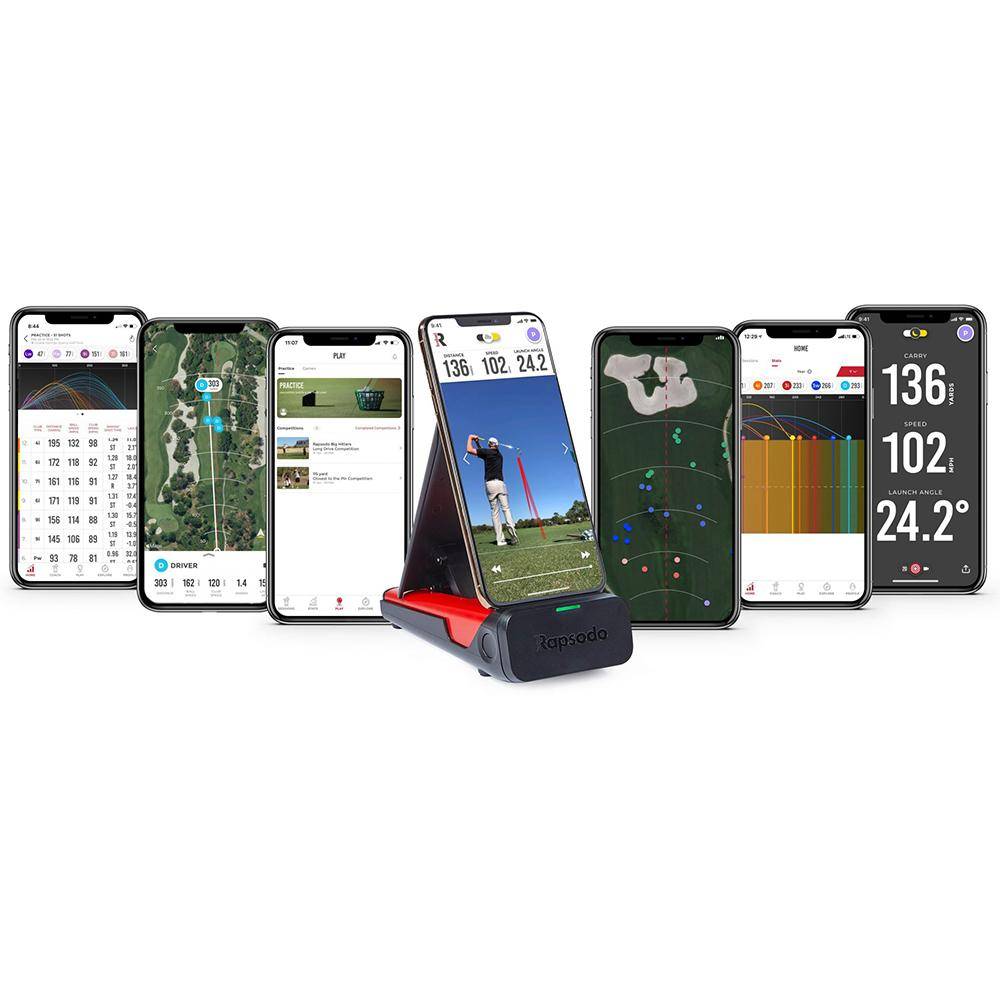 ---
---
Best Portable Golf Launch Monitor with Options — FlightScope Mevo and Mevo+
FlightScope provides two notably different golf launch monitor options, which is why you'll want to check out the Mevo and the Mevo+. While both launch monitors are very accurate and very portable, their features and price are considerably different. The FlightScope Mevo is a 3D doppler radar personal launch monitor designed to help you improve performance—a very small, but accurate package (3.55" x 2.76" x 1.18"). The unique FlightScope Mevo+ portable golf launch monitor, designed for more serious golfers, adds simulation to the mix and doubles the data parameters of the Mevo. Still conveniently small (6.8" x 1.2" x 4.6" ), this home launch monitor and simulator is a big step up in features and price—$1,999.00 compared to the $499.00 Mevo price tag.
Mevo Portable Launch Monitor Pros
8 basic essential data parameters: Carry Distance, Club Head Speed, Ball Speed, Smash Factor, Vertical Launch Angle, Spin Rate, Apex Height, and Flight Time

On the affordable end of the high-quality launch monitor spectrum

Can be used indoor or outdoors

Very accurate numbers

Portable and Pocketable: 3.55" x 2.76" x 1.8" (90 x 70 x 30mm)

Long battery life: up to 4 hours on a full charge

No subscription fees
FightScope Mevo Cons
Requires 4-7 Feet behind the ball

Launch Angles can read slightly higher

Can be hard to use indoors due to space required

Can't be used with simulator software
Mevo+ Golf Launch Monitor and Simulator Pros
16 of the most important data parameters: Carry Distance, Club Head Speed, Smash Factor, Apex Height, Flight Time, Ball Speed, Vertical Launch Angle, Horizontal Launch Angle, Lateral Landing, Angle of Attack, Total Distance, Roll Distance, Spin Axis, Spin Rate, Spin Loft, and Shot Shape

Can be used indoor or outdoors

Numbers rival many high-end monitors

Great for Simulator Use

Comes with very good simulation software; 5 free E6 Connect courses

No subscription fees
FightScope Mevo+ Cons
Requires a minimum of 8 feet behind the ball

Requires stickers on golf ball to measure spin

Launch Monitor will work with less space but will be completely inaccurate

Battery Life can be low for a long day at the range
---
Best Indoor Launch Monitor for Fun — SkyTrak
SkyTrak golf launch monitor is the first affordable practice, play, and entertainment simulator that provides realistic results that compare accurately to your actual shot-making ability. After downloading the FREE app, SkyTrak connects easily and quickly to compatible iPads, Androids, and PC's via its built-in Wi-Fi hotspot, and you are ready to start hitting shots on the SkyTrak 3D Practice Range anywhere, anytime.
SkyTrak Portable Golf Launch Monitor Pros
Shot-Tracer provides views from two camera angles for enhanced feedback and better information than you would get at the course.
The SkyTrak is known to have proven, excellent accuracy.
Multiple data points, including Ball Speed, Launch Angle, BackSpin, Side Spin and Carry Distance. (See full list of metrics in the comparison table below!
Get fun challenges like Closest to the Pin, Long Drive, and Target Practice.
The SkyTrak measures putting.
Play the world's most famous golf courses from the comfort of your own home.
Customize you SkyTrak experience by inputting a series of desired variables and environmental factors such as weather and course conditions.
SkyTrak Cons
It's no longer the most affordable golf launch monitor and simulator.

It doesn't have Club Path metrics.

The SkyTrak golf launch monitor and simulator only has a 5 hour battery life.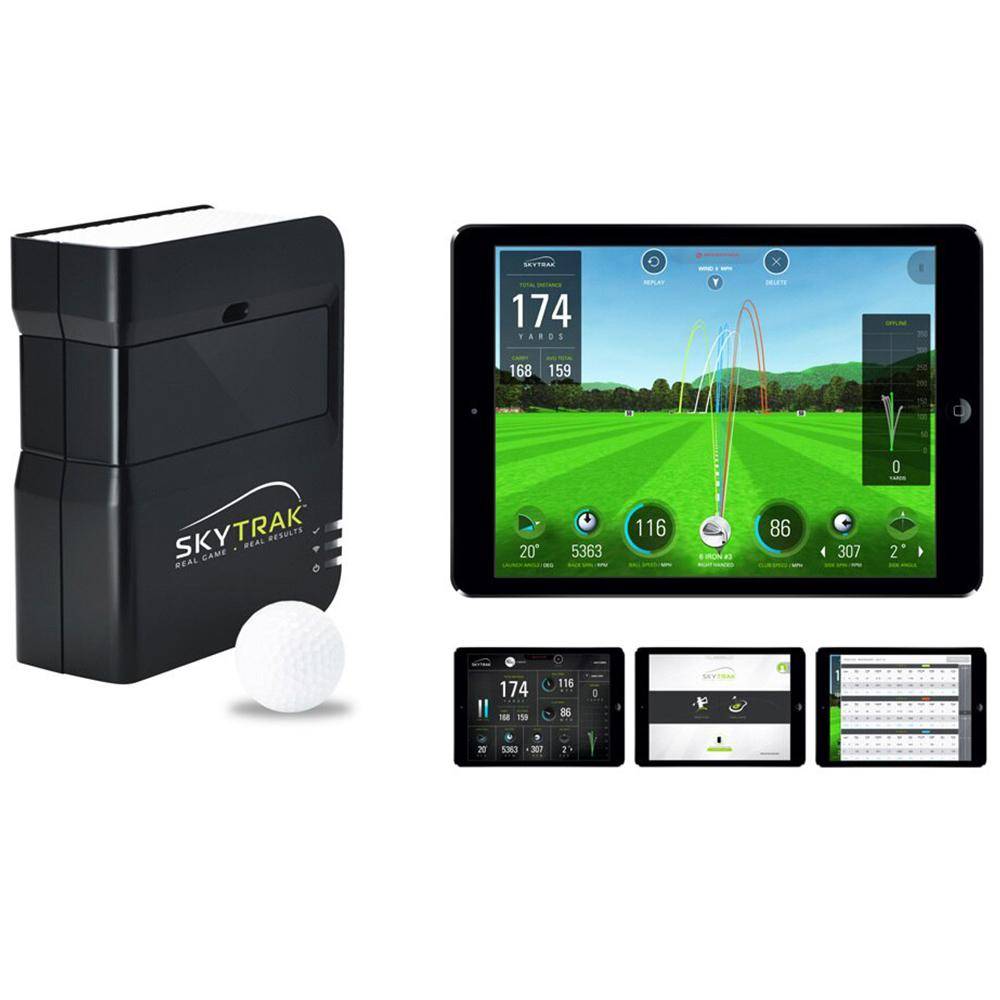 ---
---
PlayBetter Golf Launch Monitor Comparison Chart
Garmin Approach R10
Swing Caddie SC300i
Rapsodo
SkyTrak
FlightScope Mevo
FlightScope Mevo+

Ball speed
Launch angle
Launch direction
Club head speed
Club path
Back swing and down
swing times
Angle of attack
Club face angle
Spin rate
Spin axis
Observed ball flight
range
Carry distance
Total distance
Smash factor
Swing tempo
Apex height
Shot dispersion chart
Impact location on
club

Ball speed
Launch angle
Club head speed
Carry distance
Total distance
Smash factor
Apex height

Ball speed
Launch angle
Launch direction  
Club head speed
Carry distance
Total distance
Smash factor
Apex height

Ball speed
Launch angle
Club head speed
Launch direction
Spin rate
Spin axis
Carry distance
Total distance
Smash factor
Impact location on club
Shot dispersion chart
Putting

Carry distance
Club head speed
Ball speed
Smash factor
Vertical launch angle
Spin rate
Apex height
Flight time

Carry Distance
Club Head Speed
Smash Factor
Apex Height
Flight Time
Ball Speed
Vertical Launch Angle
Horizontal Launch Angle
Lateral Landing
Angle of Attack
Total Distance
Roll Distance
Spin Axis
Spin Rate
Spin Loft
Shot Shape
 

2 hours
1.5 hours simulator
(rechargeable)

Yes: Garmin Golf
App and E6

Yes: WGT, The Golf
Club, E6, Creative
Golf 3D,
Fitness Golf

Yes: TruGolf
E6 Connect, the
Golf Club and
Creative Golf 3D