Garmin Forerunner 245 | Best Running Smartwatch with Music Review
We go over the features that makes the Forerunner 245 the best running smartwatch with music

Watch Dave from Chase the Summit fully review the Garmin Forerunner 245 vs the Forerunner 55
What makes the Garmin Forerunner 245 the best running watch with music? In this smartwatch review, we're thoroughly answering that question and, along with our runner friend Dave at Chase the Summit, we're highlighting all the features that make up this top GPS watch for runners and make it a perfect wearable for your wrist!
Our Criteria for Best Running Watch with Music:
On-watch music storage

Loaded with runner-specific features

Health and wellness monitoring

Accuracy, accuracy, accuracy

Battery life for several runs in GPS

Affordable as far as Garmin watches go
Want to know more about the Forerunner family of watches? Check out this article. Or jump over to our Running Watch Collection on PlayBetter.com!
Garmin Forerunner 55/245 Review
Watch Dave from Chase the Summit compare these two remarkable Garmin running watches: the Forerunner 245 vs the Forerunner 55
---
---
Why Shop PlayBetter.com for Your Running Watch?
Garmin knows smartwatches for running. Whether you're hyper-focused on training, loves to mix it up and stay active, or are just beginning life as a runner, PlayBetter's got a Garmin GPS watch for your wrist!
All smartwatch orders include FREE 2-day shipping on PlayBetter.com. And we have FREE 60-day returns, no questions asked.
Why Not Make It a Bundle?
PlayBetter is known for their bundles, which will often get you charging accessories, cases and screen protectors, or elegant gift boxes—for very little extra cost!
---
The Best Running Watch with Music — Garmin Forerunner 245
The Forerunner 245 Music is the most robust and accurate running watch you'll find at this price point.
For $350.00, you can leave your phone at home with up to 500 songs stored on-watch. Just download all your must-have workout tunes from your Spotify, Deezer, or Amazon account and you're good to go. And if you want, you can still control the music on your smartphone with your watch.
500 songs not enough? The Forerunner 945 offers 1,000 songs (starting at $600) and the fēnix 6 Pro/Sapphire/Pro Solar (starting at $650) offers up to 2,000 songs on-watch.
That takes care of the music end of things, but what about the running watch and smartwatch side of the Forerunner 245? This GPS watch for runners offers VO2 Max, Race Predictor, and Recovery Advisor like the Forerunner 55. Beyond that you get running features like Training Status, Training Load, and estimated VO2 Max on trail runs, as well as navigation.
Get smart notifications, calendar event reminders, and a weather widget on your Forerunner 245. Keep reading to get more details on these features and more below!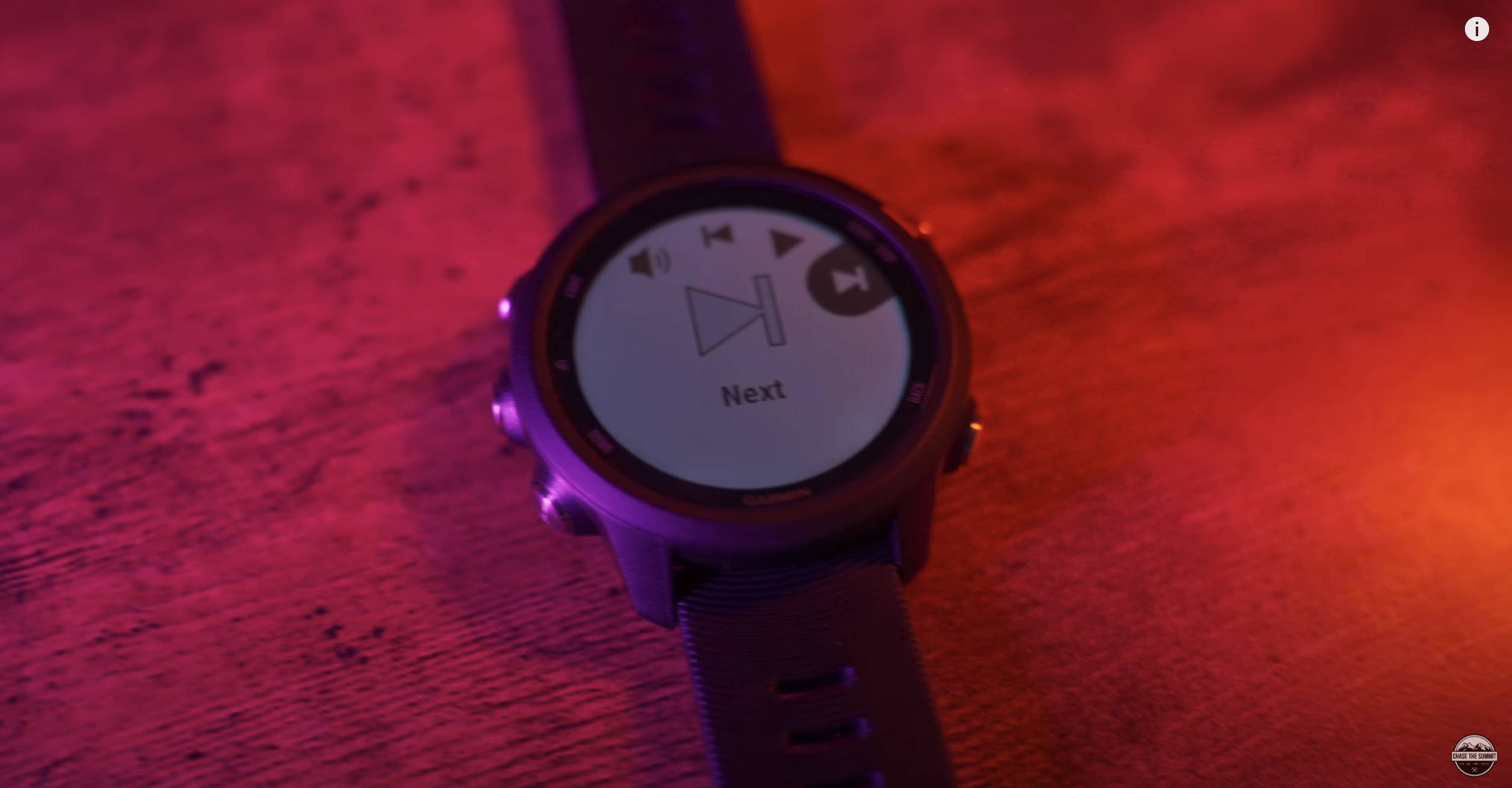 ---
Forerunner 245 Running-Specific Features
The Forerunner 245 offers many of the running-specific features you'll find in the 745, 945, and even the fēnix 6 series. These include:
HR zones

GPS speed and distance

Recovery time

Customizable data pages and activity profiles

Auto Pause

Auto Lap

Manual Lap

Advanced workouts

Downloadable training plans

VO2 Max for road and trail profiles

Training Status

Training Load

Training Effect

Virtual Partner
In the Chase the Summit review above, Dave talks about the benefits of VO2 Max for trail, Training Status, and Training Load. He also shows recorded accuracy data of GPS for the Forerunner 55 and 245 during his runs. (We go over the Forerunner 245's GPS accuracy below.)
Training Status (from Firstbeat Analytics) lets you see if you're training effectively by tracking your training history and fitness level trend. Training Load tells you your total training load from the last seven days calculated from estimated EPOC—excess post-exercise oxygen consumption, referring to the increased level of O2 your body consumes and the calories it burns in order to recover from working out. Training Effect instantly measures the impact of training on aerobic and anaerobic fitness—automatically showing how hard you have been worked on an individual level. Virtual Partner is a feature allowing you to race against yourself at a fixed speed. When following a course or segment there is a separate Virtual Partner feature that will always show the VP speed on the map even when the Virtual Partner feature has been disabled in the 245's settings.
---
Forerunner 245 Health and Wellness Features
Health monitoring on the Forerunner 245 running watch with music includes:
Wrist-based heart rate (constant, every second)
Daily resting heart rate
Abnormal heart rate alerts (high and low)
Pulse Ox blood oxygen saturation (spot-check and optionally in sleep)
Fitness age in the Garmin Connect app ™ which reinterprets your VO2 Max score in terms of age to make it more relatable by estimating the body's age using chronological age, activity, resting heart rate, and either body fat % or BMI.
Body Battery™ energy monitor which allows you to track your body's energy levels so you can find the best times for activity and rest.
All-day stress
Relaxation breathing timer
Advanced sleep monitoring
Hydration (in the Garmin Connect app)
Women's health (in the Garmin Connect app)
In the Chase the Summit review above, Dave compares some of these health and wellness features in the Forerunner 55 vs Forerunner 245.
---
Garmin Forerunner 245 Music GPS Accuracy
In terms of accuracy in a running watch, there are two areas of concern: GPS on a run and heart rate monitor while running. And Garmin offers some of the most accurate data in terms of GPS, which they are well known for, and with their Elevate optical heart rate sensor. In his video, Dave from Chase the Summit, who is a serious runner, shows his data for both of these.
GPS-wise, Dave found that both the Forerunner 55 and Forerunner 245 gave almost indistinguishable readings, not surprising since they are both Garmin watches. Compared to his iPhone Pro 12, the Garmin watches were much more consistent and reliable.
To test the wrist-based heart rate monitor on the Garmin running watches, he also wore a Polar H9 chest strap, which as you may know, chest straps are always more reliable. Notably, the Garmin watches were, for the most part, right on with the chest strap technology.
---
Forerunner 245 Running Watch with Music Battery Life
The Forerunner 245 running watch with music battery life comes in just right for this price point. In smartwatch mode, count on up to 7 days of power from this wearable.
Impressively, you will get up to 24 hours of juice in GPS mode—that can translate to at least a week's worth of runs along with regular smartwatch use.
When it comes to GPS mode with music, battery life goes down considerably to only up to 6 hours. But compared to other watches at this price point, it's still pretty awesome and will get you several runs before you have to recharge.
If you want more battery life in GPS with music mode, the Forerunner 945 and fēnix 6 Pro/Sapphire offer up to 10 hours, the Forerunner 945 LTE offers up to 12, and the fēnix 6X Pro/Sapphire offers up to 15 hours. These Garmin watches are a bit larger, and with increase in size you get increase in battery. The Forerunner 245 is a smaller, lightweight running watch that will get you several runs with your favorite tunes right from your wrist.
---
Is the Forerunner 245 the Most Affordable Garmin Running Watch?
As you can see, the Garmin Forerunner 245 GPS running watch with music is loaded with running-specific features, activity profiles, GPS tracking for running, biking, and swimming, navigation, and GPS and heart rate accuracy. You won't get half of that with the Forerunner 55 ($200), which is a brilliant watch for both beginning runners and runners of all levels who want a simpler user experience.
The Forerunner 245 without music is $300. For only $50 more, you can store you running playlist on your watch and leave your phone behind. Runners training for marathons and triathlons will opt for the even more advanced features of the Forerunner 745, 945 and the fēnix 6 series Garmin watches, for which you will pay hundreds of dollars more, but will also get more battery life and music storage.
When it comes down to it, most runners who want music on-watch and robust running features in a lightweight, stylish smartwatch, will find the Forerunner 245 to be the best running watch for the price.
The PlayBetter Bottom Line on the Forerunner 245 Music
Do we recommend the Garmin Forerunner 245 running watch with music?
The Forerunner 245 Music is perfect for you if:
You want to run with music and without you phone
500 songs on-watch is enough
You want more running-specific features than
the Forerunner 55, but are fine without the added extras
of the more expensive Forerunners.
Prefer a lightweight running watch that doesn't
feel bulky on your wrist.
You have a mid-range budget.
Want battery life for several runs.
Want that accurate Garmin GPS and
Elevate heart rate monitor.