Best Running Watches 2022 | Garmin vs COROS vs Polar Comparison
We've Selected the Best Running Watches from 3 Top Brands

The Garmin Forerunner 945 vs COROS APEX Pro vs Polar Vantage V2
It's time to pick your new running partner. You're making strides, taking yourself to new extremes. Learning the importance of training analysis and recovery. When it comes to running watches—it really depends on what kind of runner you are and what features you demand. In this best running watches comparison for 2021, we've narrowed it down to the three most trusted brands in sport watches—Garmin, COROS, and Polar—to help make your choice easier.
Garmin watches are engineered to help everyone from amateurs to athletes pursue their passions and personal best.
The COROS brand focuses on training in the outdoors, mountain altitudes, and for sports performance.
Polar watches cater to a range of fitness levels from athletes to active types chasing after a healthier life to people recovering from injury. They are especially known for their heart monitoring technology.
So, slap on your running shoes and run through the features of the best running watch from each of these titans of sports smartwatch technology.
Short on time? Jump to our Best Running Watch Comparison Table below and see features side-by-side in our comparison chart!
Features to Look For in the Best Running Watch
The best running watches should have the special features that align with how you want to use it. For example, if you want to train for a triathlon, it should provide profiles and metrics for running, cycling, and swimming.
The best running watch should include basic health-monitoring, such as heart rate and oxygen saturation. Brands like Garmin, Polar, and COROS offer exciting advanced health features.
Polar, COROS, and Garmin GPS running watches provide even more navigational tools beyond GPS. They often include multiple satellite imagery navigation along with maps, compasses, and other real-time route-tracking features.
Get the convenience of your phone on your wrist. Garmin, Polar, and COROS GPS watches for running provide smart notifications when paired with a compatible phone.
Because you shouldn't have to sacrifice style for even the most durable GPS wearable, loaded with advanced technology.
 The GPS running smartwatch you choose should have the juice to power you through, mile after mile!
Run with Only the Best
Garmin, COROS, and Polar
The Best Garmin Watch for Running — Forerunner 945/945 LTE
The Garmin Forerunner 945 is an elite GPS running watch designed to help you train. It's loaded with performance metrics including Running Dynamics, which shows you cadence, stride, contact time, balance, and more, to offer insight on your form, allowing you to adjust and improve. But there's a whole lot more this best running watch has to offer!
Marathon-Ready Design
Even though it's made with a high-performance silicone band and an ultra-durable Corning® Gorilla® Glass DX lens, this lightweight multisport watch won't bulk up your wrist.
Chase Down Your Next Victory with Features Like:
Garmin Coach for free adaptive training plans

Built-in sports apps, including cycling, pool swimming, track running, elliptical, stair-stepper and more

Wrist based heart rate

Multi-GNSS: GPS plus GLONASS and Galileo to track in more challenging environments than GPS alone

Running dynamics (with a compatible accessory) to measure crucial running metrics like cadence, stride length, ground contact time and balance and more

VO2 MAX can tell you how you might expect to perform with heat or altitude factors

The Pulse Ox sensor can help gauge how your body is absorbing oxygen — even while you sleep

Performance Condition lets you analyze real-time pace, heart rate and heart rate variability

Training Status let you know if you're training productively, peaking, or overreaching

Get aerobic and anaerobic training effect feedback

Training Load compares your most recent stats to your optimal and historical fitness stats

Daily Workout Suggestions guides you with daily run and ride recommendations based on your current training load

Recovery Time advises you on how long to rest be for your next big run, factoring in stress, sleep, and activity outside your workouts

Body Battery Energy Monitor lets you know the best times to be active and rest

Women's Health Tracking used with the Garmin Connect app lets you track your menstrual cycle or pregnancy

Extended battery life gives you up to two weeks in smartwatch mode, 10 hours in GPS mode with music. Use UltraTrac™ mode to make sure you've got enough power for your longest race.

Music storage of up to 1,000 songs
The Forerunner 945 Puts Maps on Your Wrist
Full-color mapping

ClimbPro ascent planner

Turn-by-turn navigation

Round-trip routing.
The Ultimate in Safety and Connectivity
Get notifications from your smartphone, along with assistance and incident detection features that send your location to your contacts. Also included with the Forerunner 245 is the LiveTrack feature, which allows friends and family to track your real-time location and see your preplanned course. What else? Control your Tacx® Smart trainer courses or workouts from your watch.
With the Forerunner 945 LTE, you get all of this plus (with an LTE subscription) you can leave your phone at home and get Assistance Plus, which automatically sends your name and location from your watch alone to the Garmin IERCC, a 24/7 staffed professional emergency response coordination center that can contact and communicate with local emergency services.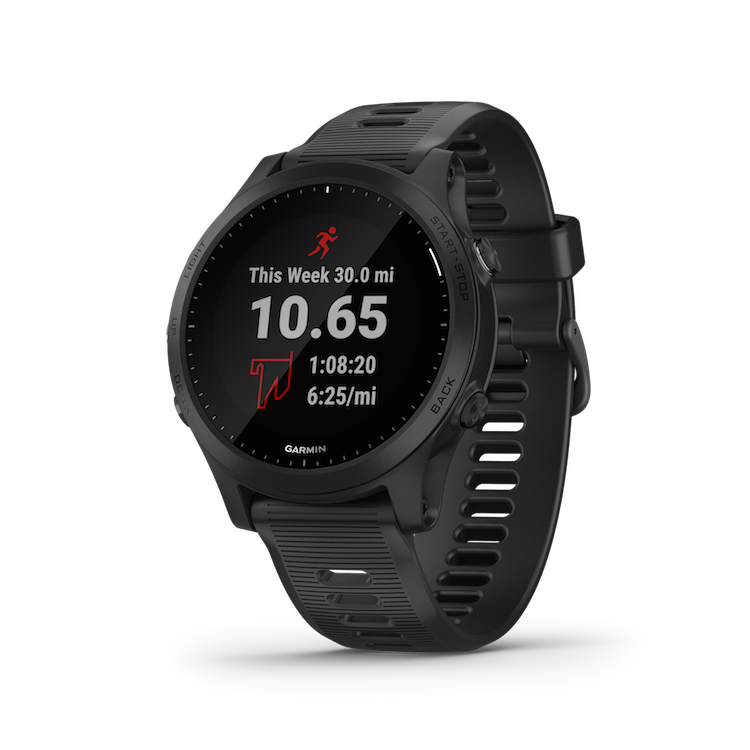 The Best COROS Running Watch — APEX Pro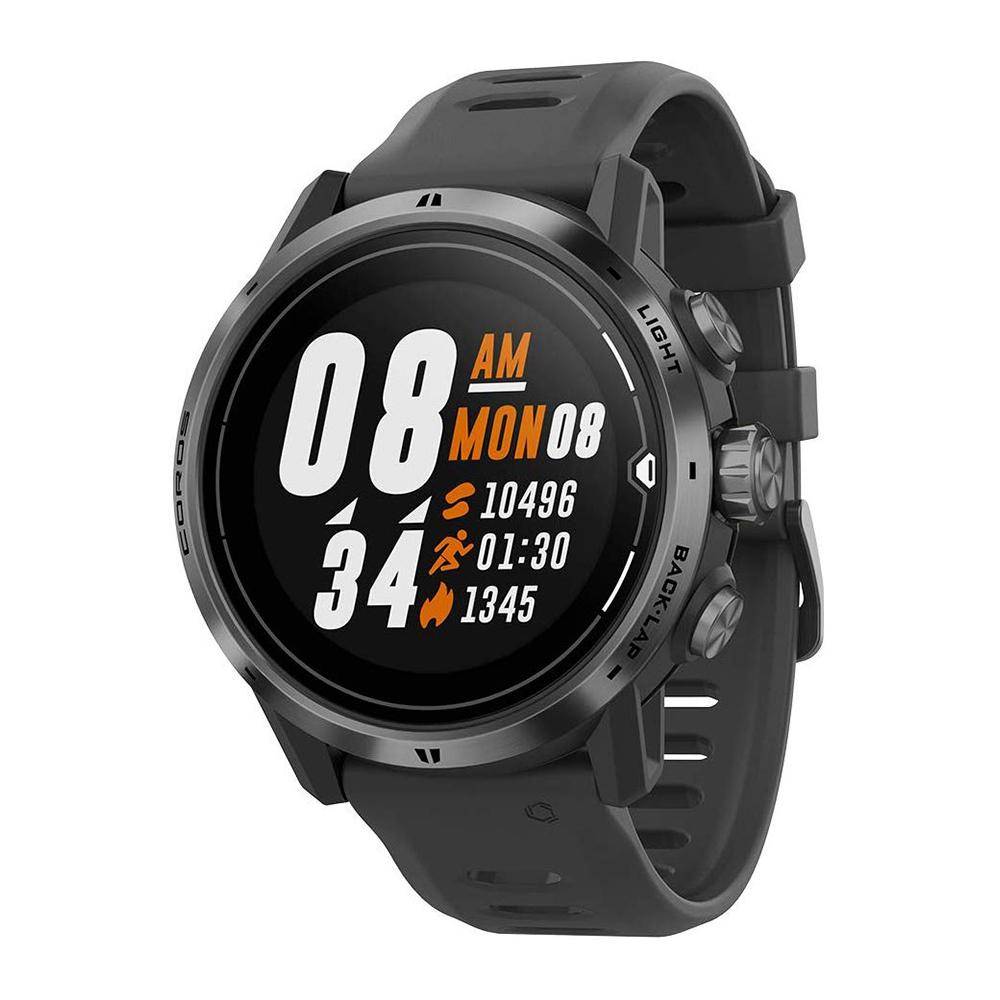 What lands the COROS APEX Pro premium running watch in our PlayBetter best running watch category? The fact that it has the endurance and durability to go wherever you do. With 40 hours of FULL GPS battery life, you can run that 100 miler through the mountains—no sweat! (At least for the battery!)
Built for the Extreme. Like You.
Run those mountain trails. The COROS APEX Pro GPS running watch has Altitude Mode, with hourly acclimatization evaluations.

The Apex Pro sports a titanium frame, sapphire glass for scratch resistance, and is waterproof to 100m.
Controls, Your Way
Get a touchscreen and digital dial with the COROS APEX Pro running watch, for options in how you control your GPS smartwatch features on your run. Enjoy the ease of use when adjusting your navigation track up/down or zooming in/out.
Tested and Approved by Pros
COROS watches are tested and approved by athletes and coaches. In training mode you can download their workouts, as well as create and share your own. Paired with the COROS app, you'll find you can build limitless workouts for running, cycling, swimming, and more!
Train Everywhere!
This premium running watch has also fined-tuned GPS tracking on a standard track and has a night mode for a backlight your eyes can adjust to. The COROS APEX Pro is the GPS watch for the athlete who runs and trains in all environment and conditions.
The Best Polar GPS Running Watch — Vantage V2
Train like a pro, recover like a pro.

The Polar Vantage V2 is the premium running watch

that lets you keep tabs on how hard you've pushed, how your body is adapting, and how well you recover. Knowledge is the road to progress, and the Polar Vantage V2 is the GPS running smartwatch that can take you there.
Dial into Your Training
The Running Performance Test helps you track your progress and personalize your heart rate, speed, and power zones.
The Cycling Performance Test lets you personalize your power zones and tells you your personal functional threshold power (compatible power meter required).
See how your training sessions strain the different parts of your body with Training Load Pro™. It also shows you how much you've been training, so you can determine if you're on the right track.
The Vantage V2 premium sports watch supports over 130 different sports. Add your favorite sports to your watch in the Polar Flow app and customize what you see on your watch during each sport.
Run. Recover. Repeat.
Recovery Pro™ (Polar heart rate sensor required) tells you if your body is ready for training with recovery feedback right on your watch.
The Leg Recovery Test

tells you whether your legs are ready for high intensity training in just a couple of minutes without any special equipment—just your watch!

The

Nightly Recharge™

recovery measurement shows you how well you recover from the demands of your day during the night.
Workout Tools
Plan your route on Komoot, import it to your Vantage V2 sport watch, and let the turn-by-turn guidance do the navigating for you.
Refuel and maintain adequate energy levels during long sessions with FuelWise™.
Use the FitSpark™ training guide for ready-made daily workouts that match your recovery, fitness level, and training history.
Make your runs more exciting with Strava Live Segments. Get alerts about nearby segments, see real-time performance data during and check your results.
Sleek Outside, Smart Inside
Lightweight, slim design

Comfortable silicone band

Color touch screen

Weather updates from your wrist

Music control right on your watch

Smart notifications right on your watch face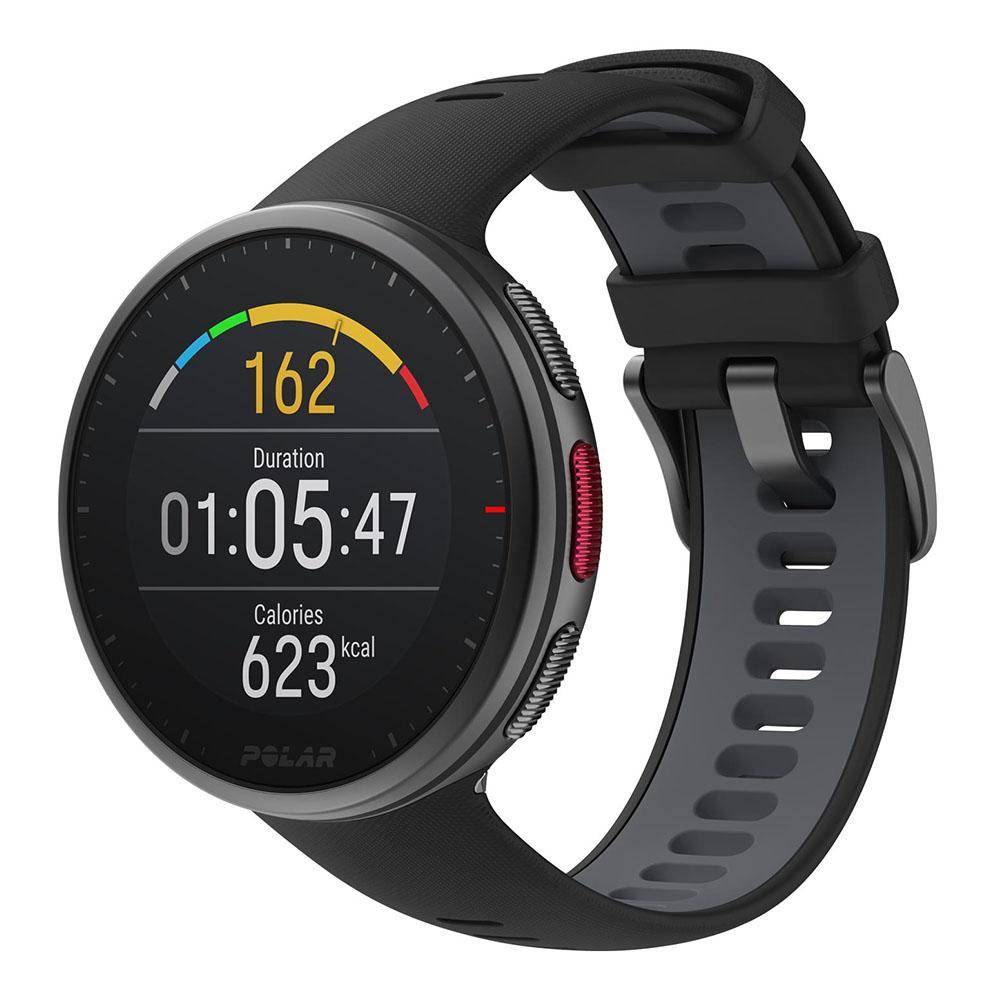 ---
The PlayBetter Best Running Watches 2021 Comparison Table
FORERUNNER 945/945 LTE
APEX PRO
VANTAGE V2

1.2" (30.4 mm) diameter
color, sunlight-visible,
transflective memory-in-pixel (MIP)

1.2 in. 240 x 240 (64 colors)
Touch Screen Memory LCD
Sapphire Glass

Always-on color touch display.
Laminated Gorilla glass lens
with anti-fingerprint coating.
Size 1.2"

Smartwatch Mode: Up to 2 weeks
GPS mode with music: Up to 10 hours
GPS mode without music: Up to 36 hours
UltraTrac™ mode for extended
battery life

30 days of regular use
40 hours in Full GPS mode
100 hours in UltraMax mode

Up to 40h in training mode
(GPS and wrist-based heart rate)
or up to 7 days in watch mode with
continuous heart rate tracking.
Multiple power save options available.

 

Wrist-based heart rate
Garmin Coach
Animated on-screen wordouts
Built-in sports apps
Body Battery™
Advanced sleep monitoring
Multi-GNSS (GPS, GLONASS, Galileo)
Accelerometer
Safety tracking features (LiveTrack,
Incident Detection, etc.)
Basic activity tracking
VO2 Max
Pulse Ox sensor
Running Dynamics
Training Status
Training Load
Training Effect
Recovery time
Daily suggested workouts
Women's health
Assistance Plus (LTE)
Spectator Messaging (LTE)
Water resistant

Satellite navigation: GPS, QZSS,
GLONASS, and BeiDou
Altimeter, barometer, compass
Advanced training analytics
Water resistance
Wrist-based heart rate
Altitude mode
Industry-leading performance
in extreme weather
Intelligent Stride model that
learns your running form
Wrist-based SpO2 sensor
Recovery time
Interval, triathlon, multisport training
Training plan
Strength training
Running power from wrist
Touchscreen enabled breadcrumb navigation
Sleep monitoring
3rd Party Integration
(Strava, TrainingPeaks, etc)
Digital Dial and touchscreen

Satellite navigation: GPS, QZSS,
GLONASS, and Galileo
Nightly recharge
FitSpark™ daily workouts
Smart notifications and music controls
Water resistant to 3 ATM
Wrist-based heart rate
Serene breathing exercise
Energy sources used during training
Personal and adaptive running program
Running performance test
Cycling performance test
Training Load Pro
Recovery Pro
Leg recovery test
FuelWise
Swimming metrics
Sport profiles (choose from 130 from
Polar Flow platform)
Weekly summary
Polar Flow app and web portal

Free 2-Day Shipping
Free 60-Day Returns
PlayBetter Customer Service

Free 2-Day Shipping
Free 60-Day Returns
PlayBetter Customer Service

Free 2-Day Shipping
Free 60-Day Returns
PlayBetter Customer Service