Best Trail Running Watch | Garmin, Polar, & COROS
Go where you want with these best watches for trail runners from Garmin, COROS, and Polar
---
Our Top Trail Running Watches — Quick Highlights
The best trail watch needs bring it in several specific areas, including battery life, GPS tracking, elevation, navigation, durability, and performance metrics. Size will a major factor for many trail runners. One camp may want a sleeker, lighter watch, while others while not be willing to sacrifice battery power and ruggedness that come along with a larger wearable.
The Garmin fēnix 7 Sapphire Solar is a perfect blend of both worlds, which as why we have choosen it as the best overall GPS watch for trail running. But the other outstanding watches on this list bring their own special sauce of features, and it is only you—the runner—who can determine the one that will be right for you while you're out there beating your own path.
At PlayBetter, we only offer the most-trusted brands in our running watch collection, including Garmin, COROS, and Polar. Below, we go through all the trail running must-haves in each of these watches, so that you can find the one that's right for chasing your summit!
---
Best Trail Running Watch | Table of Contents


Trail Running Watches
Made for the Intrepid.



Best Trail Running Watch — fēnix 7 Series
The fēnix 7 Sapphire Solar is the best overall trail running watch in our collection. This outdoor fintess watch hits the mark on all the specifics you'll want on wrist, in a size that's just right.
Battery Life
The fēnix 7 series battery life, is a top-notch option for trail runners with a variety of ways to manage your battery life. Depending on which size you get, it varies, but all are able to go the distance. Below are the numbers for specific modes on the fēnix 7 Sapphire Solar:
Smartwatch: Up to 18 days/22 days with solar
Battery Saver Watch Mode: Up to 57 days/173 days with solar
GPS Only: Up to 57 hours/73 hours with solar
All Satellite Systems: Up to 40 hours/48 hours with solar
All Satellite Systems + Multi-band: Up to 23 hours/26 hours with solar
All Satellite Systems + Music: Up to 10 hours
Max Battery GPS: Up to 136 hours/289 hours with solar
Expedition GPS: Up to 40 days/74 days with solar
Navigation
You won't find better navigation than on the fēnix 7 Standard, Solar, or Sapphire Solar models. Each one provides Multi-frequency positioning, accessing GPS, Galileo, and GLONASS for more advanced tracking in challenging enviroments—perfect for off-the-grid long runners. You'll also get ABC sensors—an altimeter for elevation data, a barometer to monitor weather, and a 3-axis electronic compass. Topo maps come preloaded on the Sapphire Solar model and are downloadable on the Standard and Solar options. Road and trail maps, preloaded ski resort maps, round-trip course creator, and Trendline™ popularity routing come standard on all models, as well as great navigation tools like Point-to-Point, real-time Bread Crumb Trail, Back to Start, TracBack®, Around Me Mode, Distance to Destination, Climbpro™ Ascent Planner, and it's compatible with BaseCamp™.
Told ya—fēnix 7 series is loaded with the Nav features you need when you're out there.
Training & Performance
The fēnix 7 Sapphire Solar includes profiles for Running, Treadmill Running, Indoor Track Running, Trail Running, and Virtual Running. With a Garmin GPS, you get highly accurate wrist-based heart rate. You'll also get VO2 Max for Run and Trail Run, which tells you how you might expect to perform with heat or altitude factors. Use running Dynamics (with compatible accessory) to measure crucial running metrics like cadence, stride length, ground contact time and balance, and more. Plus, this high-end Garmin now offers wrist-based Running Power. Training Status lets you know if you're training productively, peaking, or overreaching. Training Load compares your most recent stats to your optimal and historical fitness stats. Use PacePro™ pacing strategies and keep on pace with grade-adjusted guidance as you run a course.
And these are just some of the training features and performance data you can expect out of a Garmin fēnix 7 series watch.  
Size & Durability
The fēnix 7 series watches are rugged GPS smartwatches with sophisticated style. The fēnix 7 Sapphire Solar has a 1.3" color display with a scratch-resistant Power Sapphire lens. The bezel and case cover are titanium for added durability out on the trail. These watches are also water-resistent and the silicone strap perfectly pairs with a sweating wrist and is tough enough for the elements.
If you have a smaller wrist or prefer a lighter watch that has a 1.2" display, 42 mm case, and only weighs 58 g, you can get this same fully loaded model in the smaller fēnix 7S Sapphire Solar. Compare it to the fēnix 7 size has a 1.3" display, 47 mm case, and 73 g.
Check out this thorough article on the entire fēnix 7 series to get the details on all the models. Or visit the product page for each watch: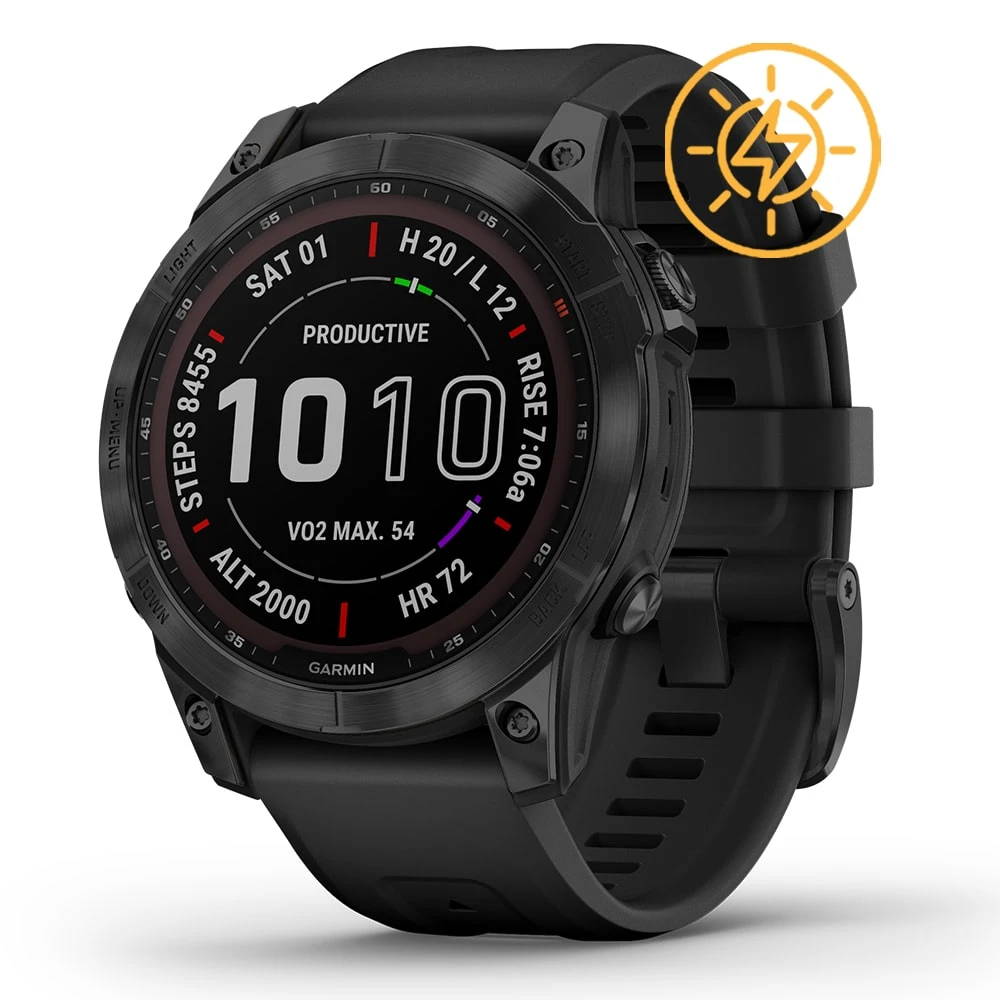 ---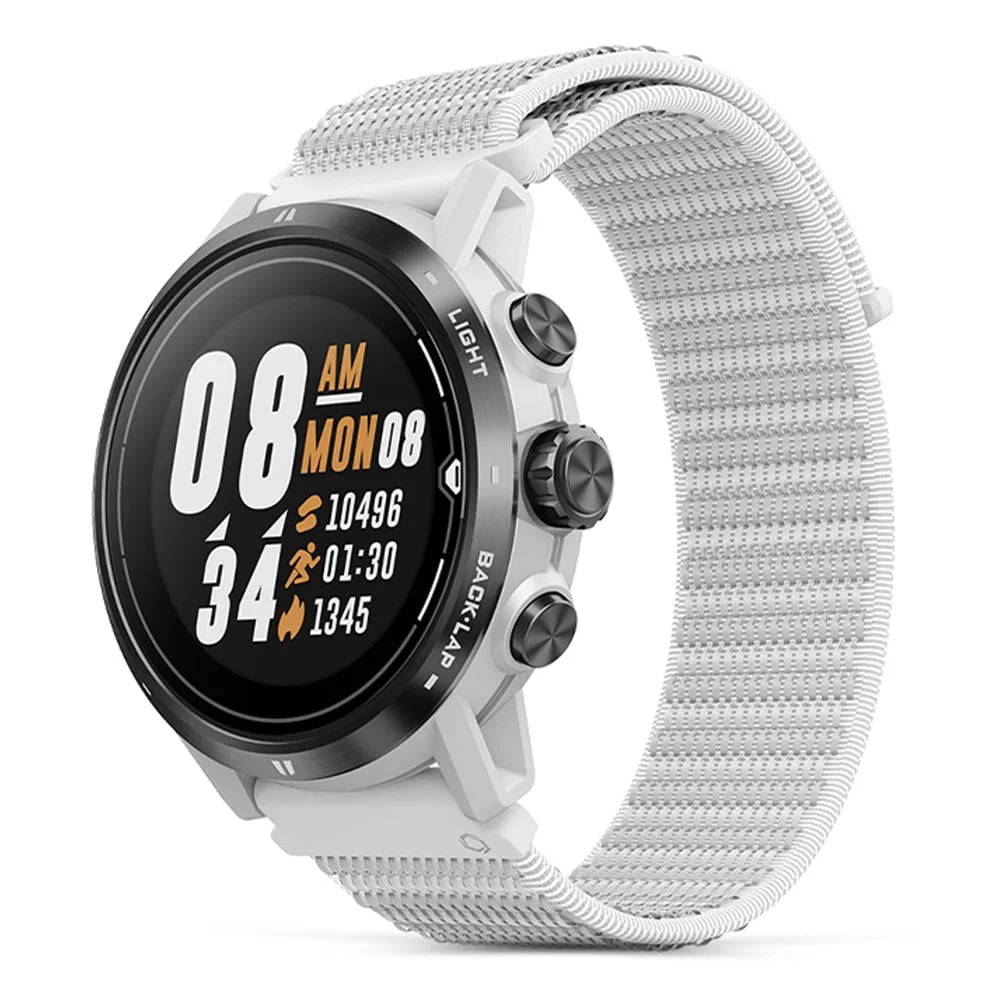 Best Battery in an GPS Trail Running Watch
We highly recommend the COROS APEX PRO in our watch lineup for trail runners. This GPS smartwatch is built for longer runs—and can help create long-runners—with the stunning battery life that COROS is known for.
Battery Life
The APEX Pro has got 14% more battery life in full GPS than the original APEX multisport watch. When you're out running in the backcountry, you can count on 30 days of regular use, 40 hours in Full GPS mode, and 100 hours in UltraMax mode. Perfect for any of your trail run endeavors!
Navigation
Go with confidence! APEX'S advanced tracking offers GPS/QZSS, GLONASS, and BeiDou satellite connections right on the wrist. Take advantage of built-in ABC sensors—an altimeter for elevation data, a barometer to monitor weather, and a compass. Use Bread Crumb and Back-to-Start navigation for those long, off-the-beaten path runs.
Training & Performance
This trail-tested, athlete-approved rugged running watch tells you your stride length, cadence, and elevation change along with a measurement of your aerobic and anaerobic productivity—all from a color touchscreen that lets you move and zoom in/out on your navigation track. Run the toughest trail with monitoring features for extreme conditions—like 24/7 blood oxygen monitoring with altitude acclimatization assistance and COROS EvoLab (VO2 Max, Fatigue, Training Load, Threshold Pace, etc). Keep tabs on how hard you're pushing it with wrist-based heart rate monitoring. Use the Training mode to create, share, and download specific workouts from pro athletes and coaches. Build your own workout and select from 200+ preloaded exercises. Plus take advantage of Night mode for nighttime activities that leaves a backlight on that's bright enough so you can see, but dim enough that you get the best battery life out of your GPS watch. Run profiles include Run, Indoor Run, and Track Run.
Size & Durability
This durable, lightweight trail running watch comes with a silicone strap (59g) or with a nylon strap (49g). A scratch-resistant sapphire glass lens protects the 1.2" display. This rugged GPS wearable also has a Grade 5 titanium alloy bezel with an aluminum cover. Pysical size is 47 x 47 x 13.4mm, making the COROS APEX Pro a pretty sleek watch for running the wild path with more than substantial battery life!
---
Best Training GPS Watch for Trail Running
The Polar Vantage V2 premium watch for trail running is the ultimate tool for tapping into personalized smart training. This GPS smartwatch with color touchscreen will guide you toward intelligent training and your next personal best in all your runs through the outdoors!
Battery Life
Get up to 40 hours of continuous training time with the Vantage V2 GPS watch. Multiple power save options boost the battery life all the way up to 100 hours, making it ideal for those challenging trail runs.
Navigation
Get accurate location, speed, and distance data. Train with the best positioning experience anywhere in the world with assisted-GPS for faster fix times, supported by GPS, GLONASS, Galileo, and QZSS satellite systems. The stylish, lightweight aluminum unibody also acts as an antenna signal booster for the built-in GPS, so you know you're getting the best tracking support. Also, import Komoot to your Vantage V2 trail running watch and let the turn-by-turn guidance do the navigating for you. Get back to your start point with Track Back, and visualize all slopes and routes right on your watch with Elevation Profiles.
Training & Performance
The Polar Vantage V2 has all-day wrist-based heart rate monitoring—technology that Polar excels at. Recovery Pro™ reveals how training strains the body and provides metrics that show when it's time to recover. Training Load Pro™ shows how your training sessions strain different parts of your body and how much you've been training, so you can determine if you're hitting the mark. Get an idea of how well you recover during the night from the demands of your day with Nightly Recharge. Track your progress and personalize your heart rate, speed, and power zones with Running Performance Test. Leg Recovery Test tells you whether your legs are ready for high-intensity training in just a couple of minutes without any special equipment—just your watch! Get access to Polar Flow, an uber-comprehensive training platform that offers extensive training planning and analysis tools, an automatic training diary, progress reports, and much more!
Size & Durability
The durable Polar Vantage V2 is made from aerospace aluminium alloy and has a glass fiber reinforced polymer with a laminated Gorilla glass lens with anti-fingerprint coating. Its sunlight-visible, transflective color touchscreen is 1.2". This GPS watch for trailblazers is one of the lighter models in this lineup, weighing in a 52g with physical dimensions of 47 x 47 x 13, making it one of the slimmer ones as well. It comes in 2 band sizes: Small (120-190 mm wrist circumference) and M/L (145-215 mm wrist circumference).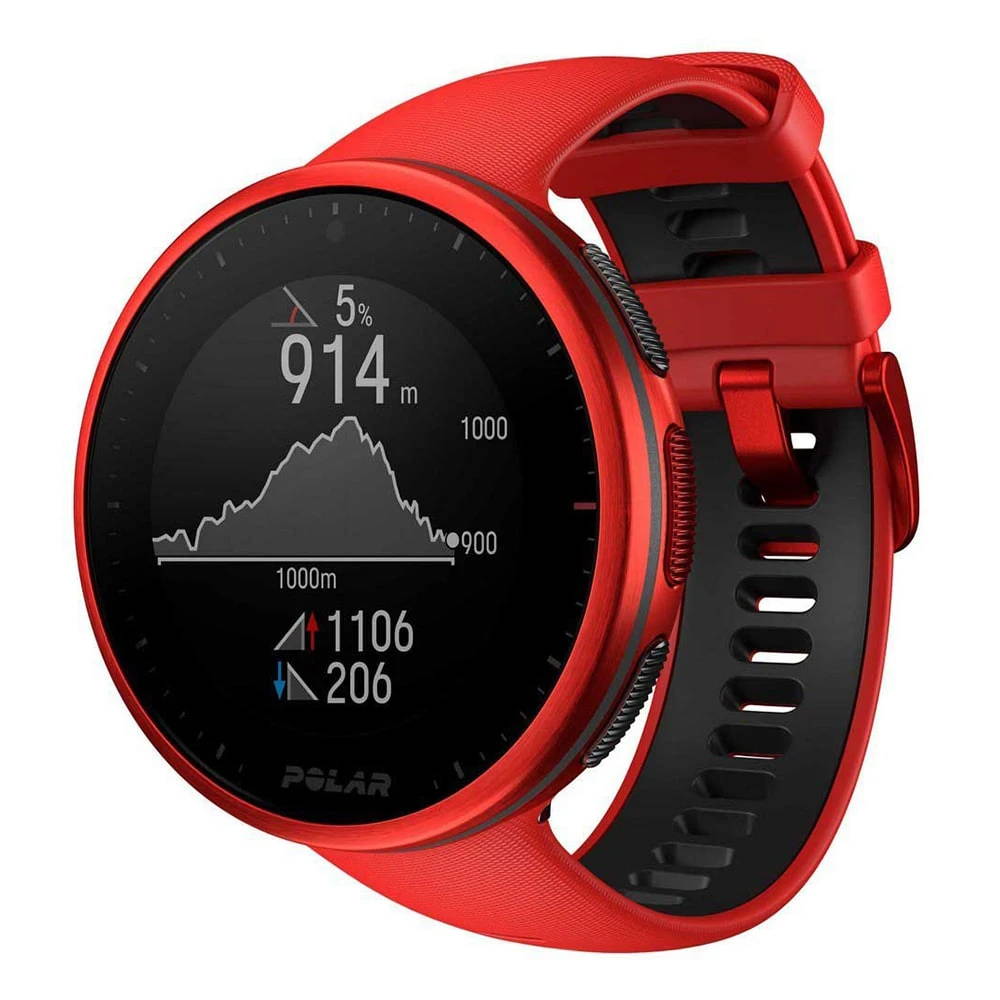 ---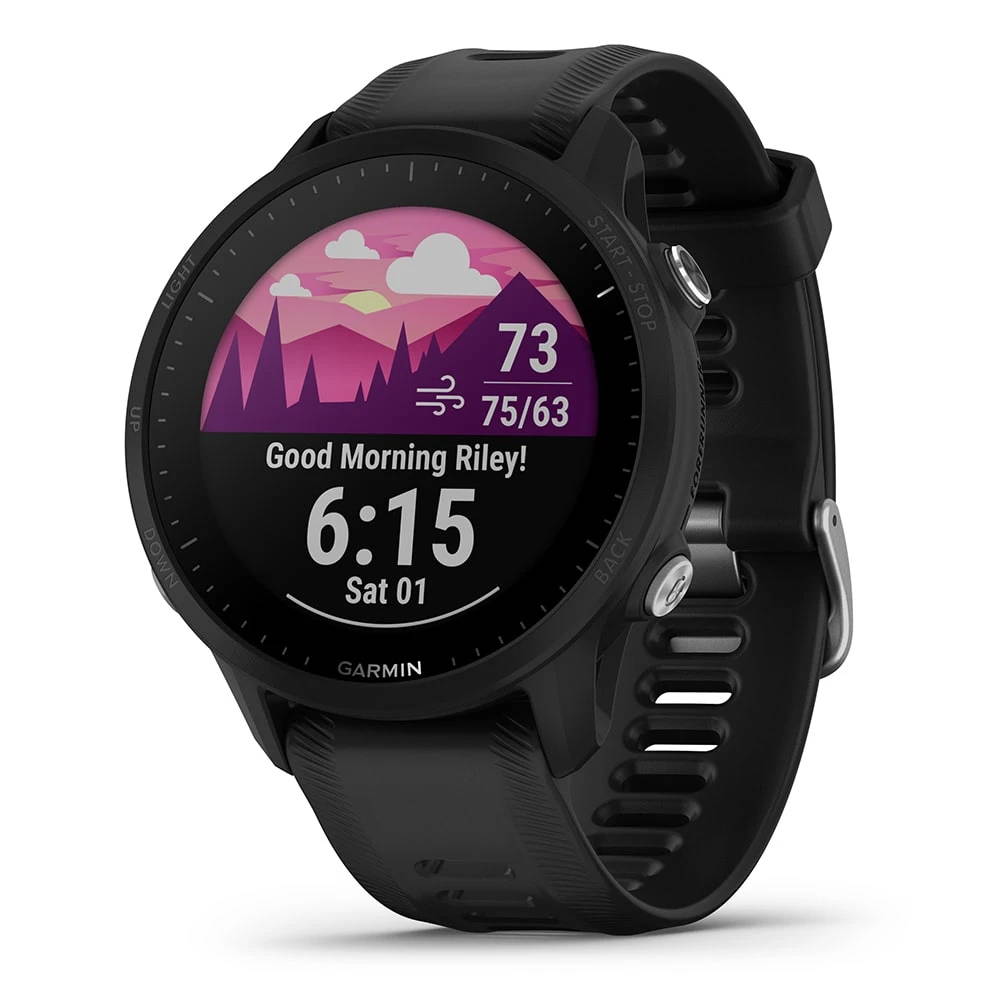 Lightest Ultramarathon Watch
At 52 g, the Garmin Forerunner 955/955 Solar is the lightest watch in this lineup that still has all the features you want in an trail running watch. Feature-wise, it's very close to the fēnix 7 with highly responsive touchscreen and traditional 5-button operation. But even the smallest model in the fēnix 7 family has just a bit more bulk and weight than the Forerunner 955, which can make all the difference for some runners. But you pay for it by sacrificing bit of battery life and durability. Ultimately, it comes down to a runner's preference.
Battery Life
The Forerunner does not have the robust battery life management as these other watches, nor quite the power. But it does now offer a solar-charging option that comes closer to competing with the larger, high-end Garmin watches. Here's what the Forerunner 955/955 Solar battery life looks like:
Smartwatch mode: Up to 15 days/20 days with solar
GPS-only mode without music: Up to 42 hours/49 hours with solar
All-Systems GNSS mode plus Multi-Band with music: Up to 8.5 hours
All Systems GNSS mode plus Multi-Band without music: Up to 20 hours/22 hours with solar
Ultratrac mode: Up to 80 hours/110 hours with solar
Navigation
Get pretty much the same navigation as the fēnix 7 Sapphire Solar, including preloaded full-color topo maps and multi-frequency positioning to access multiple satellites to find your way through any terrain.
Training & Performance
Again, the Forerunner 955/955 Solar is pretty much in line with the fēnix 7 Sapphire Solar when it comes to training features and performance data.
Size & Durability
This is also where the lesser bulk makes a difference between these 2 Garmin watch lineups. The Forerunner 955 has a 1.2" display—the same as the fēnix 7S Sapphire Solar, but is even lighter and slimmer, weighing in at 52 g with a physical size of 46.5 x 46.5 x 14.4 mm. The Garmin watch has a fiber-reinforced polymer bezel and cover, instead of a stainless steel or titanium bezel and metal cover like the fēnix 7 series. This makes it lighter on the wrist, but a little less rugged.
---
Trail Running Watch with Most Battery Life—And Weight
The VERTIX 2 adventure watch is the latest in the COROS lineup of GPS watches created for the most extreme athletes in the most extreme settings. It offers brow-raising features that trail runners will love. The only downside? It is the heaviest and bulkiest watch on this list. Trail runners will have to weigh (quite literally) that one feature against the benefits of the rest when it comes to this impressive adventure GPS watch.
Battery Life
Known for their long-lasting batteries, we didn't imagine a COROS watch could outdo the battery life of the VERTIX—but the VERTIX 2 has ... impressively. Amazingly, this ultimate GPS watch gets:
Up to 60 days in watch mode

Up to 140 hours in Standard Full GPS

Up to 240 hours in UltraMax GPS mode

Up to 50 hours in All Systems + Dual Frequency On
Navigation
Get 5 major satellite systems—GPS, GLONASS, Galileo, Beidou, and QZSS—accessed by your VERTIX 2 GPS sport watch at the same time! Dual Frequency satellite communication acts as an express lane for a faster, better signal previously only available in aviation products! Take advantage of built-in ABC sensors—an altimeter for elevation data, a barometer to monitor weather, and a compass. The VERTIX 2 GPS offers global offline mapping, and includes: Landscape, Topo, and Hybrid modes. Get a full global Landscape map out of the box and users can download their Topo map by regions for free from COROS.com. By zooming in and out of the map with the digital-dial, or dragging around the map with the highly-responsive touchscreen, the VERTIX 2 offers the best experience for on-wrist navigation. Plus have Breadcrumb and Back-to-Start navigation at your disposal.
Training & Performance
Use the new electrocardiogram (ECG) to get Heart Rate Variability (HRV) straight from your wrist. The HRV metric measures your body's response to stress and its ability to recover—pretty handy knowledge when you're pushing in the extremes. Plus you get Altitude mode, advanced training analytics, and recovery time. Running profiles include Run, Indoor Run, Trail Run, and Track Run.
Size & Durability
The COROS VERTIX 2 adventure watch is built for the extremes. It's water resistant, opterates at extreme temperatures, and has a scratch-proof sapphire lens. Both the bezel and cover are constructed from highly durable Grade 5 titanium alloy with PVD coating. But this rugged, powerful, advanced tracking GPS watch is big, putting a 1.4" display on you wrist with dimensions of 50.3 x 50.3 x 15.7 mm and a weight of 89g.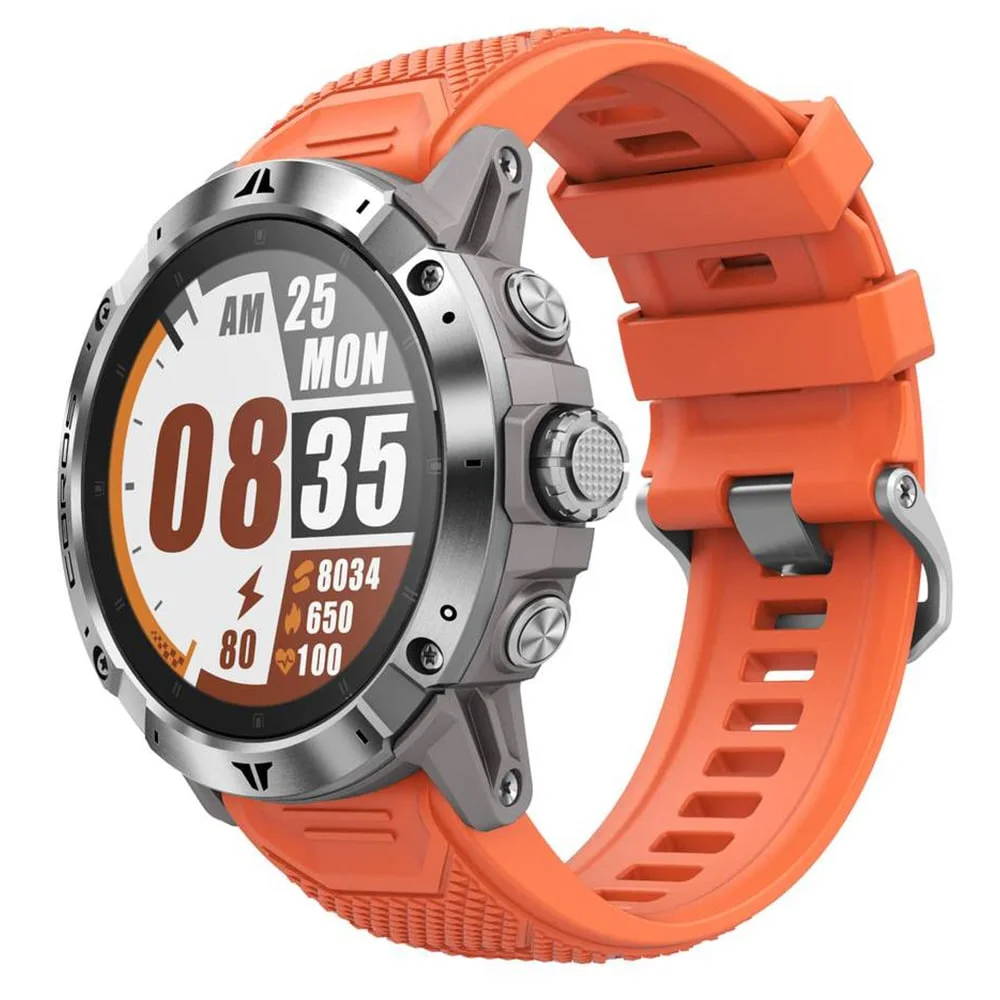 ---
The PlayBetter Bottom Line
Obviously, the best trail running watch for you will be the one that has the combination of battery life, durability, actionable performance metrics, navigation, and size that is just right for you.
We recommend the fēnix 7 Solar Sapphire, because it is a sleeker, highly durable watch with button control and touchscreen display that offers powerful, customizeable battery life. But if you know you want a lighter watch, you may want a Garmin Forerunner 955, COROS APEX Pro, or Polar Vantage V2.
If you want to pair ultimate battery life with premium navigation and maximum durablility—and do not mind running with a bit more heft on your wrist—you probably lean toward a fēnix 7X Sapphire Solar, Garmin Enduro 2, or the COROS VERTIX 2.
Whatever you preference, we're confident that you'll find the perfect trail running watch in our PlayBetter GPS running watch collection!