Top 8 Best Garmin Watches for Women
Find the best women's Garmin watch. We compare Garmin fēnix 7 Pro, Forerunner, epix Pro and more!
***Updated to in June 2023 to include new Garmin watches.***
What Are the Best Garmin Watches for Women?

We wanted a closer look at the best Garmin watches for women and thought you would too. But what's the criteria for women's watches? Garmin only makes one watch specifically for women, the Garmin Lily fitness smartwatch, which is very affordable with an elegant style and all of Garmin's wonderful health and fitness tracking. But what about those hardcore ladies who want the best running watch or the powerhouse triathlon watch that's going to kick their butt? Or all the women golfers who want a gorgeous watch with all the best Garmin golfing features? We know that all active types and athletes want options—and Garmin knows too. So, they offer up a variety of watches, but in different styles, sizes, and color schemes. They know you may be a beginning runner who doesn't want a giant watch on her wrist. But you could also be an extreme athlete who wants a beast of a watch that's loaded with top-shelf features.  
In this article, we go over the 2023 Garmin watches that have impressed us and spotlight the ones we think women will really love. It's not too hard—with watches as high-quality and attractive as Garmin's!
Short on time? Jump to our Comparison Chart below or click on a subject in our Table of Contents.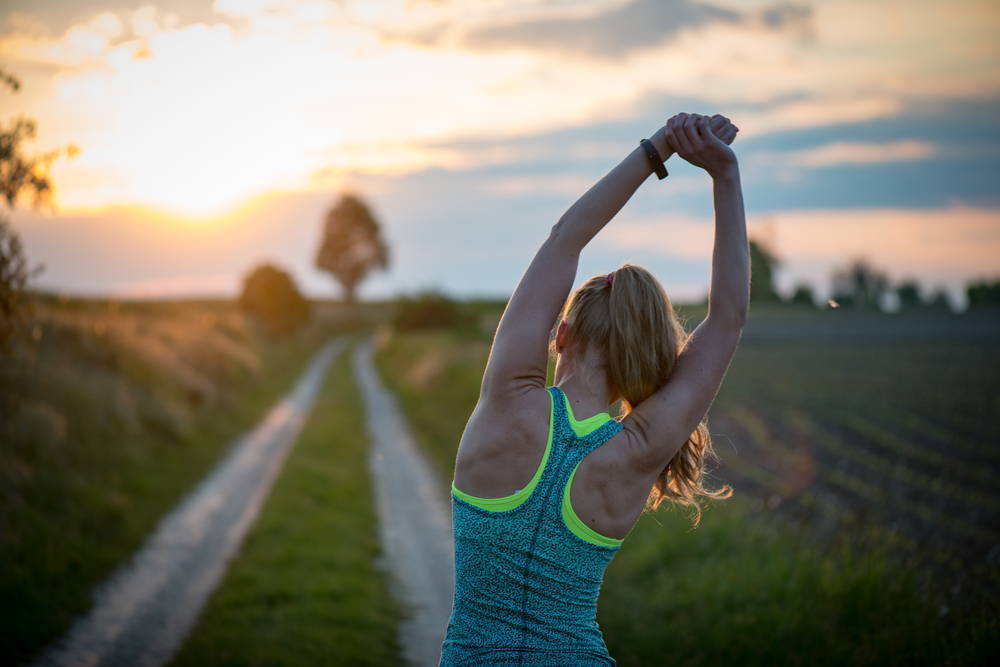 ---
Garmin knows smartwatches for women. Whether you're hyper-focused on one sport, loves to mix it up and stay active, or are just beginning your health and fitness plan, PlayBetter's got the a Garmin GPS watch you'll love!
All orders include FREE 2-day shipping on PlayBetter.com. And we have FREE 60-day returns, no questions asked.
Sending a Garmin watch as a gift—we've got you covered! Our Garmin wearables have gift box bundle options!
---
Garmin Watches for Ladies | Table of Contents
---
Garmin Venu (Light Sand/Rose Gold) — Best Smartwatch for Ladies

Get an EXCLUSIVE DISCOUNT on the Garmin Venu—previously a $400 watch—on PlayBetter.com today!
Along with the eye-catching 1.2" AMOLED display and rose gold bezel, you'll also be putting on your wrist Garmin's full suite of health and wellness features, including Body Battery energy monitor, advanced sleep data, and Women's Health.
This affordable Garmin watch offers wrist-based heart rate, GPS tracking, smart notifications, safety features, activity tracking, 20+ sport profiles, really cool on-screen workout animations, and more!
Cutomize your data pages on your gorgeous touchscreen display. It's 43.6 g light with a 43.2 mm case. Get Auto Lap, Manual Lap, VO2 Max for Run, and profiles for running, treadmill running, and track running. And always track your GPS speed and distance, plus heart rate zones.
The Venu smartwatch is for women who like a sport- and style-savvy watch on their wrist for a smart price.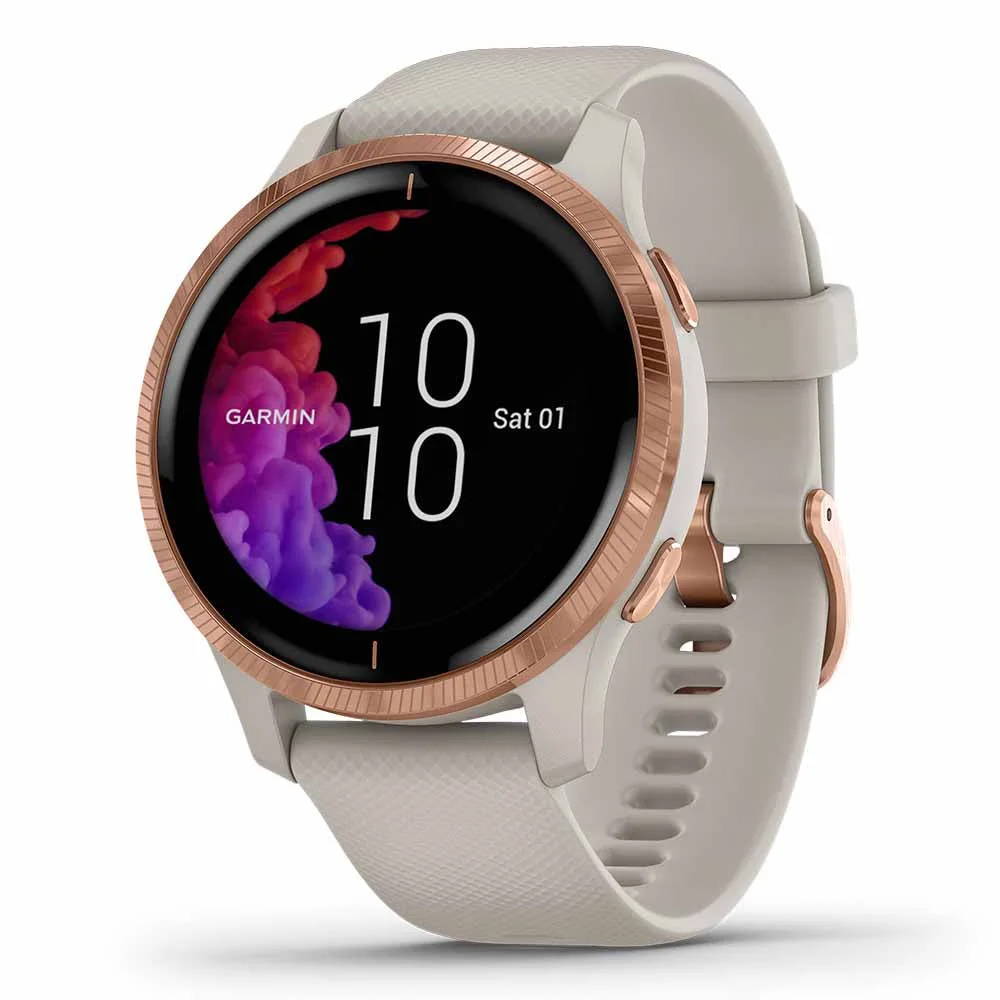 ---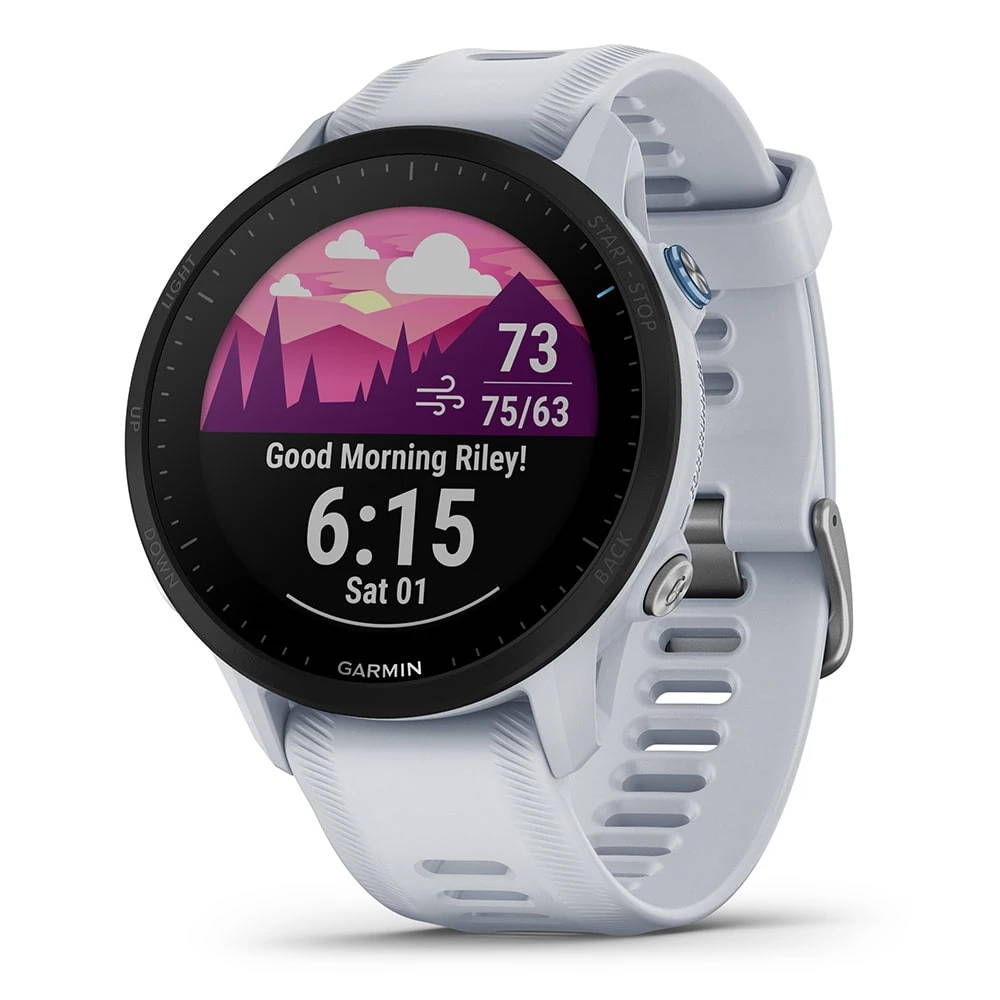 Best Women's Running Watch — Forerunner 955/955 Solar
You run marathons. You chase down your goals. You deserve an elite watch—The Forerunner 955 or the FR955 Solar if you want more battery life.
For women who like to push the limits, the Garmin Forerunner 955/955 Solar premium GPS running and triathlon smartwatch has all the training, maps, performance, health, and smart features that the most expensive Garmin multisport watches have. And for ladies who are always on the go, in the Solar edition, Power Glass™ for solar charging will extend your battery life too.
The training readiness feature shows when you're primed for a productive session—while daily suggested workouts adapt to your performance and recovery alongside the race widget, which provides training tips, course details, and completion time predictions. With morning report, you'll get an overview of your sleep, recovery, training, and more—as well as a picture of your overall health with heart rate variability (HRV) status. Plus, new multi-band GPS and full-color, built-in maps give you all that you need to navigate with confidence. Additionally, you can choose how you use this runnign watch: traditional buttons or the touch display.
For the serious runner, tap into training status and know whether you're training productively, peaking, or strained with this lightweight (53 g) running watch for women. Available in black or white with a 1.2" display and 46.5 mm case.
---
The Garmin Venu Plus 2 — Best Fitness Watch for Calls & Texts
Dial in to your well-being with Venu® 2 Plus. This GPS smartwatch has advanced health and fitness features to help you better understand your body. When paired with your compatible smartphone, enjoy the convenience of keeping that phone in your pocket, and making and taking calls right from your wrist. You can even use your smartphone's voice assistant to respond to text messages.
Switch up your activities with animated workouts and more than 25 built-in sports apps. Built-in music storage lets you bring your favorite tunes along. And get even more functionality on the wrist with Garmin Pay™ contactless payments in supported countries and payment networks, safety tracking features and more (Requires setup and your smartphone to be in an area with network coverage where data connectivity is available).
Choose from 3 new colors on PlayBetter today!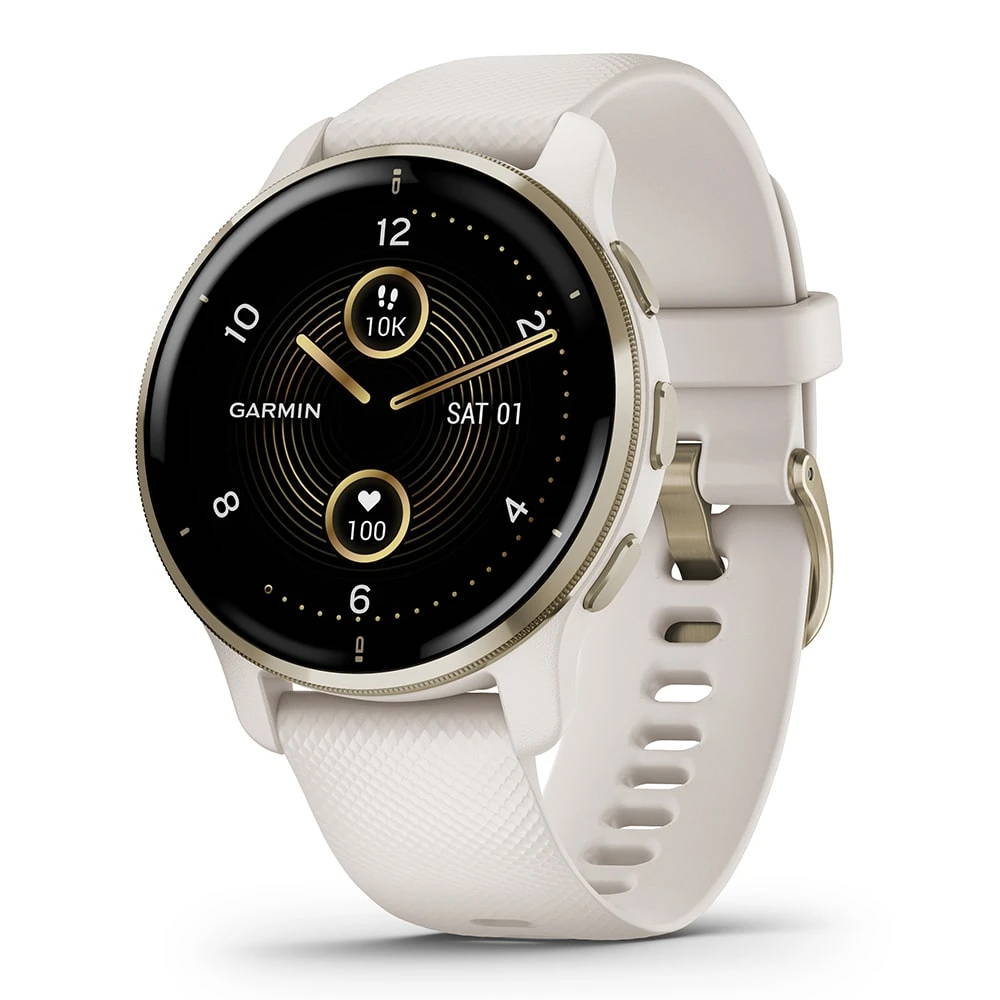 ---
Garmin Forerunner 255S Music — Best Running Watch with Music
As the best Garmin running watch with music option, the Forerunner 255/255S GPS smartwatch is an affordable tool to help women train and recover smarter.
It's loaded with features to help you improve, including training status, running power, multi-frequency positioning (GPS, Galileo, GLONASS), and daily suggested workouts that adapt to your performance and goals. Plus, other new features—such as race widget—help plan your race-day strategy, and morning report with HRV status reveals your overall health alongside the day ahead.
The FR255 watch jam-packed with smart features like Garmin Pay and notifications, more than 30 activity profiles—even for triathlon—and the battery life that is sure to go the distance with you.
The Forerunner 255 is a great option for women who want a fully loaded lightweight running watch, offering a smaller size for smaller wrists, at a more affordable price point. This Garmin watch is the mid-ranged priced answer to a high-end running training tool.
Find out the difference between Forerunner 955, 255, 965, and 265.
---
The fēnix 7S Pro — Best Outdoor Multisport Watch
The smaller-sized fēnix 7S Pro Solar multisport GPS watch is built to go strong for longer for women who are built the same.
Meet any athletic or outdoor challenge with cutting-edge training features, sports apps, and health monitoring. Styled for smaller-sized wrists, the watch's fresh new design adds a new touchscreen interface to access selections along with the watch's trusted button controls.
Opt for the Garmin fēnix 7S Pro Sapphire Solar model and get an even more durable GPS smartwatch with a scratch-resistant Power Sapphire lens and titanium bezel and rear cover. Topo maps come preloaded out of box on this model.
Your loved ones will worry less about your outdoor adventures, because all the fēnix 7 Pro running watches have safety and tracking along with that ultra long battery life! And now, you'll also have a super-handy and powerful LED flashlight on your wrist.
All fēnix 7 Pro watches are tough, tested to U.S. military standards for thermal, shock, and water resistance, making it the perfect running watch for women who frequent trails, multi-day ultra runs, or long journeys into the backcountry.
If you want a larger size, 47 mm (1.3" display) and 51 mm (1.4" display) are available in this family of premium Garmin watches.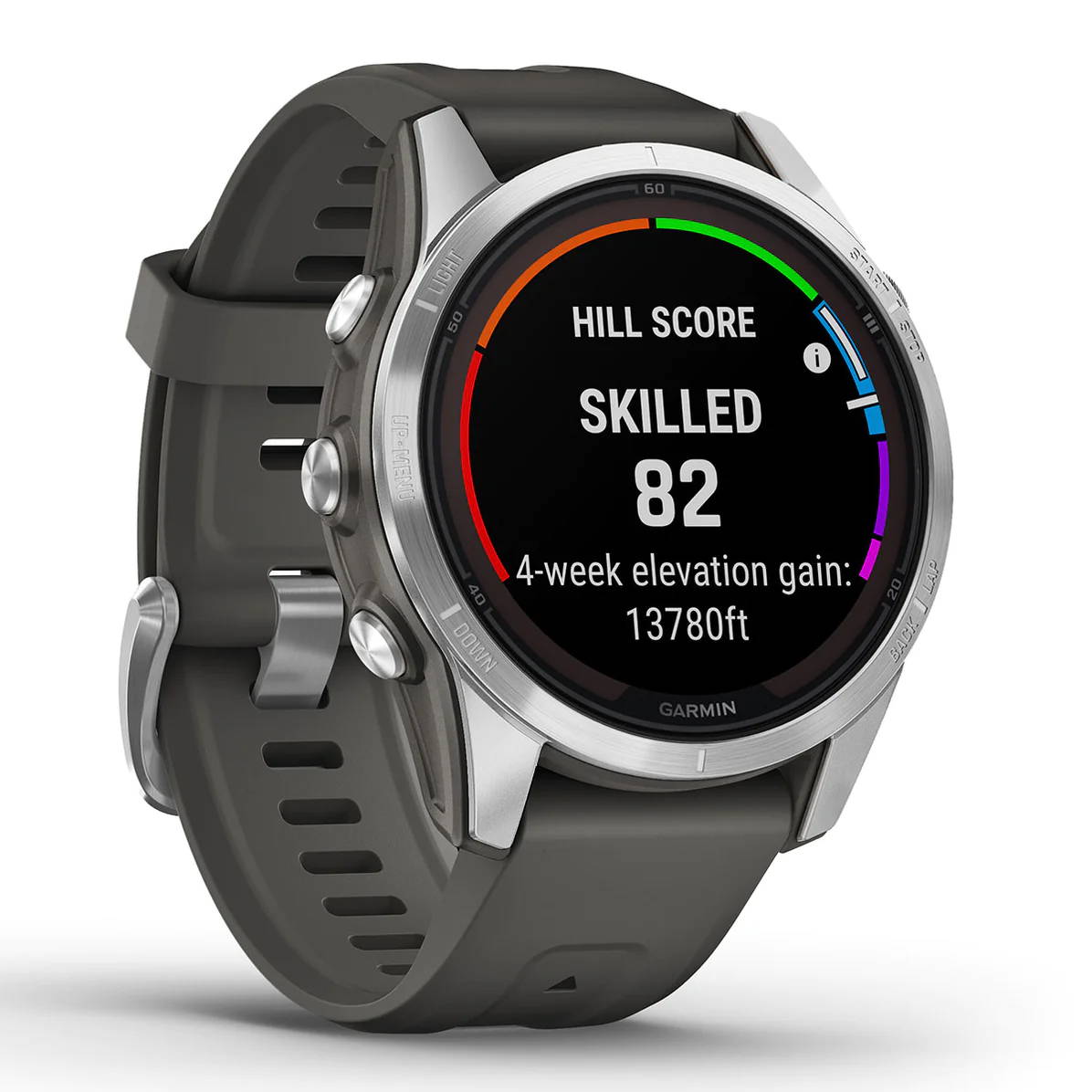 ---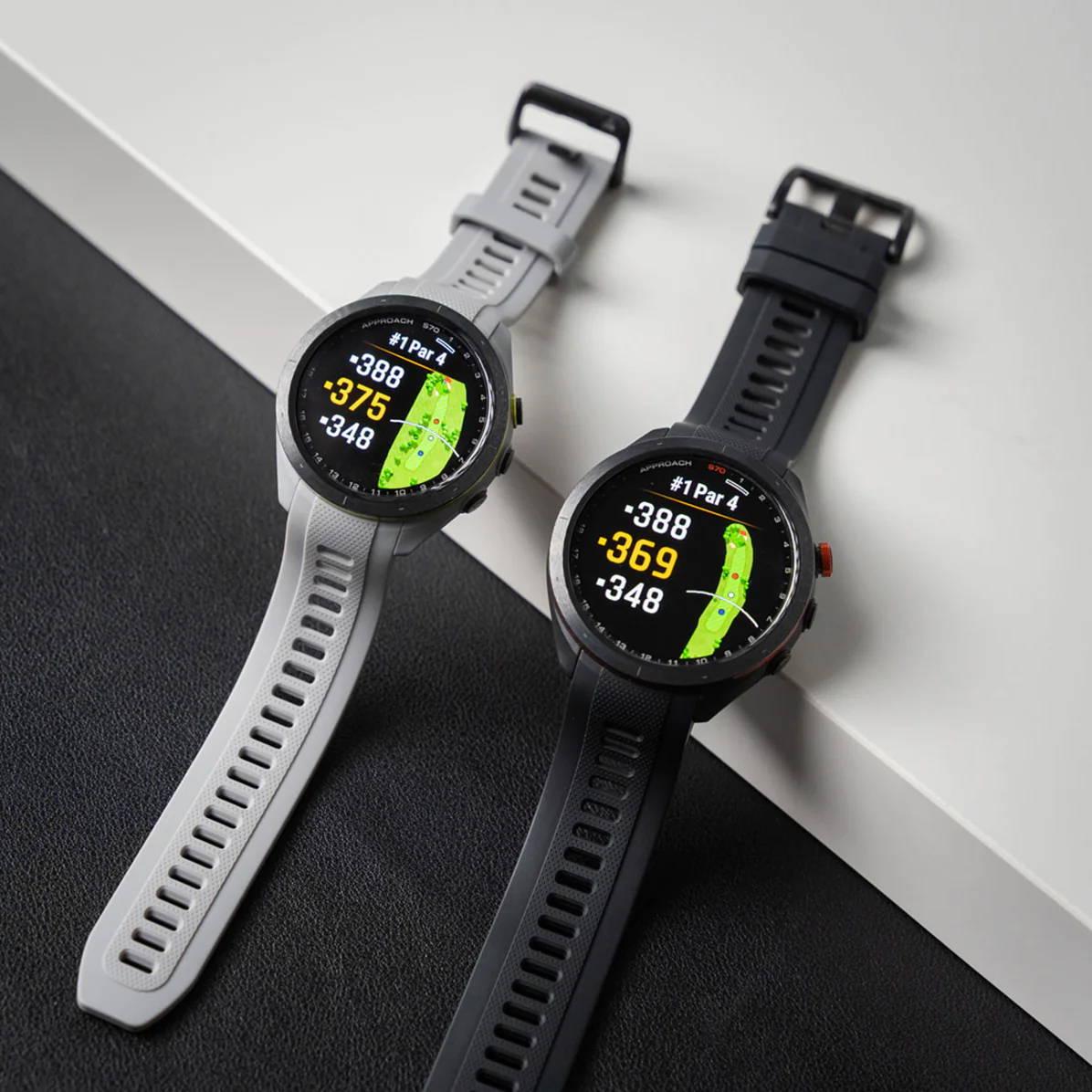 Best Garmin Golf Watch for Women — The Approach S70
The Garmin Approach S70 now offers a stunning AMOLED display. But course management strategy, better decision-making, and overall game improvement is where it really shines.
And now this top of the Approach lineup GPS watch is available in two sizes—42 mm and 47 mm.
The improved virtual caddie feature provides a recommended club based on your shot dispersion data, elevation, and more.
An enhanced PlaysLike Distance feature utilizes a built-in barometer, so you'll know how far each shot is playing.
And on your way to the hole, preloaded green contour data gives you insights into the slope direction of the green (with an active Garmin Golf app membership—$9.99 per month or $99.99 per year).
Plus, you get all of Garmin's other golfing features, activity and health tracking, and smart features that make this a golf watch for beyond the clubhouse!
---
Garmin vívomove Sport — Best Heart Rate Monitor Watch
The Garmin vívomove Sport hybrid smartwatch combines the traditional look of an analog watch with the essential smart features you need to keep step with your busy life.
When you tap or swipe, real watch hands move to reveal a hidden touchscreen display. Drafting off previous Garmin vívomove models, including vívomove HR, vívomove 3/3S, and vívomove Style, the Sport offers you yet another way to accent your wrist with goregeous style.
Elevate that style with smart functions hiding behind the elegant watch face. Get phone notifications, control music, track your fitness with Garmin's wrist-based heart monitor and GPS from your paired smartphone. Plus, access a very robust suite of health and wellness tools to know what's going on whether you're on the go or sleeping.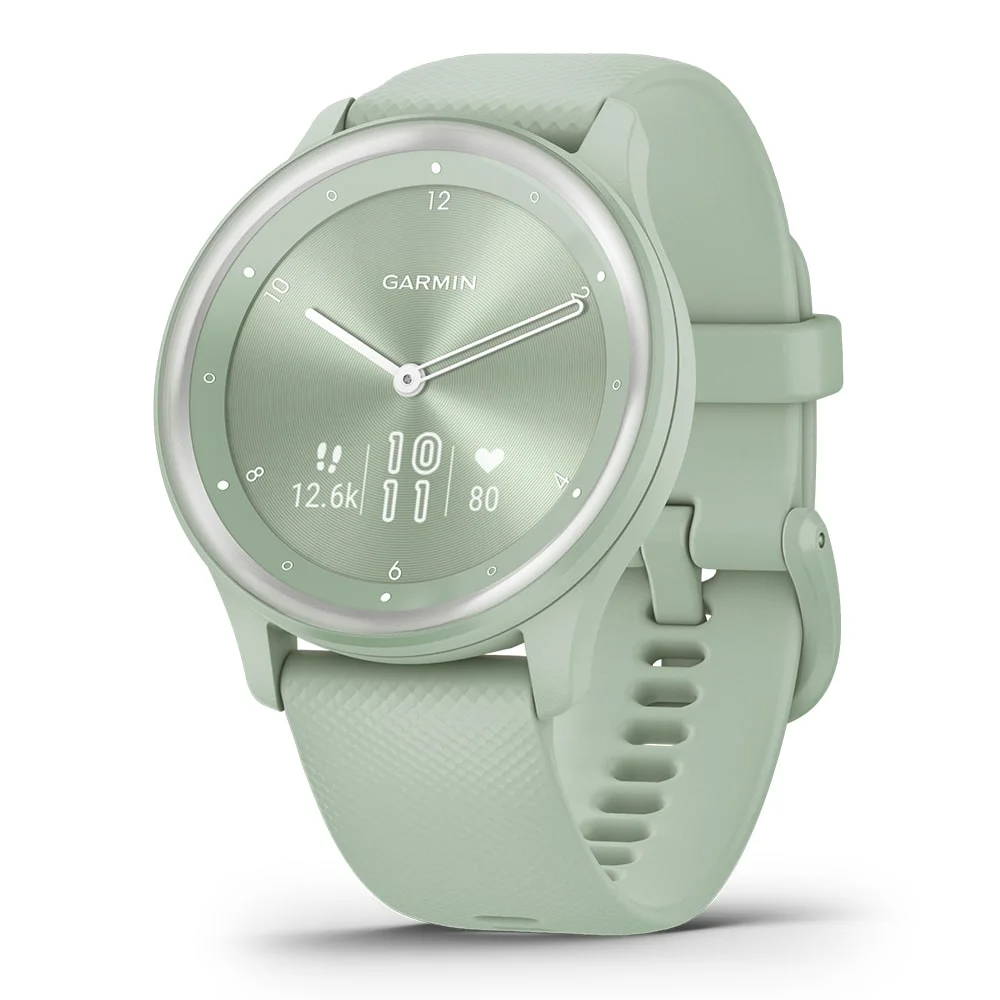 ---
Garmin epix Pro (Gen 2) — Most Stylish Women's Garmin Watch
Get epic features and design on your wrist epix Pro multisport GPS watch for women—Garmin's latest AMOLED display wonder wearable that provides a sleek formfactor coupled with a eye-catching screen. Plus it's loaded with all of this tech titan's amazing training tools, health & wellness monitoring, and smart features.
And it now comes in three sizes, so you an find the right balance of stunning screen and watch feel on your wrist! Choose from a 42 mm (1.2" display), 47 mm (1.3" display), or 51 mm (1.4" display).
Get on-watch activity-specific profiles for the gym, running, cycling, swimming, golf, and outdoor recreation. Level-up with training features, such as heat and altitude acclimation, VO2 Max for run and trail run, Training Status, Training Load, Training Effect, finish time, a virtual partner, course guidance, Garmin and Strava live segments, and much, MUCH more.
Get a whole lot of health monitoring, track in the most challenging environments with Garmin's superior GPS positioning, navigation tools, and maps.
The built-in LED flashlight on your epix Pro offers variable intensities and strobe modes to give you greater awareness while you train at night.
You'll also have the convenience of smart notifications, Garmin Pay™, and phone-free music.
Garmin Watches for Women Comparison Chart
Forerunner 255S Music
Venu 2 Plus
Forerunner 955
Garmin fenix 7S Pro
Garmin Approach S70

silver/powder gray
slate/black
cream gold/ivory

silver/gpahite
carbon gray/black
slate gray/black

1.1" (27.5 mm) diameter
sunlight-visible, transflective
memory-in-pixel (MIP)
color display

1.3" (33.0 mm) diameter
AMOLED touchscreen
optional always-on mode


1.3" (33.0 mm) diameter
sunlight-visible, transflective
memory-in-pixel (MIP)
color touchscreen display

1.2" (30.4 mm) diameter
sunlight-visible, transflective
memory-in-pixel (MIP)
color display touchscreen

1.2" (30.4 mm) or 1.4" (35.41 mm)
diameter AMOLED Optional
Always-On Mode
color display touchscreen

Smartwatch mode: Up to 12 days

GPS-only GNSS mofe: Up to
26 hours
All-systems GNSS with music:
Up to 55 hours

All-systems GNSS: Up to 20 hours

All-systems GNSS plus multi-band:
Up to 13 hours

Smartwatch mode: Up to 9 days

Battery saver smartwatch
mode: Up to 10 days
GPS mode with music: Up to
5.5 hours

GPS mode without music:




up to 24 hours

Smartwatch mode: Up to
15 days/20 days with solar
GPS-only mode without music:
Up to 42 hours/49 hours
with solar
All-Systems GNSS mode plus
Multi-Band with music: Up to
8.5 hours
All Systems GNSS mode plus
Multi-Band without music:
Up to 20 hours/22 hours with solar
Ultratrac mode:
Up to 80 hours/110 hours with solar

Smartwatch: Up to 11 days/14
days with solar
Battery Saver Watch Mode: Up
to 38 days/87 days with solar
GPS Only: Up to 37
hours/46 hours with solar
All Satellite Systems: Up to 26
hours/30 hours with solar
All Satellite Systems + Multi-
band: Up to 15 hours/16
hours with solar
All Satellite Systems + Music:
Up to 7 hours
Max Battery GPS: Up to 90
hours/162 hours with solar
Expedition GPS: Up to 26
days/43 days with solar

Approach S70 (47 mm)

20 hours in GPS mode /
16 days in smartwatch mode

Approach S70 (47 mm)

15 hours in GPS mode /
10 days in smartwatch mode

Wrist-based heart rate
(constant, every second)

Body Battery™ energy monitoring

Pulse Ox monitor

Fitness Age widget


Health Snapshot widget

Sleep score

Advanced sleep monitoring

Women's health tracking

Multi-frequency positioning
(GPS, GLONASS, Galileo)

Garmin Pay

Smart notifications

Store up to 500 songs

Customizable data pages
and activity profiles

VO2 Max (run & trail run)

Training status, load, and focus

Race widget

Morning report

Running power

HRV Status

Enhanced strength training profile
with muscle map graphics

On-screen animations

Advanced training features

Advanced running features

Advanced cycling features

Advanced outdoor recreation
features

Golfing features

Advanced swimming features

Bright AMOLED display

Bluetooth phone calling, texting,
and smartphone voice assistant
support

Wrist-based heart rate

Body Battery™ energy monitoring

Pulse Ox monitor

Fitness Age widget


Health Snapshot widget

Sleep score

Advanced sleep monitoring

Women's health tracking

Multi-GNSS (GPS, GLONASS, Galileo)

All-day stress

Store up to 650 songs

Smart notifications

Garmin Pay

Enhanced strength training profile
with muscle map graphics

On-screen animations

Basic training features
(downloadable workouts,
advanced workouts, VO2 Max, etc.)
Basic running features (running profiles,
GPS-based distance, time,
and cadence, etc.)
Basic cycling (cycling
profiles, goal alerts, etc.)

Golfing features

Swimming features

Women's health tracking

Running Dynamics

Advanced Running Features

Women's health tracking

Golfing Features

Around Me Mode

Elevation Profile

ClimbPro Ascent Planner

Trail Run Auto Climb

Preloaded Topo Maps

Preloaded Road/Trail Maps

Projected Waypoints

Advanced Cycling Features

Advanced Swim Features

Activity Tracking Features

Multi-frequency positioning
(GPS, GLONASS, Galileo)

Wrist-Based Heart Rate

Recovery Time

Customizable Data Pages




and Activity Profiles

VO2 Max (run & trail run )

Training status, load, and focus

Real-time stamina

Race widget

Morning report

Running power

HRV Status

Finish Time

PacePro

Race Predictor

LiveTrack

Incident Detection

Assistance

Wrist-based heart rate
(constant, every second)

Body Battery™ energy monitoring

All-day stress

Sleep score

Women's health tracking

Smart notifications

Pulse Ox monitor

Multi-frequency positioning
(GPS, GLONASS, Galileo)

Garmin Pay

Advanced safety and tracking
features

Dual grid coordinates

Advanced activity tracking
features

Real-time stamina

Race widget

Morning report

Running power

HRV Status

Recovery time

Rest timer

Finish Time

PacePro

Race Predictor

Advanced training features

Advanced running features

Advanced cycling features

Advanced outdoor recreation
features

Golfing features

Advanced swimming features

Preloaded topo maps on Sapphire Solar
model (downloadable on other models)

AMOLED display in 2 sizes!

Pin Placement

Improved PlaysLike Distance

Improved Virtual Caddie

42,000+ Worldwide Courses

Accurate Back, Middle, Front




green distances + hazards

Custom targets

Stat tracking

Auto Courseview updates

Scorekeeping on Garmin Golf

1-Year Garmin Warranty

Sleep

Hydration

Women's health tracking

Smart notifications

Step counter, move bar,
and auto goal

Basic running features

Basic cycling features

Free 2-Day Shipping

Free 60-Day Returns

PlayBetter Customer Service

Free 2-Day Shipping

Free 60-Day Returns

PlayBetter Customer Service

Free 2-Day Shipping

Free 60-Day Returns

PlayBetter Customer Service

Free 2-Day Shipping

Free 60-Day Returns

PlayBetter Customer Service

Free 2-Day Shipping

Free 60-Day Returns

PlayBetter Customer Service