Polar vs Garmin Smartwatch | Best Fitness Watch Comparison
Polar vs Garmin Smartwatch | Best
Fitness Watch Comparison

We compare the best fitness watches from these two top brands.

Vantage V2 vs Forerunner 955, Vantage M2 vs Forerunner 255, and Ignite 3 vs Forerunner 55
Polar vs Garmin. Two top brands in sport watches. So who offers the better fitness smartwatch? The answer is: there's no definitive answer. Why? Because you are unique and so are these watches. Just as you have some universal and some unique training and health and wellness needs, the Polar and Garmin watches in our PlayBetter collection have universal and unique features.
Polar watches cater to a range of fitness levels from athletes to active types chasing after a healthier life to people recovering from injury. They are especially known for their heart monitoring technology.
Garmin watches are engineered to help everyone from amateurs to athletes pursue their passions and personal best. Even their most affordable devices are brimming with advanced features, and they are known for catering to every price point.
In this fitness watch comparison, we compare three tiers of GPS multisport watches from Polar and Garmin:
Polar Vantage V2 vs Garmin Forerunner 955
Polar Vantage M2 vs Garmin Forerunner 255
Polar Ignite 3 vs Garmin Forerunner 55
Read on to find the fitness watch with your must-have features!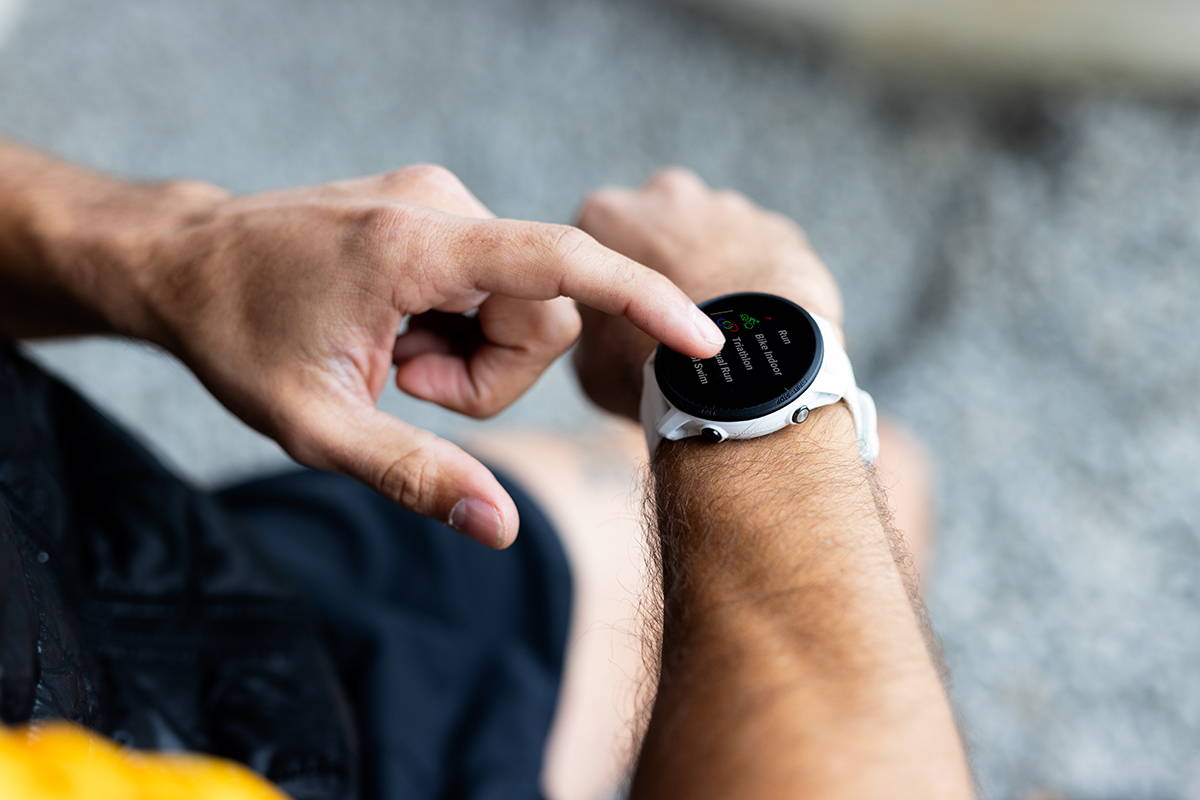 Must-Have Features in Your Multisport GPS Smartwatch
A smartwatch's features should match your fitness needs and goals. For example, if you want to train for a triathlon, it should provide profiles and metrics for running, cycling, and swimming.
Any worthy fitness watch will include basic health-monitoring, such as wrist-based heart. Both Polar and Garmin continuously update their sensor technology and offer added accessories, like chest straps, for additional ways to track your heart rate.
Polar and Garmin GPS watches provide even more navigational tools beyond GPS. They often include multiple satellite imagery navigation from systems like GLONASS and Galileo, to track in more challenging environments.
Get the convenience of your phone on your wrist. Garmin and Polar GPS multisport watches provide smart notifications when paired with a compatible phone.
Because you shouldn't have to sacrifice style for even the most durable GPS wearable, loaded with advanced technology.
 The GPS smartwatch you choose should have the juice to power you through every challenge on the way to your goals!
Garmin and Polar Fitness Watches:


Shared Features Across Each Brand
Features All The Following Polar Watch Models Share
The Polar Vantage V2, Vantage M2, and Ignite 3 all come with:
Satellite navigation: GPS, QZSS,




GLONASS, and Galileo

Long battery life

Nightly recharge

FitSpark™ daily workouts

Smart notifications and music controls

Water resistant to 3 ATM

Wrist-based heart rate

Serene breathing exercise

Energy sources used during training

Personal and adaptive running program

Swimming metrics

Sport profiles (choose from 130 from Polar Flow platform)

Weekly summary

Watch face color themes

Polar Flow app and web portal
Features All The Following Garmin Watch Models Share:
The Garmin Forerunner 955, Forerunner 255, and Forerunner 55 all include:
Color, sunlight-readable display

Wrist-based heart rate

Extended battery life

Body Battery™ energy monitoring

Fitness Age

Advanced sleep monitoring

Multi-GNSS (GPS, GLONASS, Galileo)

All-day stress

Accelerometer

Smart notifications

ANT+® connectivity

Controls smartphone music

Safety tracking features (LiveTrack, Incident Detection, etc.)

Basic activity tracking (step counter, calories burned, etc.)

Basic training features (downloadable workouts, advanced workouts, VO2 Max, etc.)

Basic running features (running profiles, GPS-based distance, time, and cadence, etc.)

Basic cycling (cycling profiles, goal alerts, etc.)

Golfing features

Swimming features

Water resistant to 5 ATM

Connect IQ store for watch faces, data fields, widgets, and apps

Calendar and weather
---
Polar Vantage V2 vs Garmin Forerunner 955
The Polar Vantage V2 Premium GPS Sports Watch
Even pros need to recover. In fact, pro athletes especially need to recover. The Polar Vantage V2 Premium multisport watch helps you track progress during training, how your body adapts, and how well you recover. Knowing is your key to progress, and the Polar Vantage V2 is your tool for the job!
Load Up on Training Features
Put yourself to the tests! The Running Performance Test helps you track your progress and personalize your heart rate, speed, and power zones. The Cycling Performance Test give you a personal view of your power zones and tells you your personal functional threshold power (compatible power meter required).
See the load your training sessions put on different parts of your body with Training Load Pro™. It also shows you how much you've been training, so you can determine if you're on the right track. Furthermore, the Vantage V2 sport GPS smartwatch supports over 130 different sports. Add your favorite sports to your watch in the Polar Flow app and customize what you see on your watch during each sport.
Track You Recovery
Attention triathletes and marathon runners! Find out if your body is ready for training with recovery feedback right on your watch from Recovery Pro™ (Polar heart rate sensor required). Take the Leg Recovery Test and find out if your legs are ready for high intensity training in just a couple of minutes without any special equipment—just your watch! The Nightly Recharge™ recovery measurement shows you how well you recover from the demands of your day during the night.
Workout Guidance, Fun, and Tools
Plan your route on Komoot, import it to your Vantage V2 sport watch, and let the turn-by-turn guidance do the navigating for you. Refuel and maintain adequate energy levels during long sessions with FuelWise™. Use the FitSpark™ training guide for ready-made daily workouts that match your recovery, fitness level, and training history. Get exciting runs and rides with Strava Live Segments. Get alerts about nearby segments, see real-time performance data during, and check your results.
Sleek on the Outside, Smart on the Inside
With a lightweight, slim design, comfortable silicone band, and color touch screen—the Vantage V2 looks and feels great on your wrist. Get weather, control music from your wrist, and conveniently receive smart notifications right on your watch display.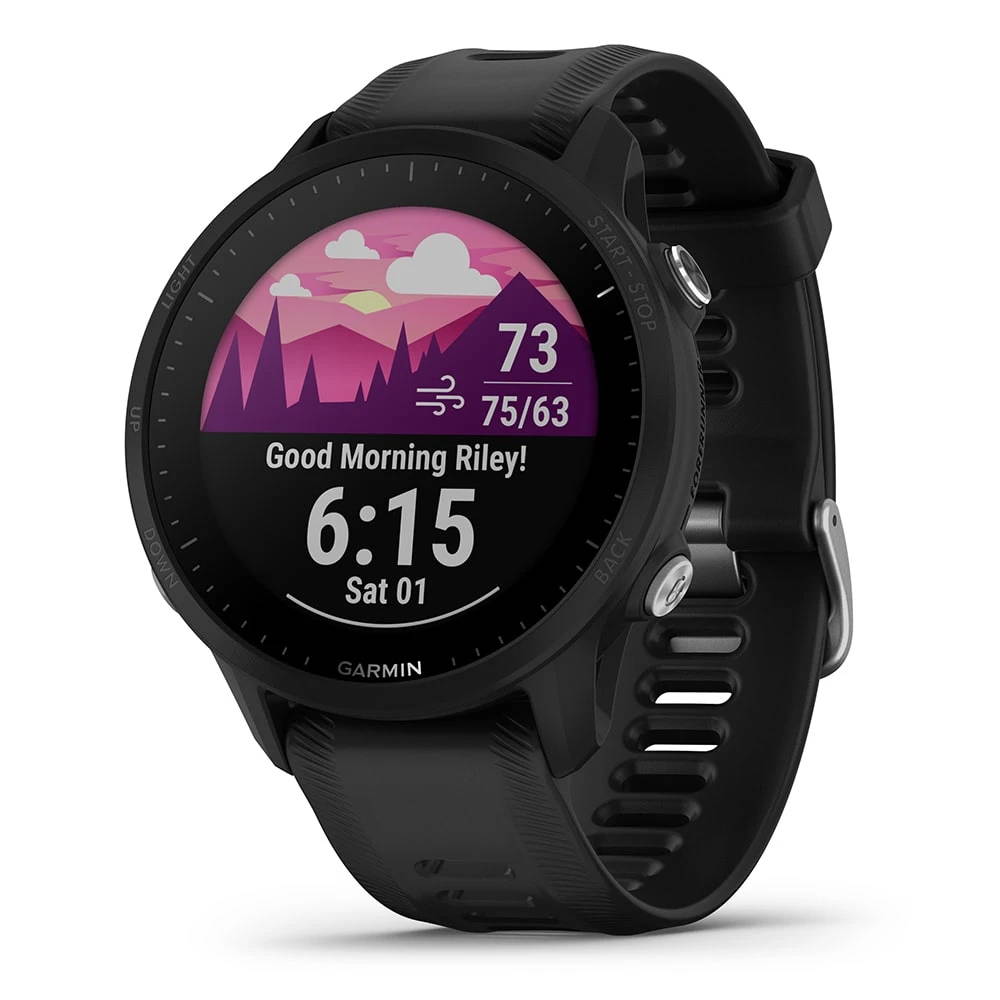 The Garmin Forerunner 955/955 Solar Premium Multisport Watch
The Garmin Forerunner 955 with 1.3" touchscreen display is an elite GPS running watch designed to help you train. It's loaded with performance metrics including Running Dynamics, which shows you cadence, stride, contact time, balance, and more, to offer insight on your form, allowing you to adjust and improve.
It includes Training Status, a metric that evaluates your recent exercise history and performance indicators to let you know if you're training productively, peaking, or overreaching. Training Effect shows you how your workouts are affecting endurance, speed, and power. And Training Load is a metric for measuring your 7-day exercise volume. You can compare it to the optimal range for your fitness and recent training history.
The Forerunner 955/955 Solar premium running watch also offers recovery time that factors in all-day stress, sleep, and daily activity outside workouts.
Get superior navigation right on your wrist with features like full color mapping, ClimbPro, Turn-By-Turn navigation, and roundtrip routing.
With its ultra long battery life, the Forerunner 955 premium multisport watch gets up to 15 days in smartwatch mode and 42 hours with GPS and no music. To go longer between charges, choose the solar model for 20 days in smartwatch mode and 49 hours in GPS-only without music.
Speaking of music, if you can't train without your beats, the Forerunner 955 let's you store up to 2,000 songs—no phone needed!
There's a ton of additional training and advanced performance features right on your wrist with this high-end Garmin watch. If you're an athlete who wants serious training, feedback, and integrated health-monitoring paired with music and style, this Garmin is the multisport wearable for you!
---
---
Garmin Forerunner 255 vs Polar Vantage M2
Garmin Forerunner 255 Running Watch
In 2022 Garmin released the Forerunner 255/255S watch lineup offering a great option for people who want a fully loaded lightweight running watch at a more affordable price point.
Here's what's new:
Built with a slim design and an always-on, full-color display that's light on the wrist and easy to read even in direct sunlight—the Garmin Forerunner 255/255S is now available in 2 sizes: 46 mm and 41 mm. Plus, you can upgrade to the Music version in either size and store up to 500 training tunes on your wrist.

Morning report summarizes your sleep, HRV status and daily workout suggestion in one place as soon as you wake up.

Get ready for your next race with training tips, personalized daily suggested workouts, and completion time predictions based on course details, weather, and performance

View your entire week of daily suggested workouts, which adapt after every run to match your performance and recovery.

HRV status tracks your heart rate variability while you sleep, giving you greater insight into your overall wellness, recovery and training performance.

Garmin Forerunner 255/255S battery life is improved—with twice as many days in smartwatch mode as the Forerunner 245.

Multi-band satellite tracking on GPS, GLONASS, and Galileo networks gives you superior accuracy for how far and how fast you've run—even in challenging environments.
This Garmin watch is the mid-ranged priced answer to a high-end running training tool.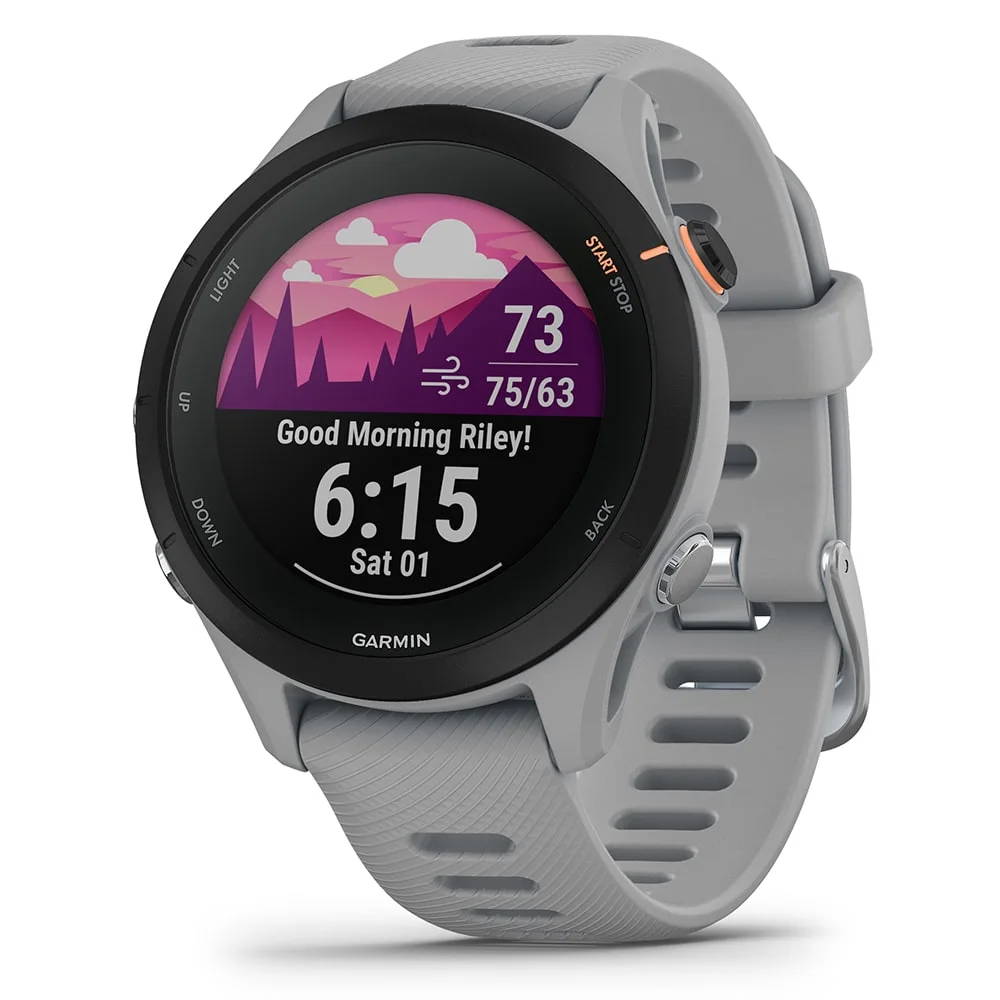 Polar Vantage M2 Multisport GPS Watch
You train smarter, not harder with the Polar Vantage M2. When this GPS multisport watch is your training partner, you can track your performance in real time and get valuable sleep and recovery stats, allowing you to maximize improvement with personal data and feedback right from your body.
Polar Vantage M2 Features for Training
Get advanced essentials designed for your inner athlete! When monitoring heart rate, different sports have different needs. Polar Vantage M2 offers you several heart rate tracking solutions—from wrist-based to other sensors for tracking. FitSpark training guide offers you different daily workouts that match your recovery, fitness level, and training history. Simply access them on your Vantage M2 sports watch! Get a holistic view on how your training sessions affect different systems in your body and how your performance is progressing (or not) with Training Load Pro. With Polar Running Program, you can choose your distance and set your date, and the Polar Flow app creates a personal and adaptive training plan that is based on your individual metrics. Your plan adapts along the way, based on your progress.
Recovery Factored In!
Overall stress recover plays a major role in performance development, optimal daytime functioning, well-being, and health. Nightly Recharge tells you how well your body was able to recover from the strain caused by training and other demands of your day.
Stay Focused and Prepared!
Check in with your wrist for current and 2-day weather forecasts. Get focused with your favorite tunes by navigating your playlist and controlling volume on your Vantage M2 training smartwatch. Relax and calm down with guided breathing exercises. And don't worry about missing a bit of your daily beat—get alerts for emails, texts, calls, messages, calendar events and more on your watch face!
---
---
Polar Ignite 3 vs Garmin Forerunner 55
Polar Ignite 3 GPS Fitness Watch
If fitness, wellness, and personalized style on your wrist are on your wishlist, then you'll want to check out the Polar Ignite 3 fitness GPS watch.
Ignite 3 Fitness Features
Get ultra reliable advanced wrist-based heart rate technology and integrated GPS to track precise speed, distance and location. Get personalized daily workout guidance based on recovery, readiness, and training history with FitSpark, and track you progress with the Weekly Summary feature. Like the Polar Vantage V2 and Vantage M2, Polar Ignite 3 supports over 130 different sports. Add your favorite sports to your watch in the Polar Flow app and customize what you see on your watch during each sport.
Health-Monitoring Features
See how your body uses different energy sources during a training session. Polar Ignite 3 divides your energy usage into carbs, proteins, and fats. And get guided Serene™ breathing exercises to relax your body and calm you mind.
Polar Nightly Recharge
Sleep and recovery data provide detailed insights for sleep duration and quality, as well as measuring overnight recovery to set you up for the next day's challenges.
Easy, Breezy Smartwatch Features
The Polar Ignite 3 has simple-to-use dashboards for wrist-based music controls, weather reports, and push notifications.
True to You
The Polar Ignite 3 lightweight but durable design can be personalized with a variety of watch faces, colors, and accessory bands.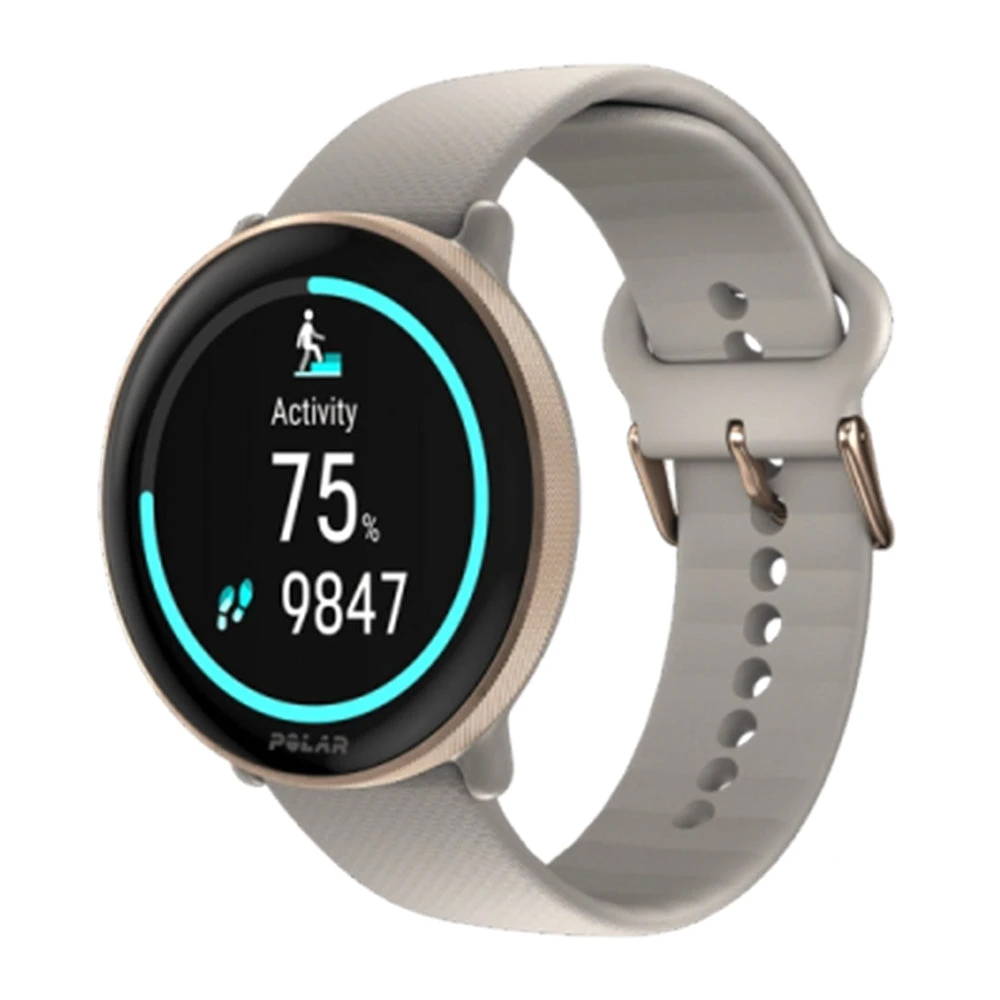 Garmin Forerunner 55 GPS Running Watch
There are runners of all skill levels who want a simplified running watch—especially runners just starting out. That's why Garmin designed the Forerunner 55 GPS running smartwatch to be easy to use while still offering a wealth of high-end running, workout, and sports features.
Beginners can simply press a button and start their run or walk and track their time, distance, speed, pace and heart rate data right from their wrist.
Start a life-changing commitment to running that can grow with you into a pro—for just $199.99—with these easy-to-use features:  
Built-in GPS tracks how far, how fast, and where you run
Wrist-based heart rate provides data all day and night
All-day activity tracking counts steps, calories, sleep and more
Daily suggested workouts take the guesswork out of training by offering personalized run workouts tailored to your training history, fitness level, and recovery time
Garmin Coach training plans offer on-screen guidance from expert coaches and free 5K, 10K or half marathon training plans that adapt based on your goals
Safety features let you send a message with your location to family and friends
The Garmin Forerunner 55 GPS running watch comes in one size, a 1.04" diameter color display, and weighs 37 g. Choose from black, white, or aqua colors.
Next-Level Advanced Running Features
PacePro provides guidance to help you tailor your efforts to a selected course or distance
The finish time estimator lets you select a run distance and get an estimated finish time right on your wrist
Cadence alerts let you know when you've gone outside your target cadence range, helping to improve your running form
Looking to switch up your workout routine? The Garmin Forerunner 55 running smartwatch features several built-in activity profiles, including track or virtual running, pool swimming, Pilates, HIIT, and more

Following a workout, the built-in recovery advisor will let you know how long to rest before your next big effort
Forerunner 55 All-Day Health Monitoring
Featuring a wide array of health and wellness features from Garmin Firstbeat Analytics™, the Forerunner 55 is designed to be worn 24/7.
Track stress and set relaxation reminders to do short breathing exercises
Use the Body Battery™ energy monitor to track energy levels to find the best times for activity and rest
Women can track their menstrual cycle or pregnancy and log symptoms, receive exercise and nutrition education, and more through the Garmin Connect™ app
---