Lower Your Handicap by 5 in 2022! Find Out How with Arccos Golf's Smart Sensors on Your Clubs!
Learn, Compare, Buy, Explore.
Arccos Caddie Smart Sensors Gen3 vs New 2022 Gen3+.
Which One Should You Buy to Improve Your Golf Game This Season?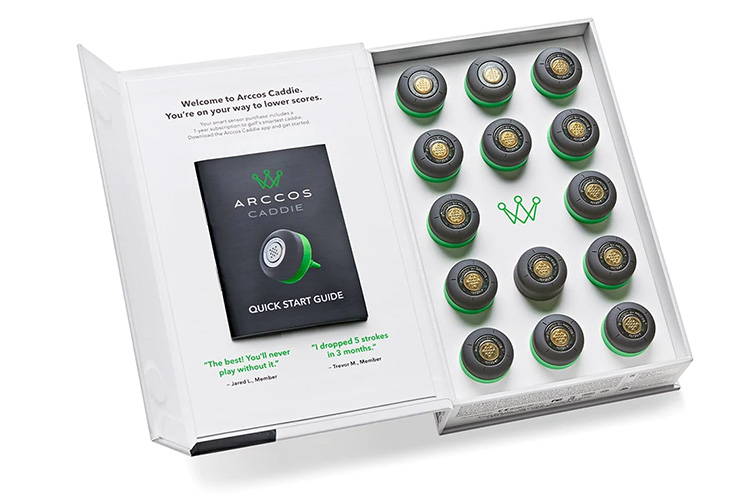 BEST VALUE! Arccos Caddie Smart Sensors (Gen3)
Get the same awesome improved shot tracking through the Arccos Caddie app and save! Find out more about Arccos Gen3 vs Gen3+ below!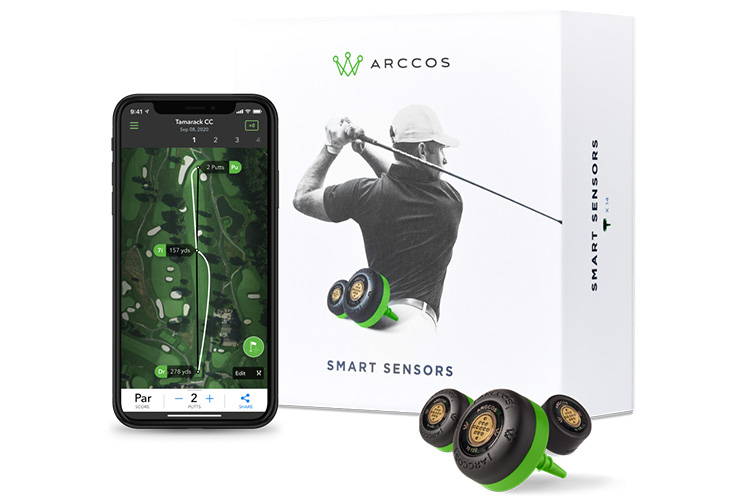 Buy the 2022 Arccos Caddie Smart Sensors (Gen3+)
 The main hardware difference? The Arccos Gen3+ Sensors come with a smaller, lighter putter sensor. Get more details below!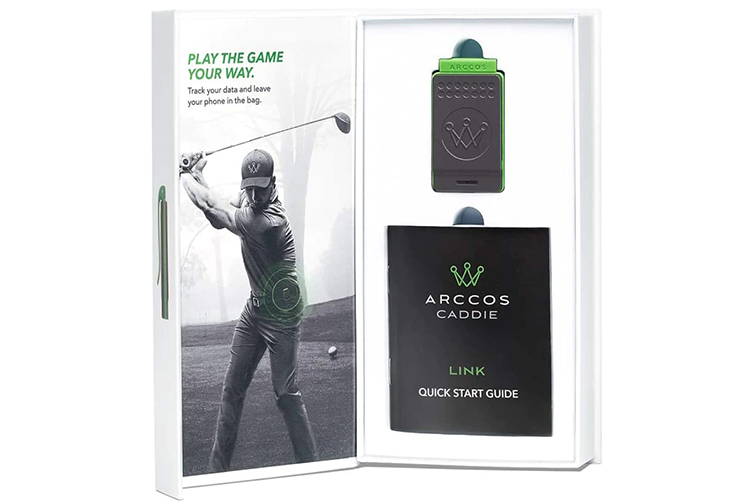 Buy Arccos Link Gen 2 & Go Phone-Free!
Want a phone-free golf game? Arccos Link is a wearable device that pairs with your Arccos Caddie sensors & records your shot data!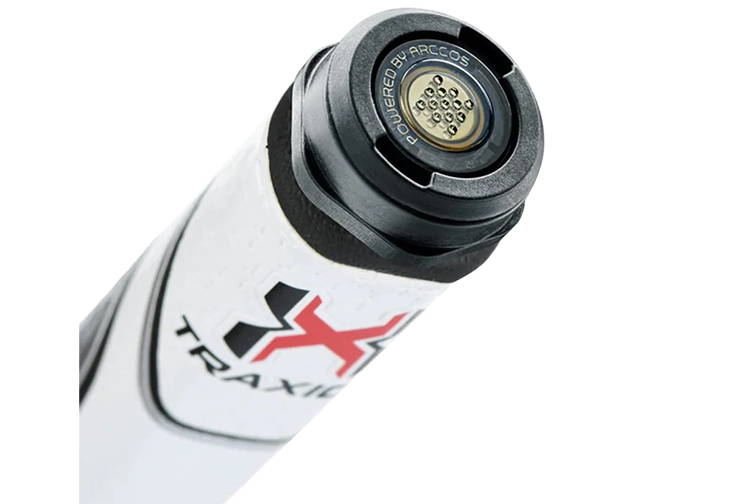 Buy a Putter Accesory for Your SuperStroke Grip
SuperStroke Putter Accessory allows for the seamless attachment of an Arccos sensor to your SuperStroke putter grip.
SHOP ARCCOS CADDIE GEN3 & GEN3+ SENSORS & BUNDLES
Arccos Caddie Smart
Sensor Gen3

Arccos Caddie Smart Sensors
Gen3+ (2022)

Arccos Caddie Bundle — Great Mother's Day/Father's Day Gift!
---
Arccos Caddie Gen3/3+ | Table of Contents
Arccos Caddie Smart Sensors FAQs
---
---
SHOP ARCCOS GOLF ACCESSORIES
Arccos Caddie Single Smart Sensors are compatible with all Arccos products, including 1st, 2nd and 3rd Generation Arccos Caddie Smart Sensors, Arccos Caddie Smart Grips and Smart Sets (Cobra and PING).
Arccos Caddie Smart Sensors Gen 3+ Hardware Update
As far as hardware goes, the new Arccos Gen3+ system includes 13 Smart Sensors with a sleek new design and a new P3 Putter sensor that is 40% smaller and 20% lighter.
While the 13 smart sensors have a sleeker look, they are the same size as the old Gen3. They are relatively unnoticeable on your clubs.
The major difference you'll find in the hardware of the Arccos Gen3+ sensors is that the putter sensor is smaller.
The previous Arccos putter sensor had a tendency to hang over the edge of some putter grips—thus, the reduction in size in the Gen3+ putter sensor.
Additionally, the new Arccos Caddie Smart Sensors have improved battery life.
Aside from that, the bigger story is in the upgrades to the Arccos Caddie shot tracking system in the app—which you can find in the next section.
Awesome Arccos Caddie App Updates
The upgraded Arccos Caddie system now captures over 98% of all tee shots and delivers the best, most accurate shot tracking the game has ever seen—on both iOS and Android platforms.
NEW Automatic shot tracking, hands-free fully automatic shot capture is powered by A.I. machine learning that tightly integrates Arccos hardware and software to pinpoint a player's shots throughout the round.
Improvements to the Arccos Caddie app have dropped the missed shot rate to under 5% while capturing 98% of all tee shots.
NEW Strokes Gained Analytics provides personalized insights using A.I. to highlight strengths and weaknesses and guide your practice.
And the Arccos Caddie now offers Strokes Gained by Club to see which clubs are helping or hurting your game.
Which Arccos Caddie Sensors Should YOU Buy?
It's really this simple:
BUY THE ARCCOS CADDIE GEN3+ SENSORS IF ...
You want a slimmer putter sensor—then you should shell out the extra $20 for the Arccos Caddie Gen3+ Smart Sensors.

The new P3 Putter sensor is 12 mm (height) x 23 mm (diameter) and weighs 6.2g vs the Gen3 putter sensor at 14 mm x 28 mm and 7.8g.

BUY THE ARCCOS CADDIE GEN3 SENSORS IF ...
You're not concerned about the size of the putter sensor. Because otherwise, you'll be getting the same benefits from the Arccos Caddie app—which is where the major upgrades are happening.

The app is free for iOS and Android platforms. However, Arccos shot tracking requires a membership subscription—with your first year FREE with purchase. After that it is $12.99 a month.
BUY A SINGLE P3 PUTTER SMART SENSOR IF ...
You already have a an older set of Arccos Caddie Smart Sensors and you want the smaller P3 Putter Sensor.

Arccos Caddie Single Smart Sensors are compatible with all Arccos products, including 1st, 2nd and 3rd Generation Arccos Caddie Smart Sensors, Arccos Caddie Smart Grips and Smart Sets (Cobra and PING).
Can I Use Arccos Caddie Sensors with My Apple Watch?
YES! You can play the game & track your shots with your Apple Watch!
Previously in beta, Arccos Caddie app for Apple Watch now features significant enhancements to the experience for players seeking to record their on-course shot data without carrying a smartphone in their pocket during play.
When you're ready to start your round, simply open the Arccos Caddie app on your phone and on your Apple Watch then select shot tracking with the watch. The app on your watch will then sync with your Arccos Caddie Smart Sensors.
Now you're free to put your smartphone away!
Arccos Caddie for SuperStrokek Grip
Designed in close collaboration between SuperStroke and Arccos engineers, the SuperStroke Putter Accessory allows for the seamless attachment of an Arccos sensor to your SuperStroke putter grip.
The accessory includes an Arccos Caddie Putter Sensor and a purpose-built housing that attaches to a SuperStroke CounterCore or Traxion putter grip, as well as a tightening tool and SuperStroke wrench. CounterCore weight not included.
Watch how it's done in this video.
*Not compatible with third party weight systems, including Odyssey's proprietary weight system*
Improve Your Golf Game with the Arccos Caddie App
If your bag is set and you really want a smart caddie and analysis that could help you lower your handicap by 5 in one season—then the improved Arccos Caddie Smart Sensors shot tracking system is your best bet.
We've already gone over the differences in the Arccos Gen3 & Gen3+ sensors above. Whichever set you choose, you will still be able to access the same 2022 enhanced benefits from the Arccos Caddie app and membership (first year free with purchase; $12.99/month thereafter).
When you purchase Arccos Caddie Smart Sensors, you'll be access to play smarter and shoot lower scores with:
STROKES GAINED ANALYTICS—

The most advanced personalized insights in the game, provides players with a clear and simple way to improve. Top 3 Insights show exactly what to work on. In-depth analysis for every facet of the game: driving, approach, short, and putting, plus tips from world-class coaches.


NEW STOKES GAINED BY CLUB — Compare all your clubs with the power of Strokes Gained data. You can easily view your data by selecting "Strokes Gained" from the Club Distances drop down menu.


REAL-TIME SHOT DATA CAPTURE — You can review prior holes during the round or wait until you have completed the round and revisit each hole. This allows you to analyze your strategy and performance. And it's a great way to relive your best rounds!


40,000 COURSES FROM OVER 190 COUNTRIES — Easily download course maps, start your round in the app, and let Arccos do the rest.


SMART CLUB DISTANCES — Know exactly how far you hit all your clubs and now with new simulations you can see the environmental impact on your distances so you select the right club every time. Accounting for wind, temperature, and altitude, plus the ability to filter your data offers even more detailed insights about your shots.


WORLD'S FIRST A.I POWERED RANGEFINDER — Provides real-time yardage adjustments for wind speed/direction, slope, temperature, humidity & altitude, personalized to the user.



CADDIE ADVICE — Powered by your data, the Arccos Caddie artificial intelligence engine was developed in partnership with Microsoft. It shows your optimal strategy and predicted outcome for every shot on any hole in the world.
NOTE: Arccos Caddie can be used in competitions when rangefinders are allowed. To comply, the Arccos Caddie app must be toggled to "Tournament Mode," which turns off the live display of elevation.
What Is Strokes Gained Analytics in Arccos App?
The Strokes Gained Analytics (SGA) feature in the Arccos Caddie app lets you set a target handicap. Then, reviewing the data of 5 of your previous rounds, shows you the best way to attain that goal.
SGA with show you the top 3 insights based on your data to offer a clear path to your target handicap.
You will see detailed breakdown of each game facet, get a trend analysis of your game and rounds, and get specific tips from world-class pros.
For the first time ever you can compare your game vs realistic handicaps, not just a scratch golfer or tour player. You can easily scroll in the app to select your target handicap, then identify the number of rounds to review your data (5 rounds are recommended). With this input SGA will show you the clear path to improve.
SGA will show you where those shots are going to come from in your game to lower and acheive your target handicap.
What Is the Arccos Caddie Subscription Cost?
A trialing or active Arccos Caddie membership is required to use the Arccos Smart Sensors.
The Smart Sensors will not function without a membership.
When you purchase Arccos Caddie Smart Sensors (Gen3 or Gen3+) your first year membership is FREE. After that, membership subscription cost is $12.99/month.
Cancelled members can access the Arccos platform however new rounds can not be started without resubscribing to the Arccos membership first.
If you are a returning Arccos member, simply "Start A Round" and resubscribe to begin your yearly membership. 
What Is Arccos Caddie Link?
Arccos Caddie Link Gen 2 automatically records shot data so you can go phone-free during play.
It's a wearable shot-tracking device that seamlessly connects with Arccos Caddie sensors and the Arccos Caddie app. Link also let's you mark the hole location by simply pushing the main button while standing next to the pin.
Compatible with iPhone and Android devices, Arccos Caddie Link Gen 2 can be clipped to your waistband, belt, or pocket.
It functions independently of a smartphone. Based on your preference, it transfers data either during or after a round.
Small and lightweight, less than 25 grams, measuring 2.25" (L) x 1.25" (W) x 0.75" (D). Weather-resistant. Battery life of up to 10 hours. Quickly charges via a standard micro USB cable (included).
Arccos Caddie sensors (sold separately) are required.
Not compatible with 1st generation products, including Arccos Driver and Bluetooth putter sensors.
Permitted under the Rules of Golf, according to United States Golf Association (USGA) decision #2020-0305.
What Are Arccos Caddie App Compatibility Requirements?
Apple: compatible iOS devices include iPhone 6s and above, running on iOS 14.0 and above.
Android: compatible on select Android devices running Pie 9.0 and above that include a gyroscope, accelerometer, and Google Play Services.
Note: Due to the numerous amount of Android devices across several brands we cannot list each compatible Android phone explicitly. Generally, devices released in the past 3 years with the latest Android OS perform best. Phone examples:
Ideal performance:

Samsung Galaxy S21/S20/S10, Google Pixel 6/5/4 series.  

Less than ideal performance: older Huawei, ThinQ, Moto G & Z series, Xiaomi, Sony, LG, A series Galaxy and OnePlus phones.
The Arccos Caddie is compatible with Arccos Smart Sensors, Arccos Smart Grips, Arccos Link and Cobra & PING Smart Sets. The Arccos Caddie is not compatible with Garmin devices.
Arccos Caddie vs Garmin CT10 Club Tracking Sensors
What You Need to Know:
Built-In GPS:

Arccos sensors have built-in GPS to track shot distances to the hole.

Garmin CT10 sensors do not have built-in GPS unless you pair them with a Garmin Approach golf watch.

Price:


A full set (14) of Garmin CT10 tracking sensors cost $299.99.

A full set (14) of Arccos Gen3 sensors cost $179.99 while the new Gen3+ cost $199.99.

Membership Cost:

Garmin CT10 sensors work with the Garmin Golf app—no membership required.

Arccos sensors work with the Arccos Caddie, come with a FREE 1-year membership, and then cost $12.99/month.

Battery

While you can replace the battery on Garmin CT10 sensors, you have to replace the Arccos sensors when the battery runs out. Both have similar a similar battery life of 3-5 years, depending on use.
Arccos Caddie Smart Sensors vs Shot Scope V3 & PRO LX+
What You Need to Know:
Power Source:

The Arccos Caddie Smart Sensors use batteries that eventually die.

The Shot Scope sensors with the V3 golf GPS watch and PRO LX+ rangefinder with detachable GPS unit, use RFID chips which keep working.

Built-In GPS:

Smartphone:

With the Arccos sensors, you must have your smartphone in your pocket, unless you have an Arccos Link.

You don't need your smartphone on you to use the sensors with one of the Shot Scope devices.