Find out how the NEW 2022 Forerunner 255/255S running watch series compares to the FR245!
Learn, Compare, Buy, Explore.
Garmin Forerunner 245 vs Forerunner 255/255S Comparison — Plus a Forerunner 255 Review of All the New Features!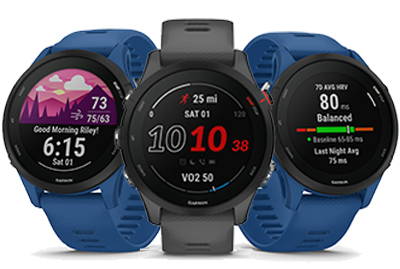 Buy the 2022 Garmin Forerunner 255 (45.6 mm)
Try Garmin Forerunner 255 with a larger 1.3" display, improved GPS, & loads more training tools!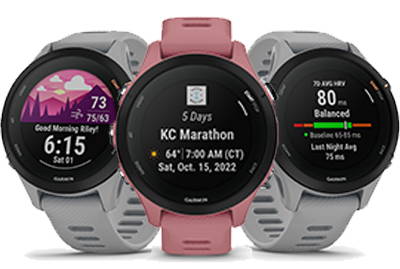 Buy the Garmin Forerunner 255S (41 mm)
Get a slimmer fit with the 1.1" Forerunner 255S running watch. FREE 2-day delivery and 60-day returns!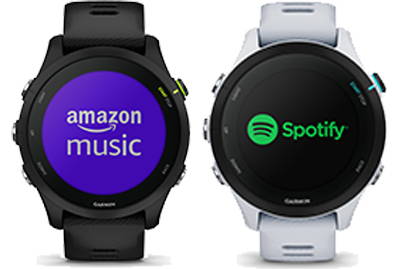 Buy the Garmin Forerunner 255/255S Music!
Like the Forerunner 245, the Forerunner 255 series offers models with offline music—now in 2 sizes!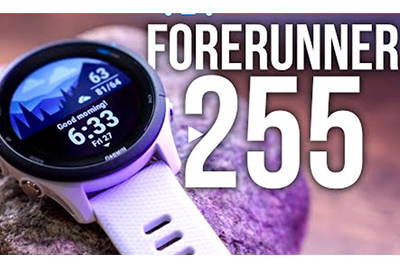 Watch a Forerunner 245 vs 255 Review!
See the evolution of the FR245 in this Garmin Forerunner 255 review from our partner, Chase the Summit.
SHOP GARMIN FORERUNNER 245 & 255/255S — NO MUSIC MODELS
Garmin Forerunner 255 (No Music)
(45.6 mm)

Garmin Forerunner 255S (No Music)
(41 mm)

Garmin Forerunner 245 (No Music)
(42.3 mm)

---
Garmin Forerunner 245 vs 255 | Table of Contents
---
Garmin Forerunner 245 vs 255 Review
from our partner, Chase the Summit!
---
GARMIN FORERUNNER 245 & 255/255S RUNNING WATCHES WITH MUSIC
Garmin Forerunner 255 with Music
(45.6 mm)

---
Forerunner 255 vs 245 Models, Colors, & Price
Options all day! Choose your Forerunner 255 running watch according to size, color, & on-watch music storage!
The previous Forerunner 245 series consists of 5 watches—2 non-music models and 3 music models. There is only one size: a 42.3 mm case with a 1.2" display. The price is $299.99 without on-watch music, and $349.99 with music storage up to 500 songs.
The 2022 Forerunner 255/255S series offers 8 watches with 2 sizes to choose from. The standard 255 features a 45.6 mm case with a 1.3" display, while the 255S has a slimmer 41 mm case with a 1.1" display.
The 4 non-music watches consist of a Powder Gray and Light Pink FR255S and a Slate Gray and Tidal Blue F2R55. For the Forerunner 255/255S Music, you can get both sizes in Black or Whitestone.
The Forerunner 255/255S series is $50 more than the FR245/245 Music, respectively, coming in at $349.99 for the non-music versions and $399.99 for the music models.
Is this new Forerunner 255 worth it? Read on to see all the new features Garmin stuffed into this GPS watch for runners!
Garmin Forerunner 245 vs 255 Size & Weight Comparison
Garmin Forerunner running watches are known for their lightweight, minimalistic clean design that runners want on their wrist.
We're happy to report that even though Garmin added a substantial amount of features to the Forerunner 255 series, they still retain that sleek design ideal for runners' wrists! This while even creating a larger option!
The Forerunner 245 has a 1.2" display, a 42.3 mm case, and weighs a superlight 38.5 g.
The new 2022 Forerunner 255S sports a 1.1" display, a 41 mm case, and weighs a mere 39 g.
The larger Forerunner 255 features a 1.3" display, a 45.6 mm case, and weighs in at a still very light 49 g.
Where did those extra grams come from, though? Read on to find out about more battery life, multi-band satellite tracking, an added barometric altimeter for elevation stats, and much more!  
Garmin Forerunner 245 vs 255/255S Display Comparison
Garmin Forerunner 255/255S gives you 2 display size options, adjustable backlight, new watch faces, and more data fields!
As we've gone over above, you can now choose between 2 display sizes with the 1.3" Forerunner 255 or the 1.1" 255S.
In his review, there were a few display upgrades that Dave, a serious runner, really liked because he felt they were missing from the FR245.
He was pleased that there were new watch faces and was specifically psyched about the ability to adjust the backlight brightness from 0 to 100% on the Forerunner 255.
Addtionally, you can now veiw up to 6 data fields to get more customized info at a glance, whereas before it was only 4 on the Forerunner 245.
Jump to this page for all the Forerunner 255/255S product specs!
Forerunner 245 Series vs 255/255S Series Training Tools
The Forerunner 255/255S showed up with some supercool training tools you weren't expecting on this mid-range Garmin running watch!
Morning report: Receive the day's weather and daily workout suggestion, as well as information about last night's sleep and HRV status. The report can even be customized so athletes can view only the details they want to see.
Full triathlon support: Switch up a workout routine with triathlon and multisport activity profiles. During races and brick workouts, easily toggle between sports with a single button press.
Race widget: View race prep information—including a race day-specific performance prediction, race day weather and a countdown clock—all in one widget. Once a race is scheduled, daily suggested workouts will adapt based on an athlete's race plans.
HRV status: Track heart rate variability while sleeping to get a better handle on recovery and an overall wellness picture.
Multi-band GPS: Garmin's reliable GPS accuracy just got better. By enabling multi-band, multi-satellite-system tracking on the watch, athletes can receive more accuracy in their run data, even in the most challenging environments.
Native running power: When using a Running Dynamics Pod or HRM-Pro™ (sold separately), receive real-time metrics of how much power is being exerted on a run, built into the watch—no app or additional software required.

Daily suggested workouts can now be tied to future calendar race events, automatically creating workouts for that distance/course.

Massively overhauled how Training Status/Load works.

Changed Training Load Focus to be aware of your entire race calendar.

Compass and Barometric Altimeter sensor for floors climbed and elevation profiles!
Garmin built the new Forerunner 255 series on top of these existing training tools available in the Forerunner 245:
Race Predictor, Recovery Advisor, Training Status, Training Load, Training Effect, Finish Time, Virtual Partner, PacePro, Race Predictor, and Running Dynamics with a compatible Garmin Running Pod or HRM strap.
Watch Dave's Forerunner 255 review above to see these new features on the watch and to hear about a runner's experience with them!
Forerunner 245 vs 255/255S Running Watches with Music
The only difference between the Garmin Forerunner 255/255S and 255/255S Music running watches is that the Music options have built-in music storage. Is it for you?
Music on this Forerunner series is the same setup as for the FR245 Music, costing an additional $50 as well. But with the Forerunner 255 running watches with music, you have 2 size options now.
You can download directly to your watch from streaming services like Spotify, Amazon, and Deezer, load your wrist with up to 500 songs, and leave your phone out of the equation. You will need Bluetooth headphones, of course.
You can also download music files from your computer.
If you won't use this feature, you can grab the Forerunner 255/255S without music storage for $50 less! And, by the way, you can still control music on your phone with the non-music FR255/255S. It's all about preference!
Garmin Forerunner 245 vs 255/255S GPS Accuracy
For the Holy Grail of positional tracking accuracy, Garmin has added multi-band satellite tracking to the Forerunner 255/255S!
Garmin started this GPS upgrade this year with the realease of the fēnix 7 series, followed by other high-end watches like the epix (Gen 2) and tactix 7.
So, it was a sweet surprise when they put this advanced feature in their new, mid-range Forerunner!
What does this mean? Your running GPS watch will access a lot more satellites at once, buttressing your strength of connection with them and, therefore, the accuracy of your tracking.
In his Forerunner 255 review, Dave does point out that Garmin's GPS-only mode, which he's put to the test many times, has become very reliable.
But if you are in heavy tree cover, in a canyon, next to a mountain, or running through the heart of a skyscrappered city, multi-band could make all the difference in accurately tracking your run!
Garmin Forerunner 245 Series vs 255/255S Battery Life
The Garmin Forerunner 255 series of running watches, puts more battery life on your wrist! Check it out!
Forerunner 245 Series Battery Life
Smartwatch Mode: Up to 7 days
GPS mode with music: Up to 6 hours
GPS mode without music: Up to 24 hours
Forerunner 255/255 Music Battery Life
Smartwatch mode: Up to 14 days
GPS-Only GNSS mode: Up to 30 hours
All-Systems GNSS mode: Up to 25 hours
All-Systems GNSS mode plus Multi-Band: Up to 16 hours
Forerunner 255S/255S Music Battery Life
Smartwatch mode: Up to 12 days
GPS-only GNSS mode: Up to 26 hours
All-Systems GNSS mode: Up to 20 hours
All-Systems GNSS mode plus Multi-Band: Up to 13 hours
Forerunner 245 vs 255/255S Health Monitoring and Smart Features
Get a Forerunner 255/255S and get a heart rate monitor upgrade along with contactless pay!
In the realm of health monitoring, where the Garmin brand reigns supreme, your Forerunner 255/255S has the same robust features as the Forerunner 245, including wrist-based heart rate, Pulse Ox, advanced sleep, Fitness Age, Body Battery, Women's Health, and more!
Furthermore, the FR255 series features the new and improved Garmin Elevate 4.0 heart rate sensor.
As for smart features, the Forerunner 245 series offers on-watch notifications, calendar, weather, and smartphone music control.
But the Garmin Forerunner 255/255S running watches up the ante with Garmin Pay™ for contactless payment from your wrist!
CHECK OUT OUR GALLERY OF GARMIN WATCHES
CHECK OUT OUR GALLERY OF CYCLING COMPUTERS, TRAINERS & POWER METERS