Introducing the SkyCaddie LX2 — See How It Compares to the LX5/LX5C!
Learn, Compare, Buy, Explore.
2022 SkyCaddie LX2 GPS Watch vs the SkyCaddie LX5 — Featuring the Best Wearable Display in Golf!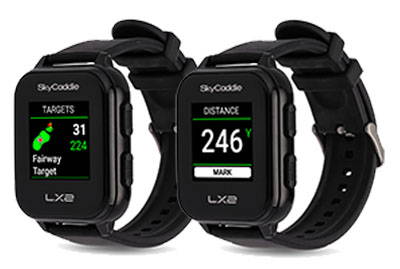 Buy 2022 SkyCaddie LX2 Golf Yardage Watch
Try the simple, powerful, upgradeable SkyCaddie LX2 with Free 60-Day Returns + Free 2-Day Shipping.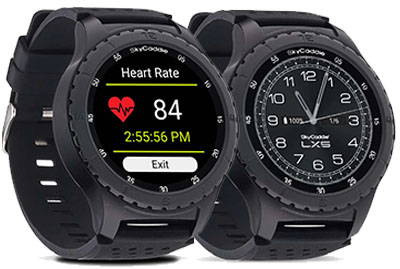 Buy SkyCaddie LX5 Golf GPS Watch
Get the most beautiful display in golf + proven accuracy. Find out more about this eye-catching SkyCaddie watch!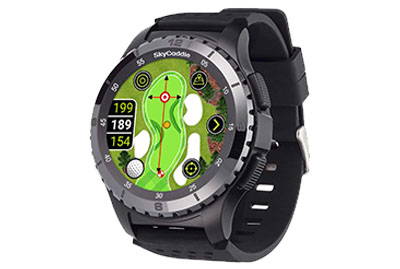 Buy the Gorgeous SkyCaddie LX5C Golf Watch
Why stop at best display, precision, & stand-out performance? For $50 more, the LX5C ups your style game too!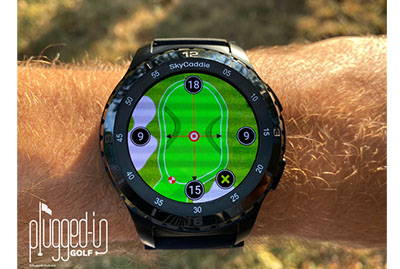 "It's simply a joy to use on the course." Find out why our partner at Plugged In Golf thinks highly of this GPS watch.
SkyCaddie Golf Watches | Table of Contents
SHOP SKYCADDIE GOLF WATCHES
SkyCaddie LX2 Golf GPS Watch
SkyCaddie LX5 Golf Yardage Watch
SkyCaddie LX5C GPS Golf Watch
---
---
SkyCaddie LX2 — What You Need to Know
This 2022 SkyCaddie watch is simple, powerful, and lightweight! Here's what you'll enjoy on course:
Ultra-fast Multi-Core Processor and Multi-Constellation GNSS Receiver for rapid and stable GPS satellite acquisition.
Intelligent Automation gives "no-touch" power from the car to the 19th hole, with Auto-Course, Auto-Hole, Auto-Distance and Auto-Green-Depth.
Incredible sunlight-readable always-on 1.28" JDI color touchscreen providing all-conditions visibility in the brightest sunlight!
Super-lightweight stylish smartwatch design ensures your GPS watch looks good and feels great on your wrist both on and off the golf course.
New SkyCaddie LX2 Golf Watch Features
Over 35,000 exclusive ground-verified SkyCaddie course maps pre-loaded and updated annually with your no-fees Go Play membership.
Dynamic Front-Center-Back yardages and golf's fastest distance information from your angle of approach, displayed in large easy-to-read numbers, powered by SkyCaddie's patented IntelliGreen technology.
Target List View displaying yardages to Fairway Target and Layup zones.
Mark Ball & Shot Distance enabling you to measure how far you hit each club - including well-struck tee shots and iron shots with full confidence in your yardages!
Watch & Fitness features including Time, Alarm, Stopwatch, Step Count, Step Goal, and Step Distance.
Bluetooth 4.0 and Wi-Fi 802.11 b/g/n for fast data connections.
Water-Resistant Design up to 3 ATM for confident play in the wettest of conditions.
Magnetic Charger with Cable for fuss-free rapid recharging when your clubs are back in the garage.
SkyCaddie LX5/LX5C GPS Golf Watch
Wear the largest HD color touchscreen available on a golf watch with the SkyCaddie LX5.
Access SkyGolf's advanced golf features on an stunning 1.39" AMOLED screen, including:
Dynamic HoleVue that automatically re-orients the entire golf hole and updates all distances from your position.
Save stokes with Dynamic RangeVue offering multiple yardage arcs that overlay fairway landing areas and greens to allow you to select the best club for every shot.
With IntelliGreen® technology, the exact shape of the green automatically rotates to match your angle of approach to provide the distances you need to hit more greens.
Add a touch more class to your wrist with the SkyCaddie LX5C GPS golf watch option, which sports a sexy ceramic bezel!
An ultra-fast multi-core processor gives you instant response on your wrist.
Plus, get ground-verified, error-corrected maps with over 35,000 preloaded courses.
SkyCaddie LX2 Additional Features —Like in the LX5!
For $50 more, get 3 years of these upgrades:
Dynamic HoleVue with Zoom giving enhanced viewing features for every hole.
Dynamic RangeVue overlaying multiple on-screen yardage arcs for better club selection.
IntelliGreen Technology giving additional green and contour distance information.
Full Target List displaying yardages to all key hazards from your angle of approach.
PinPoint Technology giving distances to today's flags from pin-sheet information.
Digital Scoring stored in your personal SkyGolf 360 cloud space, giving you score-as-you-play and trackable stats.
Our partner and excellent everything-golf reviewer, Matt Saternus over at Plugged In Golf, had a lot of good feedback about the LX5!
His helpful article is totally worth the read, but here are some highlights:
2-button operation is great for ease of use along with the touchscreen

The touchscreen is precise; moves quickly and easily

The LX5 comes with a high-quality charger

You get 2 strap sizes!

The LX5 display is gorgeous, "bright, detailed, and easy to read"

"I found every yardage to be excellent"

"Where the LX5 separates itself is in how well it presents the yardages"

"All the features are easy to find and use"  
Best SkyCaddie Golf Watch
Buy the SkyCaddie LX2 if:
You want a simple, straightforward golf GPS watch

You like a lightweight wearable on your wrist

You want a hgih-quality touchscreen golf watch

Spot-on accuracy is important

The best groung-verified golf course maps are on your list

Your golf watch budget is in the $200 area

You want the potential to upgrade to SkyGolf 360 Pro Plan features
You want the SkyCaddie LX5 if:
You want the best GPS watch display in golf

Impressive accuracy and speed fit the bill

A quality user experience is high on your list

You want a watch designed for golfers by golfers

You want to know your distance form everything from the hole, hazards, plus your orientation

You want a high-end watch for a mid-range price
Get the SkyCaddie LX5C if:
You want your golf buddies to be jealous of your golf watch style with the added ceramic bezel.
What is the SkyCaddie LX2 battery life?
This SkyCaddie golf yardage watch has a powerful Li-Polymer battery giving up to two rounds of golf on a single charge, meaning you can wear your LX2 for a full day's golf without worries over battery power.
What's the SkyCaddie LX5/LX5C battery life?
The SkyCaddie LX5/LX5C has a high capacity, rechargeable Li-Polymer battery lasting up to 2 rounds of golf on a single charge.
SkyCaddie watches feature ground-verified course maps!
The SkyCaddie LX2 and LX5/LX5C come preloaded with over 35,000 ground-verified, error-corrected course maps without the short-cuts taken by the competition.
Only SkyCaddie walks each course to record thousands of points with sub-meter precision because we know that you cannot trust your club if you cannot trust your distances.
Knowing and TRUSTING critical distances lets you manage your game and eliminate those 6, 7, and 8's from your scorecard!
Do I need to buy a SkyCaddie Golf Membership?
Short answer for the SkyCaddie LX5: not right away.
Short answer for the LX2: Only if you want the additional features.
If you do not have a membership, your SkyCaddie watch only displays front, middle, and back yardages, turning a premium GPS watch into a basic one.
When you pruchase the SkyCaddie LX5/LX5C, you get a 3-year membership to the SkyGolf 360 Pro Plan for all your golf-related performance data together in one place. Track as many or as few stats as you want and use in-depth tools to identify strengths and weaknesses in your game.
Purchase the SkyCaddie LX2 and you get the basics for $200. But for $50 more, you can upgrade to the features you get with the LX5 for 3 years.
How much does the SkyCaddie LX2 cost?
The SkyCaddie LX2 price is:
$199.95 for the LX2 GPS golf watch only

$249.95 for the LX2 + SkyGolf 360 Pro Plan (3-year membership)
What is the SkyCaddie LX5 price?
The SkyCaddie LX5/LX5C Price is:
LX5 with plastic bezel: $299.95 ($50 off for summer sale until July 11!)
LX5C with ceramic bezel: $349.95 ($50 off for summer sale until July 11!)
Both Include 3-Year Worldwide Membership Card providing real-time updates to over 35,000 ground verified course maps and SkyGolf 360 Cloud Service for performance tracking and analysis.
SHOP THE BEST GOLF HITTING MATS FROM FIBERBUILT
CHECK OUT OUR GOLF LAUNCH MONITORS & SIMULATORS
SHOP OUR COLLECTION OF THE BEST GOLF LASER RANGEFINDERS