Watch a Garmin epix 2 review—An Ultra Runner's Perspective!
Learn, Compare, Buy, Explore.
Introducing Garmin epix™ (Gen 2) — 2022 Edition. Finally, a fēnix with a bright, AMOLED screen.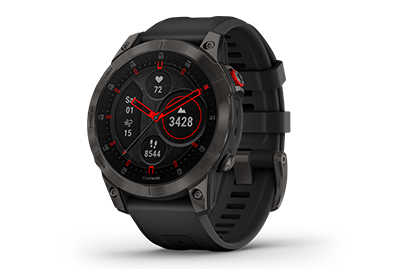 Buy 2022 Garmin epix (Gen 2)
Try Garmin epix (Gen 2)—a premium sport watch with AMOLED display. Get Free 60-Day Returns + Free 2-Day Shipping on PlayBetter!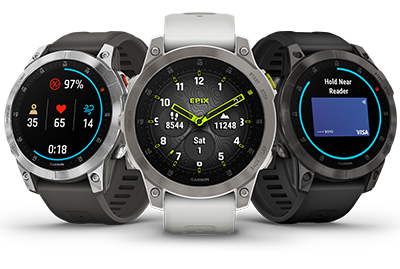 Compare Garmin epix 2 vs fēnix, etc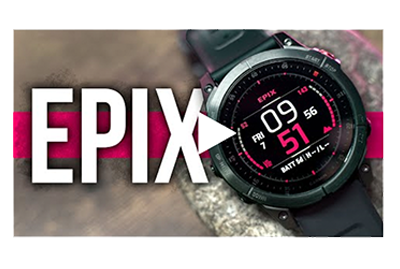 Watch Garmin epix 2 In-Depth Review
Now Showing: Garmin epix (Gen 2) review from our partner Chase the Summit.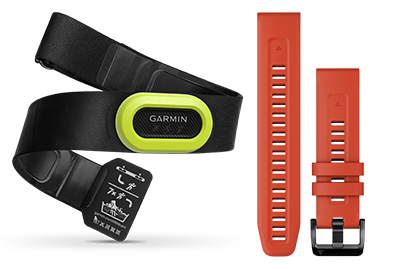 Shop Garmin epix 2 Accessories
Shop best accessories for the Garmin epix Gen 2 like Heart Rate Straps & QuickFit Bands.

SHOP GARMIN EPIX 2 SAPPHIRE & STANDARD MODELS
Garmin epix 2 Sapphire — Black/Titanium (2022 Model)
Garmin epix 2 Sapphire — White/Titanium (2022 Model)
Garmin epix 2 — Slate/Steel
(2022 Model)
Garmin epix 2 Reviewn from Our Partner, Dave, at Chase the Summit!
GARMIN EPIX (GEN 2) SAPPHIRE & STANDARD MODELS
Garmin epix Sapphire (Gen 2) - Black/Titanium (2022 Model)
Garmin epix (Gen 2) Comparison
vs. fenix 7/7S/7X, fenix 6, Venu 2 & Forerunner
The epix (Gen 2) vs the fenix 7
What You Need To Know:
Screen Brightness

The epix 2 has a very bright AMOLED Color Screen.
fenix 7/7S/7X has a dimmer, sunlight readable screen (similar to all previous fenix models).

Battery Life

As a result of the dimmer screen, fenix 7/7S/7X has better battery life than the epix 2 (3 week vs 6 days).
While both watches add a touchscreen first to high-end Garmin multisport watches, the next-gen Garmin epix (Gen 2) advanced GPS sport watch adds a stunning AMOLED display to the mix as well.

Fully compare the epix (Gen 2) and the fenix 7 here.
The Garmin epix 2 vs the fenix 6
The Garmin epix (Gen 2) does not offer as many models as the fenix 6 series and only comes in one size, while the fenix 6 series offers three sizes and solar-charging options. However, the epix is pretty much the same watch feature-wise as the fenix 6 pro BUT with the brilliant touch of a bright AMOLED touchscreen display.
The Garmin epix 2 vs the Venu 2/2S/2 Plus
Both of these 2022 Garmin GPS smartwatches offer a vibrant AMOLED touchscreen display. The Venu 2 Plus, however, adds a microphone/speaker to allow for calls, text response, and more when paired with your smartphone. The epix, on the other hand, provides the sport performance metrics, maps, and other features similar to the fenix series watches.
The epix (Gen 2) vs the Forerunner 945
Display

The Garmin epix 2 has an Brighter AMOLED touchscreen display—with button operation as well.
The Forerunner 955/955 Solar now features a sunlight-visible, full-colar display with touchscreen + button operation.

Maps

The Forerunner 955 comes preloaded with full-color maps and has multi-band GNSS.
The standard epix 2 does not. However, you can download topo maps them onto it. The epix (Gen 2) Sapphire does come with topo maps—and has multi-band satellite technology.

Price

epix (Gen 2) — $900-$1000
Forerunner 955/955 Solar — $500-$600
Choose Gorgeous. Choose Bold.
epix (Gen 2) — A Garmin fēnix 6 with an AMOLED Display
In an nutshell, the new Garmin epix (Gen 2) premium multisport GPS watch is a fēnix 6 pro/sapphire with an edge: a bright, AMOLED touchscreen display.
Geared toward active lifestyles, the epix 2 at its core is one of the most robust multisport performance watches on the market—with a display that perfectly complements it. Finally.
Display quality is often overlooked when sizing up sport GPS watches, and Garmin's usual transreflective memeory-in-pixel (MIP) displays are no slouches.
But an AMOLED display means improved readability with vibrant colors, sharper images, better viewing angles, and it allows for more information to be viewed on the watch face at once—a crucial feature when glancing at your customized data field during a workout or while navigating your day.
And, of course, it looks stunning on your wrist.  
Garmin epix 2 Models for 2022
The Garmin epix (Gen 2) comes out of box in three flavors: slate/stainless steel bezel ($899.99), a black/titanium bezel ($999.99), and a white/titanium bezel ($999.99).
All options sport a gorgeous 1.3" diameter round AMOLED touchscreen display with physical dimentions of 47 x 47 x 14.5 mm—coming in just a tad slimmer than a fēnix 6. It's a big watch face justified by the AMOLED screen that'll give you more varied viewing angles during your workouts and throughout the hustle and bustle of your day.
The more comfortably priced stainless steel bezel epix 2 has a Corning® Gorilla® Glass DX lens and puts 76g on your wrist. Unilke the fēnix series, the gen 2 epix does not offer smaller sized models. However, the sapphire lens/titanium bezel alternative models (for a $100 more) weigh only 70g and top things off with a more durable sapphire crystal lens.
All of these Garmin epix 2 models are tested to U.S. military standards for thermal, shock, and water resistance (10 ATM) and are Quickfit™ watch band compatible.
What's an AMOLED Display?
AMOLED displays allow for more control over each pixel, resulting in richer blacks and more power economy in darker watch faces. Viewing angles are better too, which is just one of the reasons this next-generation Garmin epix is marketed for athletes and on-the-go lifestyles.
With an LCD display, the only source of light is the backlight, resulting in flatter blacks and a more limited color range. Although, the transreflective (sunlight-readable) MIP displays in most Garmin watches, use ambient light as well as backlight and have superior readablility in the sun (what you want in your golf watch, for instance).
With a 1.3" AMOLED display comes a crisper, clearer experience that allows for more information to be viewed at once without a big increase in power usage.
If you will be relying on your watch in the sun a great deal of the time, you may want to consider a Garmin watch from the fēnix, Forerunner, or Instinct lineups.
Garmin epix (Gen 2) Premium Sport GPS Watch
Performance Metrics & Sport Features
The Garmin epix is 100% designed for the multisport active lifestyle, making it a performance watch above all else. Whether you run, ride, or swim—or do any of the boatload of outdoor sports this device supports, the goal is to put as much information as possible on your wrist for what you do.
And this next-gen epix does it beautifully with a highly viewable 1.3" AMOLED display. With better readability, you can grab the numbers you want at a glance, keeping your focus where it needs to be during your workout.
Detailed perfromance metrics, like Training Load, Training Status, and Training Effect, help you take the most from your workouts and rest. Garmin Coach and 30+ built-in sports apps mean the epix is ready to help you you attack your specific goals. And multi-band GNSS (Sapphire editions only) provides enhanced tracking accuracy, whether you're running a mountain trail, paddling through a canyon, or biking through skyscrapers.
Does the epix (Gen 2) have maps?
Yes! You can download topographic maps on the epix standard edition or get them preloaded on the Sapphire models.
The epix 2 comes out of box with detailed maps for the region it was purchased in (US, Europe, etc.) and includes digital elevation data—download TopoActive mapping via Wi-Fi® connectivity for epix standard, or get it preloaded on Sapphire editions.
Move around the map with zoom, pan, and scroll functions. You can see the terrain around you, as well as navigate to points of interest or other places.
Additionally, you can create Round-Trip Courses for both running and cycling that allow you to set a given distance and desired direction of travel, and it'll give you three different courses using Trendline Popularity Routing data. No internet connection required.
Finally, you can follow any downloaded courses as well, using Garmin's smartphone course creator or any other downloaded GPS files. Following these routes, you'll get instructions on when to turn, and when you're off-route, allowing you to gain context of what's around you and know things like if you're going along a river or headed toward a mountain.
Garmin epix vs fēnix Series
The most obvious difference between the Garmin epix (Gen 2) and any watch in the fēnix lineup is the vibrant AMOLED touchscreen display. If improved color and contrast and better viewing angles of more information on your watch face is top on your list, you are probably team epix 2.
The fēnix 6 lineup was created to offer more size, feature levels, and battery life options for the outdoor sport lifestyle. It offers 11 models at a variety of upgrades and price levels. The epix is pretty straightforward, as it has three models that are the same size and offer, at base, the same features.
Unlike the fēnix 6 series, the epix 2's touchscreen gives you another way to navigate your features, along with the trusty button operation Garmin multisport watches are known for.
Battery life in the fēnix 6 series is variable due to the different sizes and the solar-charging technology option for each size. The epix 2 battery life is the same across the three models and is not quite as robust as some of the fēnix 6 options because of its AMOLED display.
Still, the Garmin epix (Gen 2) offers long battery life, and you do have the option of having your AMOLED watch face always on, or can conserve energy by putting it in gesture only mode.  
Battery Life up to 16 Days in Smartwatch Mode
Garmin epix 2 Battery Life
Smartwatch Mode: Up to 16 days/6 days always-on
Battery Saver Watch Mode: Up to 21 days
GPS Only: Up to 42 hours/30 hours always-on
All Satellite Systems: Up to 32 hours/24 hours always-on
All Satellite Systems + Multi-Band: Up to 20 hours/15 hours always-on
All Satellite Systems + Music: Up to 10 hours/9 hours always-on
Garmin epix (Gen 2) Specs
Garmin epix (Gen 2):
Display Size: 1.3" AMOLED touchscreen
Physical Dimensions (W x H x D): 47 x 47 x 14.5 mm
weight: 76g stainless steel bezel
Garmin epix (Gen 2) Sapphire:
Display Size: 1.3" AMOLED touchscreen
Physical Dimensions (W x H x D): 47 x 47 x 14.5 mm
weight: 70g titanium bezel
CHECK OUT OUR GALLERY OF GARMIN WATCHES