A Quick 9 With Gabe Aluisy from Let's Play Thru
"Golf is so much about believing in yourself when you're standing over the ball." — Gabe Aluisy
PlayBetter caught up with Gabe Aluisy from YouTube's Let's Play Thru channel. Gabe's reviewed many of the products we sell, and we've long admired his passion for golf, his honest and transparent approach to reviews, and his general don't-take-it-too-seriously vibe. Follow along as we talk through a Quick 9 questions with Gabe. We learn about his channel, his backstory in golf, and we even get his favorite tip for how you can play better.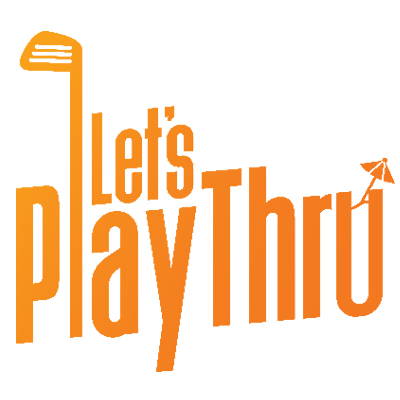 ---
PlayBetter (PB): Great to connect, Gabe. For those who aren't familiar with Let's Play Thru, can you give us a bit of history on your YouTube Channel—how, when, and why you got started?
Gabe Aluisy (GA): Yeah, I started a marketing agency about 12 years ago that specializes in helping private golf clubs build their memberships. I then, kind of as a marketing channel for my own business, started a show called Private Club Radio, which was really the first podcast in the private golf club world. Because of that show, I started getting requests to speak around the world at some golf conferences. So since I was going to all of these different exclusive properties, I decided to start a YouTube channel to show people the behind the scenes at some of these cool clubs around the world. This was in August of 2019. So we started Let's Play Thru as a golf travel show. The trajectory of the show was different then.
To make a long story short, Garmin was releasing their S62 watch at the PGA show. And I was in Oman in the middle east, and I had played a Greg Norman course. And I thought it'd be really cool to get a soundbite from Greg Norman. And Garmin had sent out a press release for the S62 saying, 'Hey, if you want to interview Greg Norman, let us know.' Lo and behold, I did. They gave me an S62 to review, and I got to interview Greg. Well, the S62 basically was one of the greatest golf watches ever released, and it still is to this day. So, that video did really well. That video now has probably 150,000 to 200,000 views, something like that. And then when the pandemic hit, obviously I wasn't doing any traveling, so I started to really focus on golf technology. And that's what the show has really evolved into. People really seem to connect with my golf technology and equipment videos. So the trajectory of the show kind of changed. By 2021, I switched the show basically to all golf tech and equipment reviews.
I still travel. I just got back from Ireland on Saturday. That was a hell of a trip. We were shooting the show out there at some of the greatest links golf courses in the world. It really was a dream trip. And we should have about 10 videos from it.
PB: Your channel really strikes a great balance between serious golf passion and deep-dive detail without being overly stuffy or serious. Is that an intentional approach?
GA: I'm sure it's a reflection of my personality. I'm a person who goes out to play golf to really enjoy it. I kind of shake my head when people take golf super seriously and get upset. I mean, surely, I get upset from time to time on a golf course, but I try to take it in stride. I want to show people how enjoyable it is. And I say that my show is 'honest golf reviews from a mere mortal.' To show people that I hit bad shots too. I think that's really relatable to people. That's been the secret sauce, really. Because a lot of people have imposter syndrome, like 'Hey, I'm not a PGA professional. What business do I have reviewing clubs?' But I decided I'm just going to embrace what I am—I'm a mere mortal. And I think that's really resonated with people. That's what makes the show relatable, and I think that's the secret ingredient.
PB: What kind of content release schedule are you trying to maintain on your channel?
GA: I believe we're at 279 videos now since the inception of the show. I would say it probably took me 50 to 100 videos to get good at making videos. So if you look back at some of those first videos, they can be a little cringe-worthy even. In terms of release schedule, at a minimum, I put out two videos a week. But as of late, I have gone to three videos a week. For a long time, it was kind of a side hustle of mine, but it's become my full-time work now. The pandemic really hurt my private club business when everything was shut down. And then as the pandemic went on, golf became so popular that they didn't need the marketing. So it was basically August 2021 when I made a really tough decision to focus on YouTube.
It's a passion of mine. I love what I do. And when you love what you do, it doesn't feel like work. As I've gone on, I think I've just gotten more efficient and honed my craft a little bit. Where it used to take me maybe eight or nine hours to edit a video, now maybe it takes me three or four. And then just from understanding my audience better, it also makes me more efficient because I know what they're looking for. I think I've found a really good rhythm. As the channel expands, maybe we can hire an editor. Right now, I do all the editing myself. That's actually my background, what I studied in school at American University in Washington D.C. But I could envision maybe in six months to a year we have someone that takes over the editing, and I could do four or five videos a week.
PB: You've done some pretty wild things on the channel—a lot of international travel, driving long distances to try products, camping out for free golf clubs… Do you have a favorite video that you've made?
GA: So my favorite video I ever made is really easy to answer. It was last year's Father's Day. Because of the pandemic, I hadn't seen my father in about a year-and-a-half. So I wanted to surprise him. He lives in Utah, and I'm in Florida. It was a very personal video. My dad's a former golf professional. He's a very humble man. And he's not a person who cares about possessions. Whatever he had, he would give away. And he's never had a new set of golf clubs since probably when he was a pro like 40 years ago.
So I contacted a couple of golf shops in Utah to see if we could arrange a fitting. And one of them gave me the green light to bring my father by. So I had to craft this story so that my dad would be ready to go to the fitting (but wouldn't know of the surprise visit that was to come). So I told my dad that 'Hey, I want to get you something special. FedEx is going to be at your door around 8:00 in the morning, so be ready.' Of course, he wasn't ready. He was in his underwear and was absolutely shocked when I was at his door. He hadn't seen me in almost two years. It was just an unbelievable time with my dad. I got to give him his first custom set. We played golf. And now, within the last two weeks, he's shot his age twice. He's a better golfer than I am. So that was by far my favorite video. Everything else is a distant second to that one.
PB: What's been your most popular video? And also your most popular types of videos?
GA: Someone asked me if I had tried these wedges from Costco. So I went to Costco and ended up buying all of Costco's golf stuff. And I did a series of videos on everything Costco does in golf. And that series ended up getting like a million views. That took my channel from like 7,000 subscribers to almost 25,000 subscribers almost overnight. That's when I really felt like, 'OK, now I'm a YouTuber.' It was pretty cool.
As far as a type of video, Garmin by a longshot does the best of any videos. I'm really passionate about watches. My actual hobby is watch collecting, so I really like golf watches as a genre. And so my Garmin golf watch reviews do really well.
PB: How did you get into the game, and what are some of your memories from getting hooked on this sport?
GA: My dad got me into the game. I had a golf club in my hand when I was 3 years old. By then, my dad had already gotten out of the golf business, but he was still a guy who played once or twice a week. And those were my most cherished moments. Just spending time with my dad. That was our father-son time. When we were on the golf course, me and him, that's where I learned just a lot of life lessons. And I think it shaped my personality in a lot of ways. There are so many lessons to learn in the game of golf. How to handle difficult situations. How to have a short memory when things go wrong and to think about the next shot in front of you rather than what's already happened. How to concentrate and focus on a task. All those lessons really were the most valuable father-son bonding time. My dad was really a great dad.
PB: As you say, you're a mere mortal. You're not a professional-level player. But anyone who has watched your videos can see that you clearly can hit the golf ball pretty well. How far did you get in competitive golf? I assume you at least played in high school.
GA: No, I never did, actually. I wanted to, but I was a great baseball player. And the baseball coach wouldn't let me also be on the golf team. So, no, I've never played competitively. I think that's what's surprising to people is that I've never really had a career in golf. I never really worked at a golf course. My friend was the janitor at a golf course when I was like 20. Every once in a while, I'd help him mop floors or something. But I never really officially worked at a club or anything like that. I was always just passionate about golf. It was my favorite thing to do since I can remember, and I always wanted to be around it. That's why when I started my company, I really focused on golf.
PB: What is your handicap?
GA: As we stand right now, it's 4.8. I had a putt for even par the other day, but I blew it. I think 1 under is my best round of all time. When I started the show, I think I was probably a 9. But the gear that I've gotten to test and use on the show has made me a better golfer. For instance, I was a person that used to eyeball yardages. But when I started using a rangefinder, that shaved a couple of strokes off my score. Having access to the technology that we have now really gives everyone a much better chance of playing their best and shooting their lowest scores. Golf is so much about believing in yourself when you're standing over the ball. The more variables you can remove, the more confidence you're going to have and the better golfer you're going to be. So, since I've done the show, I've dropped four or five strokes.
PB: As you likely know, our main ethos at PlayBetter is to, well, help people play better. We want to offer the best products and content to make the game more enjoyable and to give people a chance to personally improve. It's not about how you compare to others, it's about you yourself achieving better. So, can you share your favorite golf tip—something either broad or specific that can help golfers improve their games?
I'd say a broad tip is that the difference between a good golfer and an average-to-poor golfer is being able to minimize mistakes. So, if you hit the ball in the woods, if you can try to get yourself back in a good position rather than trying the hero shot and getting yourself deeper into the woods, you're going to have a better chance at scoring well. So to minimize mistakes is the number one tip I'd give golfers. And part of that is being able to control your emotions and think about the next shot in front of you.
Find Gabe on YouTube by searching Let's Play Thru.