Garmin Approach R10 Buyer's Guide 2023 | Everything You Need to Know
Garmin Approach R10 Buyer's
Guide & Review 2023
Your Questions About the Most Affordable Golf Launch Monitor & Simulator Answered!
How To Buy the Most Affordable Golf Simulator
Golfers today have an abundance of options when it comes to personal launch monitors and home golf simulators. There are a lot of impressive devices available and for prices that are much more reasonable than they were less than a decade ago.
The Garmin Approach R10 is most certainly one of those options—and the most reasonably priced by a long shot! But does that mean it's the right choice for you?
There's a lot of information to take in when shopping for a golf launch monitor/simulator combo. In this comprehensive buyer's guide, we're teeing up all the essentials specific to the Garmin R10.
We know you have questions. We have answers. And, of course, if there's something important to your situation that we don't address here, let us know. At PlayBetter.com, we're always happy to go the extra distance to get you the information you need to make your best decision.
Let's get to it!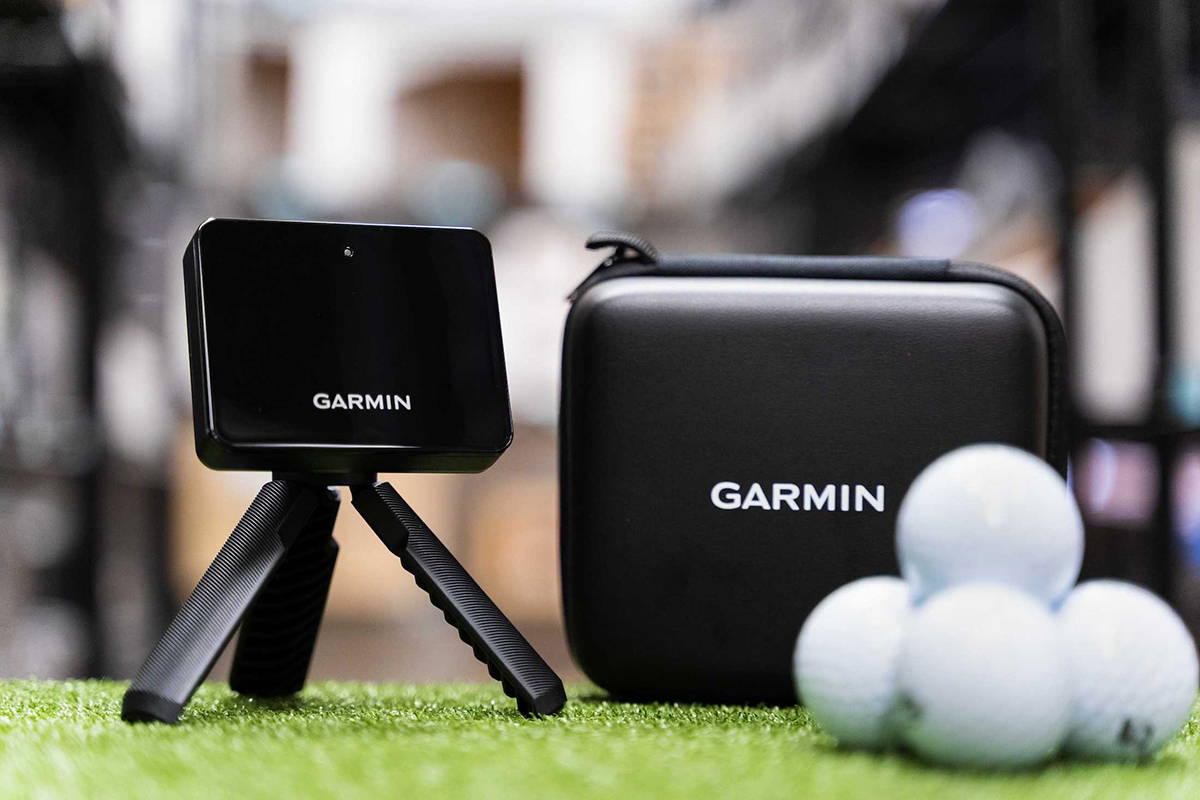 How To Choose and Set Up a Garmin R10 | Table of Contents
How Do You Plan To Use Your Approach R10?
The Garmin R10 is both a golf launch monitor (GLM) and golf simulator in one device. Remember, not all launch monitor products do both. Some are limited to only spitting out data and can't simulate an actual round of golf.
You can usually get an immediate idea if a GLM offers simulation by two telling attributes: price and size. Historically, launch monitors with simulation are larger and cost thousands if not tens of thousands of dollars. But the Garmin Approach R10 was a major disruptor in the industry; it showed up on the scene with a price tag and compact size more closely aligned with units that don't offer simulation. That's what makes it so special—along with how reliable it is for the price!
However, in some ways it is a different, more limited experience from some of the more costly beasts in this category, like the Bushnell Launch Pro and SkyTrak.
A great place to start when shopping for any of these golf devices is to consider is how you are going to use it.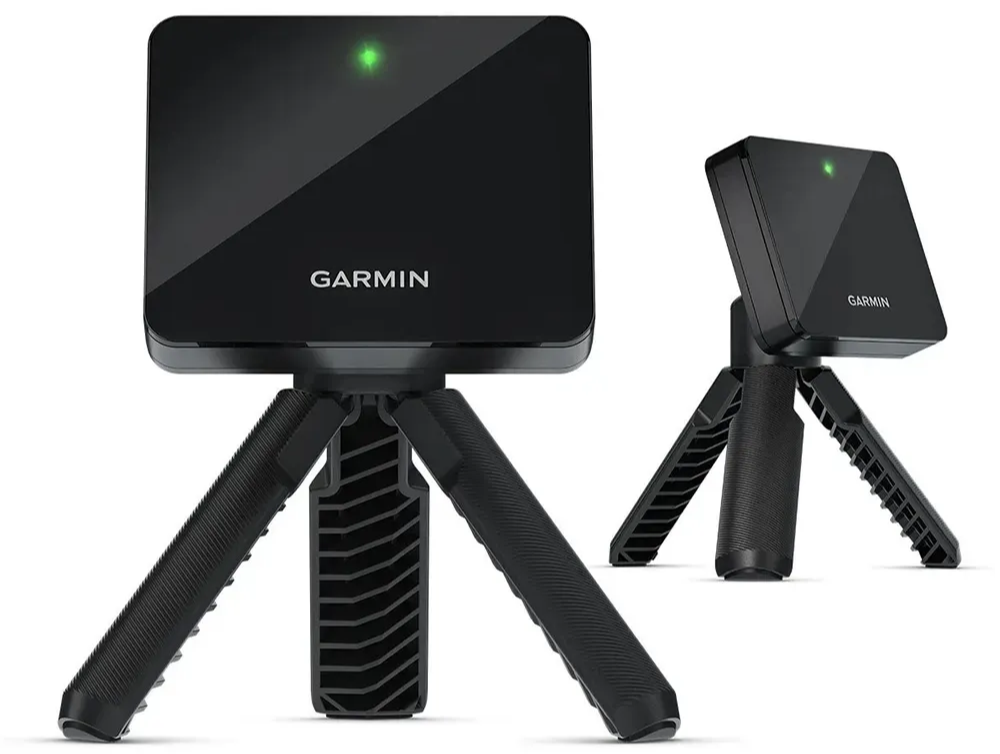 Using the R10 Launch Monitor Outdoors
Your R10 golf launch monitor is a Doppler radar—based system. They emit electromagnetic waves and observe for changes in the properties of the reflected waves (wavelength in particular) that return to the unit.

The Garmin R10 measures:
Ball speed

Launch angle

Launch direction

Club head speed

Club path

Back swing and down swing times

Angle of attach
Based on those measured metrics, R10 can calculate:
Club face angle

Spin rate

Spin axis

Observed ball flight range
Metrics shown in the Golf app:
Carry distance

Total distance

Smash factor

Swing tempo

Apex height
These make it a great game-improvement tool to be used at the driving range. At about the size of a deck of cards, this portable launch monitor is easy to take along to the course—or anywhere!
Space requirements:
As a Doppler-based launch monitor, the Garmin Approach R10 sets up behind the ball.
You'll need to place the unit 6-8' behind you. If you are hitting into a net outdoors, allow for at least 8'+ of space in front for ball flight measurements—but the more, the better.
If you are using a golf mat, make sure the bottom edge of the device sits above the mat.
Adjust the device so the red alignment line is aligned with the tee location and the target of the shot. You can lay a golf club on the ground between the alignment line and tee location to confirm they are lined up.
Software:
The Garmin Approach R10 must be paired with the Garmin Golf™ app to be used. This is where you see your data.
The included phone mount clips to your golf bag, letting you view and interact with the Garmin Golf app on your compatible smartphone between swings.
Right out of the box and on the app you can:
Upload scorecards from a compatible device

Review shot history from a compatible device

Review performance stats

Participate in weekly leaderboards

Create tournaments

Save driving range sessions from a compatible device

Get a 30-day Garmin Golf membership trial
Most people using the R10 outdoors will use it as a launch monitor rather than as a simulator. And for that use, the driving range software on the Garmin Golf app is all you really need.
Hardware:
The Garmin R10 has its own rechargeable battery and has a 10-hour battery life. It comes with a tripod that connects magnetically and is super easy to set up. Plus, it is waterproof. It also has a USB interface.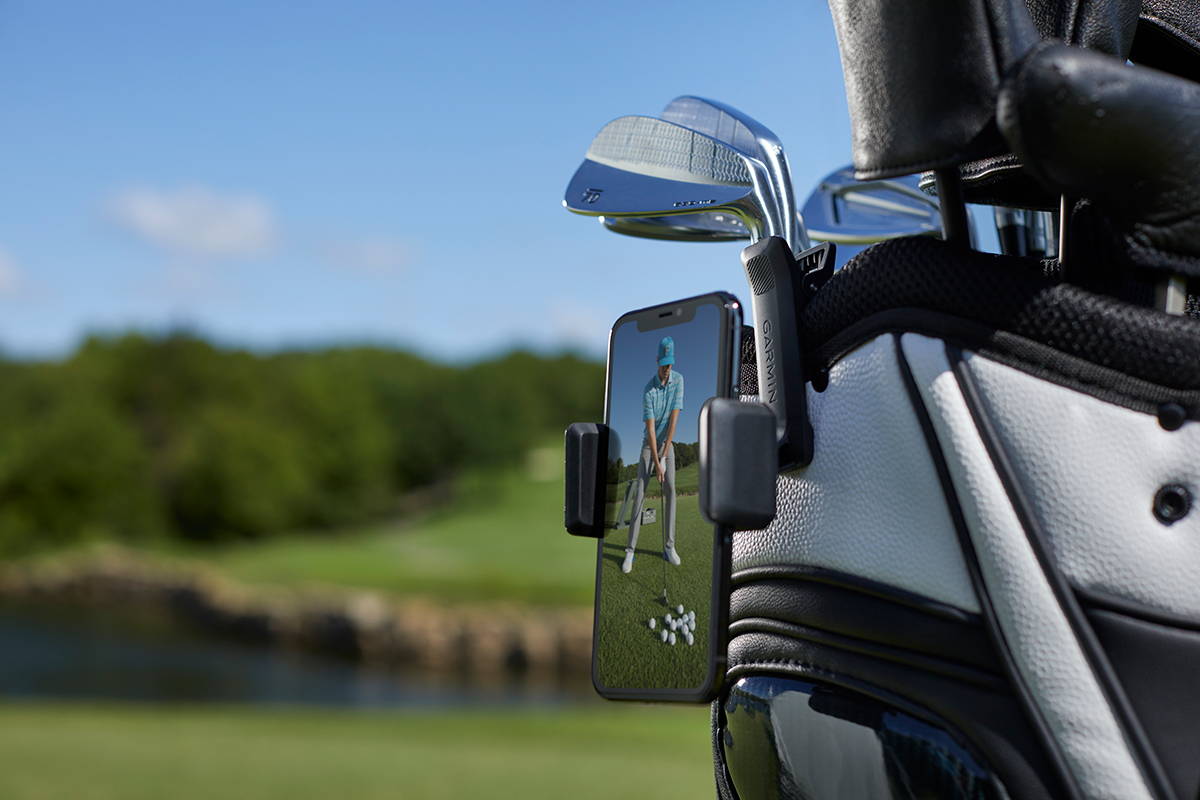 ---
Indoor Golf Simulator Setup Requirements
The Garmin Approach R10 is designed to be very portable to be a versatile indoor or outdoor experience. Unlike golf launch monitors that cost thousands of dollars, it is not photometric—which means it has limits on exact measurement. As you will have seen in the section above, many of the data points are calculated rather than measure. This means that to get the best reads on your shots inside, you will need follow setup guidelines to a T regarding alignment, level placement, and space requirements.
Space requirements:
The R10 reads from behind, so it will require an ample amount of space indoors.
Room depth. A home golf simulator like the Approach R10 that measures from behind is going to require a minimum of 14 feet of room depth to work accurately and consistently.
Room width. We recommend at least 10 feet of space between side walls. This should allow you enough room to comfortably swing without hitting the wall behind you. One advantage to having the unit set up behind you is that it is lefty- and righty-friendly! You won't have to arrange you setup when alternating players who swing from a different side.
Room height. There's no bigger buzzkill than to buy a golf simulator, set it up, and then realize that the space you have is too small. You DO NOT want to put holes in your ceiling. So, measure well. Generally speaking, you need at least 9-foot ceilings to comfortably pull off an indoor golf simulator setup. Ten feet would be better. Of course, the height of the golfer and their swing path will alter those requirements. A tall golfer with a steep swing may require even more than 10 feet of ceiling space. On the other hand, a shorter golfer might be able to get away with less than 9-foot ceilings. To see if you have enough room, swing your driver (slowly at first!) in the space where you intend to set up your Garmin golf simulator.
Software:
Software compatibility continues to evolve with the Garmin Approach R10. At the time of this article, it is compatible with 4 different software packages (including Garmin's own), albeit each with a subscription or purchase price.
Simulator software options for IOS:
TrueGolf E6 Connect

Home Tee Hero (through Garmin Golf membership)
Simulator software options for PC:
The Golf Club 2019

TruGolf E6 Connect

Creative Golf

Home Tee Hero (through Garmin Golf membership)
Hardware:
The only equipment you need for indoor golf simulation is your R10 unit, a mobile device or PC, a mat, and a net. But to take it to the next level, you'll probably want to incorporate a projector and impact screen. And for the very best experience, you'll want to invest in a robust gaming computer capable of running simulator software with fast response times.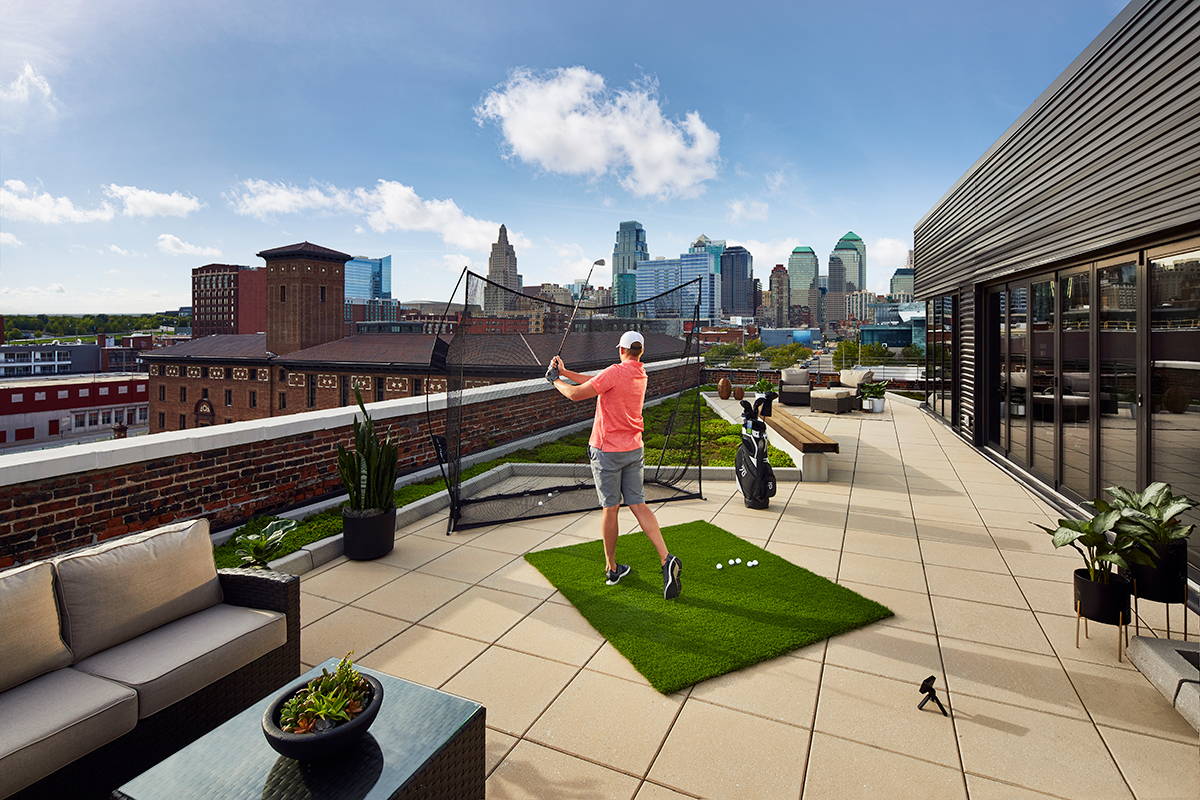 ---
Premium Indoor Garmin Simulator Experience
PlayBetter.com offers turnkey indoor golf simulation solutions. We've assembled everything you'll need to accompany your SkyTrak and your computer or mobile device. That includes side barrier netting, landing pad turf, your choice of a hitting mat, a golf simulator projector, a ceiling mount, an HDMI cable, and an HDMI-to-Lightning cable. Save yourself a lot of shopping time with these options: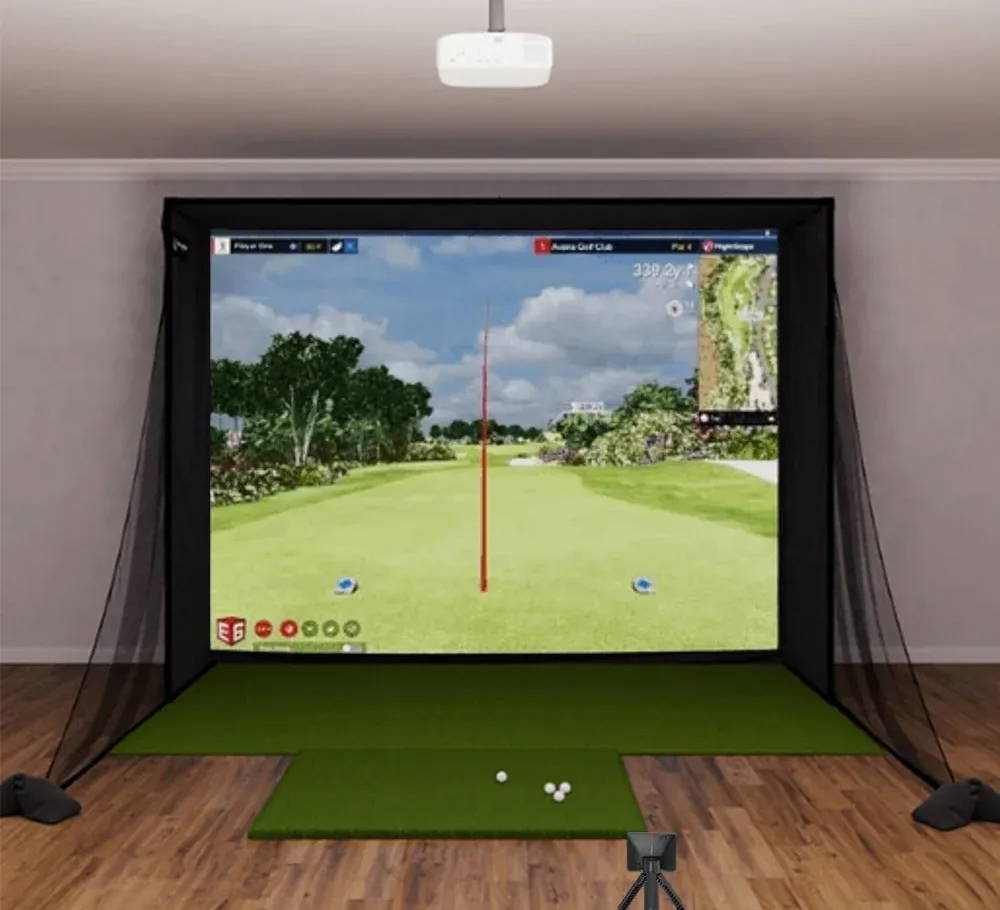 ---
If you've got the space and you've got a golf simulator, there are a lot of different ways to pull off indoor golf. Your budget and your creativity will be the two biggest factors in determining what works for your situation. Here are some of the common components you'll want to consider:
TV or projector with screen

Gaming PC or mobile device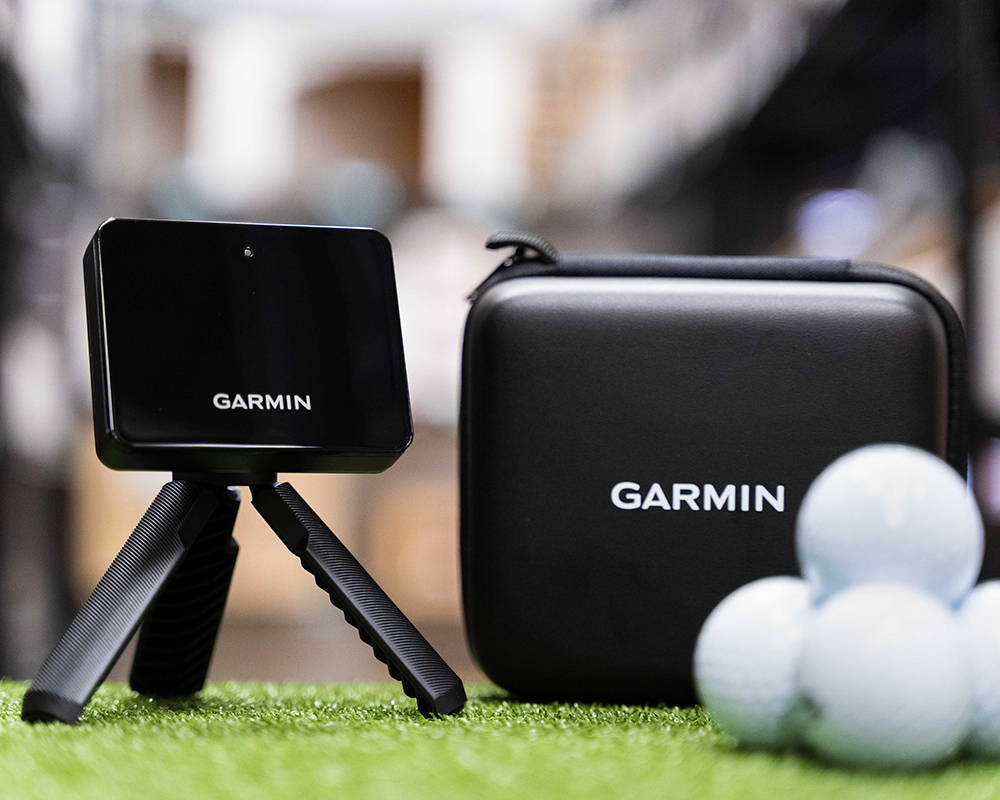 ---
Do You Need the Golf Launch Monitor Stand?
The short answer to this question is, no, you do not need the 3D-printed stand that PlayBetter offers as a bundle with the R10. That said, the adjustable stand will help you get achieve proper alignment and better placement of your R10 and, therefore, more reliable data—for only a $25 add on.
The alignment stand for the Garmin Approach R10 includes leveling legs and a bubble for those un-even surfaces. It has a hole in the front for inserting an alignment stick (no included).
So, no, you don't need the stand. But, yeah, you should probably get it.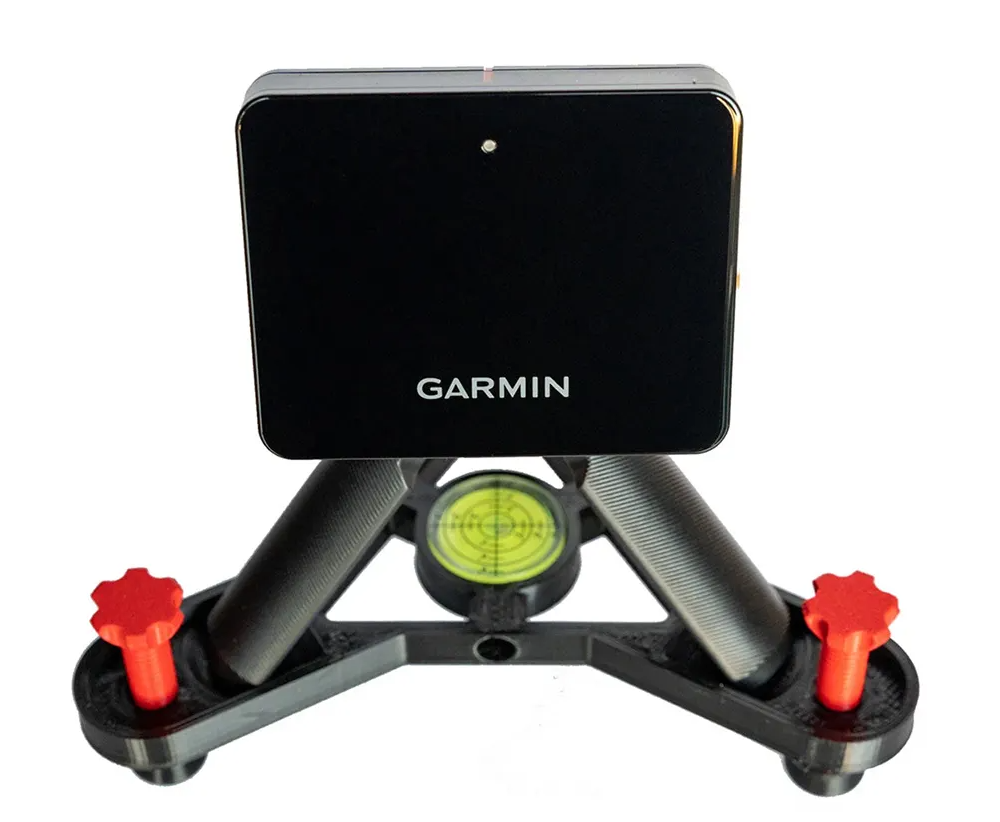 ---
Is a Photometric Simulator Better Than a Doppler Simulator?
As we've discussed, the Garmin Approach R10 is a doppler system. It tracks how your ball flies and where it lands and then calculates, rather than measures, the data that it outputs. It can struggle to measure spin and spin axis when the ball is hit a short distance into a net or screen.
A photometric system is taking thousands of pictures per second in order to accurately produce precise measurements of what the ball is doing immediately after impact. Those measurements are used with sophisticated flight algorithms to simulate a realistic shot shape, flight path, and distance that would represent your shots on an actual course.
Here's the deal: Both systems work, and each has advantages and disadvantages. Doppler systems are generally preferred for outdoor launch monitor use while photometric systems are generally preferred for indoor simulator use.
However, for the price, you can't really beat a Garmin Approach R10. It won't have quite the accuracy of a more expensive camera-based GLM on certain data points, but that's the tradeoff.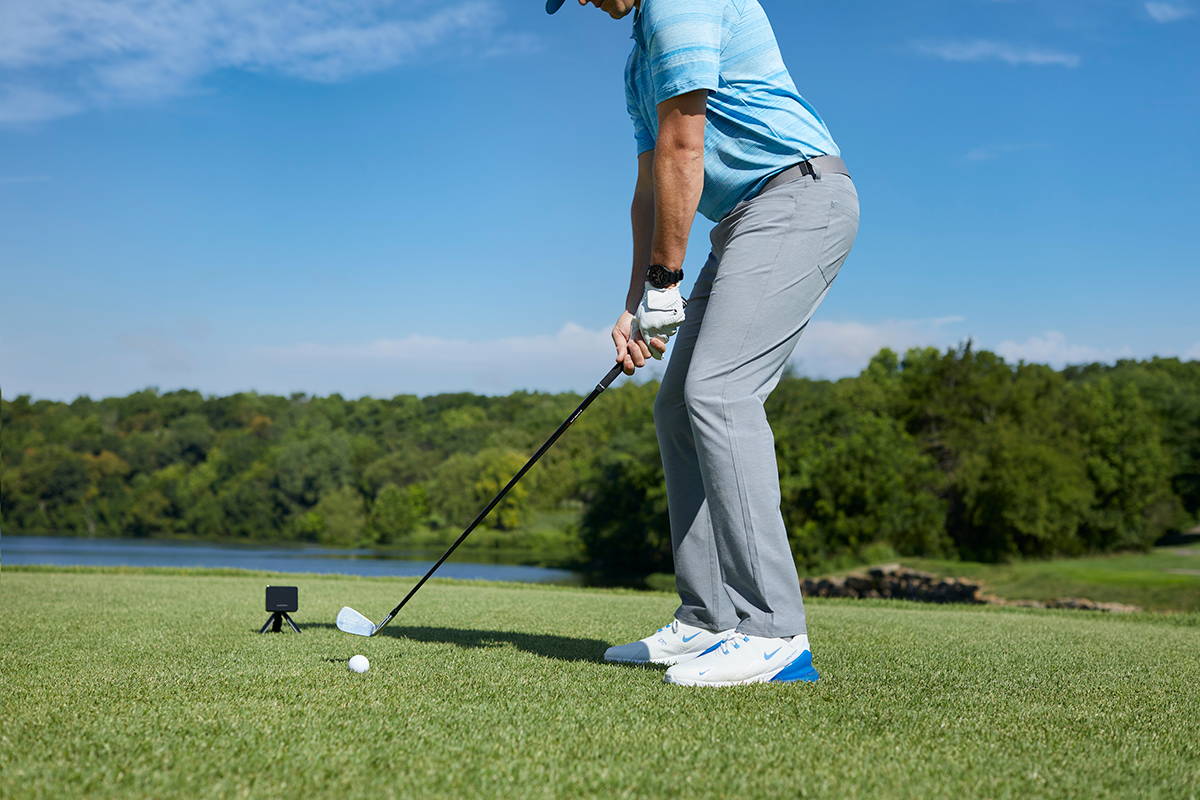 ---
Requirements for Running Approach R10-Compatible Simulation Software
The Garmin simulator started out with a modest amount of compatible simulation software. But this is Garmin; they've added more third-party simulator software, and will likely continue to, so you can choose from a variety of games and golf courses, including loads of famous courses in the world. Plus, it gives you options for both PC and IOS.
Here's a breakdown of the hardware and processing power required to operate each software option.
TrueGolf E6 Connect
PC Requirements:
Intel iS Processor

8 GB RAM

NVidia 1070 graphics card or equivalent

Dedicated GPU with DirectX 11 support

25 GB of hard drive space

Windows 10

Internet connection
iOS Requirements:
Supported iOS devices include iPad Pro Gen 1 or newer, iPad Air 2019, or iPhone 8 or newer. E6 Connect may not run well on older or weaker devices.
The Golf Club 2019
Minimum PC Requirements:
OS: Windows 7, 8, or 10, 64 bit

Intel Core iS-760 @ 2.80GHz or equivalent

4 GB RAM

NVidia GTX 670 or equivalent

Broadband internet connection

30 GB available hard drive space

Sound card: DirectX 11 compatible
Creative Golf
Minimum PC Requirements:
OS: Windows 7, 8, or 10, 64 bit

Processor 2.5 GHz

Memory: 2 GB

Graphics: Dedicated 1GB Vram

Internet connection

Hard drive:42 GB for everything that Creative Golf offers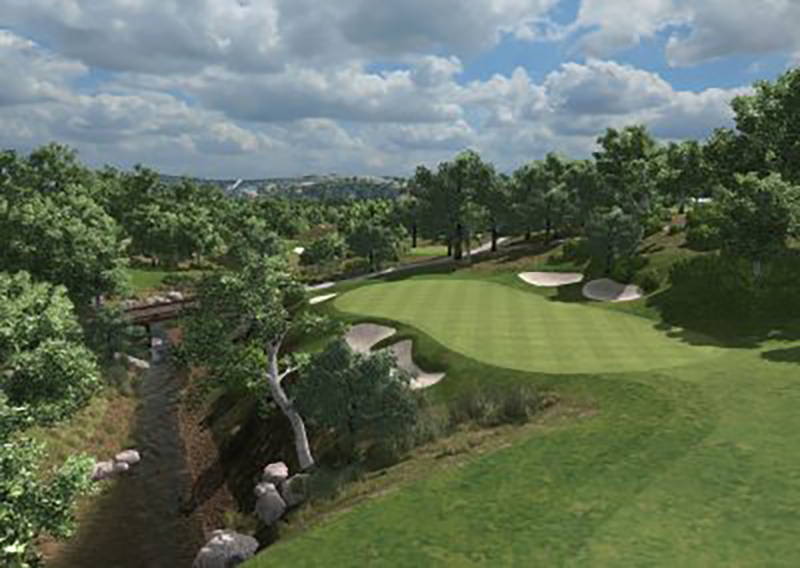 ---
What Is the Garmin Approach R10 Warranty?