SkyCaddie SX550 Handheld Golf GPS | Updates Review
More, Faster, Better! See the Feature Upgrades in the New SkyCaddie SX550 Golf GPS Handheld

You walk every golf course before you play it to see exactly what the yardages are and then record them, right? Of course you don't. But SkyCaddie does, and you'll get that and a golf cart load of exciting features in the new SkyCaddie SX550 golf GPS handheld!
The power-packed, feature-rich SX550 is the next generation of the SkyCaddie SX500 handheld GPS—refreshed with upgrades in screen size and design!
Stick around and read all about this new golf GPS unit that will upgrade your decision-making on the golf course—in our features review of the SkyCaddie SX550 handheld golf GPS.  
We go over the features and upgrades below.
Short on time? Jump to the PlayBetter Bottom Line.
---
SkyCaddie SX550 Golf GPS Features Quick Look
A larger display on a gorgeous 5.5" intuitive touch screen combined with HD quality graphics really does offer the bests views and most reliable information on how to play your best!
The SkyCaddie SX550 has a lighter and slimmer body design than the original special edition SX500.
Accuracy from the Ground Up!!

SkyGolf has ground-verified, error-corrected maps for unmatched accuracy.
Game-Changing GPS Golf Features!
The SkyCaddie SX550's multi-core processor makes this superfast premium GPS powerful enough to deliver golfing features such as Dynamic HoleVue™ and IntelliGreen technology.
Go ahead and get that last-minute 9 in! With up to 14 hours of battery life, the SkyCaddie SX550 provides extended playing time.
The SkyCaddie premium golf GPS has 35,000 ground-verified, preloaded golf courses worldwide!
The SkyCaddie SX550 Golf Premium GPS
Handheld Features Update Review
A Closer Look at the SkyCaddie SX550 Handheld GPS Upgrades
BIGGER TOUCH SCREEN
When it comes to vivid course graphics and distances you can trust—size matters! The SkyCaddie SX550 has larger a 5.5" LCD Color Touch Screen, offering you more viewing screen with a super responsive vivid display.
SLEEKER DESIGN
The SkyCaddie SX550 premium handheld golf GPS comes with a lighter and slimmer body design than the original special edition SX500.
You also get a micro USB-c cable for simple connection and easier charging. Now with Wi-fi connectivity to streamline updates and course downloads on demand. No need to connect to a computer.
THE LATEST SKYCADDIE GOLF FEATURES
What about the new advanced golf features like Dynamic HoleVue that came with the SX500? You get them bigger and better on the SkyCaddie SX550 GPS!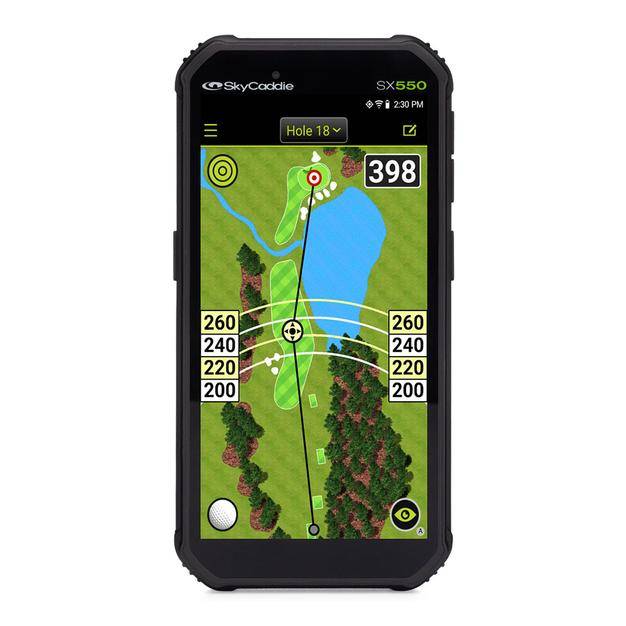 ---
---
SkyCaddie SX550 Premium GPS Golf Features
Like the SX500 before it, the SkyCaddie SX550 golf GPS unit is powered by an ultra fast multi-core processor, allowing it to offer you some solid golf features. Combine that with a larger, more vivid LCD touch screen and stunning graphics, and you'll see better, play better, and have more fun!
Go ahead and play like a pro with a caddie with these SkyCaddie features!
HOLEVUE WITH INTEGRATED TARGETS
The SX550 handheld GPS delivers distances to up to 40 geo-referenced targets per hole, all integrated within HoleVue. Simply double-tap or pinch and zoom HoleVue to reveal instantly the critical distances to all hazards, carries, and layups. And yes, they've all been ground-verified by SkyCaddie's mapping team.
INTELLIGREEN TECHNOLOGY
With SkyCaddie's patented IntelliGreen technology, the exact shape of the green automatically rotates to match your angle of approach and provide all of the distances you need to hit more greens and avoid 3-putts.
DYNAMIC HOLEVUE
This game-changing golf feature rotates the fairway and orients the green from your current position and angle of attack as you progress from tee to green. See everything between you and the green instantly without touching a button and get the distances you need to avoid hazards.
DYNAMIC HOLEVUE WITH INTELLIPATH TECHNOLOGY
Get every distance you need instantly, automatically, and easily from anywhere! Simply use the cursor to select your target and line of play, and IntelliPath not only provides the distance to your target, but also automatically provides the distance to every other relevant attribute of course along and beyond your target line.
DYNAMIC RANGEVUE®
Play smarter and faster. Multiple yardage arcs overlay fairway landing areas and greens to allow you to select quickly the best club for every shot.
DYNAMIC RANGEVUE WITH CLUB RANGES
Want to quickly learn how far you hit each club? The SkyCaddie SX550 lets you customize RangeVue by entering your club yardages. As you play, you will see your club range next to the RangeVue ring on every part of the course for much improved shot-making to fairways, layups and greens.
INTELLIGREEN PRO
IntelliGreen Pro is a dynamically enhanced version of IntelliGreen that adds the ability to display major tiers, contours, false fronts, and mounds from your angle of approach to the green on selective courses.
SKYCADDIE PINPOINT® TECHNOLOGY
Simply enter pin sheet or zone information into the SkyCaddie SX550 to get distances to the front, back, pin location, or zone PLUS the depth and true shape green. Get all of this information on one screen that changes automatically based on your current position and angle of approach from anywhere on the course—even from blind spots.
SHOT TRACKING
Activate Shot Tracking on your SkyCaddie SX550 handheld GPS to track today's round, identify your strengths and weaknesses—and figure out which clubs are helping or hurting your game!
DIGITAL SCORING
The SkyCaddie SX550 golf GPS unit provides scoring options for Stroke and Stableford with handicapping and tracks total putts and fairways hit.
INTELLIGENT AUTOMATION
Auto-Course Selection finds and loads your course
Auto-Hole Advances shows you the next hole before you get there
Auto-Zoom provides the best view of the hole as you go from tee to green
Auto-Distance updates yardages continuously from your location without aiming
Auto-Green Depth calculates the green's depth and the distance to the front, back, and any number in between, all from your angle of approach
Auto-View displays scorecard in landscape view with a simple turn
OTHER FEATURES
On Demand download for latest course updates via WI-FI
Measure the distance you hit any shot and learn your club distances
North Indicator
Tee Box Selection & Gender
Dual Green Support
Yards & Meters
Target List View
Basic Front/Center/Back view with ultra-large numbers
Digital Scorecard
Stat Tracking
---

The PlayBetter Bottom Line


Everything you want to know about what stands between you, the flag, and a better golf game all on a gorgeous, 5.5" LCD touch screen. We recommend the water-resistent, highly responsive SkyCaddie handheld golf GPS!
Write your golf feature wishlist, then throw it away, because SkyCaddie put it all in the SX550 premium handheld golf GPS, available on the PlayBetter golf store!
Free 2-Day Shipping
Free 60-Day Returns
Unmatched Customer Service