The 10 Best Golf Gifts of 2021 Holiday Buyer's Guide | Garmin, Bushnell, Voice Caddie & More!
Don't Miss Out on These 2021 Top Golf Sellers!
---
Make Their Christmas Merry and Bright with the Perfect Golf Gift!

Ready to find the best golf gift to surprise your favorite golfer this holiday season? Good, because this holiday buyer's guide is filled with sexy golf tech that is sure to bring a smile to their face, improvement to their swing, and many fun days on the golf course in the new year!
Tee up to this curated guide of smashing golf gadgets that make the best gifts, from only the most trusted brands like Garmin, Bushnell, Voice Caddie, SkyGolf, and more!
We've made it easy by plucking some of our top-sellers from our collection while including price points ($130-$2,000) to fit every budget. Shop the best GPS watches, golf laser rangefinders, launch monitors, and more—and score a hole-in-one this Christmas!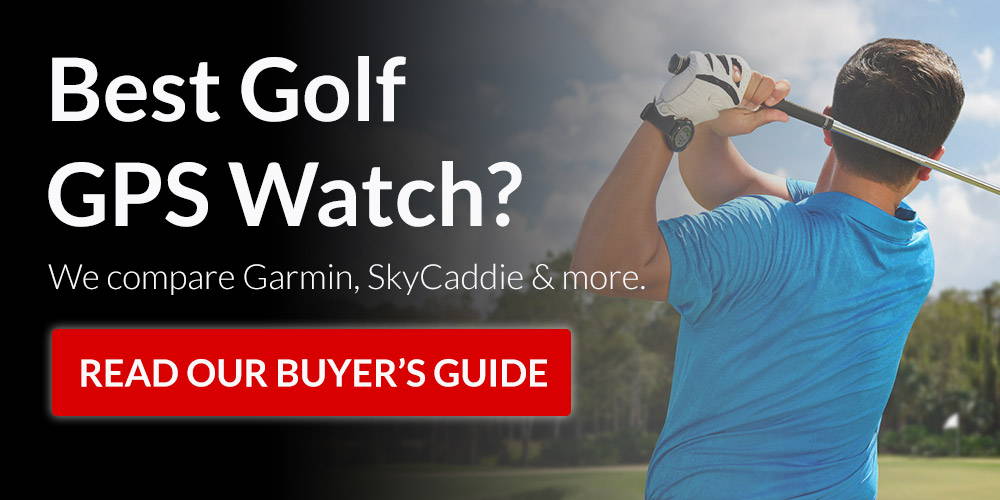 ---
The Coolest Golf Gift This Season!
The Wingman Offers ...
Give them the golf gadget that lets them listen to their tunes or tune in to their favorite podcaster while knocking out a round of golf. Oh ... and it announces their GPS distances as well!
It's a golf cart Bluetooth speaker.
It's got a magnetic mount that holds tight to a golf cart.
Provides audible GPS distances.
We've had it reviewed! According to Gabe at Let's Play Thru, "the distances are dead on," and he found the sound quality is "as solid as my stereo at home." Watch the Bushnell Wingman review.
It works with the Bushnell app that offers 36,000+ professionally mapped golf courses worldwide, full-color 3D flyovers and graphic layouts of each hole, shot distance and scorecard tracking, and swing speed and tempo using the Swing Pro feature.
Super easy setup and easy to use.
It comes with a remote.
Users can take calls through the speaker.
The Bushnell Wingman is water resistant.
Change the voice in settings, choose sound effects, or create custom messages.
The Perfect Golf Gift for ...
Literally any golfer.

A shopper who wants to give an awesome, unique, high-quality golf gift for under $200!
---
The Best GPS Smartwatch in Golf!
The Approach S62 Offers ...
Do they live on the course? Give them the golf watch for the golf life. The Garmin Approach S62 is the ultimate golf gift with premium features and style that will allow them to look and play the part.
Virtual AI Caddie On-Wrist—The only golf watch to offer Virtual Caddie; this feature learns how far your golfer hits various clubs and combines that info with real-time wind and course data to make club recommendations. Think of it as a friend suggesting they layup instead of trying to hit 190 into the wind over a water hazard...but instead of a friend, it's their watch.

Big, Color Touchscreen for Off-Course Too!

S62's big and is easy-to-read, even in bright conditions. Plus the watch (which comes in Black and White models) sports on-the-course and at-dinner style.

PlaysLike Distance (slope compensation!)

Green View

PinPointer

Hazard View

More than 41,000 preloaded courses.

20-Hour battery life in GPS mode.
The Perfect Golf Watch for ...
The hardcore golfer.

Someone who would also enjoy the smartwatch side of this gorgeous beast.

Anyone who would appreciate on-writs health-monitoring.

The golfer that also likes to workout—the Approach S62 is loaded with sports apps.

The shopper who wants to gift the best Garmin golf GPS watch!
Too pricey? Shop the Garmin Approach S42 ($299.99) or Garmin Approach S12 ($199.99)
---
---
A Launch Monitor with Super Convenient Features!
The Swing Caddie SC300i by Voice Caddie Offers ...
Give them a gift that will help improve their swing, perfect their distance control, and understand how certain clubs perform—all with impressive accuracy and convenient features.
This updated launch monitor proved to have extremely good accuracy, according to Gabe at Let's Play Thru. Watch the SC300i review.
Provides immediate multiple metrics for a shot right on the screen, including Carry/Total Distance, Smash Factor, Launch Angle, Swing Speed, Apex (Max Height), and Ball Speed.
Comes with a remote to change mode, club, or target distance without going to the unit each time.
Voice output calls out the distance of each golf shot hit.
Pairs with the Swing Caddie app for analysis of the user's core shot data on a whole new level.
The SC300i gets up to 20 hours of battery life.
An indoor/outdoor launch monitor.
Get adjustable loft angles.
Use Target Mode for accurate distance exercise.
The Perfect Golf Gift for ...
A golfer who wants to have fun analyzing their swing.

Someone who would enjoy an ultra convenient indoor/outdoor launch monitor.

A shopper who wants to give a really cool and effective golf gift.
---
A Gorgeous, High-End, & Unique Golf Gift!
The SL2 Active Hybrid GPS Laser Rangefinder Offers ...
Not sure if you should get them a fully loaded GPS golf watch or a golf laser rangefinder this Christmas? Why not give them 2-in-1 with the Voice Caddie SL2 Active Hybrid GPS rangefinder. And yes, it's as amazing as it sounds. Furthermore, its elegant style is jaw-dropping.
Provides slope-compensated distances and then gives them even more information about the green on a watch-like touchscreen below the viewfinder.
The Voice Caddie SL2 Active Hybrid Slope Rangefinder will help them remove the guesswork with Smart Course View™ features

that allows them to see the

landing area of their driver

from a preset driver distance.

They'll be able to touch bunkers and hazards on the display (right on the eyepiece!) to see the distance to the front and end, zoom in for enlarged views, and get the distance from a selected point to the pin.
The SL2 is also loaded with Active Green View™ features

that include a

more realistic and intuitive

Green Undulation experience.

A zoom screen allows them to

move the pin and navigate around the green.
The "active" part of this feature lets them rotate the green

according to their location, and more!
The Perfect Golf Rangefinder Gift for ...
People who love gorgeous tech.
A golfer who wants to know everything about the green.
Any player who would be torn between the benefits of a GPS watch and a golf rangefinder.
A shopper who really wants to give a hole-in-one Christmas gift this year.
---
The Holy Grail of Christmas Golf Gifts!
The Skytrak Offers ...
The SkyTrak is known to have proven, excellent accuracy.
Multiple data points, including Ball Speed, Launch Angle, BackSpin, Side Spin and Carry Distance.
The SkyTrak integrates with several simulator plans for iOS and PC, including: TrueGolf E6 Connect and WGT Golf for iOS and The Golf Club 2019, TrueGolf E6 Connect, Creative Golf, Fitness Golf, and ProTee Play for PC.
Shot-Tracer provides views from two camera angles for enhanced feedback and better information than they would get at the course.
Multi-Color Shot Tracers separate different clubs by unique shot-tracer color, allowing them to easily see shot dispersions with different clubs.
Fun challenges like Closest to the Pin, Long Drive, and Target Practice.
The SkyTrak measures putting!
Customize their SkyTrak experience by inputting a series of desired variables and environmental factors such as weather and course conditions.
Driving Range lets them hit and view live shots—at home!
SkyTrak provides up to 5 hours of rechargeable battery life.
SkyTrak has been around a while now and has been through several firmware updates that make it a rock-solid launch monitor and simulator!
The Perfect Golf Gift for ...
A real golf nut.

A golfer who would love a system that would help improve their overall game.
Golfers with a lot of golf buddies—it's hours of entertainment!
A family that loves golf!
Anyone who really wants a home golf simulator studio.
A shopper who wants to give the ultimate golf gift and money is no object.
---
---
Give Them a Virtual Golf Caddie for Christmas!
The SkyCaddie SX550 Offers ...
Do they live on the course? Give them the golf GPS handheld for the golf life. The SX550 has loads of virtual caddie-like features, rich graphics and large, easy-to-read numbers.
Dynamic HoleVue provides every distance they'll need from anywhere.
Double-tap or pinch and zoom HoleVue to know the critical distances to all hazards, carries, and layups.
With IntelliGreen Technology the exact shape of the green automatically rotates to match the user's angle of approach.
Dynamic HoleVue with IntelliPath Technology rotates the fairway and orients the green from your current position and angle of attack as they progress from tee to green.
Dynamic RangeVue provides multiple yardage arcs overlay fairway landing areas.
Auto-Course Selection finds and loads their course.
Auto-Hole Advances shows the next hole before they get there.
Auto-Zoom provides the best view of the hole as they go from tee to green.
Auto-Distance updates yardages continuously from their location without aiming.
Auto-Green Depth calculates the green's depth and the distance to the front, back, and any number in between, all from their angle of approach.
Measures the distance hit on any shot and learns their club distances.
Basic Front/Center/Back view with ultra-large numbers.
Digital Scorecard
Stat Tracking
The Perfect Golf GPS for ...
The hardcore golfer.

Someone who wants all the details about a course before they take the shot.

Anyone who would appreciates high-quality, feature-rich golf tech.

The shopper who wants to gift a sexy golf gadget for a mid-range price!
---
The Most Reliable Distances to the Green!
The COOLSHOT PROII Offers ...
Whether it's from a shaky grip or a windy day, an unstable golf laser rangefinder defeats the purpose of using one. Remove the issue for them with the Nikon COOLSHOT PROII golf laser rangefinder with the best stabilization technology to date.
Super accurate slope distances.
A built-in advanced optical stabilization system to reduce vibration. This technology by Nikon sport optics provides an amazing 80% reduction in hand shake.
A super-fast, .3-second readings with HYPER READ technology.

 

Dual Locked on ECHO technology

(audible and visual target confirmation).

Tournament legal indicator
Accuracy of ±0.75m/yd
The Perfect Golf Gift for ...
Any golfer who might have shaky hands.

Golfers who play in all weather.
A player who really admires the best golf tech.
A shopper who really wants to impress their favorite golfer.
---
Top-Selling Golf Gifts Under $200 on PlayBetter!