The Best Garmin Golf Watches for 2022 | Golf GPS Watch Comparison
Which 2022 Garmin Golf Watch is the best for you? Let's find out.

Need the quick version on the best golf GPS watches for 2022? Here's 3 thing you should know before making your choice (much more detail below!):
You're in Good Hands—Garmin is Far & Away the Industry Leader in GPS for golf — Garmin is known for delivering the most innovative GPS technology across several sports. Professional athletes around the globe use their GPS wearables for golf, running, exploring, cycling, fitness and more. Their accuracy is legendary and ease-of-use is unparalleled. When you head onto the course in 2022, if you opt for a GPS watch (over a rangefinder) it's best to have a one of these on your wrist


Between the 3 watches—the Approach S12, S42 and S62—there's something for every golfer — The Approach golf lineup gives you options, so no matter if you're looking for a budget golf wearable (Approach S12), the top-of-the-line (Approach S62) or somewhere in between (Approach S42), there's a watch for you!


You're Taken Care of on the PlayBetter Golf Store — We're one of the most popular places to buy the best GPS golf watches online, mostly because we're obsessed with customer happiness. Free 2-Day Shipping, Free 60-Day Returns, Extended Warranties and Lifetime Support are just a few of the reasons there's no better place to buy the best golf GPS devices from Garmin. (We always offer the the lowest price available while complying with manufacturer restrictions and allowable price promotions. If we can put it on sale or allow the use of coupon codes, we will!)
---
---
---
PlayBetter® Guide for the Best Golf GPS Watches from Garmin
---
---
---
The Latest Approach GPS Wearable Lineup
Want to know which Garmin Approach comes out on top when it's the S12 vs the S42 vs the S62? What about how they measure up to their previous models? How does the S12 compare to the S10?
The truth is, it all depends on what you're looking for in a golf GPS. Of course, we'll weigh in on our favorite. But maybe you're a no-frills golfer. Or on a budget. Or you want ALL THE FEATURES!
Whatever your preference, whatever your criteria, we lay it all out for you. And we're confident you'll find the Garmin golf watch that is perfect for you.
(To keep up with the new release of any Garmin golf product, subscribe to our newsletter in the footer below or follow us on social media!)  
Watch this Garmin Approach S42 Review from Gabe at Let's Play Thru!
---
---
Our Top Pick — Garmin Approach S62 Features
Obsessed with accuracy on the course? We are—and also with this smartwatch made for the serious golfer.
With the bigger, 1.3" sunlight-readable easy-to-view display of the S62, you can access over 41,000 maps of golf courses worldwide; you get accurate front, middle and back distances to the green plus hazards and dogleg location; scorekeeping on Garmin Golf (a free app with purchase), and a 1-year warranty also come standard along with smart notifications when paired with a compatible smartphone. But all that's just for starters …
This watch is stacked with additional shot-maximizing features. AutoShot game tracking and Green View allow you to keep better track of your game and manually drag and drop the pin to increase your accuracy. Furthermore, the PlaysLike Distance feature adjusts basic front-middle-back yardages for uphill, flat, and downhill shots. And even on blind shots, the PinPointer feature shows you on the screen which direction to swing.
Finally, Virtual Caddie factors in wind and suggests clubs for you based on the distance you normally swing for that club.
But why else do we think this lineup of best Garmin golf watches is so special? Because some of them are versatile with features for everyday use that go beyond the golf course. And the S62 is the king of the added extras! In addition to being one of the most accurate and helpful golf distance measurement devices you can get on your wrist, it also has tracking, health, safety, and workout features. These include:
step counter
calories burned
distance traveled
LiveTrack (a safety and connectivity feature that creates a real-time view of your location during an activity, so friends and family can follow along)
Health monitoring, including wrist-based heart rate, Pulse Ox blood oxygen saturation, all-day stress, sleep, hydration, women's health tracking
Compass, gyroscope, accelerometer
Connect IQ™ (downloadable watch faces, data fields, widgets and apps)
Controls smartphone music
Find My Phone, Find My Watch
Garmin Pay™
Training, running, cycling, swimming, and outdoor recreational features
14-day battery life in smartwatch mode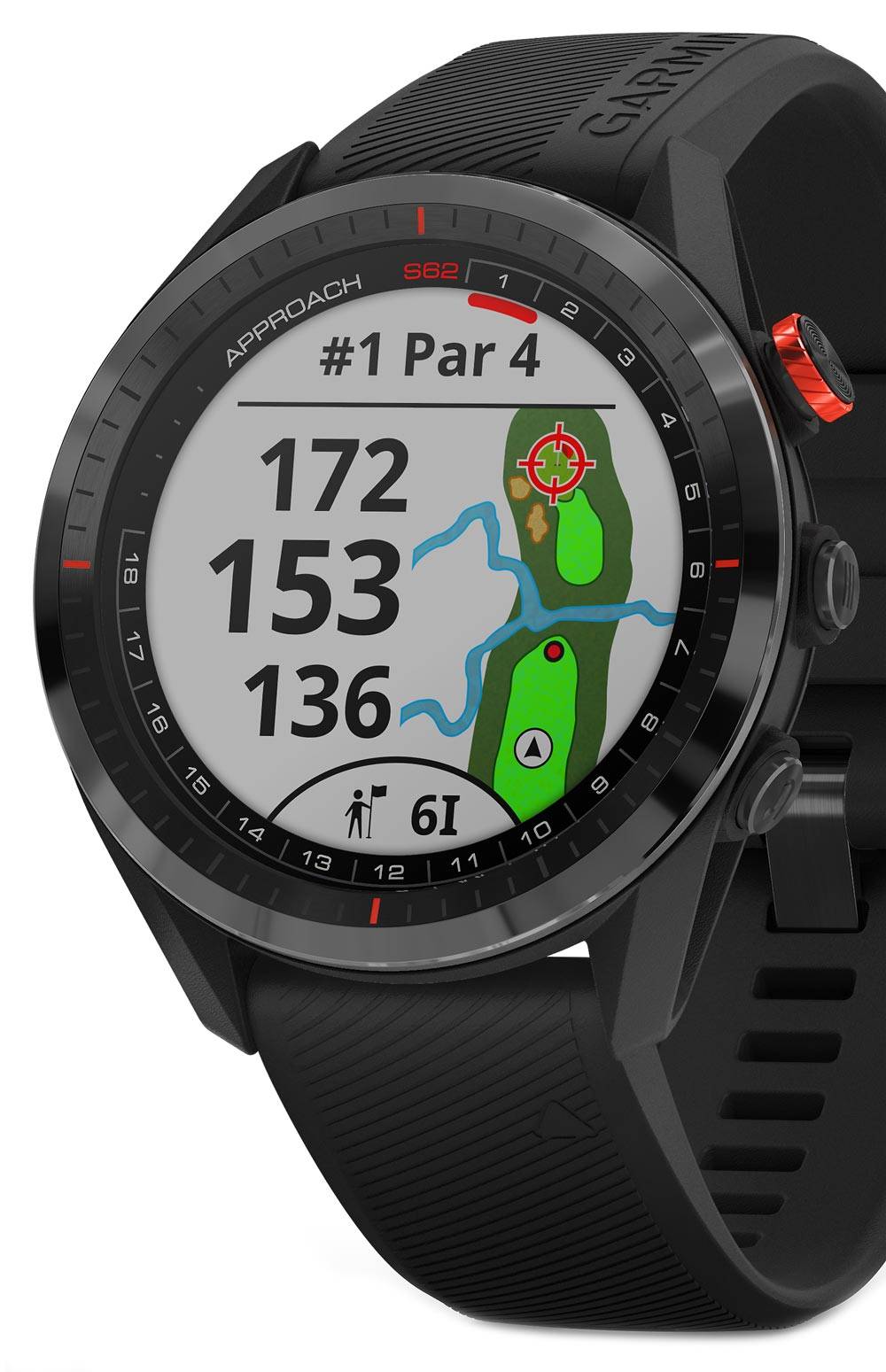 ---
The Approach S42 Features
This GPS golf smartwatch enhances everything from your style to your shot accuracy.
Access over 41,000 maps of golf courses worldwide from your wrist with the S42; get accurate distances to the green plus hazards and dogleg detection; scorekeeping on the free app with purchase, and a 1-year warranty also come standard.
Additionally, the Approach S42 has most of S62's shot-maximizing features. You get AutoShot game tracking and Green View for manual pin drag and drop. The PlaysLike Distance feature adjusts yardages for uphill, flat, and downhill shots. And the PinPointer keeps you direction-oriented, even in a blind spot.
The S42 is a lightweight GPS golf watch with a comfy design and sleek look. A sunlight-readable touchscreen gives you that edge of accuracy on even the brightest days. Choose from three color palettes: gunmetal/black, polished silver/white, or rose gold/light sand. Moreover, you can get smart notifications—emails, texts and alerts—right from your wrist on and off the course.
On the golf course, you get up to 15 hours of battery life in GPS mode and up to 10 days of regular use. And just how useful is the S42 off the course? Monitor sleep, hydration, and women's health; get motivated with the step counter and move bar; and train with basic running and cycling profiles!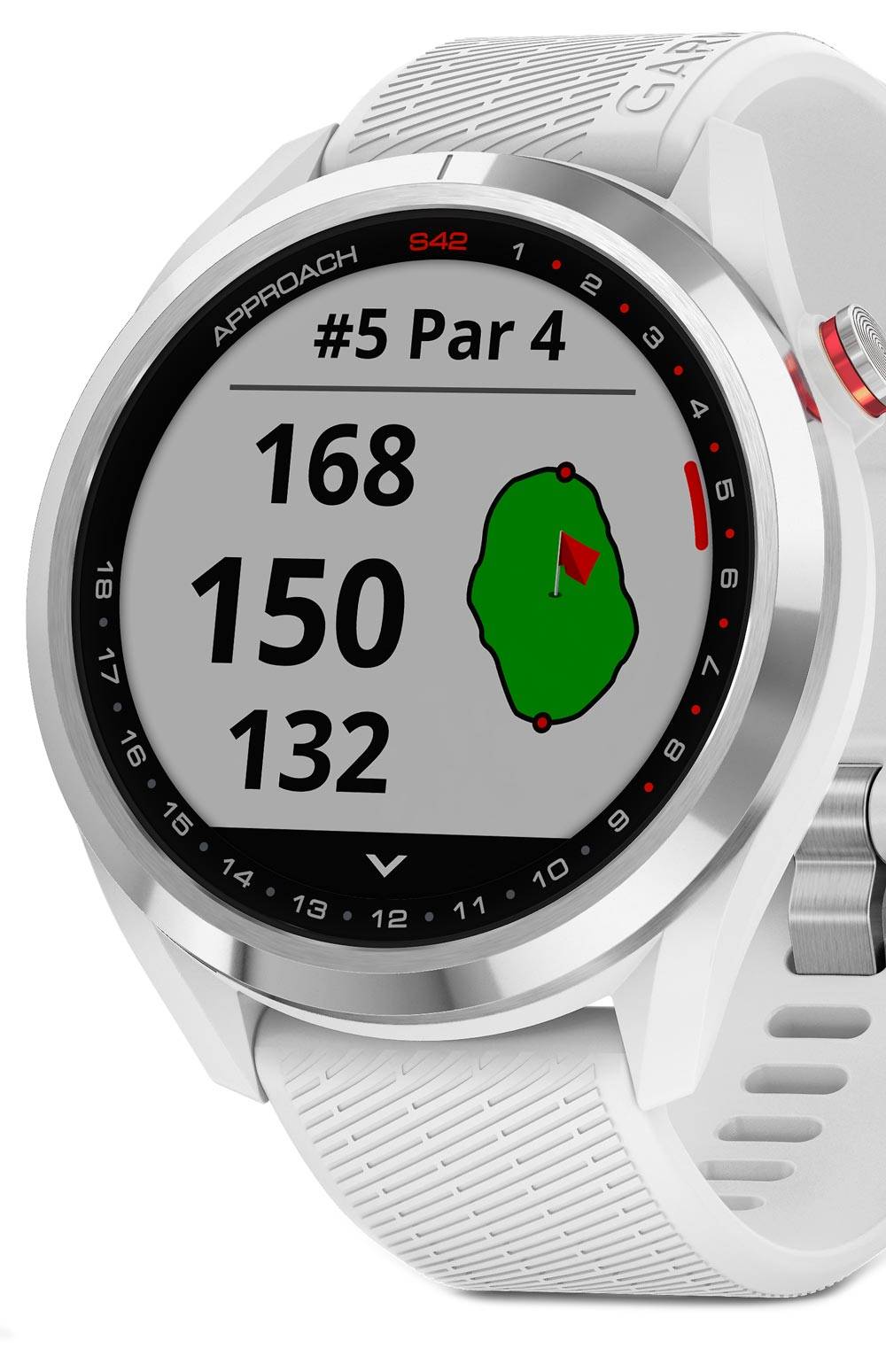 ---
The Garmin Approach S12 Features
Looking to keep it simple with a fast, user-friendly lightweight GPS golf watch? The S12 is this tech titan's basic golf watch. But there's nothing basic about Garmin's standard features and technology.
In this latest model, you can expect a sunlight-readable screen, over 41,000 preloaded courses from around the world, features for referencing basic front-middle-back yardages to the green, hazard detection and avoidance features, scorekeeping on your screen (with the Garmin Golf app), stat tracking (strokes, putts per round, greens and fairways hit), the option to pair with Approach CT10 club tracking sensors, and a battery life up to 30 hours in GPS mode and up to 10 weeks in watch mode!
You get basic watch features (no touchscreen), including time/date, GPS time sync, auto daylight savings, sunrise/sunset times plus Bluetooth® Smart connectivity, smartphone compatibility—and like all Approach golf wearables—the S12 is tournament legal.
This GPS wearable made for the improvement-minded golfer, come in black, granite blue, and white.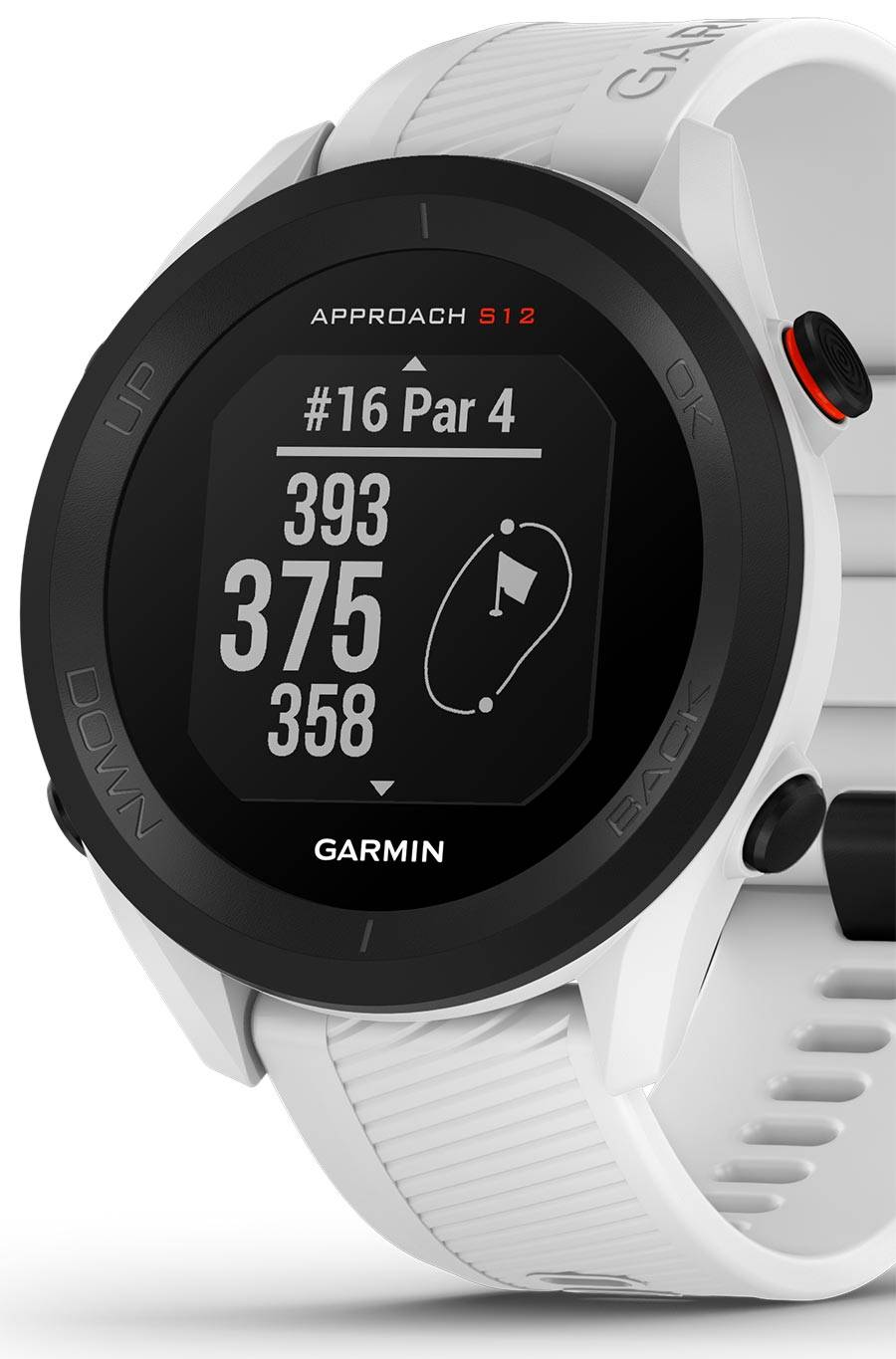 ---
Best Golf Watch for On and Off the Course
The Approach S42 was made to enhance life on and off course.
For the game, this GPS smartwatch for golfers is loaded with powerful features, such as AutoShot, Green View, PlaysLike, and PinPointer. The S42 puts accurate distances right on you wrist, to the front, middle, and back of the green and to layups/doglegs. Also, measure shot distance automatically (calculate exact yardage for shots from anywhere on course. What else? Custom targets, hazard and course targets, touch-targeting (a touch screen feature of this watch to see distance to any point), handicap scoring, TruSwing™ compatible, round timer/odometer, and automatic club-tracking compatibility.
For style, this gorgeous wearable has a large 1.2" easy-to-read color touchscreen display with metal bezel and is lightweight. To suit every golfer's taste, it's available in gunmetal, polished silver, and rose gold.
For beyond the course, the S42 offers smart notifications, golf stats for reviewing your overall game and fitness apps for tracking your progress off the course. Play better wherever you are and look good doing it with this stylish smartwatch for any golfer!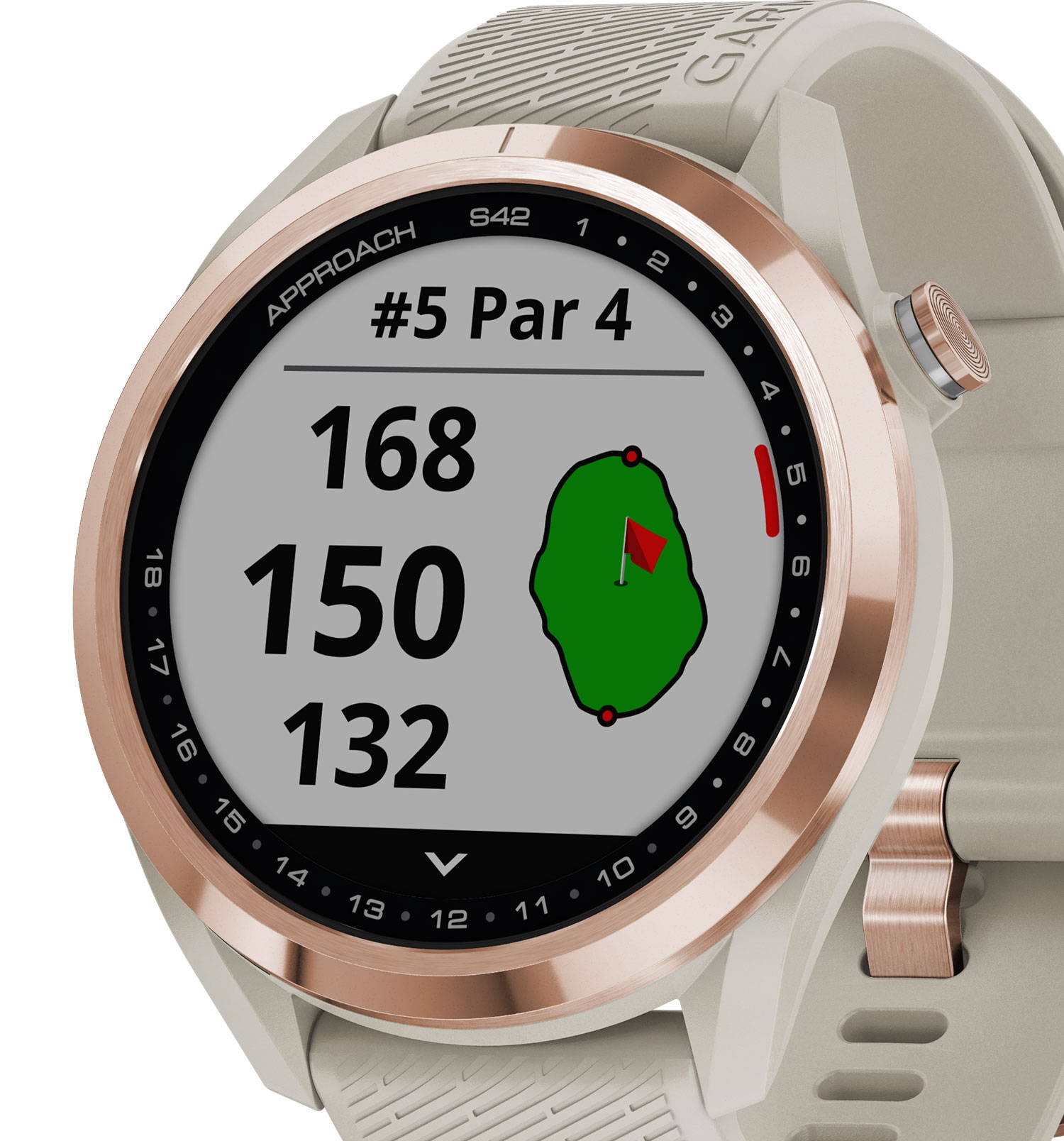 ---
---
Best Garmin Approach for the Price
The S12 is a very affordable golf watch that's rich in Garmin technology and features. While it does not get smart notifications, it gives you what you need on the course, designed in a user-friendly device. With preloaded courses, accurate distances to greens, a built-in scorecard app, enough battery for 3 rounds, hazard and dogleg detection and more … this simple Approach is a no-brainer!
Additionally, the Approach S42 deserves an honorable mention in this category, because at a mid-level price it's loaded with features and style!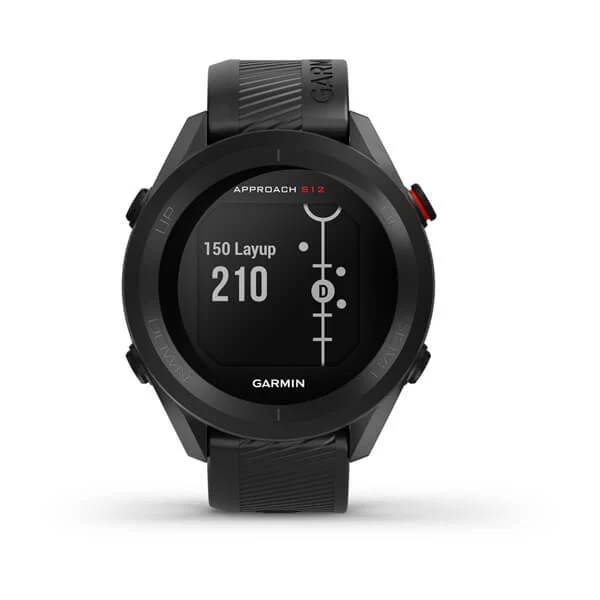 ---
Best Garmin Golf Watch for the Serious Golfer
If you're on the course several times a week and feel like your progress has plateaued—Garmin's Approach S62 has the features to help you push yourself to the next level.
This premium golf GPS watch integrates critical course information to give all golfers the power to improve their game. Let's start with the display: This 1.3" easy-to-read color touchscreen display is 17% larger than Approach S60 to make your experience that much better. From there, download custom watch faces, apps, and widgets from the Connect IQ™ Store, and customize your watch face with any photo from your mobile device. Now for the nitty-gritty ...
With the Virtual Caddie feature, you get your very own caddie (only in the S62), right on your wrist! Factor in wind speed and direction and get a suggested club based on the distance you typically swing with that particular club. Get more than 41,000 full-color CourseView golf courses from around the world preloaded on your wrist. Download updates for the course you play most often. Know the slope with the PlaysLike Distance feature that adjusts yardages to account for uphill and downhill shots. The Green View feature shows you each green's true shape from wherever you are on the course, and it allows you to drag-and-drop the pin for greater accuracy. When on blind shots, the PinPointer feature will tell you the direction of the pin so you can make the most of each swing. And finally, Hazard View allows you to quickly scroll through each hazard on the map and get critical distance information so you know what to avoid.
What's more? Get a digital scorecard on your wrist, and paired with a compatible smartphone with the Garmin Golf app downloaded, get your shot stats to gain more data about your game and participate in leaderboards and tournaments.
Interested in off-the-course versatility? The Approach S62 also offers many tracking, health, safety, and workout features!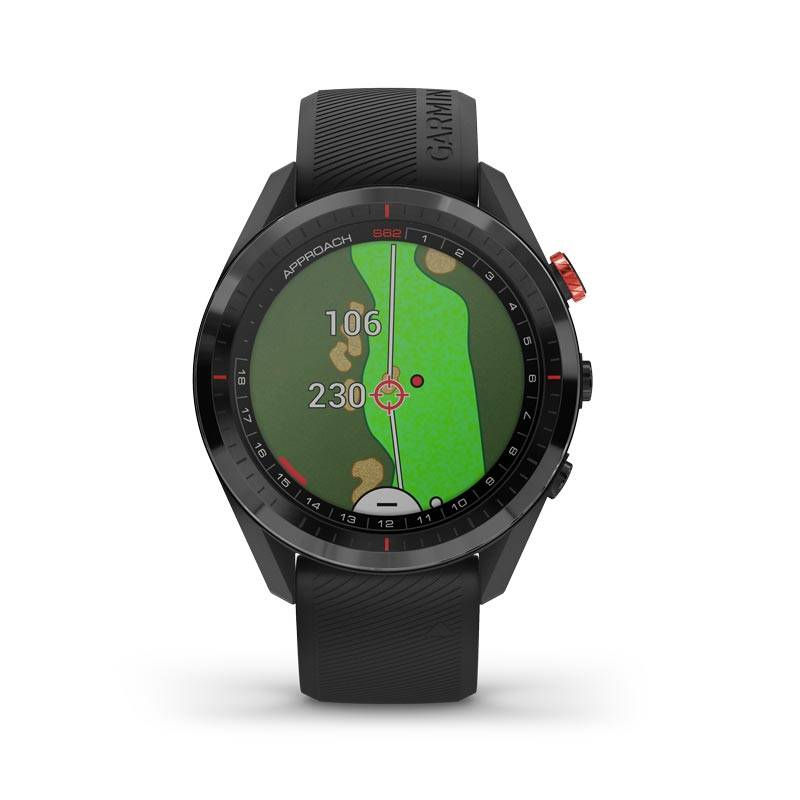 ---
Most Stylish Garmin Golf Wearable
With a large full-color touchscreen and stylish metal bezel, the Approach S42 takes the crown. At work, on the course, or during an evening out—you look the part you're playing with this gorgeous smartwatch on your wrist.
This lightweight golf smartwatch with 1.2" sunlight-readable display is available in 3 elegant color palettes: gunmetal/black, polished silver/white, or rose gold/light sand.
With an equally desirable battery life—up to 10 days in smartwatch mode, and 15 hours in GPS mode—you'll be eager to wear this gorgeous golf accessory on the job, when you're playing better golf, and while enjoying an evening out!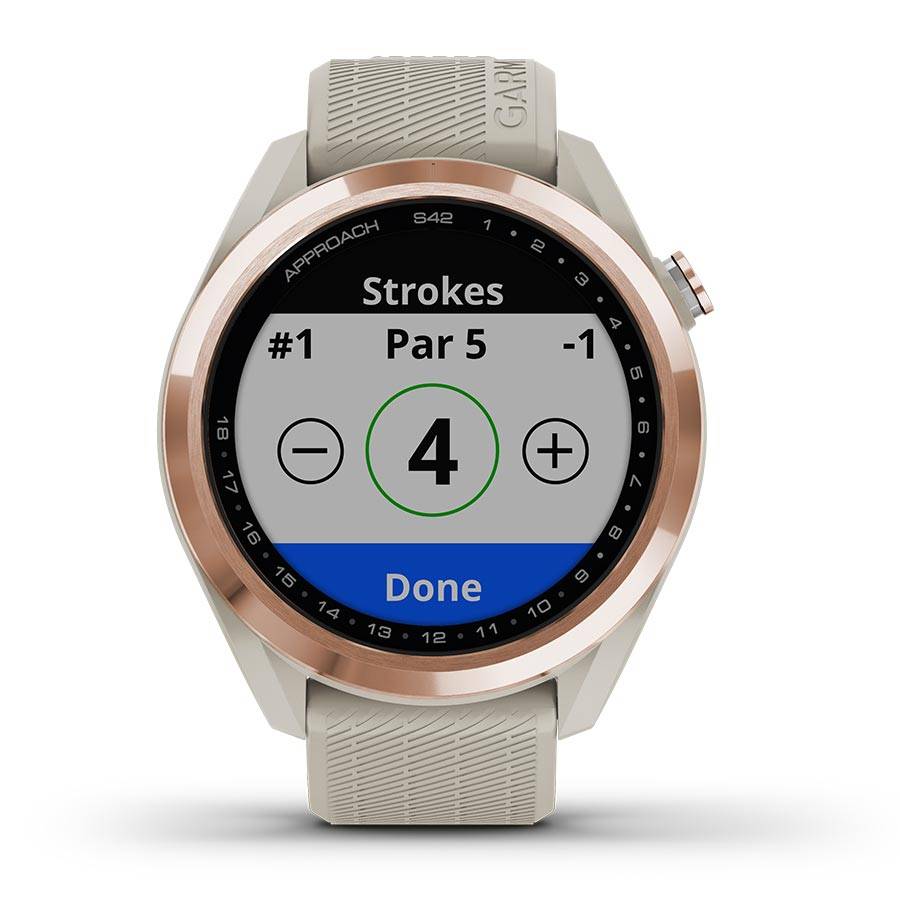 ---
Best Entry Level Garmin GPS Watch
It might be the most basic in the Garmin Approach lineup, but on the course, the S12 watch gives you a whole lot of Garmin golf technology bang for your buck.
With this affordable, user-friendly, and sharp-looking golf GPS wearable, you can enjoy the game and focus on the fundamentals. Preloaded with 42,000 golf course worldwide, you get auto course updates, digital scorecard, yardage to the front, middle, and back of the green—and layups/doglegs! Manually measure shot distances, get stat tracking (strokes, putts per round, greens and fairways hit), and enjoy shot improving features like Green View with manual pin position and hazard and course targets!
This lightest weight Approach watch with the most battery is all about time on the course without weighing you down; the S12 will give you up to 10 weeks of runtime in watch mode and up to a whopping 30 hours in GPS mode so you can put the time in to play better without worrying about constantly charging.
If you want a watch that enhances your playtime while staying out of the way … look no further than the S12.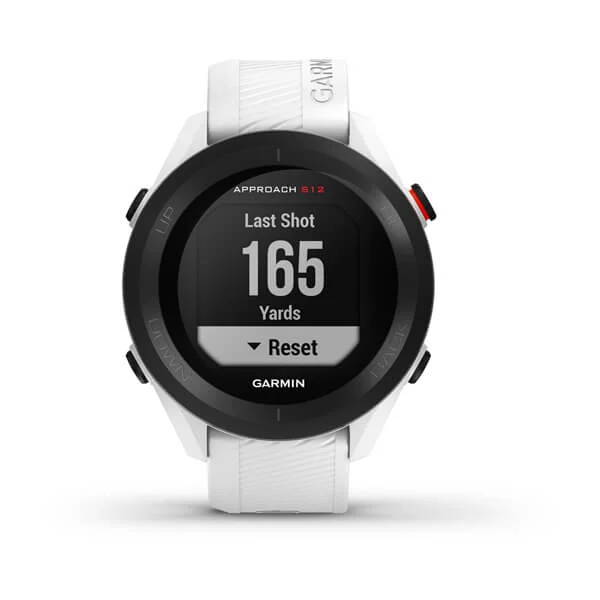 ---
Garmin Golf Watch Comparison 2021
---
Here's a comparison chart of the current Garmin Approach golf watch models:
Garmin Approach S62
Garmin Approach S42
Garmin Approach S12

Round, Color 1.3" Touchscreen
Sunlight Readable

Round, Color 1.2" Touchscreen
Sunlight Readable

Round, B/W Hi-Res Screen
Sunlight Readable

Virtual Caddie
All S42, S12, S10 features

Pin Placement, PlaysLike
All S12, S10 features

30-Hour Battery
All S10 features

42,000+ Worldwide Courses

Accurate Back, Middle, Front
green distances + hazards

Scorekeeping on Garmin Golf

1-Year Garmin Warranty

42,000+ Worldwide Courses

Accurate Back, Middle, Front
green distances + hazards

Scorekeeping on Garmin Golf

1-Year Garmin Warranty

42,000+ Worldwide Courses

Accurate Back, Middle, Front
green distances + hazards

Scorekeeping on Garmin Golf

1-Year Garmin Warranty

Free 2-Day Shipping


Free 60-Day Returns

PlayBetter Customer Service

Free 2-Day Shipping


Free 60-Day Returns

PlayBetter Customer Service

Free 2-Day Shipping


Free 60-Day Returns

PlayBetter Customer Service
---