5 Best Garmin Watches for Running | Forerunner 945/245/55, fenix 6 Pro, & Venu 2
Get faster and fitter with one of these Garmin running watches.
Which one's your speed?

Included Premium Garmin Features
Built-In Multi-GNSS
(GPS, Galileo, GLOSNASS)
Wrist-Based Heart Rate
Garmin's Elevate Optical Sensor
Extensive Running Features
Body Battery™ Energy Monitor
Daily Smartwatch Features
---
Find your perfect running partner ...
In this article, we're featuring 5 Garmin watches for running—and we're confident that one will align perfectly with your running goals!
So what makes an exceptional running watch? Our criteria is a combination of health monitoring, training & tracking features, battery life, cost, versatility, and style. Garmin excels in all these areas, but what's more: Garmin knows no two runners are the same. So they package their incredible features into different GPS smartwatches and price points!
The PlayBetter picks for 5 best Garmin watches for running include:
Plus, we'll show you any options you may have with each watch. For example, if phone-free music isn't your priority while you train, you can get the Forerunner 245 without on-watch music for $50 less. So come run with us through this list and find the Garmin running watch that was created for you!
---


5 Ways to Run with Confidence.
Which One Is Your Speed?



Best Triathlon GPS Watch — Garmin Forerunner 945/945 LTE
You need functionality, precision, and options when chasing down your insane goals, and the Forerunner 945 has all this and more to help you analyze and optimize your performance. Here's why and how you're going to love this premium multisport watch as your new marathon and triathlon training partner:
It's lightweight, doesn't feel bulky
Made with premium, durable materials
Stream your music and podcast to your bluetooth headphones; store up to 1,000 songs
Stores up to 200 hours of activity data, allowing you to go back and analyze your past several workouts without needing an app
Sensors galore for heart rate, temperature, elevation, weather, compass, and more
Garmin Coach and built-in sports apps, running dynamics on your cadence, stride, contact time, balance, and more offers insight on your form so you can adjust and improve
The most Firstbeat metrics (18), which are advanced performance analytics for stress, recovery, and exercise
More navigation features like full color mapping, ClimbPro, Turn-By-Turn navigation, and roundtrip routing
Stay safe and connected with Assistance and Incident Detection features
Sports modes and training for running, biking, swimming, and much more
More Options with the Forerunner 945 LTE
Stay safer! With the Forerunner 945 LTE, you get all of this plus (with an LTE subscription) you can leave your phone at home and get Assistance Plus, which automatically sends your name and location from your watch alone to the Garmin IERCC, a 24/7 staffed professional emergency response coordination center that can contact and communicate with local emergency services.
Stay more connected! Also with the Forerunner 945 LTE running watch, get midrace motivation with audio and text messages from your family and friends with Spectator Messaging.
If you're ready to do it all, give it all, and take it all ... get the watch that has it all!
Compare all the Forerunner 945 features side-by-side in our comparison chart below!
---
Best Overall Garmin Running Watch — The Forerunner 245 Music  
Get high-end features for a midrange price with the 245 Music running watch. You can get to know yourself as a runner and go next level with this feature-loaded GPS smartwatch. And go even further with your most motivating tunes—the Forerunner 245 Music gives you on-watch music so you can go phone-free!
This super savvy sports watch for runners is stuffed with performance-enhancing features, including:
Garmin Coach for free adaptive training plans
Built-in sports apps (cycling, pool swimming, track running, elliptical, stair-stepper, etc.)
Wrist-based heart rate
Built-in GPS for accurate location, distance, pace, and intervals
Running Dynamics (with a compatible accessory) for crucial running metrics like cadence, stride length, ground contact time and balance
VO2 MAX can tell you how you might expect to perform with heat or altitude factors
The Pulse Ox sensor can help gauge how your body is absorbing oxygen—even while you sleep
Training Status let you know if you're training productively, peaking, or overreaching
Training Load compares your most recent stats to your optimal and historical fitness stats
Recovery Time advises you on how long to rest be for your next big run, factoring in stress, sleep, and activity outside your workouts
Body Battery Energy Monitor lets you know the best times to be active and rest
Women's Health Tracking (in app) lets you track your menstrual cycle or pregnancy
Receive text messages and view social media updates, emails, and more from this best Garmin smartwatch
Get built-in assistance and incident detection and manually or automatically send a message with your real-time location to emergency contacts
Automatically upload activities to the Connect community, and you can download custom watch faces, data fields, and apps from the Connect IQ™ Store
Store up to 500 songs on your watch, no phone needed while you run!
More options with the Forerunner 245
Don't need an elaborate play list while you run? Get the standard Forerunner 245—the exact same watch minus on-watch music for $50 less, and you can still control the music on your phone!
Compare all the Forerunner 245/245 Music features side-by-side in our comparison chart below!
---
Best Garmin Watch for Beginning Runners — The Forerunner 55
The Forerunner 55 is an easy-to-use running watch perfectly designed for new runners. At an ultra attractive price, it's loaded with tools that will help you achieve your fitness goals, take your training to the next level, and keep you in tune with your health and wellness.
But don't get us wrong—the simplicity of this watch is in the user experience. It's still loaded with features that runners at every level will love, like:
Built-in tracking for how far, how fast, and where you run. Includes multi-GNSS (GPS, Galileo, GLONASS) for tracking in the most challenging environments, like tall buildings and heavy tree cover.
Wrist-based heart rate provides data all day and night
All-day activity tracking counts steps, calories, sleep, and more
Daily Suggested Workouts take the guesswork out of training by offering personalized run workouts tailored to your training history, fitness level, and recovery time
Garmin Coach training plans offer on-screen guidance from expert coaches and free 5K, 10K, or half marathon training plans that adapt based on your goals
Safety features let you send a message with your location to family and friends
PacePro provides guidance to help you tailor your efforts to a selected course or distance
The finish time estimator lets you select a run distance and get an estimated finish time right on your wrist
Cadence alerts let you know when you've gone outside your target cadence range, helping to improve your running form
Built-in activity profiles, including track or virtual running, pool swimming, Pilates, HIIT, and more
Built-in recovery advisor lets you know how long to rest before your next big effort
Body Battery™ energy monitor tracks your energy levels to find the best times for activity and rest
Women can track their menstrual cycle or pregnancy and log symptoms, receive exercise and nutrition education, and more through the free app
Receive text messages and view social media updates, emails, and more
Automatically upload activities to Garmin Connect (a free app and global community of Garmin users), and you can download custom watch faces, data fields, and apps from the Connect IQ™ Store.
Compare all the Forerunner 55 features side-by-side in our comparison chart below!
---
Most Stylish Running Smartwatch — The Garmin Venu 2
Smartwatch or sport watch? How about a GPS wearable that blends the best of both worlds brilliantly and with gorgeous style. Not only is the Garmin Venu 2/2S loaded with running features and health monitoring, if offers size and color options to fit your lifestyle and training style. Here are just a few reasons why we love it for before, during, and after runs:
Display Size Options — Want a larger, bright AMOLED display on your wrist? Opt for the 1.3" Venu 2. For a more classic look or for smaller wrists, the Venu 2S offers a 1.1" display. AMOLED displays allow for more control over each pixel, resulting in richer blacks and power economy in darker watch faces.
Advanced Health Monitoring Features — The new Health Snapshot widget allows you to log a 2-minute session to record key stats, including heart rate, heart rate variability, Pulse Ox, respiration, and stress. Generate a report with those stats via the Garmin Connect app to share with your doctor, trainer, or friends. You also get the latest update of the Garmin Elevate heart rate sensor, which has improved the sleep tracking function.
Advanced Training/Workout Features — Easy-to-follow, animated cardio, strength, yoga, Pilates, and high-intensity interval training (HIIT) workouts come preloaded on the Venu 2/2S, and you can download more from the Garmin Connect app. This multisport GPS watch also has added sport modes and advanced strength training and workout profiles.
Get the new Fitness Age widget in the Venu 2 series, which reinterprets your VO2 Max score in terms of age to make it more relatable to how you are training.
Safety Features — Get LiveTrack and built-in incident detection (with select outdoor activities), so your live location can be sent to your contacts manually or automatically for assistance.
Smart Features — Get music on your watch (up to 650 songs), notifications, and pay for that post-workout coffee right form your wrist with Garmin Pay™!
More options with the Venu 2/2S
Get a variety of sizes and colors with the Garmin Venu 2 and the Venu 2S.
Compare all the Venu 2/2S features side-by-side in our comparison chart below!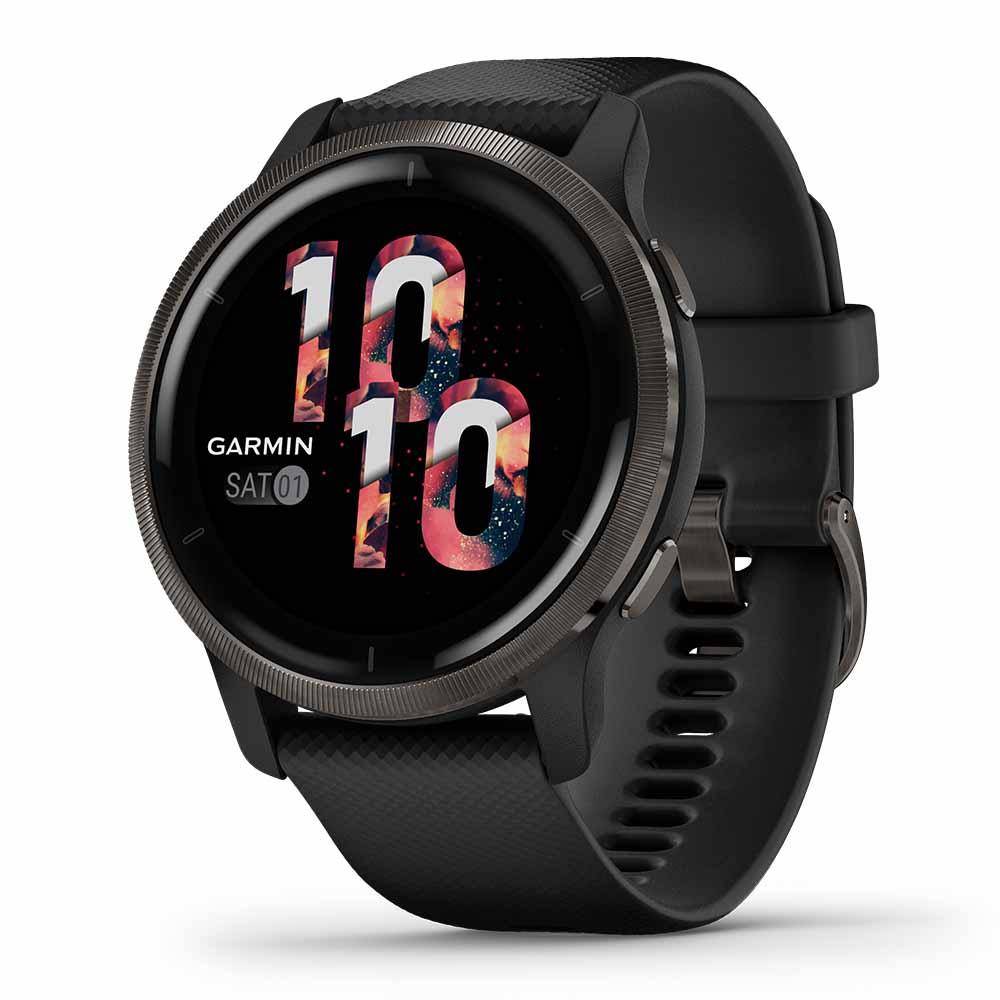 Best Outdoor GPS Watch for Running — The Garmin fēnix® 6 Pro
You're a rugged and sophisticated runner. Meet your match with the the Garmin fēnix® 6 Pro multisport watch, loaded with the features that will help you hone your stride for your regular workouts and recreational activities, such as:
Running Dynamics

,

PacePro

,

Race Predictor

,

run workouts

and profiles for swimming, biking, hiking, golfing, and more!

Get Garmin's cutting-edge design on your wrist, made with durable materials for rugged adventures  
Multi-GNSS (GPS, GLONASS, and Galileo)
Heart rate, Pulse Ox, and VO2 Max

 

This stylish sports watch offers access to advanced features such as

built-in activity profiles, performance metrics, and training load balance readings

.

With the added

customizable Power Manager

, users are able to maximize battery life for efficient use throughout the day

For you mountain and trail runners and cross-trainers, when you leave the grid, so does the fēnix 6 Pro. It has preloaded maps for 2,000 ski resorts

, profiles for

backcountry skiing, mountain biking dynamics, surfing features

,

and

41,000+ preloaded maps to golf courses

around the world

PacePro technology gives you grade-adjusted guidance

Music compatibility that allows you to store up to 2,000 songs on your smartwatch and leave your phone at home

Get Wi-Fi for more connectivity
More options with the fēnix® 6 Pro
The Garmin fēnix 6 family is a big one and includes:
To learn more about all the fēnix® 6 options and pricing, check out this article.
Compare all the fēnix® 6 Pro features side-by-side in our comparison chart below!
---
COMPARISON TABLE: GARMIN FORERUNNER 55/245/945, VENU 2, & FENIX 6 PRO
Forerunner 55
Forerunner 245/245 Music
Forerunner 945
Venu 2/2S
fenix 6 Pro

 245: Slate Gray, Berry
245 Music: Black,
White, Aqua

Black, Blue (bundle only)
LTE: Black, Whitestone

Venu 2: slate/black, silver/
granite blue
Venu 2S: light gold/light sand,
rose gold/white,
silver/mist gray,
slate/graphite

Smartwatch Mode:
Up to 2 weeks
GPS mode:
Up to 20 hours


Smartwatch Mode:
Up to 7 days
GPS mode with music:
Up to 6 hours
GPS mode without music:
Up to 24 hours

Smartwatch Mode:
Up to 2 weeks
GPS mode with music:
Up to 10 hours (12 for LTE)
GPS mode without music:
Up to 36 hours (35 for LTE)
GPS mode with LTE LiveTrack:
Up to 10 hours
GPS mode with music
and LTE LiveTrack:
Up to 7 hours


Venu 2
Smartwatch mode:
Up to 11 days
Battery saver smartwatch
mode: Up to 12 days
GPS mode with music:
Up to 8 hours
GPS mode without music:
up to 22 hours

Venu 2S
Smartwatch mode:
Up to 10 days
Battery saver smartwatch
mode: Up to 11 days
GPS mode with music:
Up to 7 hours
GPS mode without music:
Up to 19 hours

Smartwatch:
Up to 14 days
Battery Saver Watch Mode:
Up to 48 days
GPS: Up to 36 hours
GPS + Music:
Up to 10 hours
Max Battery GPS Mode:
Up to 72 hours
Expedition GPS Activity:
Up to 28 days

1.04" (26.3 mm) diameter
sunlight-visible, transflective
memory-in-pixel (MIP)


1.2" (30.4 mm) diameter
sunlight-visible, transflective
memory-in-pixel (MIP)

1.2" (30.4 mm) diameter
sunlight-visible, transflective
memory-in-pixel (MIP)

Venu 2
1.3" (33.0 mm) diameter
AMOLED touchscreen
optional always-on mode
Venu 2S
1.1" (27.9 mm) diameter
AMOLED touchscreen
optional always-on mode

1.3" (33.02 mm) diameter
sunlight-visible, transflective
memory-in-pixel (MIP)

New Women's




Health Widget

24/7 Respiration Rate

New Fitness Age Widget

Relaxation Reminders

auto prompts

finish time

PacePro

Race Predictor

Control Music from Phone




or on Watch (245 Music)

Stores up to 500




Songs (245 Music)

Cardio and Strength




Workouts

Running Dynamics

Virtual Partner

Point-to Point Navigation

Bread Crumb Trail (real time)

Back to Start

TracBack

UltraTrac

Varia™ Compatibility


auto prompts

finish time

PacePro

Race Predictor

Running Dynamics

Advanced Running Features

Golfing Features

Stores up to 1,000




Songs

Daily suggested workouts

Around Me Mode

Elevation Profile

Storm Alert

ClimbPro Ascent Planner

Trail Run Auto Climb

Preloaded Topo Maps

Preloaded Road/Trail Maps

Downloadable Maps

Projected Waypoints

Advanced Cycling Features

Advanced Swim Features

auto prompts

finish time

PacePro

Race Predictor

Live Event Sharing
(Android only)

With 945 LTE:

LTE Connectivity

Assistance Plus

Spectator Messaging

Golfing Features

Pulse Ox Sensor

Stress Tracking

Hydration Tracking

Respiration Tracking

Sleep Score and Advanced
Sleep Monitoring

Mindful Breathing

Built-in Sports Apps

Create Workouts


Garmin Coach

on-screen workout animations

Intensity Minutes

Music (store up to 650 songs)

Garmin Pay

Running Dynamics

Advanced Running Features

Advanced Golfing Features

Stores up to 2,000




Songs

Around Me Mode

Elevation Profile

Storm Alert

ClimbPro Ascent Planner

Trail Run Auto Climb

Preloaded Topo Maps

Preloaded Road/Trail Maps

Downloadable Maps

Projected Waypoints

Advanced Cycling Features

Advanced Swim Features

auto prompts

finish time

PacePro

Race Predictor

Battery saver
(customizable low
power watch)

auto prompts

finish time

PacePro

Race Predictor

Live Event Sharing

on-screen workout animations

Power Modes - customizable
in-activity battery settings

Expedition GPS Activity

Activity Tracking Features

Built-In GPS


Basic Gym Activity Profiles

Wrist-Based Heart Rate

Recovery Time

Customizable Data Pages
and Activity Profiles

VO2 Max (Run)

Activity History on Watch

Running Profiles

GPS-Based Distance,
Time, and Pace

Cadence

Run Workouts

Swimming and Cycling Profiles

LiveTrack

Incident Detection

Assistance

Activity Tracking Features

Built-In GPS


Basic Gym Activity Profiles

Wrist-Based Heart Rate

Recovery Time

Customizable Data Pages
and Activity Profiles

VO2 Max (Run)

Activity History on Watch

Running Profiles

GPS-Based Distance,
Time, and Pace

Cadence

Run Workouts

Swimming and Cycling Profiles

LiveTrack

Incident Detection

Assistance

Activity Tracking Features

Built-In GPS


Basic Gym Activity Profiles

Wrist-Based Heart Rate

Recovery Time

Customizable Data Pages
and Activity Profiles

VO2 Max (Run)

Activity History on Watch

Running Profiles

GPS-Based Distance,
Time, and Pace

Cadence

Run Workouts

Swimming and Cycling Profiles

LiveTrack

Incident Detection

Assistance

Activity Tracking Features

Built-In GPS


Basic Gym Activity Profiles

Wrist-Based Heart Rate

Recovery Time

Customizable Data Pages
and Activity Profiles

VO2 Max (Run)

Activity History on Watch

Running Profiles

GPS-Based Distance,
Time, and Pace

Cadence

Run Workouts

Swimming and Cycling Profiles

LiveTrack

Incident Detection

Assistance

Activity Tracking Features

Built-In GPS


Basic Gym Activity Profiles

Wrist-Based Heart Rate

Recovery Time

Customizable Data Pages
and Activity Profiles

VO2 Max (Run)

Activity History on Watch

Running Profiles

GPS-Based Distance,
Time, and Pace

Cadence

Run Workouts

Swimming and Cycling Profiles

LiveTrack

Incident Detection

Assistance

Free 2-Day Shipping


Free 60-Day Returns

PlayBetter Customer Service

Free 2-Day Shipping


Free 60-Day Returns

PlayBetter Customer Service

Free 2-Day Shipping


Free 60-Day Returns

PlayBetter Customer Service

Free 2-Day Shipping


Free 60-Day Returns

PlayBetter Customer Service

Free 2-Day Shipping


Free 60-Day Returns

PlayBetter Customer Service