Garmin Watches 2023 | How to Choose the Best Garmin Watch
Which Is the Best Garmin Watch?
Read This Garmin Watches Buyers' Guide Before You Decide.
| | | | | |
| --- | --- | --- | --- | --- |
| Garmin fenix 7 | Forerunner 955 | Approach S62 | Garmin epix 2 | Venu 2 Plus |
| | | | | |
Garmin watches are as serious about training as you are, and in 2023 you have a variety of choices from this popular tech company when it comes to niche-specific GPS smartwatches.
The Garmin brand is known for its generous suite of features that comes standard in most of its mid-range to high-end watches, including its Elevate heart rate sensor for wrist-based heart rate, multi-GNSS for greater accuracy and ultra reliable tracking, multiple sports modes, smart notifications, size and style options, and many other health features like Pulse Ox and Women's Health tracking.
Companion apps like Connect IQ™ and the Garmin Golf™ app often blow training wide open with extra analysis, live segments, customizable workouts, data fields, and watch faces, downloadable maps, compatibility with other products and apps, and more! Factor in that Garmin creates a variety of sport- and activity-specific GPS smartwatches at a variety of price points, and everybody wins!
In this Garmin Watches buyers' guide, we're filling you in on all the best Garmin watches and pointing you to more options, because there's a Garmin out there for everyone!
Short on time? Jump to our Table of Contents to get right to the kind of Garmin GPS smartwatch you're looking for!
---
Garmin Watches Frequently Asked Questions (FAQ)
What Is the Latest Garmin Fitness Tracker?
The Garmin Forerunner 55 updates its predecessor, the Forerunner 45, with several new features including new running features, new sports modes, a recovery advisor, Women's health tracking, respiration tracking, more battery life, and more!
Which Garmin GPS Is Best for Me?

Garmin Approach S62 smartwatch for best golf and smart features

Garmin Forerunner 955 running and triathlon watch for training

Garmin fēnix® 7X for best overall multisport watch

Garmin rose gold Venu for best women's smartwatch

Garmin Venu for best men's sport watch

Garmin Instinct 2 Solar Tactical for best hiking watch

Garmin tactix 7 Pro Solar for the best military watch
What Is the Difference in Garmin Watches?
Garmin designs GPS watches at different price points for a variety sports and outdoor activities, including smartwatches for running, golf, cycling, and hiking. Garmin watches are known for their accurate and reliable fitness tracking, exceptional build-quality, and both comfy and stylish form factor—you don't often find all of these in one sport smartwatch!
What Is Body Battery on Garmin?
This Garmin-specific feature allows you to track your body's energy levels so you can find the best times for activity and rest. It does this by monitoring your heart rate variability, stress, and activity to estimate your energy reserves.
What Is the Best Garmin Watch Available?
For best Garmin watch the fēnix 7X has it all—a touchscreen, preloaded topo maps, multiple sports training & performance features, advanced health monitoring, and multi-band GNSS for the most accurate positioning. Plus unbelievable battery life, a flashlight, on-watch music, and phone free safety tracking and connectivity.
Is Garmin or Fitbit Better?
The Garmin Venu Sq 2 is a better fitness watch, offering twice the battery life as the Fitbit Versa 3, more workout options, Incident Detection safety tracking, and higher quality material, including Corning® Gorilla® Glass 3—all for nearly the same price.
---
Best Garmin Watches | Table of Contents


The Best Garmin Watches of 2023



Garmin Approach S62 — Best Golf GPS Watch
Live on the course and look and play the part with the Garmin Approach S62!
First of all, the Approach S62 has a substantially satisfying 1.3" sunlight-readable color touchscreen. And that's just the eye-opener to more features for the serious golfer—like Virtual Caddie that factors in wind and suggests clubs for you based on the distance you normally swing for that club. Follow that with the PlaysLike Distance feature that adjusts yardages for uphill, flat, and downhill shots and the PinPointer feature that, even on blind shots, shows you on the screen which direction to swing.
Not only does this Garmin watch have a digital scorecard for your golf score and track your stats, it'll keep you connected and up-to-date in life off the course, as well. Get smart notification—emails, texts and alerts—even when you're not walking the links. Plus, use the health and activity-tracking features for your life outside of golf.
And because your time is better spent teeing off, this big, beautiful, comfy watch has a rechargeable battery that provides up to 14 days of power in smartwatch mode and up to 20 hours in GPS mode. If you think golf is life, you already know the Approach S62 is for you.
That said, we aren't about to shake a stick—or a club—at the rest of the Garmin Approach GPS golf watches. Read more about your golf watch options in our article all about these best golf watches! (Includes a comparison chart!)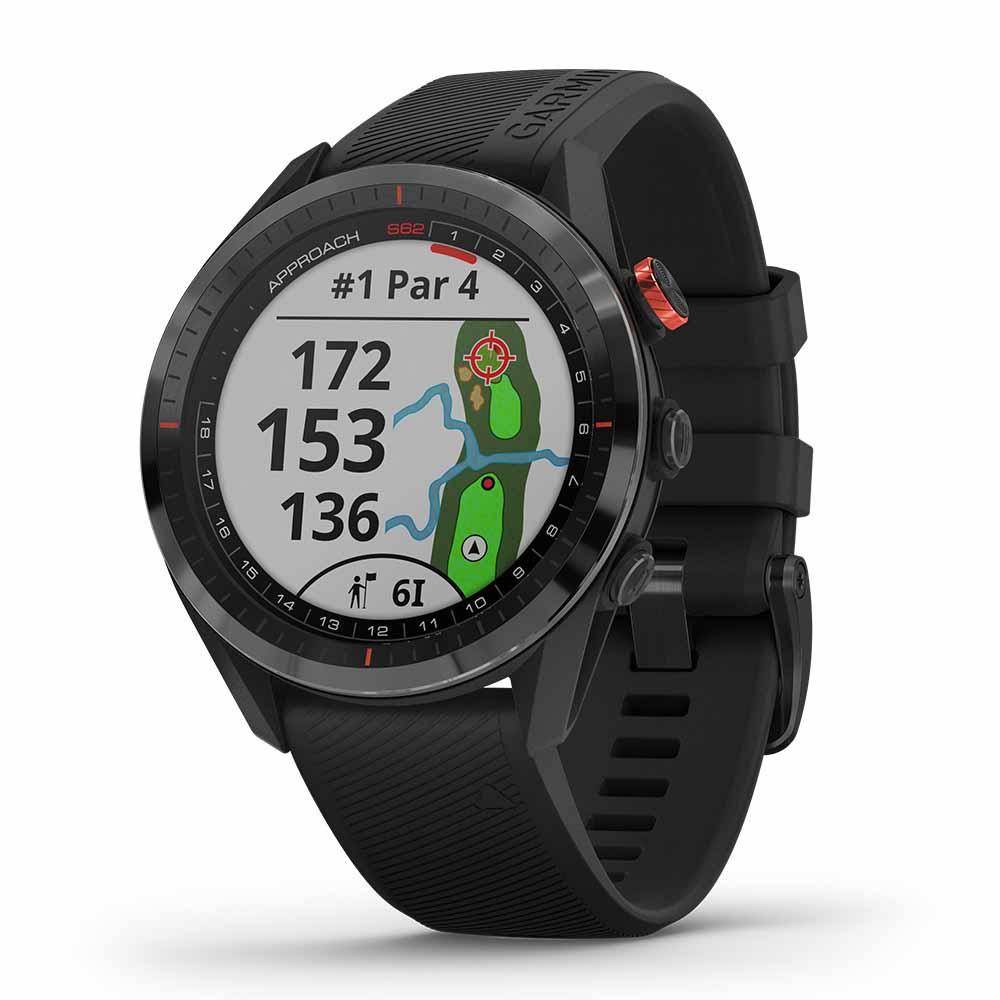 ---
Garmin Forerunner 955 Solar — Best Running GPS Watch
This premium powerhouse GPS smartwatch is lightweight and loaded with features for runners and triathletes!
Serious runners, get training and analysis features, advanced health monitoring, and a lightweight, marathon-ready design—right on your wrist! It was dreamt up by Garmin for driven triathletes and the running obsessed who never stop pushing the limits. This Forerunner 955 is the tool that is equipped to keep pace with your goals. Even though it's made with a high-performance silicone band and an ultra-durable Corning® Gorilla® Glass DX lens, this lightweight ultra running watch won't bulk up your wrist.
New features on this upgraded Garmin Forerunner watch include:
Responsive touchscreen in addition to trusted button operation.
Daily training readiness score to know what kind of workout day it is.
Customized morning report gives you an outlook on your training, recovery, the weather, and more.
Race widget gives you personalized infromation you need while you train for your next race.
New HRV status offers a deeper understanding of your overall wellbeing during training.
Real-time stamina to track and manage your exertion.
Improved Garmin 955/955 Solar battery life:

Smartwatch Mode: Up to 15 days / Up to 20 days with appropriate solar
GPS Mode: Up to 42 hours / Up to 49 hours with appropriate solar
All-Systems GNSS mode plus Multi-Band with music: Up to 8.5 hours
All Systems GNSS mode plus Multi-Band without music: Up to 20 hours/22 hours with solar
In Ultratrac Mode: Up to 80 hours / Up to 110 hours with approapriate solar
With the Forerunner 955 multisport watch, you'll chase down your next victory with Garmin Coach for free adaptive training plans, built-in sports apps, including cycling, pool swimming, track running, elliptical, stair-stepper, and much more! You get Running Dynamics (with a compatible accessory) to measure crucial running metrics like cadence, stride length, ground contact time and balance, and more. Training Status, Training Load, and Training Effect help you understand how effectively you are training and compare your recent training history. Health monitoring includes wrist-based heart rate, Pulse Ox, Performance Condition, Body Battery energy monitor, Women's Health monitoring, and more! You also get daily suggested workouts, smart notifications, music from your phone or on-watch, and a big, fat battery life, especially with the solar-charging option.
To learn all the details about what each Garmin Forerunner running watch has to offer, check out the PlayBetter Best Running Watch Comparison and our Garmin Forerunner 955 page.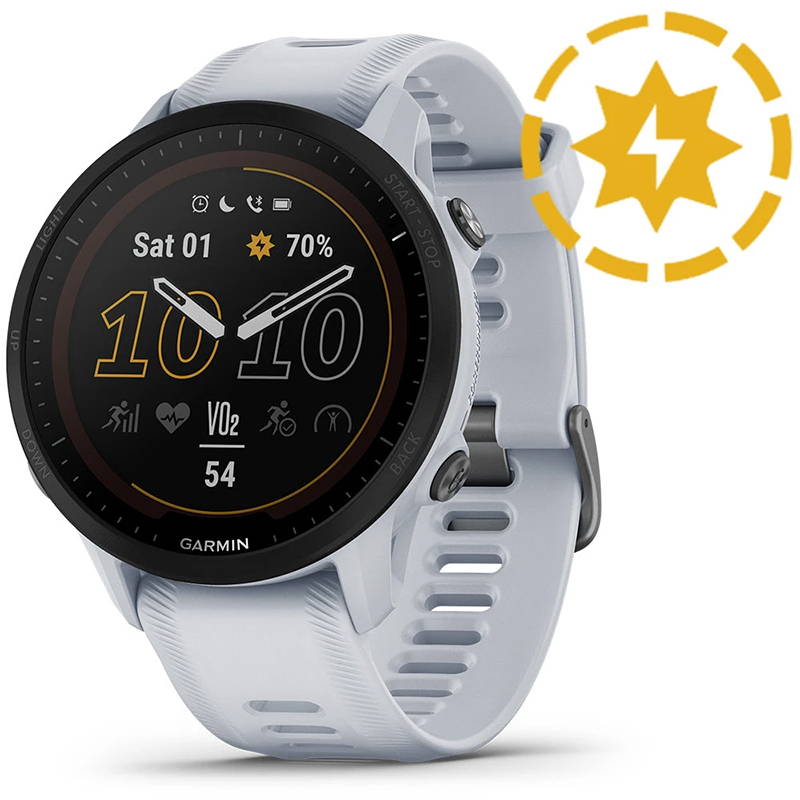 ---
Garmin epix 2 — Best Garmin Fitness GPS Watch  
It's a basically a fēnix 7 with a gorgeous AMOLED touchscreen (but not quite the battery life)!
So who's the new Garmin epix (Gen 2) for? Anyone who would basically like a more stylish fēnix 7 with a bright AMOLED touchscreen—and who won't need the gobs of battery life that you get with a fēnix 7.
What that means is you get most everything you get with a fēnix 7: full-touch control (as well as trusty button operation); improved GPS accuracy with multi-band GNSS (Sapphire models only); Garmin's latest Elevate 4.0 heart rate sensor; new stamina date field with real-time feedback; all the best activity tracking features with the same activity profiles; smartwatch features with phone notifications, calandar support, weather widget, and Garmin Pay contactless payment; offline music with storage of up to 2,000 songs from Spotify, Amazon, and Deezer; training tools like VO2 Max, Training Status, Training Load, Load Focus, Recovery Advisor, and more!
The 1.3" AMOLED display on the Garmin epix 2 is the standout feature here. And it is fantastic in that it is super-bright and easy to read in full sunlight with minimal glare—making it a joy to use! And the refresh rate is high and responsive. You have the option of getting a Sapphire model which gives you extreme durability over your AMOLED display.
Another benefit of the epix 2 Sapphire edition is that it comes with preloaded full-color topo maps and uses multi-band GNSS for optimal GPS tracking.
What you won't get with the epix 2 that you get with the fēnix 7 lineup is the battery life or the size options. The 3 epix (Gen 2) options come in one size: 47 mm case. And they do not have solar-charging options like the fēnix 7/7S/7X.
To learn more, check out our epix (Gen 2) page or compare Garmin epix 2 and the fēnix 7 lineup in this article! Cheers!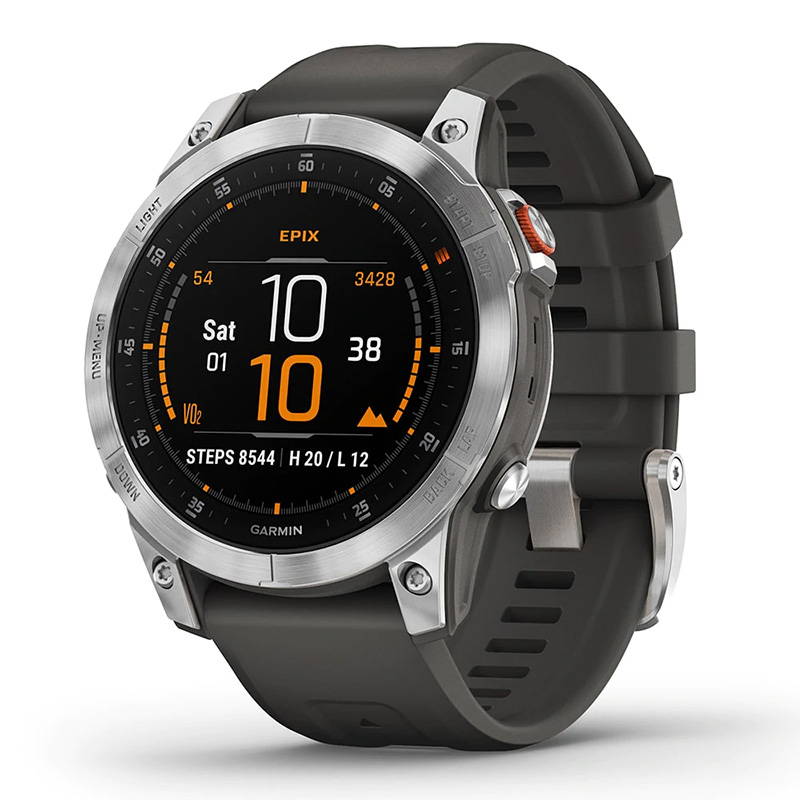 ---
Garmin fēnix 7/7S/7X — Best Multisport Watch of 2022!
The 2022 Garmin fēnix 7 — the best multisport GPS watch that Garmin has ever made!
Why? New highly-responsive touchscreen interface, updated design, improved battery life, new heart rate sensor, multi-band GNSS for drastically improved GPS accuracy during your activities (Sapphire model only).
Meet your match with the Garmin fēnix 7/7S/7X lineup, packing training tools such as New Real-Time Stamina, Running Dynamics, PacePro, Race Predictor, VO2 Max, Training Status, Training Load, Load Focus, Recovery Advisor, and more!
Plus, the fēnix 7 series offers you a lot of options: 16 premium multisport GPS watches across 3 models—Standard, Solar, & Sapphire Solar—with 3 size options—7S (42 mm), 7 (47 mm), & 7X (51 mm).
Now, let's talk improved of battery life. The fēnix 6 series was doing fine as a leader in battery life for multisport watches. But the fēnix 7 series has improved on it. Jump here to see the amazing battery life of each model.
And for you mountain and trail runners and cross-trainers, when you leave the grid, so does the fēnix 7 GPS watch. It has full-color maps topo maps (preloaded on Sapphire; downloadable on other standard and Solar), preloaded maps for 2,000 ski resorts, profiles for backcountry skiing, mountain biking dynamics, surfing features, PacePro technology for grade-adjusted guidance, and 41,000+ preloaded maps to golf courses around the world.
There's gobs more to learn about this incredible Garmin Watch, so visit our official Garmin fēnix 7 page for everything you need to know—including a review from Dave at Chase the Summit!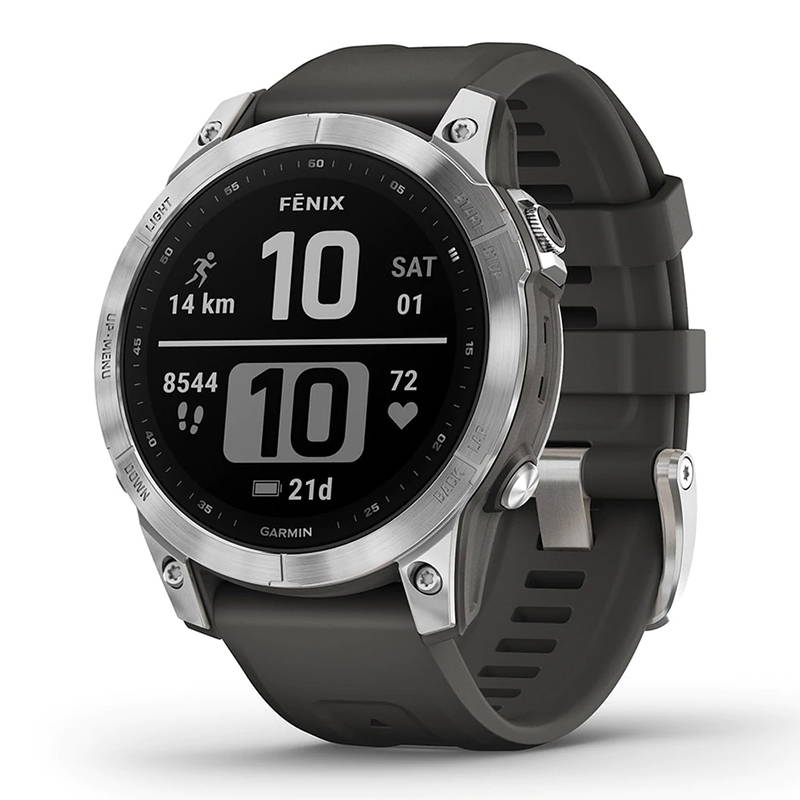 ---
Best Garmin Watches for Women — Venu Sq 2
From advanced activity and health monitoring to comfortable form-factor to sleek style, the Garmin Venu Sq 2 earns every bit of its place on your wrist!
Workout wherever you want, however you want, with loads of preloaded GPS tracking and indoor sports apps. Track you heart rate, oxygen saturation, stress, sleep, respiration, hydration, energy levels, and more to get the most out of your exercise. Get smart notification on the fly and pay for that post-run drink all from the wrist.
And now let's talk the gorgeousness of this watch. Show off your wrist with the square-cased 1.41" diagonal vibrant AMOLED color touchscreen. Both the Venu Sq 2 and the Venu Sq 2 have 3 color palettes to choose from:
Venu Sq 2 Colors:
Slate bezel with Shadow Gray case and silicone band

Cream Gold bezel with White case and silicone band

Metallic Mint bezel with Cool Mint case and silicone band
Venu Sq 2 Music Colors:
Slate bezel with Black case and silicone band

Peach Gold bezel with Ivory case and silicone band

Cream Gold bezel with French Gray case and silicone band
For more Garmin Venu Sq 2 details, jump over to our official Garmin Venu Sq 2 page!
If you're a golf gal at heart, you should pop over to our Best Garmin Golf Watches for Women!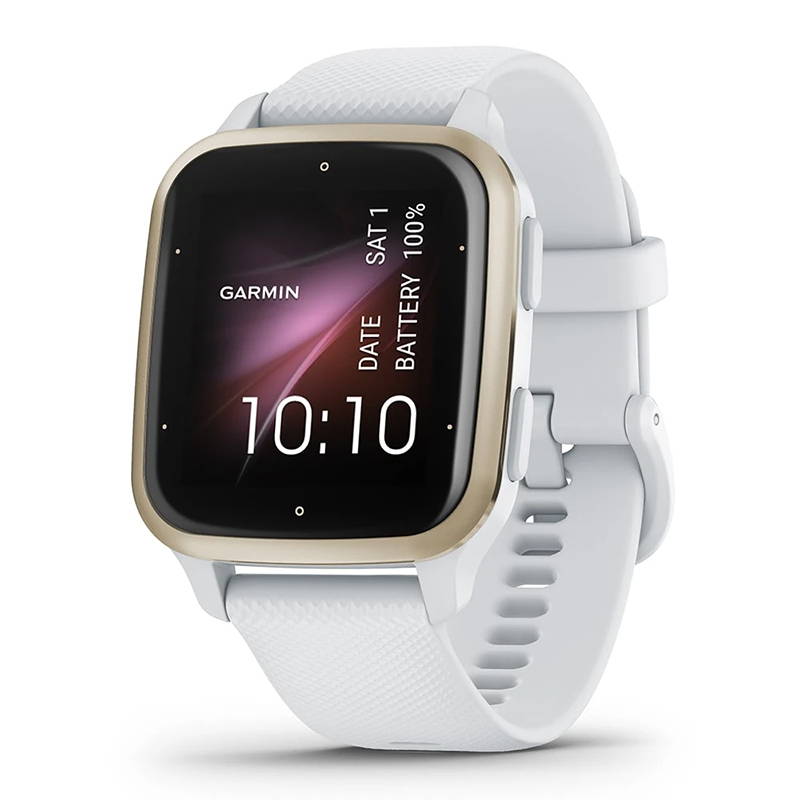 ---
Best Watch for Men — Garmin Venu
Why do we think the Garmin Venu is the best sport watch for men in 2022? Because with the release of this fitness watch, Garmin put a vibrant AMOLED color touchscreen on wrist. It's perfect for all-day style and activity.
The Venu sports a 1.2" display with a slate bezel with a black case and silicone band. Get sleep score and insights by Firstbeat AnalyticsTM. The Fitness Age widget estimates the body's age using chronological age, activity, resting heart rate, and either body fat % or BMI. See your body's energy levels throughout the day so you can find the best times for activity and rest with the Body Battery energy monitor. The Pulse Ox sensor gauges your blood oxygen saturation during the day and as you sleep to show how well your body is absorbing oxygen. And track other important wellness factors like hydration, stress, and respiration.
This Garmin watch includes activity profiles for running, biking, swimming, skiing, snowboarding, paddleboarding, and rowing. Plus it's loaded with some of Garmin's golfing features.
And if you buy it right now on PlayBetter, you can get an EXCLUSIVE DISCOUNT with FREE 2-day shipping.
Jump over to our Best Sport Watches for Men page for even more great watches for guys!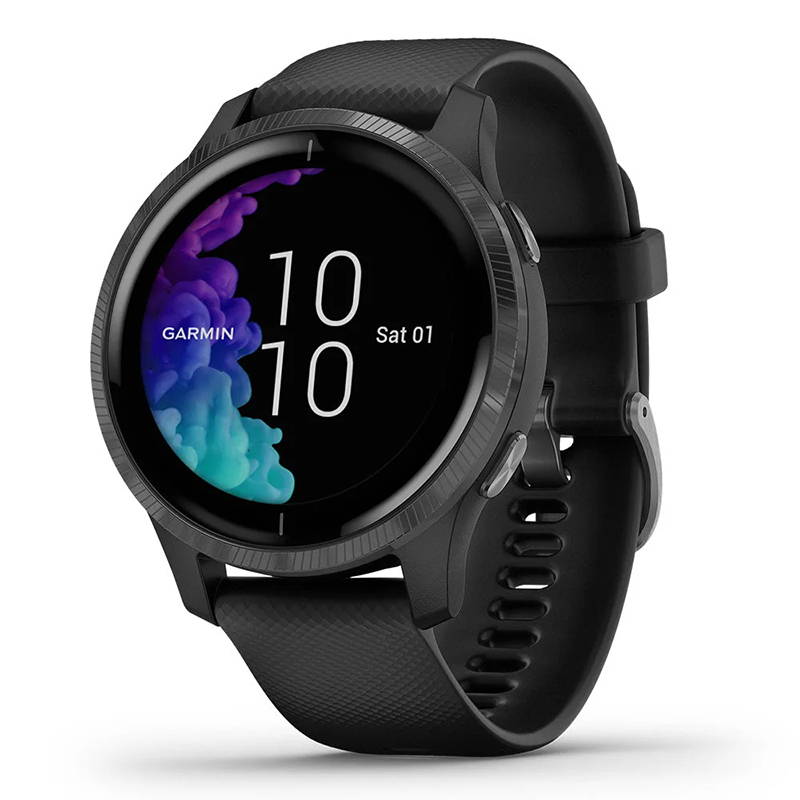 ---
Best Garmin Smartwatch — The Venu 2 Plus!
Garmin's smartest GPS watch let's you take and make calls while your phone's in your pocket!
The Venu 2 Plus does everything the Venu 2/2S smartwatches do, including look gorgeous on your wrist with a stylish design and vibrant AMOLED display. But that's not all that Garmin puts on your wrist with this savvy GPS watch.
With the Venu 2 Plus, now you have the ability to use many of your smartphone functions while your phone stays in your pocket or bag—without the added cost of a cellular plan on your watch!
When paired with your compatible smartphone, enjoy the convenience of making and taking phone calls from your wrist with your new Venu 2 Plus.
Additionally, use your compatible smartphone's voice assistant to respond to text messages, ask questions, control compatible smart home devices, and more!
It's the perfect size of any wrist with a 1.3" AMOLED display and a 43 mm case size that is smack in the middle between the Venu 2S and Venu 2.
To learn more about this game-changing Garmin smartwatch, visit our official Garmin Venu 2 page!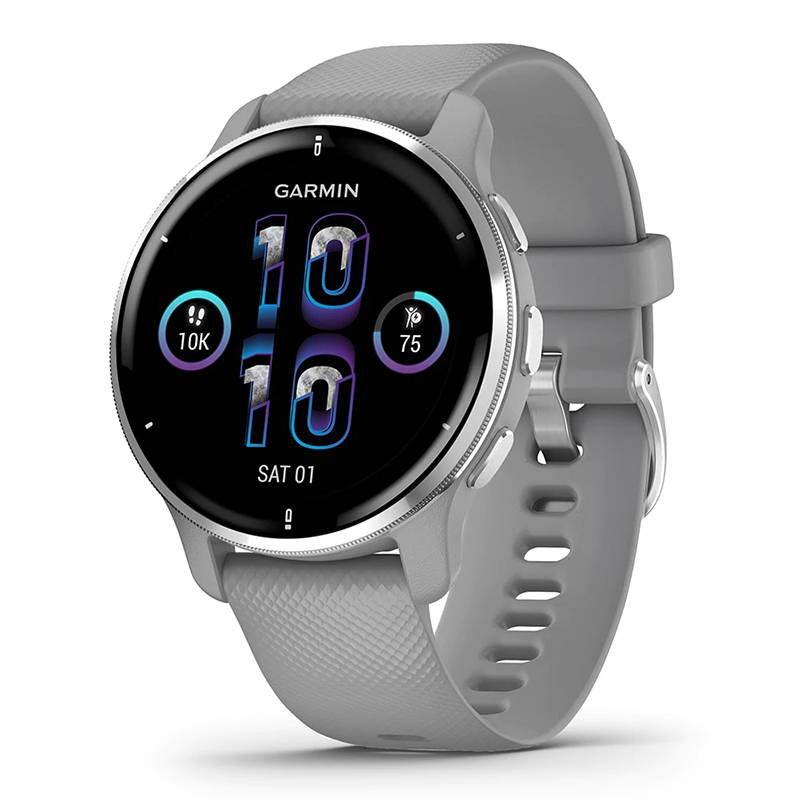 ---
Garmin Instinct 2 Solar–Tactical Edition — Best Hiking Watch
Tactical-specific features, enhanced battery life, advanced GPS-tracking, & built-in sports apps!
Whether you're on a hiking adventure or a backcountry mission, the Garmin Instinct 2 Solar Tactical has the feautres you need at a price you'll love!
Explore longer and more equipped with tactical-specific tools like Night Vision Compatibility, Stealth Mode, Dual-Format GPS, Projected Waypoints, and Jumpmaster Mode!
Plus, the Garmin Instinct 2 series has military standard toughness so it can go through anything you do and unprecedented battery life for those that explore under the sun! Get up to 28 days/Unlimited with solar in Smartwatch Mode; up to 65 days/Unlimited with solar in Battery Saver Watch Mode; up to 30hrs/48 hrs with solar in GPS Mode; up to 70hrs/370 hrs with solar in Max Battery GPS Mode; up to 32 days/Unlimited with solar in Expedition GPS Activity Mode.
Get next-level navigation with ABC sensors, including an altimeter for elevation data, barometer to monitor weather, and three-axis electronic compass; multi-GNSS for tracking in more challenging environments; and TracBack routing and point-to-point navigation. Plus, stay more aware with barometric trend indicator with Storm Alert, Sight 'N Go, Area Calculation, and Distance to Destination.
Keep in shape for your adventures with preloaded activity profiles for running, hiking, mountain biking, swimming, and more. Moreover, the Instinct 2 GPS watches now have loads more activity profiles and performance metrics on par with high-end Garmin watches like the fēnix 7 and Forerunner 945, including VO2 Max, Training Status, Training Load, and Race Predictor.
Explore more on our official Garmin Instinct 2/2S page!
---
Garmin tactix 7 Pro Solar — Best Military Tactical Watch
Be mission-ready with advanced tactical features, a solar-charging lens, and touchscreen display.
The tactix 7 – Pro Solar Edition is the multisport GPS smartwatch featuring a Power Sapphire solar-charging lens with the most trusted traditional button controls and a highly responsive touchscreen display.
Its rugged yet sophisticated design includes an always-on 1.4" solar powered display with sapphire lens, custom front bezel design, black DLC-coated steel bezel and black PVD-coated steel rear cover. This puppy is ultra-durable!
Mission-ready tactical features include a dimmable white or green LED flashlight, night vision compatible display, preloaded tactical activity, dual-position GPS formatting, Jumpmaster mode, projected waypoints, stealth mode and kill switch.
Navigate the harshest environments with preloaded TopoActive and ski maps plus multi-band and multi-GNSS support.
The tactix 7 – Pro Edition smartwatch also includes advanced training and performance tracking such as endurance and stamina, comprehensive health and wellness monitoring, and Garmin Pay™ contactless payments.
Read more about the entire lineup on our official Garmin tactix miltary watch page.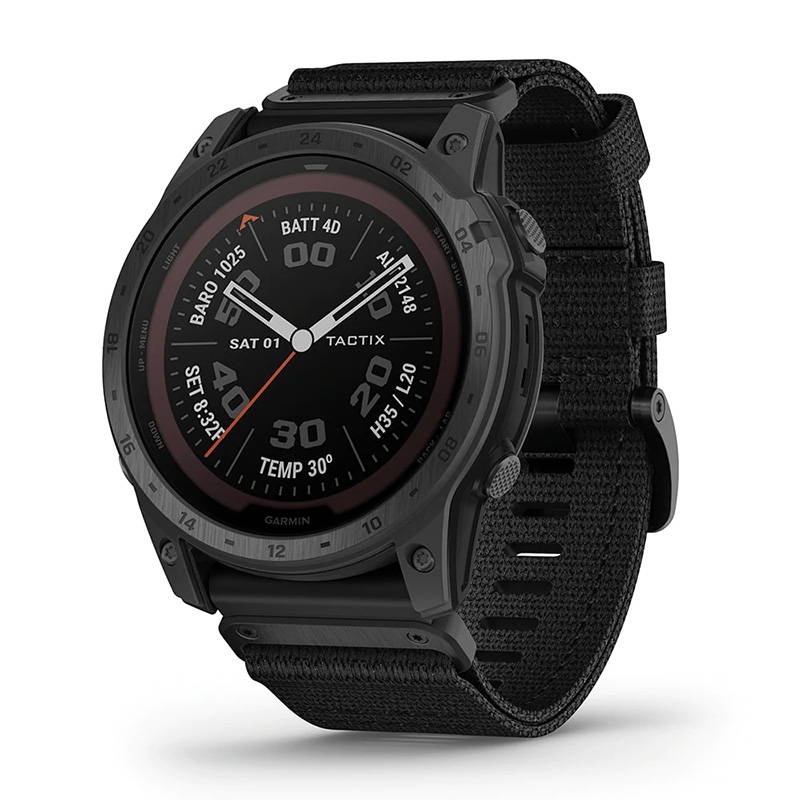 ---
Best Dive Watch—the 2022 Garmin Descent G1
The more affordable Garmin dive watch built for your pursuits on land or underwater!
The rugged, watch-style Descent G1/G1 Solar dive computer has a sapphire lens, silicone bands, and an easy-to-read monochrome display. Plus, this Garmin dive computer for your wrist offers two models in solar and non-solar-charging options. Choose from four colors: a standand model (Slate Gray or Powder Gray) and a solar-charging model (Black or Hurricane Blue).
Get support for all types of diving—recreational, advanced, technical, free diving and even spear fishing. GPS/GLONASS/Galileo support allows divers to mark surface entry and exit points, so you can see exactly where you started and ended the dive. Store up to 200 dives on your wrist. Upload, share and review dives in the Garmin Dive™ smartphone app , and even search for dive sites all over the world.
Furthermore, track what you do above water with over 30 built in sports apps and advanced training features such as V02 Max so you can see how your body is adapting to training. 24/7 wrist-based HR, Pulse Ox, Body Battery™ energy monitoring, sleep score and more give you insights into your health and wellness.
Pair it with your compatible smartphone and enjoy smartwatch capabilities such as smart notifications, Garmin Pay contactless payments, and Connect IQ app personalization allowing for 24/7 wear.
As for Desecnt G1 battery life, you get up to 25 hours in dive mode, 21 days in smartwatch mode, and 26 hours in GPS mode.
Add solar-charging and you get up to 25 hours in dive mode, 124 days in smartwatch mode (assumes all-day wear with 3 hours per day outside in 50,000 lux conditions) and 39 hours in GPS mode (assumes continuous use for entire period in 50,000 lux conditions).
Dive into all the details on our official Garmin Descent dive watch page!