Learn, Compare, Buy, Explore.
5 Best Garmin Golf Watches of 2022 | Approach S62, S42, S12 Plus More Garmin GPS Watches with Golfing Features!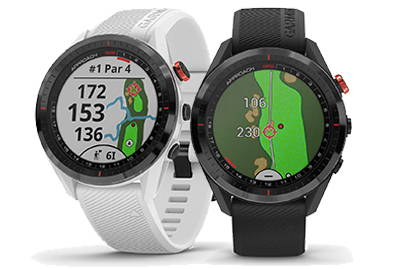 Buy the Garmin Approach S62
Do you want the best? Of course, you do! Buy the Approach S62 and get the undisputed best golf watch of 2022!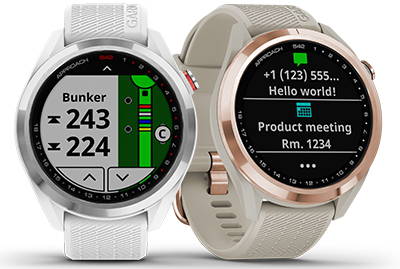 Buy the Garmin Approach S42
Buy the golf watch you'll want to wear around the clock. The Garmin Approach S42 gets our vote for best-looking!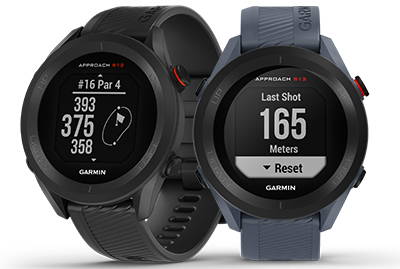 Buy the Garmin Approach S12
Accurate distances on 41,000+ courses and the Garmin name and reliability for just $199.99?! Buy on PlayBetter.com, and we'll add free 2-day shipping!
---
5 Best Garmin Golf Watches | Table of Contents
---
Garmin Golf Watch Review from Gabe at Let's Play Thru!
Garmin epix (Gen 2) Review from Gabe at Let's Play Thru!
---
---
Why Buy a Garmin Golf Watch?
There's Garmin, and then there's everyone else.
Garmin owns the GPS golf watch space. It's been that way for a while, and if they continue to set the pace with innovations and features, it looks like it will be that way for a long time.
It's easy to trust a company that's been a longtime global leader in navigation technology. Lucky for us, they've bestowed some of their GPS genius on golf and haven't hogged it all for some of their sillier pursuits like professional aviation.
We're also lucky that, beyond GPS functionality, Garmin's gotten really good at making stylish, durable, feature-loaded watches. Garmin golf watches want for nothing when it comes to fitness metrics and health tracking. And on the course, Garmin has continued to introduce game-changing innovations like the virtual caddie function in the Approach S62.
And when you consider that you can get Garmin around your wrist for less than $200 (the Approach S12), the question really becomes, why wouldn't you buy a Garmin golf watch?
Garmin Approach S62: The Best of the Best
If you want the best golf watch of your foursome (or any foursome), it's the S62 all day.
There really are a lot of outstanding golf GPS watch options in 2022, including the Garmin golf watches and pieces like the Voice Caddie T9, Shot Scope V3, and Bushnell ION Edge. But there's no golf watch like the Garmin Approach S62.
This golf watch can actually improve your game. It will learn how far you hit each of your clubs and use that data to help you make better decisions on the golf course. This virtual caddie function is completely next-level and unmatched in any other watch.
Beyond the virtual caddie, the S62 provides slope, wind speed and direction, a beautiful touchscreen display that allows you to pinch and swipe around each hole to find yardages to hazards and layup spots, a PinPointer that gives you a target on blind shots, swing tempo monitoring, and much more. Basically, this thing does everything but hit the ball in the hole for you.
The S62 is also an excellent fitness tracker and includes a heart rate monitor, a pulse oxygen sensor, a sleep sensor, a step counter, a stress level monitor, and more.
Garmin Approach S42: The Best Looking Golf Watch
Buy something you can wear to dinner.
The Garmin Approach S42 delivers plenty of on-course performance. While it doesn't give you things like virtual caddie, wind speed and direction, and a heart rate monitor, like with the S62, you still get spot-on Garmin GPS accuracy, a quick swipeable touchscreen, yardages to spots on the green and various hazards, and a pin locator.
To go with all of those features, the S42 gives you a sleeker design, a slightly smaller watch face, and a narrower silicone band than the S62.
Today's best golf watches are also lifestyle watches. And the S42, with things like a step counter and weather updates, is no exception. So, as more golfers wear their golf watches off the course, style becomes a consideration. And to us, the S42 is the best looking of the Garmin golf watches. That's not to say the other Garmin golf watches don't look nice. But the S42 has that extra touch of class.
Garmin Approach S12: The Most Affordable Best Golf Watch
You can own a Garmin watch for $199.99?!
If you love Garmin golf watches but get tripped up by the price points, the Approach S12 is the perfect solution. You can get all that Garmin reliability but at a discounted price.
The Garmin Approach S12 gives you accurate GPS with distances to front/center/back and hazards on each hole. It gives you the same 41,0000 preloaded courses as with the S42 and S62. And you get the same scoring system as those more advanced models.
You won't get a virtual caddie, slope adjustment, wind speed and direction, swing tempo, a step counter, and a heart rate monitor. But so many golfers find those things to be unnecessary. If you're the type that just wants reliable distances, save some money and be perfectly content with what is still one of the very best golf watches available.
Garmin epix (Gen 2): A Multisport GPS Smartwatch
Wait, you didn't think the epix (Gen 2) was a golf watch? Think again!
A lot of people think there are three Garmin golf watches: the Approach S62, S42, and S12. Turns out, when Garmin was making their souped-up, top-of-the-line sports watches, they went ahead and threw some of their cutting-edge golf tech in for good measure.
How good of a watch for golfers is the Garmin epix (Gen 2)? Our friend Gabe at YouTube's Let's Play Thru said of this watch: "I think (it) might be the best golf smartwatch that I've ever used." Whoa! That's some high golf-specific praise for a product most people don't even associate with golf.
The epix 2 premium/advanced multisport watch includes all of the golf features of the S62, except for swing tempo, tempo training, and compatibility with Garmin's TruSwing™ swing analysis tool.
Plus, you get all of the fitness tracking and lifestyle benefits of one of Garmin's most premium active smartwatches. The epix (Gen 2) GPS smartwatch includes a stunning AMOLED display that users, including Gabe, love.
The epix 2 strikes the perfect balance between fitness, lifestyle, and golf. What more could you need?
Garmin fēnix 7: A Rugged, Around-the-Clock Multisport GPS Watch
Battery life for days—literally!
The Garmin fēnix 7's rechargeable lithium battery can last up to 18 days in smartwatch mode, 57 hours in GPS mode, and 57 days in battery-saver mode! That is insane battery life compared to just about any other smartwatch.
It's that 57 hours in GPS mode that should be particularly attractive to golfers. Why? Because the Garmin fēnix 7 GPS smartwatch basically has an Approach S62 built inside of it! That means virtual caddie, slope adjusted yardages, wind speed and direction, a PinPointer, touch targeting, and on and on. You get everything but the swing tempo, tempo training, and compatibility with Garmin's TruSwing™ swing analysis tool.
The fēnix 7 rugged outdoor watch combines all of the best features of Garmin's fitness, outdoor, and golf watches to create a multisport GPS device that blends cutting-edge design and performance with 7-day-a-week wearability.
Other Garmin GPS Watches With Golfing Features
Golf is an activity, right? So, why shouldn't some of Garmin's other active lifestyle watches include game-enhancing features?
Most of us identify with more than one activity. Many of us are runners and golfers, for example. Garmin has figured that out and has designed more ways to make their watches wearable around-the-clock for more people.
The Garmin Forerunner 955 and Garmin's Venu line of watches all include an array of golfing features. You're not going to get some of the most advanced things like virtual caddie, wind speed, and swing tempo training, but you do get all of the basics—things like slope-adjusted yardages, PinPointer, a green view map with manual pin position, stat tracking, and a lot more.
And, of course, the Forerunner 955 and Venu line are loaded with health monitoring, activity tracking, training analysis, running, cycling, and swimming features. So, whatever you're into, Garmin's line of products has you covered.