Buy a Precision Pro NX10 & Customize Your 2022 Slope Rangefinder!
Learn, Compare, Buy, Explore.
Precision Pro — Best Golf Rangefinder for the Money? Shop the New NX10 Slope, R1 Smart with MySlope, NX9, & NX2 Non-Slope.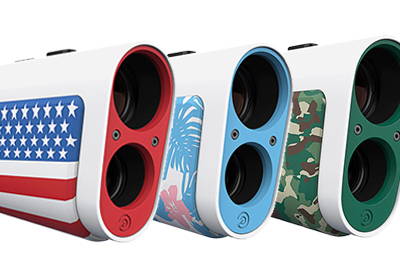 Buy the 2022 Precision Pro NX10 Slope Rangefinder
Get golf's only customizable rangefinder! The Precision Pro NX10 allows you to update your style with replaceable skins!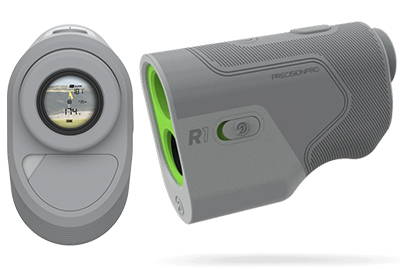 Buy the Precision Pro R1 Smart Rangefinder
Get game-changing accuracy with the Precision Pro R1 smart rangefinder—Find out how MySlope technology factors in your unique ball data!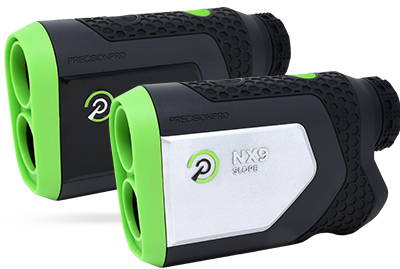 Buy a Precision Pro NX9 Golf Laser Rangefinder

Try the best budget golf rangefinder with or without slope! Get it on PlayBetter.com & get FREE 2-day shipping with 60-day return!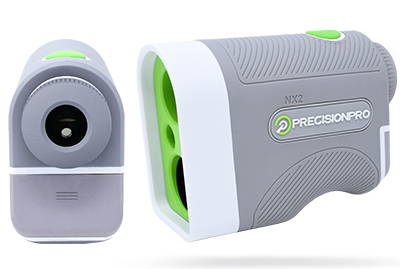 Buy the Affordable Precision Pro NX2 Non-Slope
No slope, no problem? Grab this best value golf rangefinder that doesn't skimp on what counts! The easy-to-use, compact Precision Pro NX2.
Precision Pro Rangefinders | Table of Contents
Precision Pro Golf Rangefinder Comparisons
SHOP THESE PRECISION PRO GOLF RANGEFINDERS
Precision Pro NX10 Slope Rangefinder
(Camo)

Precision Pro NX10 Slope Rangefinder
(Blue Palm/Pink Floral)

Precision Pro NX9 (Slope/No Slope)
Precision Pro NX2 (Non-Slope)
---
---
NEW! Precision Pro NX10 Customizable Slope Rangefinder
Update your style on the course with Precision Pro NX10's magnetic customizable skins.
This $300 golf laser looks and feels like a high-end slope rangefinder in your hand.
And what's more? It perfroms like one as well! It's just as accurate as a high-end rangefinder, and it gives you distances quickly.
And, of course, you get slope technology with this new Precision Pro, as well as a magnetic grip for ease of use.
Plus, the display is nice and big with great design and layout of distances, and the optics are on point.
If you want one of the best rangefinders in golf and the only one you can personalize—the Precision Pro NX10 is it!
Best Golf Rangefinder for the Money — Precision Pro NX9
Lighter, smaller form factor than more expensive models, but just as accurate!
What's the single most important thing you want in a golf rangefinder? Accuracy, by a long shot. And the NX9 does it surprisingly well for a laser rangefinder under $300.
And what about speed? The Precision Pro NX9 hits the mark in this category too.
What else? This golf laser vibrates to confirm you've hit the flag, has a magnetic grip, and quality optics.
Get the NX9 slope for $269.99 or non-slope for $50 less.
Best Golf Rangefinder with Slope —Precision Pro R1 Smart
Prepare yourself for an elevated golf rangefinder experience with the Precision Pro R1 Smart. The smart part plugs you into the Precision Pro app and learns about you as a player, therefore, increasing the data and feedback you get out of using this device on the course. Here's the lineup of features:
MYSLOPE technology in the Precision Pro R1 Smart Rangefinder combines a player's unique ball data with environmental variables. The result is hyper accurate distances that factor in launch angle and spin rate, ball speed, altitude, temperature, and humidity.
GPS distances! Seamlessly displays front-center-back distances to provide every distance from the fringe to the pin.

37,000 preloaded course maps!
Wind Assist calculates the effect of the wind on every shot, displaying the number of yards to add or subtract to your distance.
Magnetic Cart Mount!

An enhanced LCD display with 6x magnification.

Pulse Vibrations gives a short burst to ensure you're locking on to the flag and not a tree.

The innovative features of the R1 Smart Rangefinder are powered by the Precision Pro Golf App. Pair your device to the R1 before the round to experience the technology that redefines what a rangefinder can do.
Best Golf Rangefinder Under $200 — Precision Pro NX2
An affordable golf rangefinder with straight-up accurate distances—for golfers who don't need slope!
If you're not worried about slope-adjusted distances and just want a reasonably priced rangefinder that will give you reasonable info about the distance to the hole, you'll hardly find better than the Precision Pro NX2 for only $170.
Here's what you get:
6x Zoom Magnification

400 Yard Range

Target Acquisition Feature

Tournament Legal

Accurate to One Yard

Shock-Proof Design

Water Resistant Design
Bonus! Precision Pro ACE Smart Golf GPS Speaker
More than just music, this audio caddie experience takes everything into account!
The ACE Smart golf speaker provides personalized layups and personalized distances based on your ball data, driven by Precision Pro's MySlope technology!
Simply pair your phone to enjoy your music and all the smart features—for more control, better swings, and loads of fun!
Here's just a few of the features you can look forward to:
MySlope personalized data for more accurate distances for YOU!

Audible GPS distances

Never lose your ACE with Find My Precision Pro

Magnetic grip that sticks to any metal

GPS speaker remote control in your pocket

Golf shot celebration!
Precision Pro NX10 vs NX9 — What's the Differences?
These two generations of Precision Pro rangefinders offer a lot of the same features—and do them well—including:
Highly accurate distances
Speedy feedback
Magnetic grip
Excellent optics
Vibration confirmation when target hit
But, of course, the NX10 has an edge on its predecessor in a couple of areas.
First, it allows you to personalize your golf laser rangefinder with interchangable skins that slide on easily and are held in place by the magnet. Now you can customize your style on the golf course!
Also, the Precision Pro NX10 has a high-end quality form factor to it now. When you hold it in your hand, you can feel the confidence of next-level design and technology.
Finally, when you look into the new Precison Pro NX10, the numbers are less cluttered and easy to read on a crisp, clean field with superior optics.
Precision Pro NX9 vs R1 Smart Golf Rangefinder
Get speedy, reliable distances with the NX9 ... or get much more with the R1 Smart!
Both of these quality Precision Pro rangefinders are going to give you accurate distances to the green, offer slope-compensated distances, pulse vibration for target confimation, magnetic cart mount, and excellent magnification.
But here's where they part ways ...
The Precision Pro R1 Smart is, well, smart! And it has bulit-in GPS! This means that along with distance feedback from the laser technology, you can get GPS distances as well.
But the truly smart part is how this rangefinder works with the Precision Pro app to learn your unique ball data and combines that with environmental variables. Count on Wind Assist and 37,000 preloaded courses, as well!
Precision Pro R1 Smart vs NX10 Rangefinder
Custom style vs custom distances!
The Precison Pro NX10 is a next-level version of the NX9, improving in build and design, and adding the ability to personalize it with custom skins.
It elevates the experience of the NX9, by taking the same features and tweaking them to a higher-end utility and style.
But the Precision Pro R1 Smart Rangefinder is a different experience, one for golfers who want to go beyond the point-and-shoot nature of the rangefinder on the course.
The smart part means you get more than accurate distances. Whereas the NX10 personalizes your style, the R1 Smart gets personal with your ball data!
Precision Pro NX9 vs NX2 Non-Slope Golf Laser Rangefinder
Simple relaiable no-slope rangefinder vs a few more frills with a slope upgrade option.
The Precision Pro NX2 is a no frills, accurate golf rangefinder with a nice design that works. And the price is right for anyone who wants quality but doesn't want to spend over $200. Plus, it comes with a case. This golf laser will cover you!
Accurate with crystal clear optics ... what more could you ask for?
Well, a bit more bells and whistles with the Precision Pro NX9 if you want. Opt for this rangefinder and get a magnetic cart mount, pulse vibration to confirm you've locked on the target, and slope option. An NX9 with no slope will only set you back $219. For only $50 more, you can get built-in slope adjustment.
Precision Pro NX2 vs R1 Smart Laser Rangefinder
Precision Pro rangefinders from each end of the spectrum: simple and to the point vs everything you want to know!
As we said above, the Precision Pro NX2 will get it done quick and accurate with little effort on your part. It doesn't have the convenience of a magnetic mount or pulse vibration or the exactness of slope distances. But you'll get the precision and quality you expect for $170.
The Precision Pro R1 Smart is more involved, costs twice as much, but what you get out of it is so much more!
Beyond super-accurate slope-compensated distances, built-in GPS, and preloaded golf courses, this reinvented golf rangefinder, paired with the Precision Pro app, gives you data specific to you and environmental variables. Now that's smart!
Precision Pro NX2 vs NX10 Rangefinder Comparison
Do you want reliable basics? Or do you want a custom rangefinder that might just be the best rangefinder of 2022 for the money?
The important things are there in both the Precision Pro NX2 and NX10: accuracy and speed.
But for under $300, the Precision Pro NX10 rangefinder is the full package. The display is clean, crystal clear, and big! Slope-compensated distances are right on and it shoots as fast as any high-end laser rangefinder.
And now, the new design puts quality build and a personal touch in your hand and on the course. The NX10 features interchangable skins that slip on easily with magnetic grip.
For the highest point-and-shoot rangefinder experience on the course, this Precision Pro rangefinder is a real contender this golf season!
SHOP THE BEST GOLF HITTING MATS FROM FIBERBUILT
CHECK OUT OUR GALLERY OF GOLF GPS WATCHES