What Are the Best Nikon Binoculars for You in 2022!
Learn, Compare, Buy, Explore.
Buy Nikon Binoculars on PlayBetter! Shop the Best Binoculars for Bird Watching, Wildlife, and All Your Outdoor Adventures!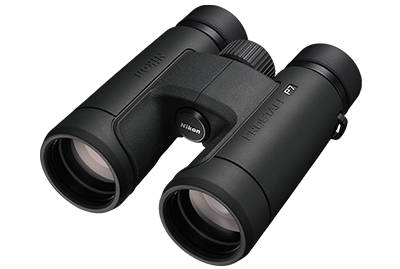 Buy the NEW Nikon PROSTAFF P7

As the Best Nikon PROSTAFF binoculars, the P7 series is the key to breath-taking views —for under $200!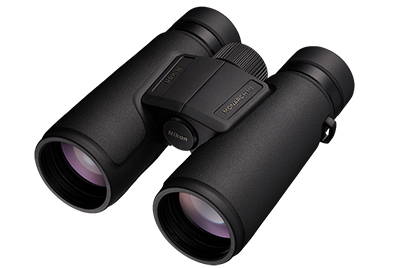 Buy Nikon MONARCH 5 Binoculars
Get the Nikon MONACH 5 binoculars for clear high-resolution views in nearly any lighting conditions!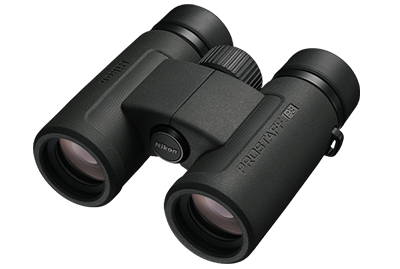 Buy the NEW Nikon PROSTAFF P3
Looking for the best binoculars for bird watching that won't break the bank? Get the best budget performance beyond the price!  
---
---
PlayBetter now has some of the best Nikon binoculars for sale, including several of the world's most popular series for a diverse range of applications.
We offer some best budget Nikon binoculars along with some high-end models that push optical excellence and technology to the limit.
Continue on to find the best Nikon binoculars for birding and hunting, along with specialized models like the best compact binoculars—and even a pair of Nikon rangefinder binoculars.
What Do the Numbers on Binoculars Mean?
You'll notice when you shop binoculars that they are usually listed with two number specifications; for example, the Nikon MONARCH M7 8x42 or MONARCH M7 10x30.
The first number is the magnification. This is how many times bigger the object you see is compared to viewing it with the naked eye.
In the the first example above, the magnification is 8 times bigger and in the second it is 10 times bigger.
The second number is the objective lens diameter. This refers to the amount of light gathered to form an image. So in the first example above, the diameter is 42mm, while the second is 30mm.
Poor light conditions may require a larger objective lens. Keep in mind, this makes the binoculars heavier.
Jump to our guide to what all the numbers on binoculars mean. 
Best Nikon Binoculars — NEW Nikon PROSTAFF P7 10x42
Why are the 2022 PROSTAFF P7 10X42 the best Nikon binoculars? You can get a brighter, closer view for under $200!
These rugged Nikon binoculars are also fogproof, waterproof, and non-stick for easier cleaning.
You'll love the long eye relief that can be used with or without glasses and turn-and-slide eyecups. Plus, a locking diopter so your setting stays put!
Make them your go-to full-sized binoculars with a lightweight body and eco-friendly glass!
Best Bird Watching Binoculars — Nikon MONARCH M7 10x42
A wider field of view and ED glass make bird watching with these Nikon binoculars truly lifelike in even low-light conditions!
MONARCH M7 binoculars are available with 42mm or 30mm front lenses and 8x or 10x magnification. The 42mm models deliver the widest view, while the 30mm models are more compact.
Rest assured, with these best binoculars for bird watching, the ED glass provides high-resolution views in nearly all lighting conditions!
What else? Super smooth focus knob, locking diopter, comfy fit with and without glasses, waterproof and fogproof—and Nikon makes them as lightweight and compact as they can while ensuring these binoculars can take a bump and bruise.
Best Binoculars for Hunting — PROSTAFF 7S 10x42 TrueTimber KANATI
These hunt-ready Nikon binoculars are just what hunters are looking for!
Aside from looking the part, these hunting binoculars minimuze the loss of light due to relfection for optimal high-resolution images.
The PROSTAFF 7S's lightweight, ergonomic design and intuitive focus knob make them easy to hold and use for long periods of time in the field.
Plus, with Nikon's rubber-armored coating, these binoculars are down for extreme conditions.
Other Nikon binoculars for hunting choices include the ACULON A30 series and the Nikon LaserForce rangefinder binoculars for serious hunters.
Best Rangefinder Binoculars — Nikon LaserForce 10x42
Meet Nikon's Rangefinder Binoculars with 10-1900 yard range. How sexy is that!
For serious hunters who depend on both their binoculars for picking out distant animals and their rangefinder for getting the exact distance before taking the shot.
Nikon's renowned optical performance + ED glass nails high-resolution, rich-contrast images in most lighting conditions.
Plus, Nikon's advanced ID Technology provides the horizontal distance to your target, even when ranging at various incline or decline shooting angles—up to an incredible +/- 89 degrees (nearly vertical up or down)!
Best Nikon Compact Binoculars — Sportstar Zoom
Make Nikon Sportstar Zoom your powerful and easy-to-use compact binoculars!
Take these multi-purpose Nikon compact binoculars into the wild, to sporting events, or the races.
The unique, centrally-located zoom control lever facilitates magnification power with just a push of a finger—from 8-power to 24-power for a close-in view.
These rugged binoculars are small enough to easily pack—and are packed with renowned optical technology, providing brightness and resolution needed for a wide range of conditions.
Best Binoculars for Long Distance — Nikon ACULON A211 16x50
These quality, affordable Nikon binoculars give you 16 times the magnification while pulling in the most light for bright, clear images from dawn till dusk!
Factor in brilliant ergonomics, lightweight design, and durable rubber-armored coating—and it's kind of a no-brainer for $139.95!
Want a higher-end solution for long distance binoculars? Check out the Nikon LaserForce rangefinder binoculars.
Best Budget Binoculars — Nikon PROSTAFF P3 8x30
Get the most performance for less with the Nikon PROSTAFF P3 binoculars!
When you want to pack light with a wide field of view in your pocket, these Nikon binoculars are incomparable and highly affordable at $129.95!
As some of the best binoculars for bird watching and locating wildlife, the PROSTAFF P3 8x30 model offers the clarity and vibrant colors you crave to see up close.
Go with lenses that are waterproof, fogproof, eco-friendly glass, and design that is comfy, lightweight, and tough!
Check out the Nikon PROSTAFF 3S binocualrs for more affordable options!
Best Binoculars for Low Light — Nikon MONARCH M5 10x42
Nikon MONARCH 5 10X42 binoculars are built for those magical moments at dawn and dusk!
Get high magnification with a generous field of view with these Nikon binoculars.
ED glass, dielectric high-reflective multilayer prism coatings, and phase-corrected coatings are fancy ways of saying the views are going to be amazing!
Additionally, comfy, rugged, lightweight design makes them a joy to use all day in all conditions!