Shop the Best Garmin Approach Golf GPS Smartwatches for Women!
Learn, Compare, Buy, Explore.
Buy the Best Golf Watch for Women in 2022. We Compare Garmin Approach S42, Approach S62 Smartwatches!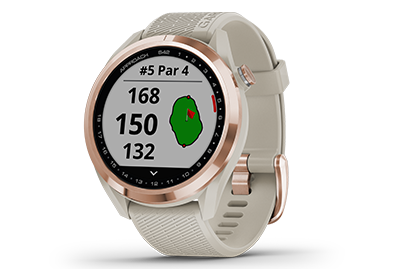 Buy Our Pick for Best Women's Golf Watch - Approach S42

Shop our best Garmin golf watch with Free 60-Day Returns + Free 2-Day Shipping!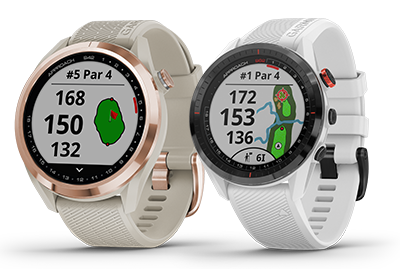 Compare Best Garmin Golf GPS Watches for Women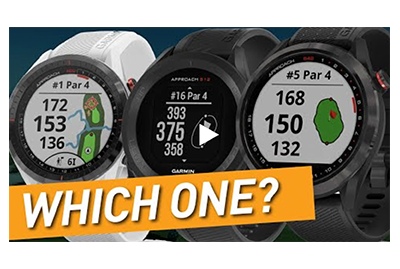 Garmin Approach S42
Review
Now Showing: Garmin Approach S42 review from our partner, Gabe, at Let's Play Thru.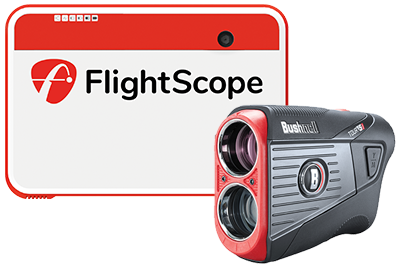 Shop Golf Rangefinders & Launch Monitors
Shop all the best in golf technology to take your game to the next level at PlayBetter.com!


Filter by Golf Watches for Women by Model, Size & Color
Shop the Garmin Golf GPS Watches for Women Collection
Golf Watches for Women | Table of Contents
GARMIN GPS SMARTWATCHES WITH GOLF FEATURES
Best Garmin Golf Watch for Women — Approach S42
The Approach S42 has a sleek style, a slim form-factor for smaller wrists, and is lightweight at only 1.5 oz. However, its 1.2" sunlight-readable color touchscreen is still enough to display your distances to the front, middle, and back of the green.
It comes loaded with golf features, such as 42,000 golf courses worldwide, AutoShot automatic shot tracking, auto courseview updates, Green View with manual pin position, hazards and course targets and much more!
What else? Well, it wouldn't be a Garmin without some health-monitoring and fitness tracking, like sleep, hydration, women's health, running and cycling profiles, and more.
Complement your wrist on and off the course with smart notifications, weather, and calendar alerts. Battery life in smartwatch mode lasts up to 10 days, 15 hours with GPS.
Choose from 3 gorgeous color palettes: the rose gold bezel and light sand band is the most popular, followed by the silver bezel with white band, and the gunmetal with black band.
Ultimate Golf GPS Watch for Women — Approach S62
The Approach S62 is the Garmin golf watch for the femme who wants an edge on the course. With a slightly bigger display, this GPS smartwatch for golfers has a larger but still comfy form-factor. It has all the brilliant features of the Approach S42 but with some premium oomph!
In the features department, this watch levels up across the board to include:
PlaysLike Distances, which is like slope-adjusted distances that account for uphill/downhill slopes in the yardage
Virtual Caddie that factors in wind speed and direction and suggests a club based on the distance you typically swing with that particular club.
Pinpointer shows you the direction on blind spots.

Wind and speed direction

Hazard View
With health and fitness, you get a whole lot more too! Like wrist-based heart rate, all-day stress, Body Battery™, Pulse Ox, and more. Garmin Pay™ and LiveTrack safety tracking are available, as well as music storage of 650 songs.
You'll pay a little more and sacrifice a bit of sleekness and style on your wrist (available in black and white only), but if you want that edge, the Approach S62 is worth it—100 percent!
What is the Garmin Golf app?
With the free Garmin Golf app, you can upload scorecards, review shot history, review performance stats, participate in weekly leaderboards, create tournaments, and save driving range sessions.
Even if you don't have a Garmin golf device, you can still use the app to participate in weekly leaderboards and tournaments, and enter your scores and stats into the app manually.
Check out weekly leaderboards on any of our 42,000+ courses, with live scoring, automatic scorecard uploads and the ability to review stats in real time during play or after your round.
You can use the included features for free or get a membership for extras:
INCLUDED FEATURES
Upload scorecards from a compatible device

Review shot history from a compatible device

Review performance stats

Participate in weekly leaderboards

Create tournaments

Save driving range sessions from a compatible device

30-day Garmin Golf membership trial
MEMBERSHIP SUBSCRIPTION
Monthly: $9.99
Annually: $99.99
All included features:
Plan your best approach shot, and sink your putt with Green Contour data

Home Tee Hero virtual rounds on 42,000+ courses (Approach R10 device only)

Store video clips of your shots in the cloud (Approach R10 device only)
Garmin Golf Watch Reviews
Rose Gold Garmin Watches with Golfing Features
The popular Rose Gold bezel on women's golf GPS watches are available in four different Garmin watches:
Which Garmin Watches Have Golfing Features?
You can get Garmin golf features on the following Garmin GPS Watches:
Do Garmin Golf Watches Have Touchscreens?
Yes! Most Garmin watches with golf features do!
The Garmin Approach S42, S62, the fēnix 7S, the Venu 2S, the Venu 2 Plus and the epix (Gen 2) all have golfing features and have touchscreens.
Note that the Approach S12, Garmin's basic GPS golf watch, does not have a touchscreen.
Garmin Golf Watch Comparison Table