Learn, Compare, Buy, Explore.
Garmin Forerunner 255 vs 245 vs 55 | Which Running GPS Watch Under $500 Should You Buy?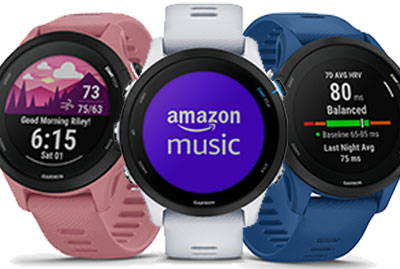 Buy the 2022 Garmin Forerunner 255/255S

The mid-range Forerunner is now a triathlon watch! Two sizes, music options, multi-band GPS—and more!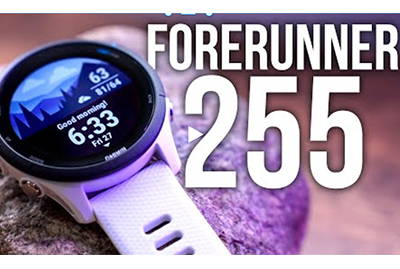 Watch a Forerunner 255 Review
Our YouTube partner at Chase the Summit gives you in-depth insight into this new Garmin running watch!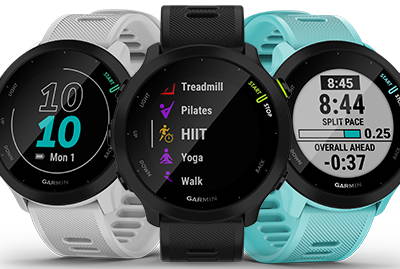 Buy the Garmin Forerunner 55 Running Watch
The only basic thing about Garmin's running watch for beginners is its price! Find out why!
Buy the Forerunner 245
Music
Though not a triathlon watch like the new FR255, the 245 is a solid, affordable running watch with music!
SHOP GARMIN FORERUNNER 255 vs 245 vs 55 RUNNING WATCHES
Garmin Forerunner 255/255S with
Music Options

Garmin Forerunner 55 Running Watch
for Beginners

Garmin Forerunner 245 Music GPS
Running Watch

---
Garmin Forerunner 255 vs 245 vs 55 | Table of Contents
Garmin Running Watches Under $500 | FAQs & Comparisons
---
Watch This Garmin Forerunner 255 Review
from our partner, Chase the Summit!
---
Best Basic Running Watch — Forerunner 55
Access the Garmin ecosystem for less than $200!
Our YouTube partner Dave at Chase the Summit called the Garmin Forerunner 55 "one of the better value propositions on the market right now for a dedicated running watch." We'll up that ante and call this the best budget running watch.
When you consider that for less than $200 at PlayBetter.com, you can get a GPS running watch equipped with all-day health tools, navigation, race strategy planning, a training load feature, and workout suggestions based on your training history, you'll be hard-pressed to even think of the Forerunner 55 as a basic running watch. The only thing basic about this beauty is the price.
Most Affordable Running Watch with Music — Forerunner 245 Music
Phone-free listening for your runs!
For a lot of us, music is essential to drive and maintain our motivation on runs. But almost every kind of portable music configuration today is tied to the phone. That can get a bit bulky and in-the-way. It's a standard runner's annoyance.
The Garmin Forerunner 245 Music allows you to download up to 500 songs directly to the watch! You can pair it to wireless headphones via Bluetooth to have a totally hands-free, pocket-free jam session. It's like having a 38.5-gram jukebox strapped around your wrist.
The Forerunner 245 Music running watch goes well beyond music, of course. It's loaded with many of the same features as some of Garmin's higher-end multisport watches—like the Forerunner 745 or 945. This watch gives you Body Battery, a step counter, sleep monitor, heart rate monitor, a Pulse Ox reader, stress tracking, and more.
And the Garmin Forerunner 245 Music is likely to be substantially marked down from here on out at PlayBetter.com. You can even find used options when in stock. You can buy a lot of downloads with those kinds of savings.
Best Running Watch of 2022 — Garmin Forerunner 255/255S
Step it up to a feature-heavy, reasonably priced Garmin watch standout!
Garmin seriously upped its running watch game with the Forerunner 255! We're talking training tools galore plus running/triathlon features, a barometric altimeter, a compass, and more battery life!
This watch meets the needs and demands of every kind of runner from road to backcountry, sprints to ultras, triathlons to trails, and everything in between. Garmin's activity profiles allow you to customize your Forerunner 255 to optimize the device based on how you use it.
This watch has up to 30 hours of battery life in GPS mode, meaning it's amply equipped for the hardest core ultra marathoners.
And if you're slight-of-wrist, you can get all the same features in the Forerunner 255S, which has a size of 41mm compared to the 46mm in the 255.
When you throw in a price of $350–$400 and compare that to other products that cost more but deliver less, you can see why we consider this a legitimate candidate for best running watch 2022.
Learn more even more on our Garmin Forerunner 255/255S page.
Health Monitoring Features on Garmin Forerunner Watches
These watches can legitimately improve and maintain your health.
Garmin Forerunner watches are absolutely amazing in their ability to track so many different metrics that contribute to your overall health. Measuring things like sleep habits, stress, activity levels, heart rate, and Pulse Ox gives you the information you need to make adjustments that could positively impact your overall health and wellbeing. These watches are much more like a super computer than a simple pedometer.
These Garmin 55, 245, and 255 Forerunner watches deliver:
Garmin heart rate monitor watch (the Forerunner 255 uses Garmin's updated Elevate V4 sensor)

Daily resting heart rate and a

bnormal heart rate alerts

Respiration rate (not available in the Forerunner 245)

Pulse Ox (blood oxygen saturation) (not available in the Forerunner 55)

Fitness Age

Body Battery Energy Monitor

All-day Stress

Relaxation reminders (0nly available in the Forerunner 55)

Relaxation breathing timer

Sleep measuring

Hydration

Women's health

Health snapshot (only available in the Forerunner 255)
Smart Features on This Garmin Forerunner Lineup
Smart?! More like genius!
Don't be embarrassed if your Garmin Forerunner watch is smarter than you are. It happens to the best of us.
Seriously, these watches are amazing in their ability to aid your day-to-day living.
Among their impressive array of valedictorian-like smart features:
Bluetooth connectivity

Connect IQ (downloadable watch faces, data fields, widgets, and apps) (only available in the Forerunner 255)

Smart notifications

Calendar & Weather

Realtime settings sync with Garmin Connect mobile (only available in the Forerunner 255)

Controls smartphone music

Forerunner 245 Music and 255/255S Music also have on-watch music storage capabilities for phone-free music play.

Garmin Pay for transactions right from your watch (only on the Forerunner 255).
Garmin Forerunner 255/255S vs 245 Series Running Watches
Two outstanding GPS running watch options, but the 255 goes above and beyond!
The Garmin Forerunner 245 has been an incredibly popular running watch for a few years now. The Forerunner 255 takes all of the features that made the 245 such a smash hit but adds a few significant upgrades.
If you want something that's much more than a basic running watch but that stops short of every last bell and whistle, the 245 is an excellent choice. You're getting some of Garmin's best health and smart features plus, with the 245 Music, you get the ability to store tunes on the watch itself.
Where the 255 takes things a step further is with additional features and upgrades like the new Elevate V4 heart rate sensor, the ability through Garmin Pay to complete transactions on the watch, a barometric altimeter, multi-frequency GPS, some of Garmin's latest training tools, more sports profiles, the ability to adjust backlight settings, and more battery life. It's a great choice for serious distance runners and a best Garmin watch for triathlon candidate.
Garmin Forerunner 255/255S vs Forerunner 55
Comparing the best budget running watch with the best running watch 2022.
If cash is tight, look no further than the Garmin Forerunner 55. This watch is a steal of a deal and is equipped with all-day health tools, navigation, race strategy planning, a training load feature, and workout suggestions based on your training history. Not too shabby for under $200 at PlayBetter.com.
But if you want to tap into some of the most cutting-edge running watch technology and still come in at a price under what you'd pay for the highest-end Garmin GPS running watches, then it's got to be the Garmin Forerunner 255, or smaller-sized 255S.
The Forerunner 255 delivers up to 30 hours of battery life in GPS mode, making it a legit candidate for best watch for ultra running.
Next with the 255, you've got Garmin's latest-and-greatest heart rate monitoring system, along with all-new training tools found on the new Forerunner 995!
Then you've got the ability to store music on the watch itself with the Garmin Forerunner 255 Music or 255S Music for smaller wrists.
And you can complete transactions using the built-in Garmin Pay.
Garmin Forerunner 245/245 Music vs Forerunner 55
In-activity watch navigation and on-watch music storage make the upgrade to the Forerunner 245 quite attractive.
Let's face it: You're getting an awful lot with the Garmin Forerunner 55. In fact, it's a sweetheart of a deal to get a running GPS watch for under $200 that can deliver robust health tools, navigation, race strategy planning, a training load feature, and workout suggestions.
But there are a couple things missing in the FR55 that are addressed with the Forerunner 245 and Forerunner 245 Music.
Our buddy Dave at Chase the Summit on Youtube really likes the fact that the 245 allows you to navigate around the watch mid-activity without interrupting the activity itself. That means things like checking a text mid-run without stopping the timer.
Also, while the Forerunner 55 can control music from your smartphone, the 245 Music doesn't even need a smartphone! Instead, you can download up to 500 songs onto the watch itself. Now, that's a very nice feature for anybody that likes to fuel their workouts with some tunes.
Do These Garmin Forerunner Watches Have Maps?
No maps, but you know what these watches do have?
Very accurate GPS navigation!
So, the Forerunner 255, 245, and 55 watches don't have full-blown maps the way that Garmin's Forerunner 955, fēnix 7, or epix (Gen 2) do. But they do have some incredibly functional and very accurate GPS navigation features.
You can send a running course from your Garmin Connect account to your watch, and after it's saved, you can navigate your course on the watch.
You can navigate back to the starting point of your current activity in a straight line or along the path you traveled.
You can navigate to a saved location.
And the Forerunner 255 includes multi-band GPS, meaning it picks up from multiple satellites for better outdoor tracking.
So, you're going to have to pay more for full-blown maps. But, with all that these devices do, do you really need them?
Forerunner 255 vs 245 vs 55 Battery Life Comparison
These watches are workhorses that, in the case of the Forerunner 55 and 255, can go as long as two weeks between charges.
All three of these Garmin fitness watches have very competitive battery life relative to the industry. But the Forerunner 255, being the standout that it is, features a smartwatch mode of up to 14 days, a GPS mode of up to 30 hours, and a GPS multi-band mode of up to 16 hours. That is outstanding longevity across the board.
The Forerunner 55 also gets two weeks in smartwatch mode and a very respectable 20 hours in GPS mode.
The FR245 doesn't last as long in smartwatch mode (just one week), but it does pick up an extra four hours in GPS mode compared to the FR55.
See the full product specs for any Garmin Forerunner watch here!
Are These Garmin Watches Waterproof?
Good to go for everything but the deep dives.
These watches are waterproof and will withstand pressures up to 164 feet underwater. So, you can wear this watch for everything you do except maybe your scuba diving.
Showering? Swimming? Bathe away without worry.
Speaking of swimming, all three watches are loaded with performance and training metrics, pacing tools, countdown timers, drill logging, and more.
So, by all means, think of your Garmin Forerunner as an around-the-clock, go-anywhere device.
CHECK OUT OUR GALLERY OF GARMIN WATCHES