The 2022 Garmin vívomove® Sport Hybrid Smartwatch
Learn, Compare, Buy, Explore.
Introducing Garmin vívomove Sport — 2022 Model
Timeless display & sporty style with a smart secret.

Buy Garmin vívomove Sport
Try vívomove Sport with Free 60-Day Returns + Free 2-Day Shipping.

Now Showing: Garmin vívomove Sport fashion-forward watch that won't break the bank.
Shop PlayBetter's Garmin GPS watch collection for more advanced sport features & data.
View Garmin vívomove Sport Product Gallery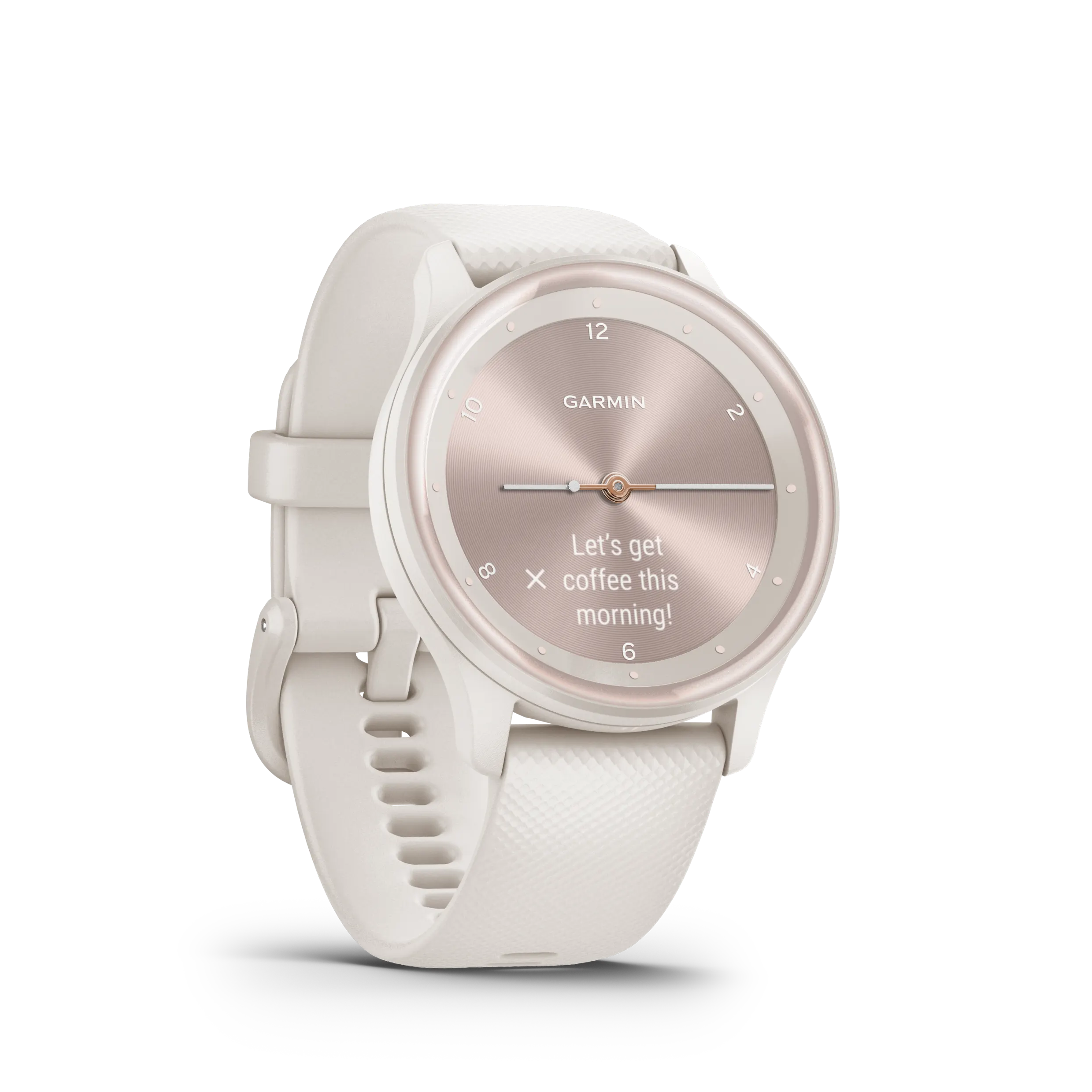 Timeless Analog Watch, Hidden Touchscreen
The Garmin vívomove Sport hybrid smartwatch combines the traditional look of an analog watch with the essential smart features you need to keep step with your busy life.
It's your little secret. This classic analog watch design puts a smart twist on your wrist. When you tap or swipe, real watch hands move to reveal a hidden touchscreen display.
Drafting off previous Garmin vívomove models, including vívomove HR, vívomove 3/3S, and vívomove Style, the Sport offers you yet another way to gorgeously accent your wrist.
Even more in style are the smart functions hiding behind the elegant watch face. Get smart notifications, control music, track your fitness with Garmin's wrist-based heart monitor and GPS from your paired smartphone, and use a sweet suite of health and wellness tools to know what's going on while you're on the go and sleeping.
What's more? This fashion-forward Garmin watch won't break the bank at only $179.99.
vívomove Sport Color Palettes
Style your wrist with one of four gorgeous color palettes available in the vívomove Sport suite of smartwatches. The vívomove Sport comes out-of-box in:
Black with Slate Accents
Ivory with Peach Gold Accents
Cocao with Peach Gold Accents
Cool Mint with Silver Accents
No matter what you're wearing, vívomove Sport is the perfect accessory. Effortlessly change your look with 20 mm industry standard quick release watch bands, and this classic smartwatch can go wherever you go, with any look you choose.
Accent you wrist with smart style.
vívomove Sport — A Hybrid Smartwatch?
Ever wish you could find a smartwatch with a classic look? Ever wish your stylish watch was smart?
vívomove® Sport is stylish—and much more! This hybrid smartwatch combines timeless analog looks with smart features, such as text messages from your paired smartphone delivered right to your wrist.
Real watch hands move to reveal a hidden touchscreen display. With the vívomove® Sport on your wrist and in your busy life, you don't have to sacrifice function for fashion or fashion for function.
Look like you're wearing a gorgeous timepiece; act like you're keeping your ducks in a row by accessing your watch's secret touchscreen and the many smart features that will allow you to keep tabs on your schedule, your health, your fitness tracking, your contacts, your music, and more.
Simply pair it with your smartphone, and pair smart functions and tools with your daily routine. And look hella sophisticated doing it.
Stay informed about your fitness.
Garmin vívomove Sport to Track Your Moves
You don't have to compromise fashion for function since this sophisticated watch monitors your heart rate from your wrist.
In addition to counting steps, calories, and monitoring sleep, the vívomove Sport lets you check into your energy with Garmin's Body Battery™ energy monitor to know the best times for activity and rest. Then use the activity profiles for Strength Training, Cardio Training, Elliptical Training, Stair Stepping, Yoga, Running, Cycling, and Swimming. You can even get wrist-based heart rate underwater.
Track the distance and pace for outdoor walks and runs by connecting to the GPS on your smartphone.
Get up to 5 days of battery life on a single charge—and up to one additional day in watch mode—so your watch can keep up with your busy life.
vívomove Sport Health & Wellness Tools
Know your body better with extensive health monitoring features, including Body Battery™ energy levels, Pulse Ox, advanced sleep monitoring, stress tracking, women's health tracking and more.
Find out if you're having a calm, balanced, or stressful day. Relax reminders will even prompt you to do a short breathing activity when you're feeling stressed.
The vívomove Sport constantly samples your heart rate and will alert you if it stays too high or too low while you're at rest. It also helps gauge how hard you work during activities.
Get a full picture of how you're sleeping, with a breakdown of your light, deep, and REM sleep stages as well as Pulse Ox.
Use the Garmin Connect™ app to track your menstrual cycle or pregnancy. Log symptoms, get exercise and nutrition education, and more. Even see and log details on your wrist.
Does the vívomove Sport Have GPS?
You're looking for a fashion-forward smartwatch that won't break the bank. Get the classic look of an analog watch plus smart features and health and wellness tools to help you be your best.
Unlike most Garmin watches, the vívomove Sport does not have built-in GPS. Instead, it connects with your paired smartphone's GPS to track activities, such as basic running, cycling, swimming, and gym profiles like yoga, strength, cardio and more.
You can even track the distance and pace for outdoor walks and runs by connecting to the GPS on your smartphone.
This, of course, is one of the main reasons for its affordability, along with limited on-watch storage and more advanced training features, sport profiles, and performance metrics.
If you want a watch that is not so reliant on your smartphone, can store your training tunes on-watch, and will give you premium performance data, you may want to consider a higher-end Garmin GPS watch from the Forerunner or fenix lineup.
Convenience & Connectivity

Stay Safe and Connected with vívomove Sport
And the depths of functionality behind the vívomove Sport's classic analog watch face continue ...
Access safety and tracking features, including Incident Detection (during outdoor walks, runs, and bike rides) and Assistance, both of which send a message with your live location to emergency contacts (Requires setup and your smartphone to be in an area with network coverage where data connectivity is available).
Stay connected with smart notifications for incoming calls, text messages, calendar view, and more when paired with your compatible smartphone.
vívomove Sport Won't Break the Bank
Everybody knows Garmin watches are not cheap. But one great thing about this tech titan is that they cater to more conservative budgets by putting the technology, style, and build-quality they're known for into smartwatches with more user-specific experiences at lower price points.
The vívomove Sport puts both function and fashion on your wrist without breaking the bank. When paired with your smartphone, this smartwatch offers features that more expensive watches have built into the watch.
If you want a fashion-forward watch with timeless style and modern smarts that keep tabs you, your health, and where the day takes you—you'll love the Garmin vívomove Sport hybrid smartwatch.
Get a smart twist on your wrist. Now only $179.99.
CHECK OUT OUR GALLERY OF GARMIN WATCHES