The Best Running Watches
for 2023

Who has the best running watch? We compare and review GPS watches
from Garmin, Apple, COROS, and Polar.
Want to just cut to the chase on what's the best running watch for you? Our running watches buyer's guide can help anyone from beginning runners to hardcore endurance runners to multisport triathletes find the right training tool for them.
There's a lot to consider, starting with budget and features. Running features on GPS watches these days are extensive—which is why it is a good idea to check out a review from a serious runner. One of our top guys, Dave from Chase the Summit, is a serious runner who give honest reviews that we can't recommend enough.
Along with the wide range of features on running watches—like GPS, maps, heart rate monitor, running power, build quality, VO2 Max, battery life, advanced training tools, performance data, health-monitoring, recovery recommendations, and smart notifications—there's also the price of a running watch to consider.
So, with all these watches from Garmin, COROS, Polar, and Apple, we'll show you the costs, plus the product specs and features you can expect for that price. Then, we'll point you to a review, if you want to know more.
So, jump to the table of contents below to pick and choose what you want to know. Or put on your running shoes and and grind through this whole collection of the best running watches of 2023!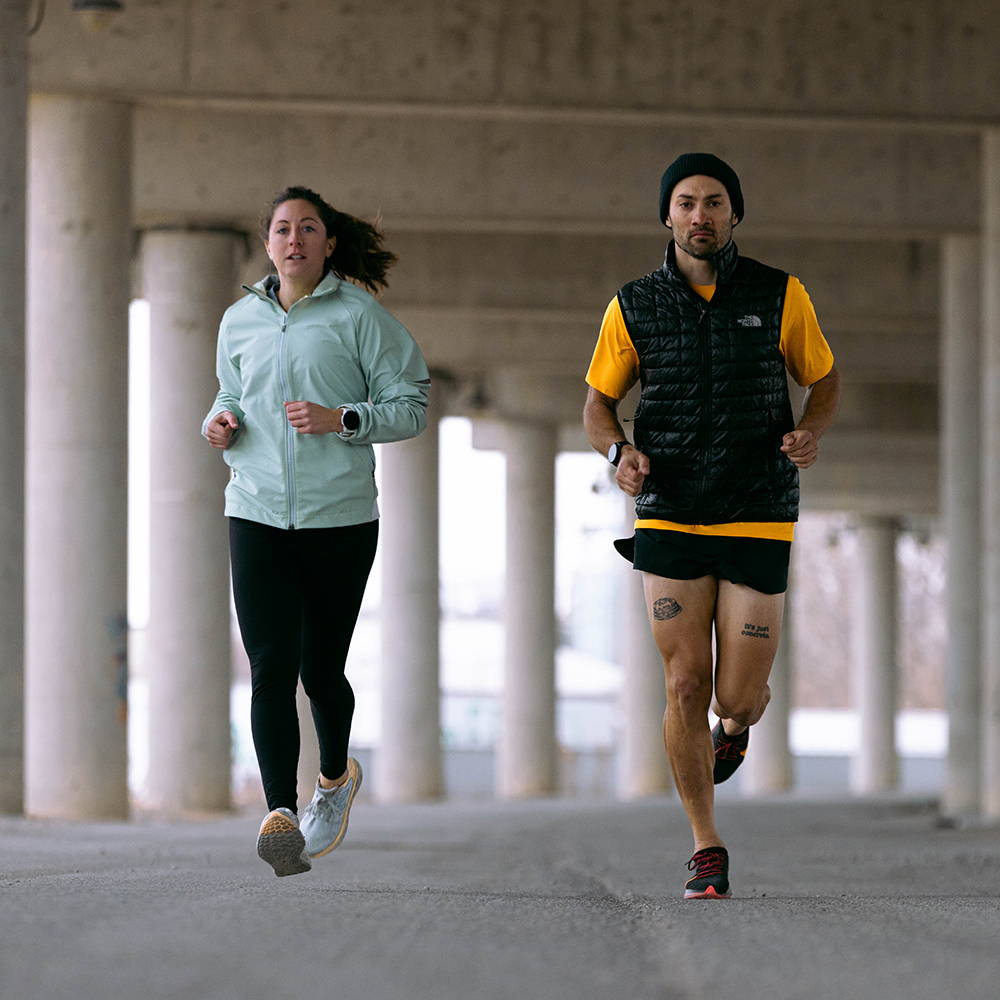 Best Running Watch 2023 | Table of Contents
---
Best Running Watches Under $200
Garmin Forerunner 55 — Best Running Watch for Beginners
Forerunner 55 Quick Specs
Case Size/Weight: 42 x 42 x 11.6 mm / 37 g
Display Size/Type: 1.04" (26.3 mm) diameter color display—Sunlight-visible, transflective memory-in-pixel (MIP)
Battery Life:
Smartwatch Mode: Up to 2 weeks
GPS Mode: Up to 20 hours
GPS: Built-in multi-GNSS (GPS, Galileo, GLONASS)                                                          
Maps & Navigation: None
Available Colors: Black, White, Aqua
Saftety features: Livetrack, Live Event Sharing (Android only), Incident Detection during select activities, Incident Detection alert on phone for wearables, Assistance
Water Resistant: Yes
Price: $199.99
Looking to start running with an easy-to-use watch? The Garmin Forerunner 55 is the GPS running smartwatch for beginners that goes beyond pace and heart rate stats. Train with personalized guidance and daily suggested workouts based on your training history and fitness level. Plus, you can cross-train with HIIT and breathwork activity profiles. Advanced wellness tracking features, such as all-day respiration monitoring, intensity minutes, and more, will help you learn just how far you can push your body. Count on more runs in between charges, thanks to this Garmin running watch's long battery life. Download watch faces, apps, and more from the Connect IQ™ Store to extra personalize your run workouts!
This running watch is ideal for the runner who's just starting out or who might consider the latest technology overly complicated. And the Forerunner 55 price is just right for someone who doesn't want to pay for training features they are not going to use.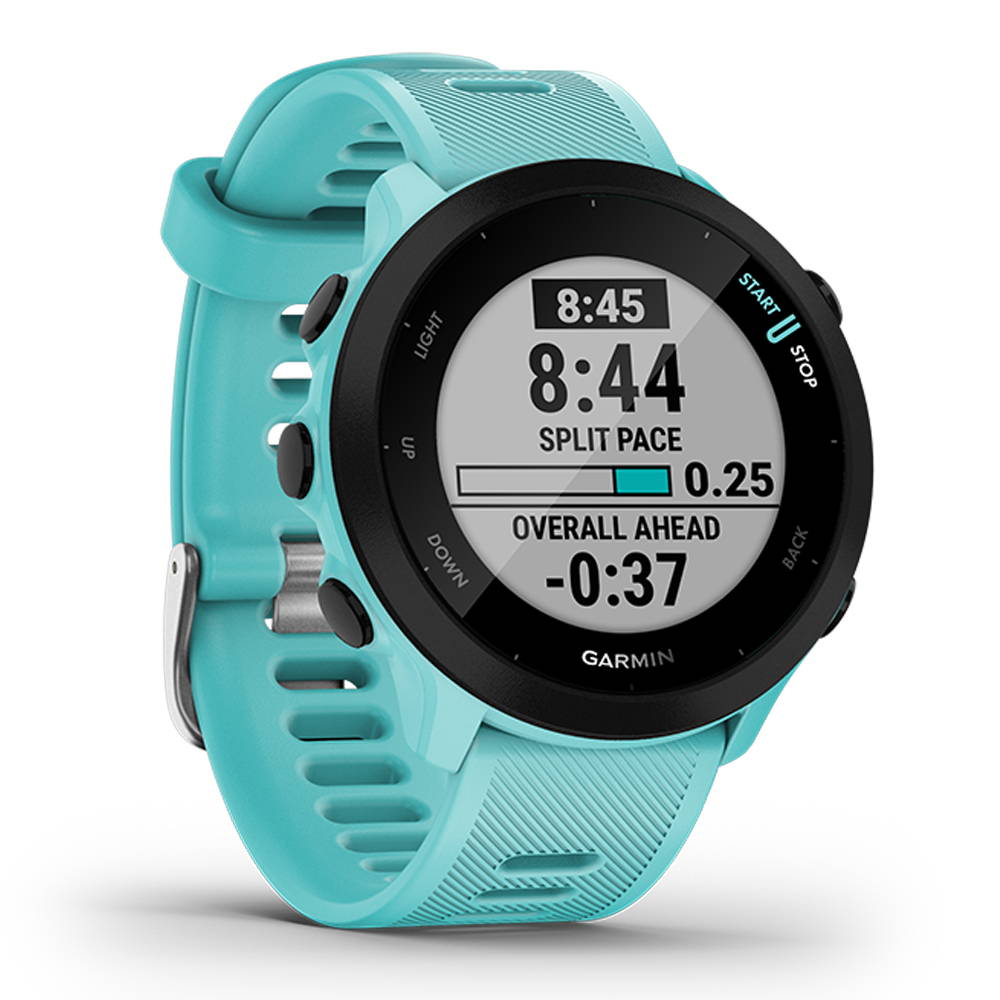 ---
COROS PACE 2 Basic Running Watch
COROS PACE 2 Quick Specs
Case Size/Weight: 42 × 42 × 11.7mm / silicone band: 35 g; nylon band: 29 g
Display Size/Type: 1.2" always-on memory LCD
Battery Life:
Smartwatch Mode: Up to 20 days
GPS Mode: Up to 30 hours
GPS: Built-in single-frequency (GPS, GLONASS, Galileo, Beidou, QZSS)
Maps & Navigation: None
Available Colors: Dark Navy, White, Blue Steel
Saftety features: None
Water Resistant: Yes
Price: $199.99
The superlight and super-affordable COROS PACE 2 GPS is the watch for runners who don't want extra bulk on their wrist. It's the lightest watch out there at only 29 g with a nylon band. Plus, the sleek PACE 2's battery life is impressively hefty for its size, so you can take advantage of all the available sport modes for running, biking, swimming, cardio, strength, and water. You'll also get lots of third-party integration with apps such as Komoot, TrainingPeaks, Strava, Stryd, and more. This featherlight GPS watch has a barometer and compass on board as well as 24/7 heart rate monitoring. But perhaps the coolest part of this GPS wearable is the running power metrics you'll get right from the wrist!
This is the budget-friendly watch is for the runner who does not want the extra bulk on their wrist or hit to their wallet—but doesn't want to skimp on the running and fitness features either!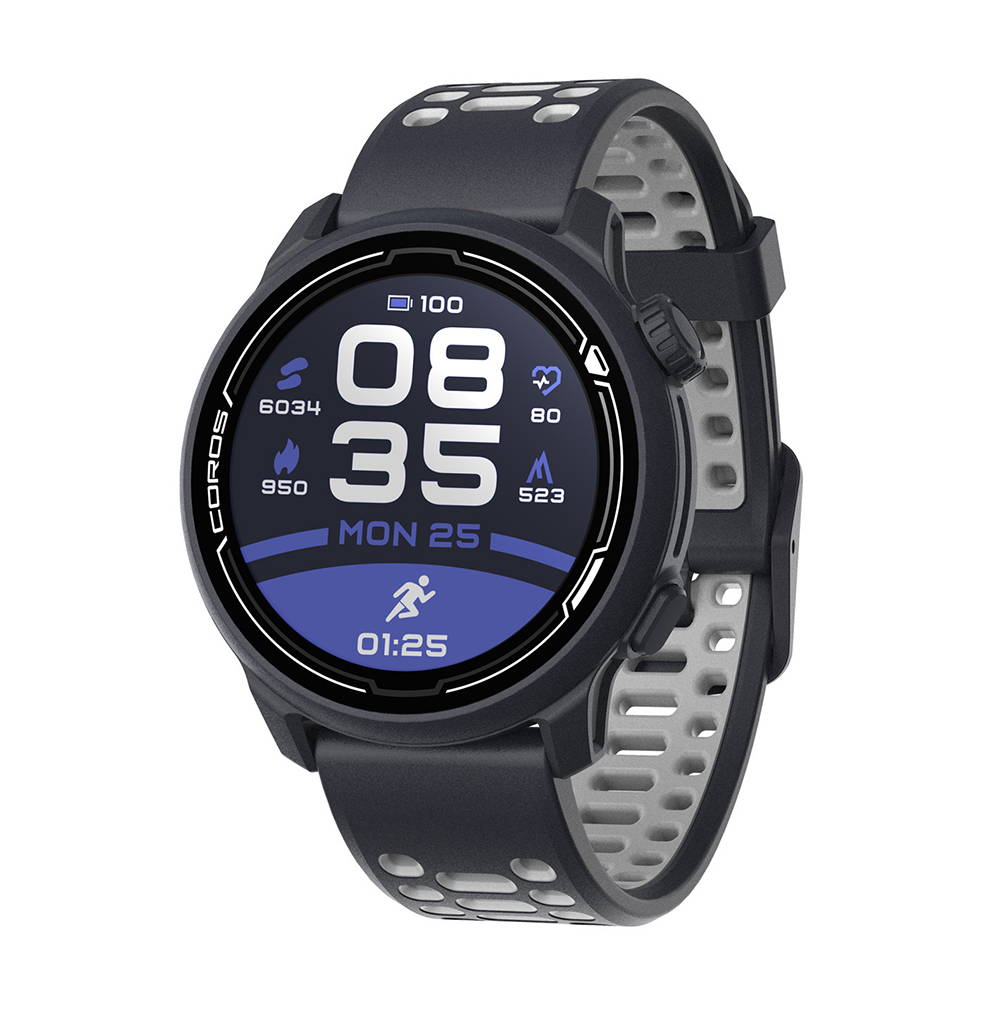 ---