Which Nikon Rangefinder Fits Your Game in 2022?!
Learn, Compare, Buy, Explore.
Nikon Golf Rangefinders | Get Renowned Sports Optics for Your Golf Game | COOLSHOT PROII STABILIZED, 50i, and 20 GII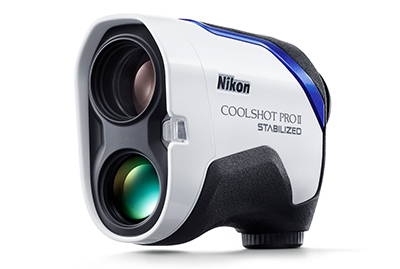 Buy Nikon COOLSHOT PROII STABILIZED

Get a superfast Nikon rangefinder with dual target confirmation, slope adjustment, amazing optics AND it reduces shakey grip like no other!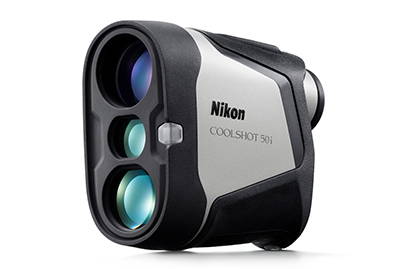 This is the mid-range priced Nikon golf rangefinder with high-end features like slope compensation, magnet mount, optical excellence, and more!
Watch a Nikon Rangefinder Review
Get a golfer's perspective and unbiased review from our favorite golf guy on YouTube—Gabe at Let's Play Thru!
---
Nikon COOLSHOT PROII STABILIZED and COOLSHOT 50i Review From Our Partner Gabe at Let's Play Thru!
---
Nikon COOLSHOT PROII STABILIZED for the Steadiest Grip
Get smooth, stress-free measurements every time!
This Nikon golf rangefinder reduces hand shake by 80%!
Regardless of wind or distance—or shaky grip—the COOLSHOT PROII STABILIZED makes getting your distances steady and fun!
Hyper Fast & Super Accurate Golf Rangefinder
"It's scary how quick this is!"
That was Gabe's response in his Nikon rangefinder review to the HYPER READ technology in the COOLSHOT PROII STABILIZED.
And as for accuracy, our golf guy says these Nikon golf rangefinders are spot-on.
In fact, since long before we knew him, Gabe has been using a Nikon rangefinder to check the accuracy of other devices. Nice!
Rangefinder with Tournament Legal Slope Technology
Turn on Nikon's ID Mode, for crucial uphill and downhill shots!
ID (incline/decline) Mode in this Nikon golf laser rangefinder removes the guesswork and lets you factor a hole's slope into into your yardage.
During competative play, when slope compensation is not allowed, the onboard Actual Distance Indicator (ADI) LED signals compliance (see adjoining image).

Nikon Golf Rangefinder with Slope
Get the same high-end slope technology in this mid-range Nikon golf rangefinder!
Get nearly all the same great technology as in the COOLSHOT PROII STABILIZED—but for $150 less!
If you don't need the stabilization technology, the COOLSHOT 50i is the next best golf laser with slope adjustment.
Plus the ability to make it touranment legal with the onboard Actual Distance Indicator (ADI) LED to signal compliance.
Golf Rangefinder with Spot-On Accuracy
Get precise distances with the Nikon COOLSHOT 50i—and know when you've hit your target!
Our golf guy Gabe found this Nikon golf rangefinder to be highly accurate, as well.
Plus, DUAL LOCKED ON QUAKE technology gives a visual cue plus a gentle vibration to let you know you're measuring the pin, not a tree or other object 20 yards behind it.
Nikon COOLSHOT 50i Magnetic Mount
This Nikon golf rangefinder is always within reach!
Not only is the Nikon COOLSHOT 50i lightweight and easily pocketable with a satisfying form-factor.
It's got a built-in mounting magnet—so it's ready when you need it and out of the way when you don't.
Stick it to your cart or bag and keep your golf game moving!
Best Nikon Golf Rangefinder Under $200 — Nikon COOLSHOT 20 GII
Meet the golf rangefinder that does the basics with Nikon quality.
If slope and stabilization technology aren't in your budget, you can still get reliable distances from the Nikon COOLSHOT 20 GII.
This compact, waterproof device offers the same Nikon sports optics technology for clear, high contrast views with 6x magnification.