New 2023 Swing Caddie SC4 Golf Launch Monitor | Everything You Need to Know
Golf launch monitor & simulator for $549.99? Could it be true?
New Swing Caddie SC4 | What You Need to Know
We Got a First Look at This New Golf Launch Monitor
Voice Caddie unveiled a new golf launch monitor at the 2023 PGA Show and PlayBetter was there to check it out!
While it's still not available to purchase yet, we did get some great insight on this new golf gadget that is going to shake things up in the market.
Check out this quick video of the new Swing Caddie SC4 golf launch monitor.
To find out about what's new with this 2023 portable golf launch monitor (like simulation!), how it compares to the Swing Caddie SC300i, and what it will set you back (you're not going to believe it!), check out the rest of this article!
Watch a Swing Caddie SC4 Review from Gabe at Let's Play Thru
Swing Caddie SC4 vs SC300i
We at PlayBetter love the Swing Caddie SC300i. And so does our golf review expert, Gabe at Let's Play Thru on YouTube.
As the previous flagship golf launch monitor for Swing Caddie, this unit is highly accurate and unique in that it has a display so that it can be used with or without the golf app, a remote control so you don't have to keep going to the unit or your phone, and if you want audible distances—it can give them!
The new Swing Caddie SC4 golf launch monitor does everything the SC300i does, plus adds some pretty solid upgrades, including:
Golf simulation: including E6 Connect compatibility

Two more metrics measured: Launch Direction and Spin Rate (SC300i offers spin data via the app)

New sleek design
But what's really going to shake things up in the golf launch monitor and simulator market? This unit is only $50 more than the SC300i. And that $550 price point makes it a direct competitor with the Garmin Approach R10.
Until the debut of both the Rapsodo MLM2PRO™ and Swing Caddie SC4 at the PGA Show this year, the Garmin R10 was the only portable launch monitor with golf simulation for under $1,000.
Read on to learn more about the SC4's new features.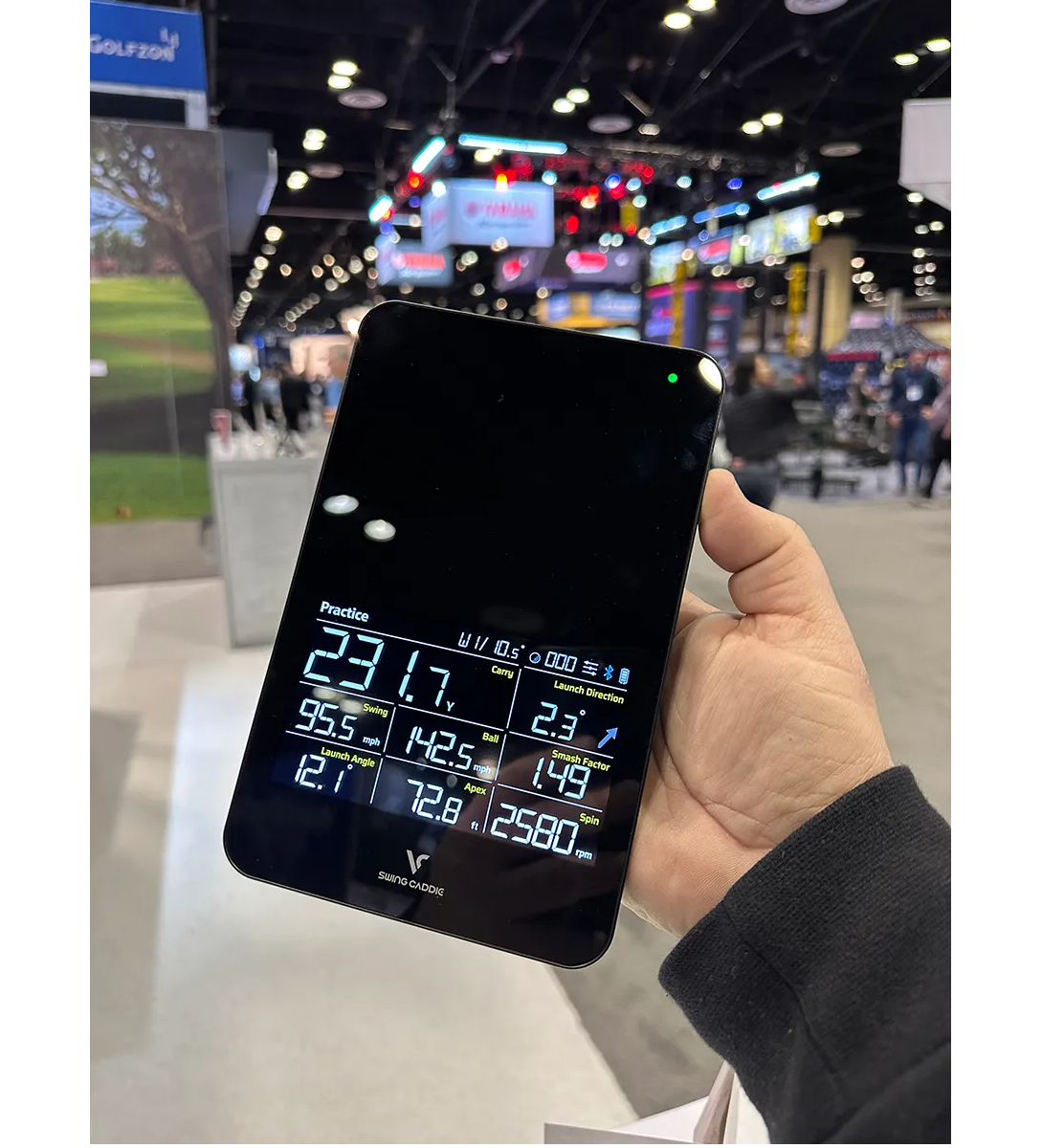 Golf Simulator Mode on the SC4
So, yes, for the first time, Voice Caddie has created a golf launch monitor with simulation!
Even though it is not available yet, here's what we know about the Swing Caddie SC4 and golf simulation so far!
It has simulatior app integration for both iOS and Android. In simulator mode, the SC4 connects with the included MySwingCaddie app, providing a complete virtual display along with metrics and stats.

To further enhance the simulator experience, the SC4 is fully compatible with E6 Connect and its suite of photorealistic courses (optional subscription).

It comes with a Free Simulator Driving Range Demo.
These are the details we currently have on the golf simulator side of things with this new unit.
Be sure to sign up for our golf newsletter, At the Turn, to get word on this and other new products coming out this season!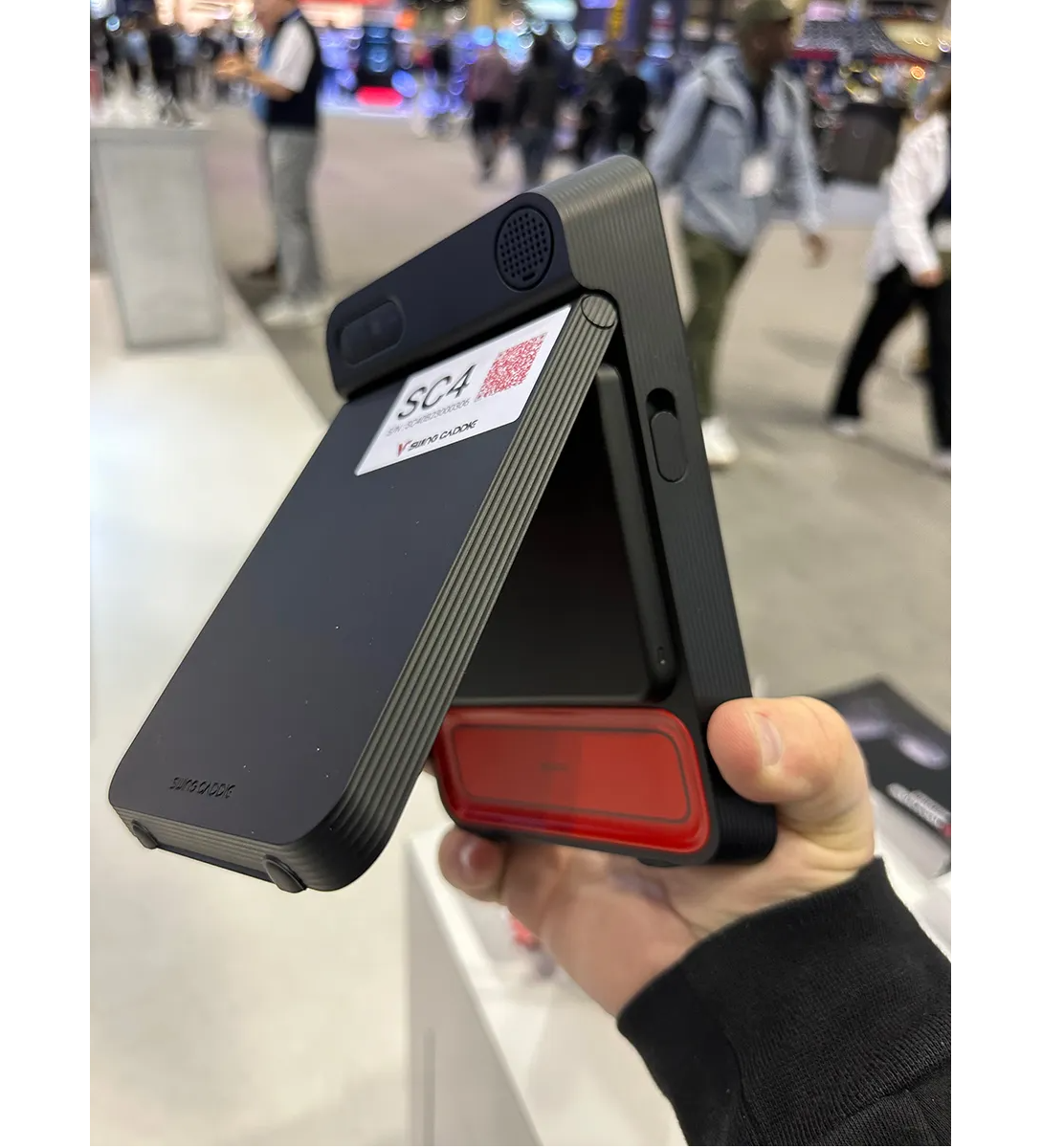 Swing Caddie SC4 Portable Golf Launch Monitor Features
The Swing Caddie SC4 has all the features that made Voice Caddie's SC300i one our favorite and most accurate golf launch monitors under $500—and then some.
First of all, it measure the same six data points that really count:
Carry/Total Distance

Smash Factor

Launch Angle

Swing Speed

Apex (Max Height)

Ball Speed
Then the SC4 adds:
Launch Direction

Spin Rate
The new Swing Caddie SC4 is also a doppler-based launch monitor, meaning it uses doppler radar technology rather than camera-based to collect data. These are generally less expensive than camera-based launch monitors, making these golf gadgets accessible to a wider range of golfers.
Like the SC300i, the SC4 is also an indoor/outdoor portable launch monitor and can be used with the MySwingCaddie app to get video replay of you swing, store your data, and produce swing overlays. The unit connects via Bluetooth and can be used by several users as long as they have a MySwingCaddie app account that is connected with the device while they are using it.
Also like its predecessor, this personal launch monitor has some unique features you won't find on a lot of other devices, such as a high-quality display for when you want to see your data directly without having to use the app, a remote control, and it offers voice output of distances.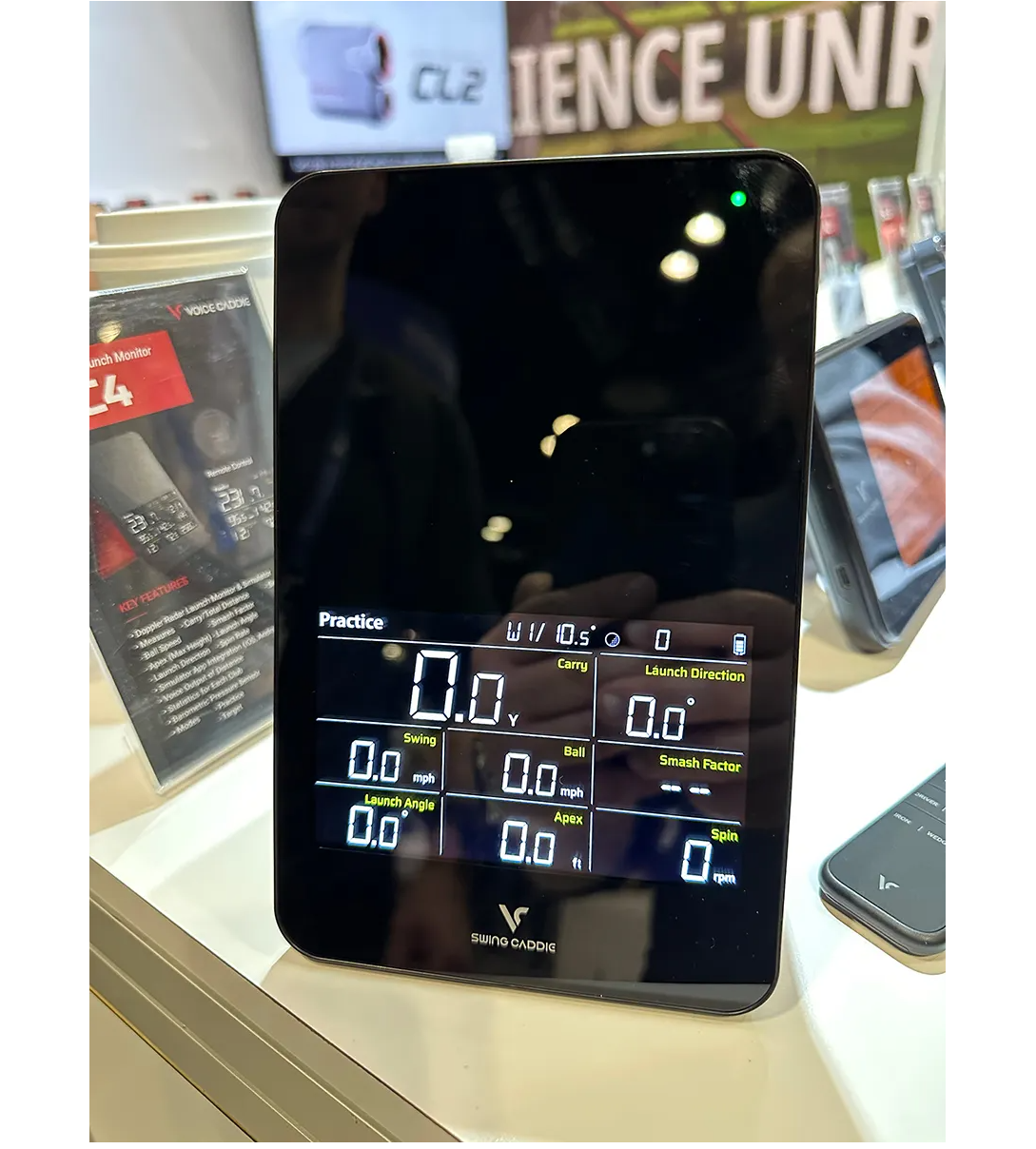 Swing Caddie SC4 Product Specs
Voice Caddie has also shared the 2023 Swing Caddie SC4 product specifications with us, which include:

Dimensions/Weight: 4.88" x 7.59" x 1.14" / 15.4oz

 

Color: Black

Display: 4.8" LCD

Sensor: Doppler Radar Sensor

Frenquency: K Band 24 Ghz

Battery Type: Polymer Li-ion Rechargeable

 

Battery Life: Up to 10 Hours

Accuracy:

± 2%

(ball speed)

± 3 yards (carry distance in target mode)

± 3% (carry distance in practice mode)

 

Measuring Range: 10~370 yards (1yard=0.91m)

 

Positioning: Placed approximately 1.5 meters

(5ft)

directly behind the ball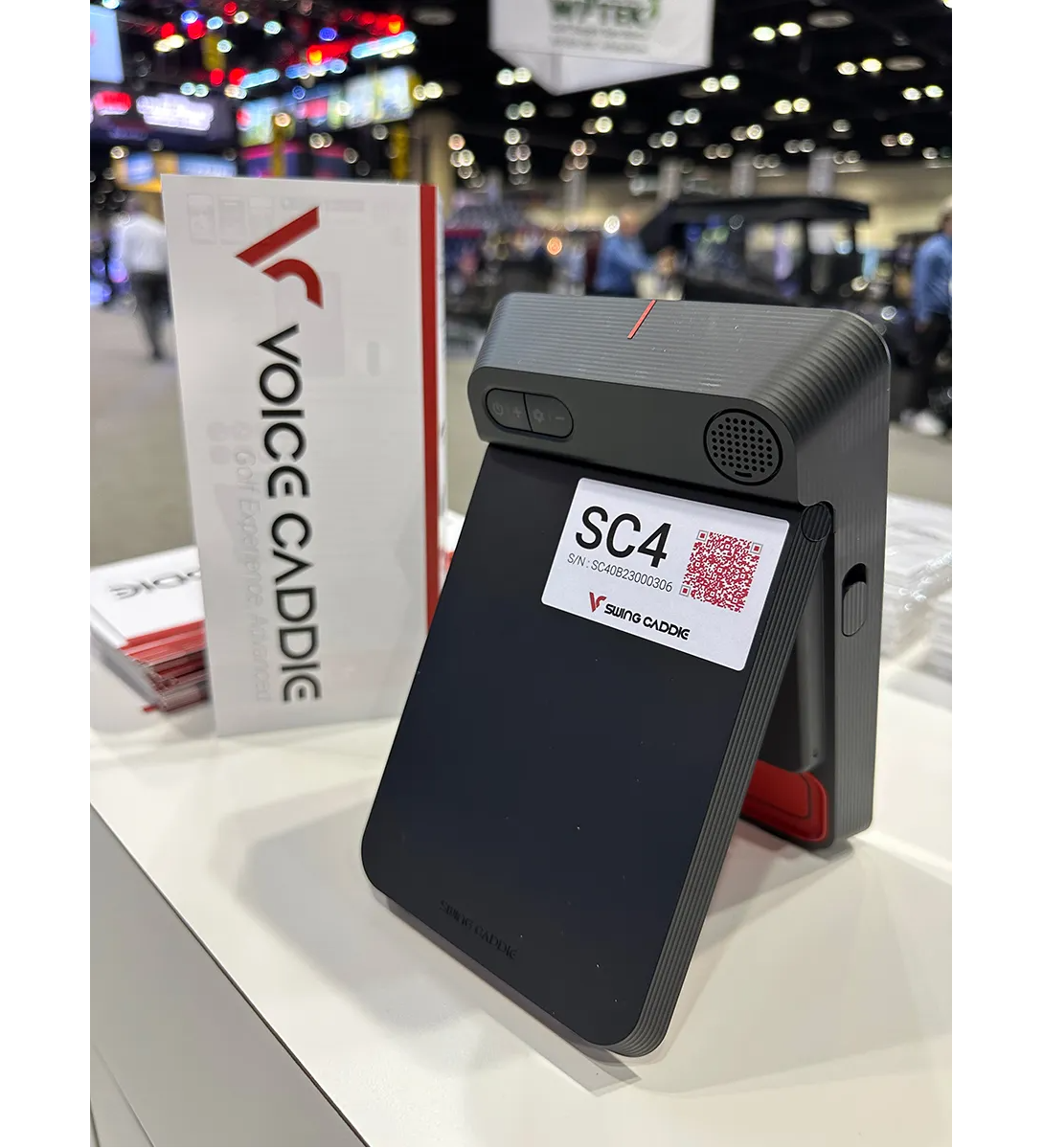 Another Golf Launch Monitor Under $1,000!
Perhaps one of the coolest things that this new golf device from Voice Caddie has done is upset the revolution that the Garmin Approach R10 started.
Before this year, the Garmin R10 was the only golf launch monitor under $1,000 to offer simulation.
This year at the 2023 PGA Show, two major golf brands unveiled golf launch monitors in this same category: the MLM2PRO from Rapsodo for $699.00 and the Swing Caddie SC4 from Voice Caddie for only $549.
Not only does the SC4 add golf simulation, it is only $50 more than the previous Swing Caddie SC300i AND is now the lowest priced golf launch monitor with simulation.
Be sure to sign up for our golf newsletter, At the Turn, to find out more, including availability, for this and other upcoming golf products.