9 Best Running Watches for Women | Garmin, COROS & Polar Smartwatches
We value your time, let us know what you're looking to accomplish.
Running watches for women mentioned in this article:
---
---
Which Are the Best Running Watches for Women?

When it comes to the best running watches for women, several factors come into play and will have varying degrees of importance to individual runners. Because no 2 runners are exactly alike, no 2 running GPS watches are the same either. This is, of course, a good thing, but finding out which GPS smartwatches offer and even excel at the features you want can be time-consuming and, sometimes, downright daunting.
Thus, the creation of this article. As you shop for the running watch that is right for you, you'll want to know about size and wearability, performance features, GPS tracking and on-watch navigation tools, health-monitoring, ease-of-use, and, of course, price. Style and bonus smart features like music may also be must-haves.
Get ready, because we're dishing up all the details on the top 9 running watches in our PlayBetter collection. We only offer trusted brands like Garmin, COROS, and Polar, so you know you'll be selecting your new running partner from the best smartwatches the industry has to offer.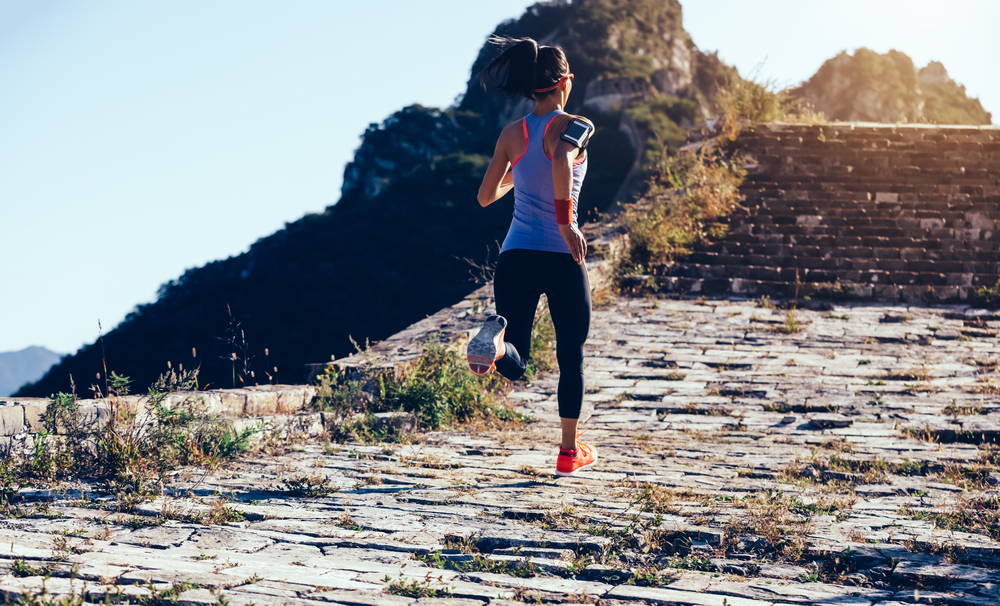 ---
The Best Overall Women's Running Watch — Forerunner® 945/945 LTE
The Garmin Forerunner 945/945 LTE manages to pack the most running features into a sleek, lightweight smartwatch. The only minus may be a lack of color options. It is, however, QuickFit band compatible, so you can change the band to a color you prefer.
The Forerunner 945 has a 1.2" display, weighing in at 50g with a physical size of 47 x 47 x 13.7 mm. It has a fiber-reinforced polymer bezel and cover. No metal and less bulk give it a slim, lighter fit on your wrist.
The 945 includes profiles for Running, Treadmill Running, Indoor Track Running, Trail Running, and Virtual Running. Get highly accurate wrist-based heart rate and VO2 Max for your running profiles, which tells you how you might expect to perform with heat or altitude factors. Training Status lets you know if you're training productively, peaking, or overreaching. Training Load compares your most recent stats to your optimal and historical fitness stats. Use PacePro™ pacing strategies and keep on pace with grade-adjusted guidance as you run a course.
You won't find better navigation than what you get in a Garmin watch. The Forerunner 945 provides Multi-GNSS, including GPS, Galileo, and GLONASS, for more advanced tracking in challenging enviroments—perfect for runners who like to explore. You'll also get ABC sensors—an altimeter for elevation data, a barometer to monitor weather, and a 3-axis electronic compass. Topo maps, road and trail maps, round-trip course creator, and Trendline™ popularity routing come standard as well as great navigation tools to help you find your way there and back!
While the Forerunner 945 does not have the most battery life management in this lineup, it's still more than sufficient for most runners. The 945 battery life offers up to 2 weeks in smartwatch mode, up to 10 hours in GPS mode with music, and up to 36 hours in GPS mode without music.
Stay on top of your health and well-being with fitness age, Body Battery™ energy monitor, women's health, sleep score and insights, and more. Smart notifications come standard as well as music—store up to 1,000 songs on watch!
---
Best Heart Rate Monitor Running Smartwatch — Polar Vantage M2
Train smarter, not harder, with the Polar Vantage M2. With this GPS running watch as your training partner, you can track your performance in real time and get valuable sleep and recovery stats. Plus, you'll also get the advanced wrist-based heart rate that Polar is known for!
Polar Vantage M2 uses the Polar Precision Prime™ sensor fusion technology to track heart rate from the wrist. This innovation combines optical heart rate measurement with other sensor technologies in order to rule out involuntary movement that might disturb the heart rate signal and produce unreliable readings.
As far as running features go, this mid-range priced watch offers some high-end features like Polar Running Program, Training Load Pro, and Nightly Recharge. FitSpark training guide offers you different types of daily workouts to choose from that match your recovery, fitness level, and training history.
Get smart notifications, and access to the Polar Flow app where you can keep a running diary, analyze your stats, and visualize your next plan of attack!
The Vantage M2 battery life gets up to 40 hours in training mode (GPS and wrist-based heart rate) or up to 7 days in smartwatch mode with continuous heart rate tracking. Multiple power saving options are available and make this a great running watch for women.
---
---
Lightest Running Watch for Women — COROS PACE 2
Keep it super light and ultra fast with the easy-to-use COROS PACE 2 premium GPS running watch for women. There's no fat on this featherlight wearable that weighs just 29g with the COROS nylon band.
Despite its ultra light weight, it offers a 1.5x more powerful processor, offers 5x more RAM, and 4x more storage than the original COROS PACE.
Furthermore, this super sleek running watch provides a battery life that last 30 hours in full GPS and 20 days in daily use.
And while this premium GPS multisport watch has an attractive price, it doesn't skimp on training features. It's packed with sports modes for running, biking, swimming, strength training, and has an impressively accurate track run mode!
This mighty and light GPS watch is available with a breathable nylon band, and the COROS DIGITAL DIAL makes it a cinch to use. You can also count on it to auto-detect your body movement and monitor heart rate and calories burned.
This wearable that won't weigh you down and will raise you up to your personal best for an attractive price, is a sassy, spirited running watch for women.
---
Best Running Watch with Music for Women — Garmin Forerunner 245 Music
Garmin hit the mark with this running watch with music. For ladies who want both beats and performance metrics on watch without dropping $500 or more—the Forerunner 245 is on point.
The 245 stores up to 500 songs, which for many runners is more than sufficient. Just download your must-have workout tunes from your Spotify, Deezer, or Amazon account and go.
Additionally, you get a nice chunk of running metrics with the 245, including VO2 Max, Race Predictor, PacePro, Recovery Advisor, Training Status, and Training Load. And for health, factor in wrist-based heart rate, Body Battery energy monitor, Pulse Ox, and advanced sleep monitoring.
Get a rich mix of running, cycling, swimming, and gym workout profiles and multi-GNSS (GPS, GLONASS, Galileo satellite imagery access) for advanced tracking, and some highly useful navigation tools like point-to-point and back to start.  
Battery life is impressive for a mid-range sport watch: Up to 7 days in smartwatch, 6 hours in GPS+music, and 24 hours in GPS without music.
While this running watch is not for serious marathon and triathlon training, it's definitely got the music and sport features to motivate regular runners.
---
Best Women's Running Watch for Training — Polar Vantage V2
Train like a pro, recover like a pro. The Polar Vantage V2 Premium running watch for women helps you track how hard you've pushed, how your body adapts, and how well you recover. Knowledge is the key to progress, and the Polar Vantage V2 is the tool!
The Running Performance Test lets you track your progress and personalize your heart rate, speed, and power zones. See how your training sessions strain the different parts of your body with Training Load Pro™. It also shows you how much you've been training, so you can determine if you're on the right track.
For triathletes, personalize your power zones and understand your personal functional threshold power (compatible power meter required) with the Cycling Performance Test. Also, the Vantage V2 premium GPS watch supports over 130 different sports. Add your favorite sports to your watch in the Polar Flow app and customize what you see on your watch during each sport.
Find out if your body is ready for marathon or triathlon training with recovery feedback right on your watch from Recovery Pro™(Polar heart rate sensor required). The Leg Recovery Test tells you whether your legs are ready for high intensity training in just a couple of minutes without any special equipment—just your watch! Find out how well you recover from the demands of your day during the night with Nightly Recharge™ recovery measurement.
Plan your route on Komoot and let the turn-by-turn guidance do the navigating for you. Refuel and maintain adequate energy levels during long sessions with FuelWise™. Use the FitSpark™ training guide for ready-made daily workouts that match your recovery, fitness level, and training history.
With a lightweight, slim design, comfortable silicone band, and color touchscreen—the Vantage V2 looks and feels great on your wrist. Get weather, control music from your wrists, and conveniently receive smart notifications right on your watch face. Plus, get a lot more out of this watch, including 40-100 hours of continuous training battery life.
---
Best GPS Trail Running Watch for Women — Garmin fēnix 6S Pro
The Garmin fēnix 6S Pro premium running watch for women has a rugged yet sophisticated design for the woman who is always on the go, runs in all elements, and needs a watch that can keep up with her. The "S" is for the smaller 1.2" display size for runners with smaller wrist or who simply prefer a less bulky size. With this GPS smartwatch as your running partner, you'll stay safe, connected, and focused on your goals.
Get on-watch activity-specific profiles for the gym, running, cycling, swimming, golf, and outdoor recreation. Level-up with training features, such as GPS speed and distance, interval training, advanced workouts and downloadable training plans, heat and altitude acclimation, VO2 Max (run), Training Status (lets you see if you're training effectively by tracking your training history and fitness level trend.), Training Load (your total training load for the last 7 days calculated from estimated EPOC), Training Effect (instantly measures the impact of training on aerobic and anaerobic fitness), finish time, a virtual partner, course guidance, Garmin and Strava live segments, and activity history on watch.
Get a whole lot of health monitoring, including wrist-based heart rate, Pulse Ox, Body Battery™ energy monitor, and sleep score and insights.
Track in the most challenging environments with access to more than one satellite imagery system (GPS, GLONASS, and Galileo). Plus, navigate smarter with ABC sensors: altimeter for elevation data, barometer to monitor weather, and three-axis electronic compass.
Get the convenience of smart notifications, Garmin Pay™, and control the music on your phone. Extensive fēnix 6S Pro battery life with up to 9 days in smartwatch mode, up to 34 days in battery saver watch mode, up to 25 hours in GPS, up to 6 hours in GPS+music, up to 50 hours in max battery GPS mode, and up to 20 days in expedition GPS activity.
---
---
Best Ultra Running Watch for Women — Garmin fēnix 6S Pro Solar
The fēnix 6S Pro Solar is everything the 6S Pro is, with the addition of solar-charging technology, which puts this rugged yet sophisticated GPS wearable over-the-top and makes it the best ultra running watch for women.
Here's what your fēnix 6S Pro Solar battery life looks like when you feed it the sun:
Smartwatch: Up to 9 days/10.5 days with solar
Battery Saver Watch Mode: Up to 34 days/59 days with solar
GPS: Up to 25 hours/28 hours with solar
GPS + Music: Up to 6 hours
Max Battery GPS Mode: Up to 50 hours/64 hours with solar
Expedition GPS Activity: Up to 20 days/26 days with solar
And your loved ones will worry less about your outdoor adventures, because the fēnix 6S Pro and 6S Pro Solar GPS smartwatches have safety and tracking along with that ultra long battery life!
All fēnix 6 watches are tough, tested to U.S. military standards for thermal, shock, and water resistance, making it the perfect running watch for women who frequent trails, multi-day ultra runs, or long journeys into the backcountry.
---
Best Battery Running Watch for Women — COROS APEX
With the COROS APEX premium running watch for women, you get all the features, quality construction materials like titanium alloy, and the hyper battery life you'd expect from a more expensive GPS watch. It's the perfect training partner for any kind of runner who also wants a designer watch with a simple user interface and a sleek, lightweight fit.
Performence metrics and running features include COROS Trainer for advanced training and analysis and Intelligent Stride model that learns your running form. With COROS Training mode, you can create, share, and even download workouts from professional athletes and coaches. Build your own workout in the COROS App for Running, Cycling, Swimming or Strength Training with virtually no limitations. Select from more than 200+ preloaded exercises to create your ideal strength training session.
Run where you want with GPS route tracking and built-in barometer, altimeter, and compass, and pre-loaded breadcrumb trail maps.
Wrist-based heart monitor, VO2 Max, and step counter help you understand how you're pushing during you run and daily life.
But it's battery life where COROS watches naturally shine. In UltraMax setting, the APEX lasts up to 100 hours using GPS. While using normal mode it provides up to 35 hours, and regular usage up to 30 days.
The digital dial for ease of use, smart notifications, fully customizable home screen, and ultra-comfortable silicone bands top off this smart running watch for women. Available in 2 sizes, it provides a stainless steel bezel finish with sapphire glass with a 42mm display, and a titanium alloy bezel finish with sapphire glass with a 46mm display.
---
Best Running Watch for Beginners — Garmin Forerunner 55
There are runners of all skill levels who want a simplified running watch—especially runners just starting out. The Garmin Forerunner 55 running watch for women is easy to use while still offering a wealth of high-end running, workout, and sport features.
Beginners can simply press a button and start their run and track their time, distance, speed, pace, and heart rate data right from their wrist.
Use great running features like cadence alerts that let you know when you've gone outside your target cadence range, helping to improve your running form. It has several built-in activity profiles, including track or virtual running, pool swimming, Pilates, HIIT, and more. Take advantage of Garmin Coach training plans that offer on-screen guidance from expert coaches and free 5K, 10K, or half marathon training plans that adapt based on your goals. Daily suggested workouts take the guesswork out of training by offering personalized run workouts tailored to your training history, fitness level, and recovery time
Built-in GPS tracks how far, how fast, and where you run. PacePro provides guidance to help you tailor your efforts to a selected course or distance. Plus, the finish time estimator lets you select a run distance and get an estimated finish time right on your wrist.
Wrist-based heart rate provides data all day and night. Following a workout, the built-in recovery advisor will let you know how long to rest before your next big effort
Use the Body Battery™ energy monitor to track energy levels to find the best times for activity and rest. And women can track their menstrual cycle or pregnancy and log symptoms, receive exercise and nutrition education, and more through the Garmin Connect™ app.
The Garmin Forerunner 55 GPS running watch comes in one size, with a slim, bulkless 1.04" diameter color display, and weighs only 37 g. Choose from black, white, or aqua colors.
---
Best Running Watch for Women Highlights