Fiberbuilt Golf Mats 2022 Buyer's Guide | Which One Should You Buy?
Learn, Compare, Buy, Explore.
Fiberbuilt Golf Hitting Mats Are Durable, Launch-Monitor-Tested, Injury-Reducing, with Realistic Feel.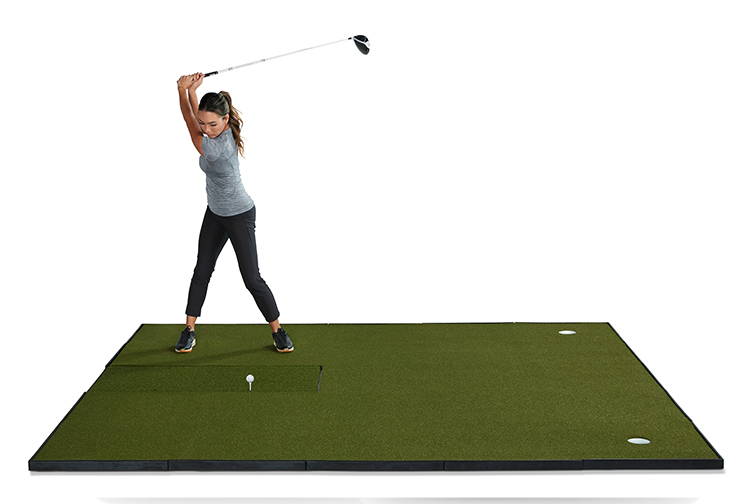 Buy Fiberbuilt Player Preferred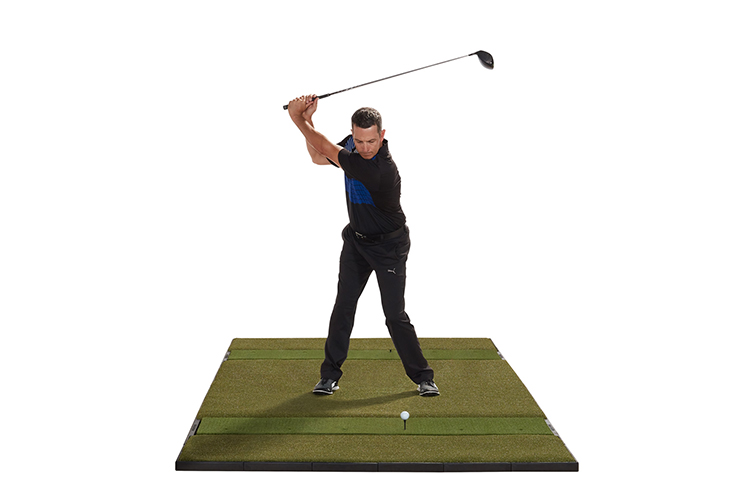 Buy Fiberbuilt Grass Series Golf Hitting Mats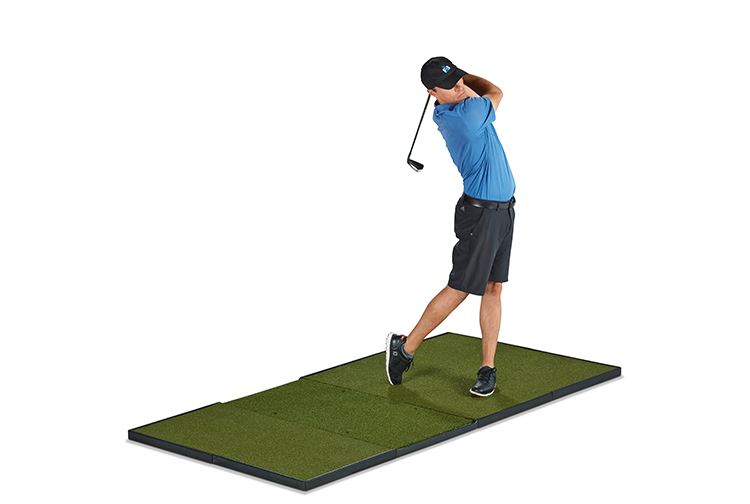 Buy Fiberbuilt Performance Turf Series
Shop fiberbuilt Performance Turf series mats for limited spaces and budgets.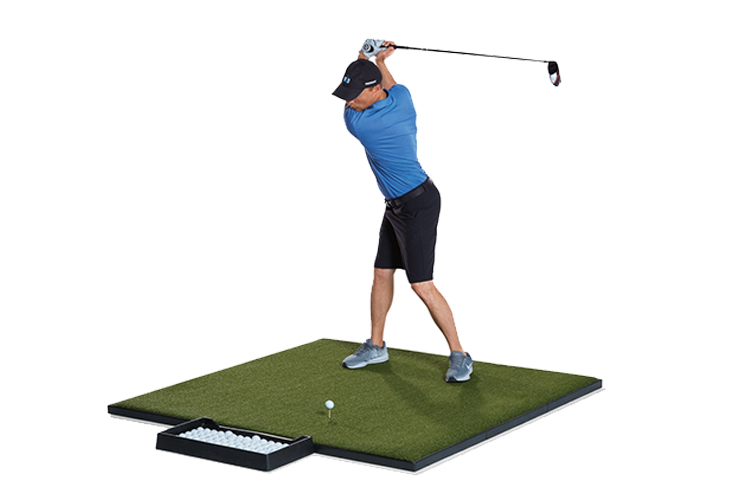 Buy Fiberbuilt Ball Trays
& More!
Filter by Golf Practice Mat Type & Size
Fiberbuilt Golf Studio Mats to Accomodate Small to Large Spaces!
Fiberbuilt Hourglass
Golf Studio Hitting Mat

Fiberbuilt Grass Series
Golf Studio Hitting Mat

Fiberbuilt Player Performance
Golf Studio Hitting Mat

Fiberbuilt Golf Mats | Table of Contents
Fiberbuilt Golf Hitting Mat FAQs
Which Is the Right Fiberbuilt Golf Hitting Surface for You?
Fiberbuilt Golf Hitting Mat Surface Chart for Players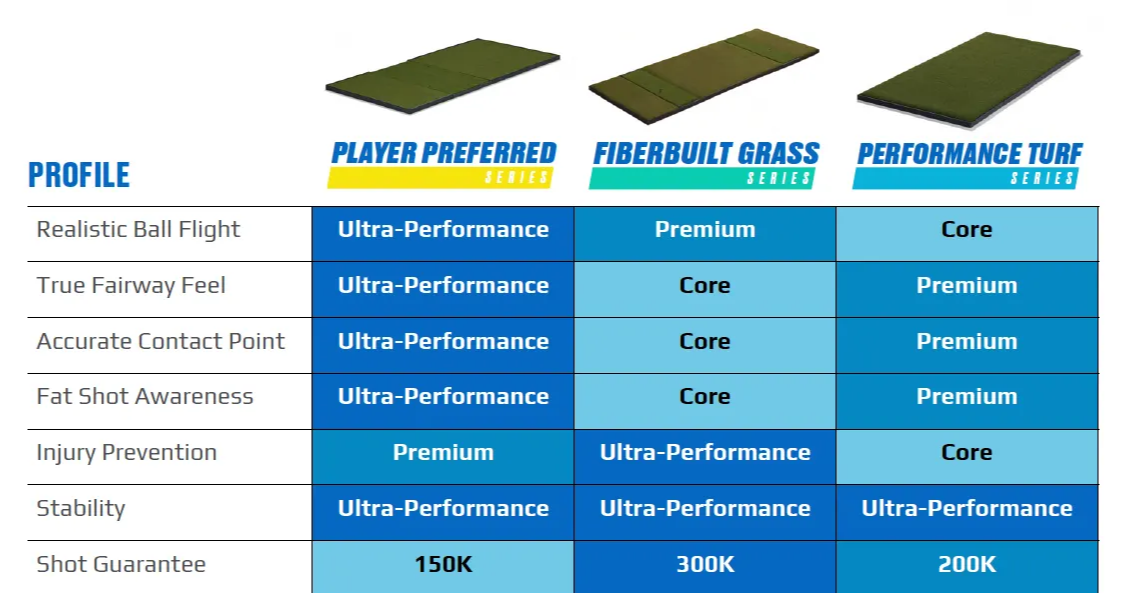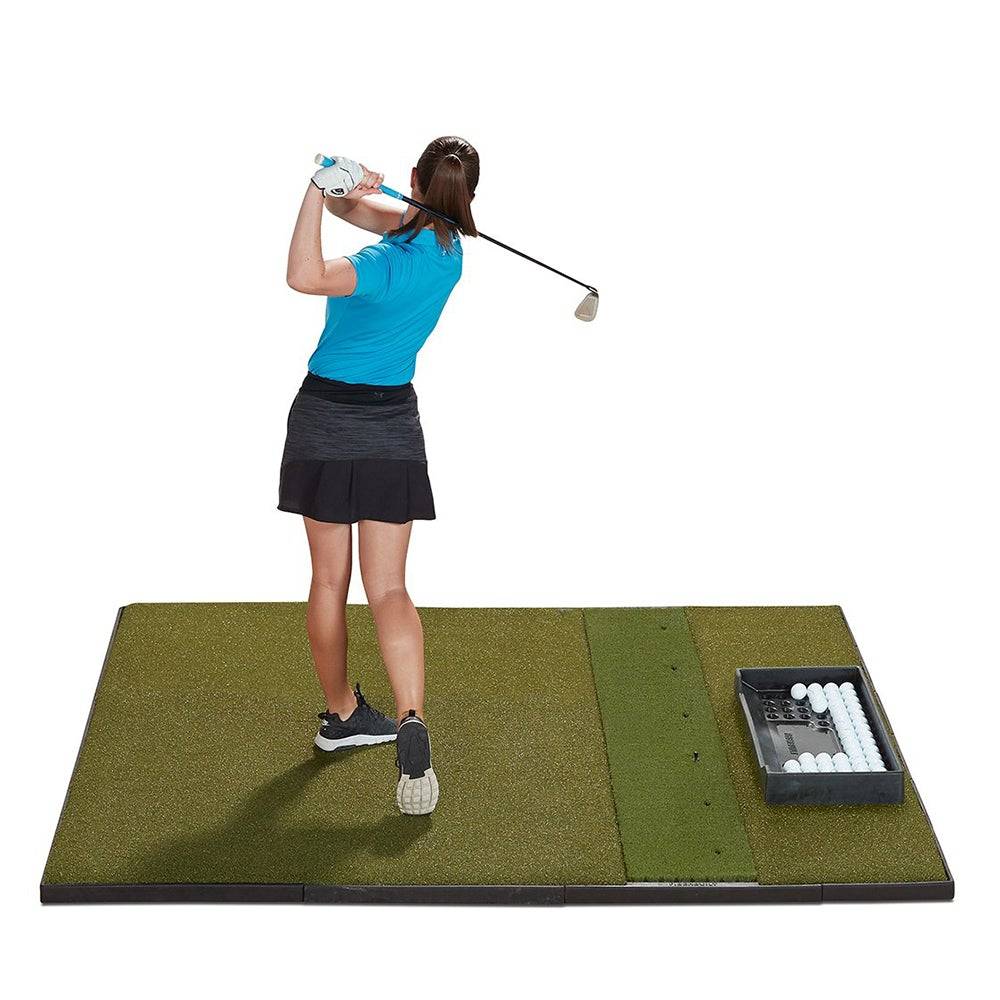 Fiberbuilt Player Preferred Series Golf Practice Mats
The golf hitting mat for serious players who want realistic launch conditions for their home golf simulator!
The Player Preferred Series line of mats provides the most accurate simulation of real fairway turf available, with launch-monitor tested performance and the sound and feel that better players appreciate.
Its proprietary Vibration Absorption Layer absorbs 94.7% of the club head vibration, providing the realistic feel and sound better players prefer, and allowing you to attack the ball without hesitation.
Steve Pate, 6-time PGA Tour winner, collaborated with Fiberbuilt in the design of the Player Preferred Series to help it appeal to the better player.
Shop Player Preferred Golf Practice Mats!
Shop Player Preferred Combo Hitting Mats and Putting Greens!
Fiberbuilt Grass Series Golf Hitting Mats
The golf multi-layer practice mat that's 300,000 swings guaranteed!
Injury Prevention Golf Mat
The Fiberbuilt Grass Series of mats is engineered to avoid the "turf shock" of traditional mats, keeping joints protected even with frequent practice.
Most Durable Golf Hitting Mat
Other multi-layer system golf mats use an adhesive that dries over time, causing the mat to harden and layers to separate. Conventional mats will wear out between 10,000–50,000 shots. Count on 300,000 with Fiberbuilt mats made with heat molding process that lasts!
Fiberbuilt Grass Series mats are non-slip with an easy-to-assemble rubber base.
Shop Fiberbuilt Grass Series Golf Practice Mats!
Why Are Fiberbuilt Mats the Best Golf Hitting Mat for Home?
Fiberbuilt golf mats stand out from other golf practice mats in three major areas:
DURABILITY: Proprietary Fiberbuilt Grass has been engineered to withstand more than 300,000 shots on the exact same spot.
PERFORMANCE: Only Fiberbuilt golf mats have been engineered to provide the exact same ball flight characteristics as a real grass fairway. Using Trackman, they have tested Fiberbuilt Grass vs the competition and a real grass fairway in terms of the following ball flight factors: club speed, ball speed, smash factor, spin rate, and launch angle. No one else comes close to the performance of Fiberbuilt.
INJURY PREVENTION: Traditional turf-based golf mats used at some driving ranges typically offer very little impact absorption and can actually be the root cause of golf injuries.
Other reasons that Fiberbuilt golf mats make the most sense:
Pro-tested & developed (Player Preferred)

Launch-monitor tested

Delivers realistic impact and ball-flight conditions

Easy, tool-free assembly

Premium aesthetics

Commercial grade golf mats at-home

A size for every space

Designed to work with variety of launch monitors and ball trays

Both center hitting and double hitting options to accommodate both right-and left-handed golfers

Natural roll

Real-tee use-just with performance turf or player preffered, friction fixed tee holder-accepts standard tee

Best quality with price-point options

Made modular

Any studio mats can be easily converted to a combo mat!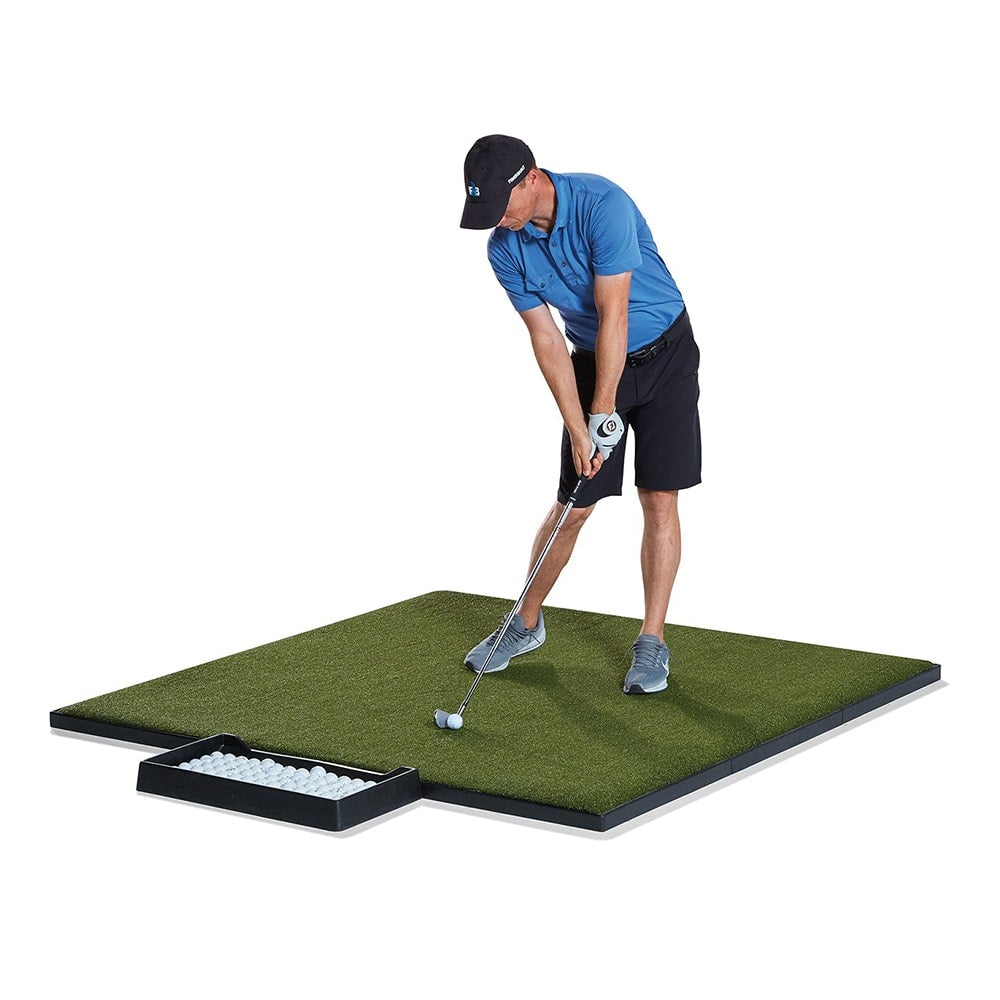 Fiberbuilt Performance Turf Series Mats
Limited space and budget for your indoor golf setup? Meet your golf hitting mat!
With a single, uniform turf surface throughout the mats for both stance and hitting, the Performance Turf Series delivers a great option for smaller spaces and budgets.
The surface also accommodates real tees to allow you to practice tee shots with every club in your bag.
Fiberbuilt's premium Performance Turf golf mats are constructed on a grippy rubber base for ultimate in traction, utility, and comfort.
Fiberbuilt's modular construction base is the the key to easy, quick, totally tool-free assembly you're going to love!
Shop Fiberbuilt Performance Turf Tee Boxes!
The Best Indoor Golf Putting Green
Fiberbuilt offers commercial-grade putting greens—enough said!
Improve your short game with Fiberbuilt Putting Greens. These commercial-grade solutions are available in a variety of rectangular and square options, allowing you to practice your short game anywhere you can find the space.
Constructed with a premium putting surface that sits on a rubber foundation, Fiberbuilt Putting Greens deliver true, natural roll with a superior feel underfoot.
And metal cups provide accurate targets and authentic sound!
Practice in your basement, patio, or backyard!
And remember, Fiberbuilt also has combo hitting mat and putting green systems in a variaty of sizes in both the Player Preferred Series and the Grass Series!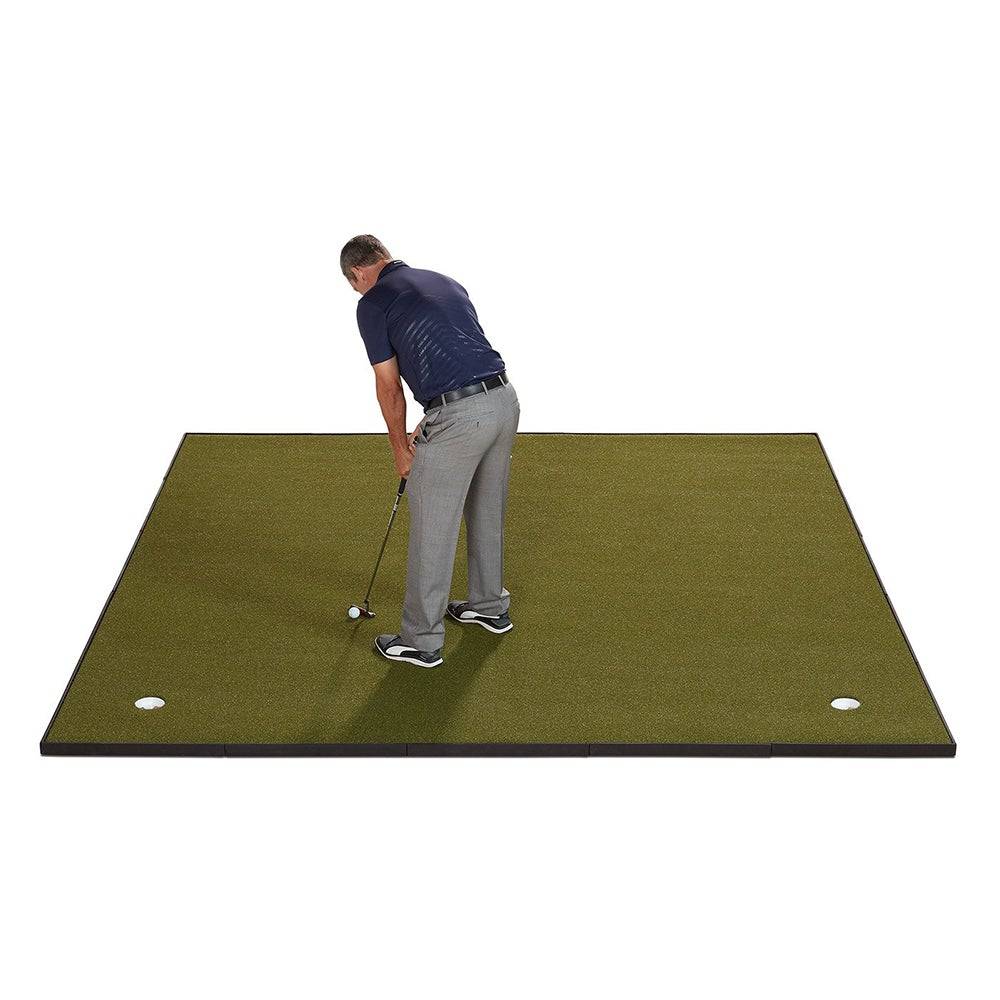 Can a Fiberbuilt Golf Hitting Mat Prevent Golf Injuries?
Traditional turf-based golf mats used at some driving ranges typically offer very little impact absorption and can actually be the root cause of golf injuries—including hand, wrist, forearm, eldbow, and shoulder.
Fiberbuilt golf hitting mats have been engineered to virtually eliminate "turf shock" caused by traditional golf practice mats, minimizing stress on the lead elbow and shoulder to reduce injury.
A study at the University of Calgary Performance Laboratory, Sports Medicine Centre reported that 90% of the participants using the Fiberbuilt Grass Mats felt it offered the most absorption and overall best quality. The golf mat simulates hitting off a lush fairway, therefore reducing the risk of injury.
Do You Need a Single-, Double-, or Center-Hitting Golf Mat?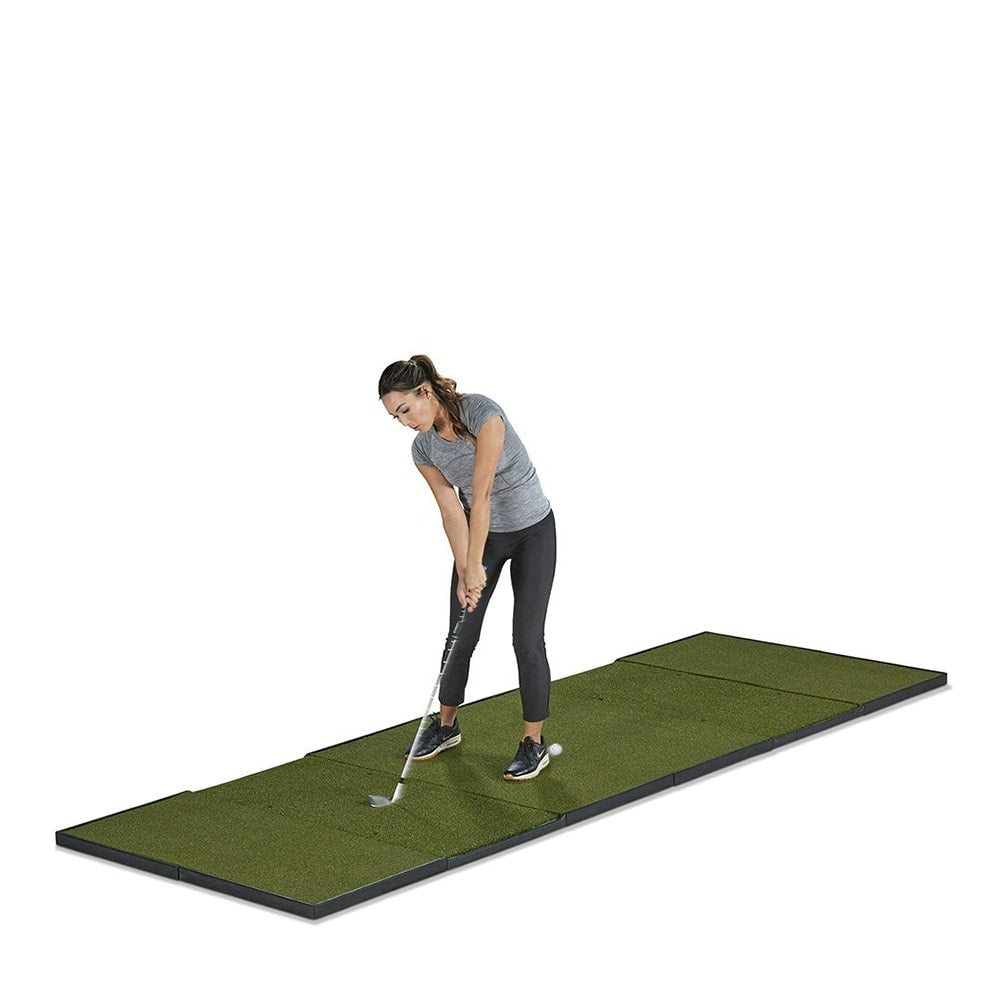 Have lefties and righties in and out of your home golf studio? A double-hitting mat might be your best bet!
Center-Hitting Golf Practices Mats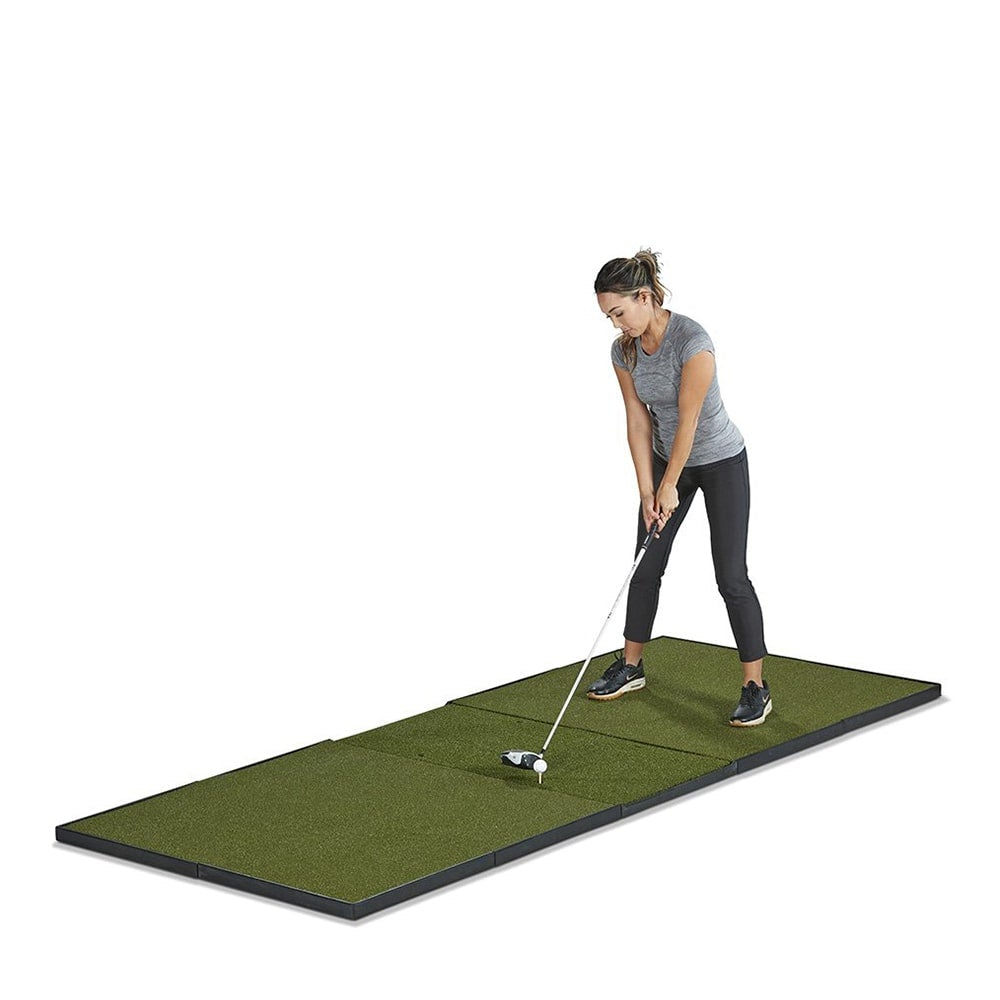 If a center-hitting golf mat will work for your home golf simulator, it can be used for left- or right-handed golfers.
Fiberbuilt Studio Golf Mat vs Outdoor Golf Mat
Fiberbuilt mats can be used indoors and outdoors.
That being said, the studio golf mats and the combo hitting mats, especially the larger ones are more ideal for indoor golf setups. They would be perfect for a covered outoor hitting bay or if you like to hit balls into a net off your patio or rooftop balcony. However, they are substantial enough to kill your grass if left in one spot for an extended period of time.
While Fiberbuilt removed weight with their ribbed design, the base is incredibly stable and non-slip, and as you can imagine, works best with a harder, flat surface. Also, the bigger mats will not be ideal for portability.
However, the Grass Series Hourglass Pro Hitting Mats offer a smaller, self-contained golf hitting mat experience that can be taken from the basement to the lawn to the garage to the front room ... wherever you can find space or take your portable golf launch monitor!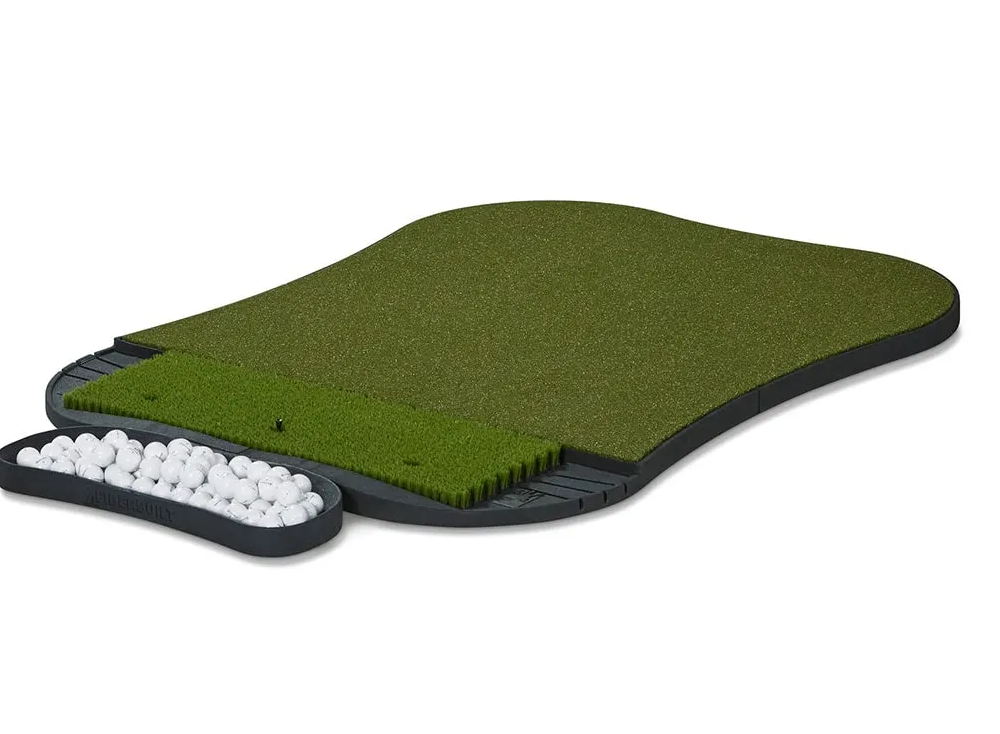 CHECK OUT OUR GOLF LAUNCH MONITORS & SIMULATORS
CHECK OUT OUR GALLERY OF GOLF GPS WATCHES
SHOP OUR COLLECTION OF THE BEST GOLF LASER RANGEFINDERS