9 Best Golf Watches for Men | Garmin, Voice Caddie, Bushnell & More!
We value your time, let us know what you're looking to accomplish.
Golf GPS watches mentioned in this article:
---
---
---
Get to Know the 9 Best Golf Watches for Men

Which are the best golf watches for men? The ones that give you access to the numbers and information that the pros have.
In this article we show you some very unique options that put course management on your wrist, inlcuding golf GPS watches from Garmin Approach, Voice Caddie, SkyCaddie, Bushnell Golf, and SkyCaddie
If you think it's worth knowing yardage to the front, middle, and back of the green, avoiding hazards, saving time on your round, taking less swings, and becoming more confident in your shots—then it's definitely worth getting to know these top 9 golf GPS watches!
Invest in a golf GPS watch on the PlayBetter Golf Store, where we have a direct relationship with these most-trusted brands, offer FREE 2-day delivery and FREE 60-day returns (no questions asked), and where top-notch customer service is par for the course, always!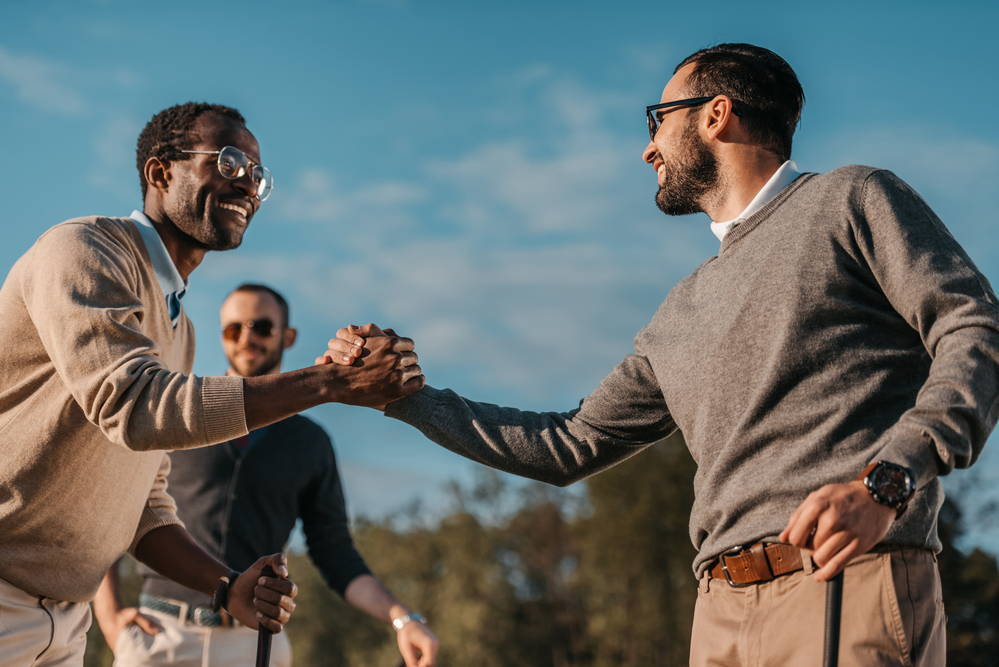 ---
---
The Best Overall Golf Watch for Guys
Get a 1.3" sunlight-readable easy-to-view display on the Approach S62 for accurate front, middle, and back GPS distances to the green plus hazards and dogleg location. But that's not all you can do with this Garmin golf watch.
Wear 42,000 worldwide courses (with auto courseview updates) right on your wrist. AutoShot game tracking and Green View allow you to keep better track of your game and manually drag and drop the pin to increase your accuracy. Furthermore, the PlaysLike Distance feature adjusts basic front-middle-back yardages for uphill, flat, and downhill shots. And even on blind shots, the PinPointer feature shows you on the screen which direction to swing.
Finally, Virtual Caddie factors in wind and suggests clubs for you based on the distance you normally swing for that club.
With the free Garmin Golf app, you can upload scorecards, review shot history, review performance stats, participate in weekly leaderboards, create tournaments, and save driving range sessions.
The Garmin Approach S62 is more than a golf watch; it's also a smartwatch with fitness and health-monitoring features. Keep track of your activity with step counter, calories burned, and distance traveled. Know yourself better with wrist-based heart rate, Body Battery™ energy monitor, and a built-in Pulse Ox sensor for blood oxygen saturation levels.
Get running, cycling, and swimming features—even activity profiles for skiing, snowboarding, XC skiing, stand up paddleboarding, and rowing. Plus, smart notifications, safety tracking features, and Garmin Pay™.
Approach S62 battery life is a hefty 14 days in smartwatch mode and up to 20 hours in GPS mode.
---
Most Stylish Golf GPS Watch
You're a guy who wants his watch to work for you on and off the course. The Garmin Approach S42 offers the features, function, and style of a high-end golf GPS watch for a mid-range price.
This Garmin Approach model has a sleek style and a slim form-factor for golfers who prefer less bulk on their wrist. Get this lightweight wearable without foregoing display size and easily see numbers to the front, middle, and back of the green.
The display is a 1.2" sunlight-readable color touchscreen. This Garmin GPS watch only weighs 1.5 ounces compared to the 2.2 ounces of the 1.3" Approach S62 model.
Robust golf features include AutoShot game tracking and Green View allow you to keep better track of your game and manually drag and drop the pin to increase your accuracy. This comfy golfers watch is also loaded with 42,000 golf courses worldwide, highly accurate yardage to the front, middle, and back of the green, a digital scorecard, custom targets, stat tracking, auto courseview updates, hazards and course targets, round timer/odometer, compatibility with automatic club tracking, and it's tournament legal!
Complement your wrist on and off the course and get smart notifications, weather, and calendar alerts wherever you are. Approach S42 battery life in smartwatch mode lasts up to 10 days and 15 hours in GPS.
---
---
Most Affordable Garmin GPS Golf Watch
Keep it simple on the course with the Garmin Approach S12 golf watch. For a very reasonable price, you can get nothing but you and Garmin's fundamental golf GPS technology on the links all day.
On a bright day, the Approach S12's sunlight-readable screen will connect you with your favorite on-course features. Plus, keep track of your score right on your wrist with this super-light Garmin watch.
Know the distance to the green—front, middle, and back. And with Green View, you can manually position the pin for even greater accuracy. Find yardages to hazards and doglegs as well. And you can do any of this on over 42,000 courses worldwide with S12's preloaded maps of golf courses.
Plus, you'll get a whopping 30 hours of power from the Approach S12's battery life. Want more options for your game? Pair the Approach S12 with the Garmin Approach CT10 club tracking sensors.
Get the golf GPS watch that's as focus on the game as you are—the easy-to-use Garmin Approach S12.
---
Best Display on a Golf Watch for Men
Be the guy with the largest HD color touchscreen available on a golf GPS watch with the SkyCaddie LX5 smart golf watch.
Access SkyGolf's advanced golf features on an amazingly bright AMOLED screen that is a stunning 1.39". AMOLED displays allow for more control over each pixel, resulting in richer blacks, enhanced viewing angles, and more power economy in darker watch faces.
Opt for the SkyCaddie LX5C GPS golf watch option, which sports a lovely ceramic bezel, if you want to add a touch more class to your wrist.
But this GPS watch from one of the most trusted brands in golf doesn't only offer an attractive screen and graphics. It's smart and fast too, evidenced by a solid lineup of features you are sure to love out on the links.
Slide the crosshair to any location on the hole to reveal critical distances to hazards, carries, and layups. Dynamic HoleVue automatically re-orients the entire golf hole and updates all distances from your position.
Save stokes with Dynamic RangeVue offering multiple yardage arcs that overlay fairway landing areas and greens to allow you to select the best club for every shot.
With SkyCaddie's patented IntelliGreen® technology, the exact shape of the green automatically rotates to match your angle of approach to provide the distances you need to hit more greens and avoid 3-putts.
Get instant response with the LX5 and LX5C models' ultra-fast multi-core processor.
Get ground-verified, error-corrected maps with over 35,000 preloaded courses.
Take advantage of the digital scorecard and stats in SkyGolf® 360 Cloud.
Also get Bluetooth® and Wi-Fi connectivity, multiple watch faces, heart rate monitor and step counter with distances, and enough battery life for up to two rounds.
Buy now and get a 3-year worldwide membership providing real-time updates to over 35,000 ground verified course maps and SkyGolf 360 Cloud Service for performance tracking and analysis!
---
Best Deal Golf GPS Watch for Men
The ION EDGE is a through-and-through golf watch for a very affordable price. This Bushnell Golf GPS is created specifically for the golf game, is super easy to use, ultra accurate, and isn't weighed down by a million features, modes, and settings that have nothing to do with golf.
Get more time on the course between charging with longer battery life—15+ hours compared to the previous ION2 Bushnell golf GPS watch.
The ION EDGE GPS golf watch sports a NEW touchscreen display, allowing you to easily cycle through features like GreenView with moveable pin placement, Dynamic Green Mapping with front and back distances shown based on a golfer's line of play, a super handy shot distance calculator, and auto hole advance.
Get up to 6 hazard distances per hole, plus 38,000+ preloaded courses worldwide.
Access useful features with the Bushnell Golf App—free with your purchase. This includes Hole Layouts with Distances and 3D Flyovers with Distance!
With auto course recognition, the course shows up on your ION EDGE GPS watch as soon as you show up, with auto course updates via the Bushnell Golf App.
---
---
Feature-Loaded Golf GPS Watch
The Voice Caddie T8 is the most advanced, ultra-premium smart golf watch that this innovative golf tech company has to offer! If you want progressive golf features and a unique experience on the course, keep reading.
The T8 is loaded with Voice Caddie's proprietary A.I., algorihtm, Smart Course View, and Smart Green View features. New to this watch is the the Putt View feature that allows you to visualize your putt with Green Undualtion and distance from where you're putting. Also new, is the Ball icon that, when touched, will show you the undulation and the distance to the pin from the ball.
Get auto-displays as you progress from tee-to-hole. At the teeing ground the T8 auto-displays the course preview. When approaching shots, it auto-displays the Smart Green View. On the green, the Putt View displays. And after your shot, you'll see your swing tempo.
Manage your course experience with Smart Course View. Study the hole layout from the tee box and get useful information like driver landing area and distance to hazards.
Attack the green with Smart Green View. The green rotates to your location. With a more realistc view of the green's undulation, you'll be able to see the breaks. You can also reset the pin location. And arrows help you understand the degree of slope.
Swing in comfort with a lightweight (1.7oz), ergonomic design.
---
Golf Watch with Slope and Green Info
Learn more about the green with the Voice Caddie G1 smart GPS golf watch that offers Green Undulation, slope, and much more! Plus with a full color touchscreen that has LCD and Night mode for a clear display day and night!
Get around false fronts and significat changes on the green with Green Undulation. This Voice Caddie feature uses satellite imagery to heat-map the slopes of the green and displays color shaded data on watch (red is highest points, blues are lower).
Make better shots with course layout views (yardages to hazards and bunkers), and, of course, become confident in your shots with GPS distances to the front, middle, and back of the green.
Plus, the G1 automatically reconizes the hole and calculates the slope. When tournament mode is enabled, only actual distance will show. Touch the pin to change pin loacation with customized pin placemnt.
Get your location and distances quickly with Assisted GPS!
---
Best Hybrid Golf Watch for Men
The Voice Caddie A2 Hybrid golf watch offers advanced technology for active golfers. This gorgeous golf GPS watch offers Green Undulation, Slope, and Course View with a full color touchscreen.
Get around false fronts and significat changes on the green with Green Undulation. This Voice Caddie feature uses satellite imagery to heat-map the slopes of the green and displays color shaded data on watch (red is highest points, blues are lower).
Choose between Auto Slope Mode (for intant slope-compensated distances) or Tournament Mode for straight actual distances.
Get smart course management with Smart Course View and take advantage of Course Zoom, Aim Point, Drive Landing Area, and Shot Distance.
Take a strategic approach to the green with Smart Green View, which includes Green Undulation, Pin Reload, and Active Green View.
Access 40,000 worldwide golf courses for no annual fee.
The clean, ergonomic design is perfect for your active lifestyle with a sturdy white band, durable and elegant black bezel, and a battery as strong as you!
---
Most Affordable Golf GPS Watch
Shot Scope G3 is an advanced, strictly golf watch for a not-so-advanced price.
This all-golf wearable comes with built-in automatic shot tracking and statistics platform. Front, center, and back GPS distances and hazards are clearly visible on the daylight-readable color screen, while the Power-Sense strap and tracking tags ensure every shot is recorded automatically while you play.
After your round, upload and analyze over 100 statistics on your game with the free mobile app and web dashboard statistics platform, including strokes gained analytics. Complete with over 36,000 preloaded courses worldwide and no additional costs or subscriptions, Shot Scope G3 is a golf GPS watch loaded with features that are sure to help you improve your game!
---
Best Golf Watches for Men — Quick Highlights
Best Overall Golf Watch Guys
WHY? Accurate GPS Distances, 42,000 Courses, Virtual Caddie, PlaysLike Distance (slope), Manual Pin Positioning
Best Deal Golf GPS Watch for Men
WHY? GPS Distances, Dynamic Green Mapping, Manual Pin Positioning, 6 Hazard Distances per Hole, 38,000 Golf Courses