Nikon COOLSHOT PROII Stabilized vs Bushnell Pro XE | 2021 Rangefinder Comparison
Which Is the Best High-End Laser Rangefinder?
We Compare Two Brand Giants in Sport Optics.
Do you need a high-end (aka more expensive) golf laser rangefinder to get accurate distances? Of course not. You can get a mid-range model and get satisfactory measurements all day. But if you've ever looked through a top of the line golf laser like those made by sports optics experts like Nikon and Bushnell, the difference is immediately apparent. And if you've tested one out on the course, you might be spoiled for anything less than the best.
High-end rangefinders provide an edge with their greater accuracy, speed, and ultra-bright display clarity. Plus other features that you don't know you love until you try them — like a mounting magnet or stabilization that reduces hand shake. Nikon recently dropped their 2021 golf laser rangefinders, including their most advanced model, the Nikon COOLSHOT PROII STABILIZED, along with the COOLSHOT 50i.
In this article, we focus on the upper echelon of laser rangefinders for golf with a comparison of the COOLSHOT PROII STABILIZED vs the Bushnell Pro XE.
Read on to check out the similarities, the differences, and what makes each of these models the the best in the high-end segment of golf rangefinders.
---
The Nikon COOLSHOT PROII STABILIZED
and the Bushnell Pro XE
Both of these top of the line golf rangefinders offer slope adjustment so you can factor a hole's incline/decline into the yardage.
Double Confirmation of Pin Location

Target the flagstick with confidence. Proprietary technology in the Nikon and Bushnell rangefinders provides two kinds of confirmation that you've locked onto the pin.
Each of these high-end rangefinders provides near-instant, accurate measurements in a glorious display time after time on the golf course.
Get consistently accurate measurements within a yard of you target over and over again, whichever model you choose.
These high-performance Nikon and Bushnell laser rangefinders offer competition approved settings with indicators proving that slope is disabled.
Whether you go team Nikon or Bushnell, know your golf laser rangefinder investment is protected by superior, waterproof design and construction.
---
Advanced Optical Stabilization System

Hand shake and wind won't interfere with your smooth, stress-free measurements on the course. Get Nikon's essential stabilization technology only in the COOLSHOT PROII STABILIZED!
Outsmart the elements and take strokes off your game with Bushnell's Pro XE Slope with Elements. Not only can you factor a hole's incline or decline into your yardage, you can account for elevation pressure and temperature too!
The COOLSHOT PROII STABILIZED uses an Actual Distance Indicator (ADI) LED to indicate that slope is off. The Pro XE slope switch reveals a red crescent when slope is enabled (see pictures below).  
While Nikon decided to forego magnet mountability in this model, Bushnell did not underestimate how much golfers love this grab and go feature!
While originally even more expensive, the Bushnell Pro XE laser rangefinder is about $50 more than the Nikon COOLSHOT PROII STABILIZED, which is $350.00.
The Nikon COOLSHOT PROII STABILIZED rangefinder offers a 5-year warranty — one of the best in the industry. The Bushnell Pro XE comes with a 2-year limited warranty.
About the New Nikon COOLSHOT PRO STABILIZED Laser Rangefinder

Reduce Hand Shake by 80% with Stabilization
Don't let annoying hand shake or wind knock you or your high-end technology out of play. Nikon has solved the problem of outside disturbances shaking their brilliant and accurate display. They created an advanced optical stabilization system for their top tier of golf laser rangefinders. You've earned your time on the course. You come to perform. Why shouldn't your rangefinder do the same? That's what you can expect from the optics experts at Nikon.
Keep the Game Moving with HYPER READ Technology
Get near-instant measurements (approx. 0.3 seconds) that are comfortably visible within the bright, crystal-clear OLED display. This lightweight rangefinder gives you super-quick reads with HYPER READ technology, so you can focus on your shot options without getting slowed down by your golf gadget.
Dual LOCKED ON EHCO Technology
Targeting the pin? DUAL LOCKED ON ECHO technology gives a visual cue plus a pleasant audible confirmation to let you know you're measuring the flagstick, not a tree or other object 20 yards behind it.
Slope Adjustment
Turn on ID (incline/decline) mode, and your distance will factor in slope, crucial for uphill and downhill shots. When slope must be off for competitive play, an onboard Actual Distance Indicator (ADI) LED signals compliance.
Technology from the Camera and Lense Pros
Nikon has been a world-leader in optics for more than 100 years. The COOLSHOT PROII STABILIZED golf rangefinder display is wide and bright, with multi-layer coated optics that provide 6X magnification and a long eye relief, an advantage when wearing eyeglasses or sunglasses (with built in diopter adjustment for fine tuning).
Fast and accurate distance to the pin is comfortably visible within the bright, crystal-clear OLED display.
Continuous Measurement Mode
Get the lay of the land! Press and hold the power button to see distances in real time as you survey your surroundings (up to 8 seconds). Know the exact distance of trees, water features, sand traps and other hazards.
Waterproof and Fogproof
A little bad weather doesn't run you off the course or keep your COOLSHOT PROII STABILIZED laser rangefinder from performing. And, at your level of play and this level of technology, you've got no time for fog on your lense either.
---
About the Bushnell Pro XE Laser Rangefinder
Get an Edge with Elements
The innovators at Bushnell have taken slope compensation to the next level with their Elements feature — that's the "E" in Pro XE. Temperature and elevation above sea level (Barometric pressure) have been added to their patented Slope technology to give golfers even more precise compensated distances.
Slope-Compensated Distances
The top sports optics rangefinder has an enhanced slope algorithm to provide golfers with even more precise distances to account for the hole's incline/decline.
And it's tournament legal when you need it. Most tournaments don't allow slope adjustment. Slope-Switch Technology lets you easily switch in and out of Slope mode. The red crescent next to the switch shows that slope is disabled.
BITE Magnetic Cart Mount
Integrated BITE magnetic technology in the Bushnell Pro XE golf laser rangefinder allows you to easily grab and reattach the rangefinder to the cart, so you can focus on the next shot.
Confirmation When the Laser Locks In
Know when you've targeted the flagstick with Bushnell's PinSeeker technology with JOLT. Get double the confirmation with a visual flashing red ring and a vibrating pulse.
Game-Changing Clarity
With its 7x magnification, stunning definition and vivid color, the Pro XE rangefinder will elevate your sightline and your game!
Accuracy and Precision
You can trust Bushnell technology for precise distances with yardage accuracy within 1-yard.
Waterproof Construction
The Bushnell Pro XE golf rangefinder has an IPX7 full waterproof rubber armored metal housing.  
---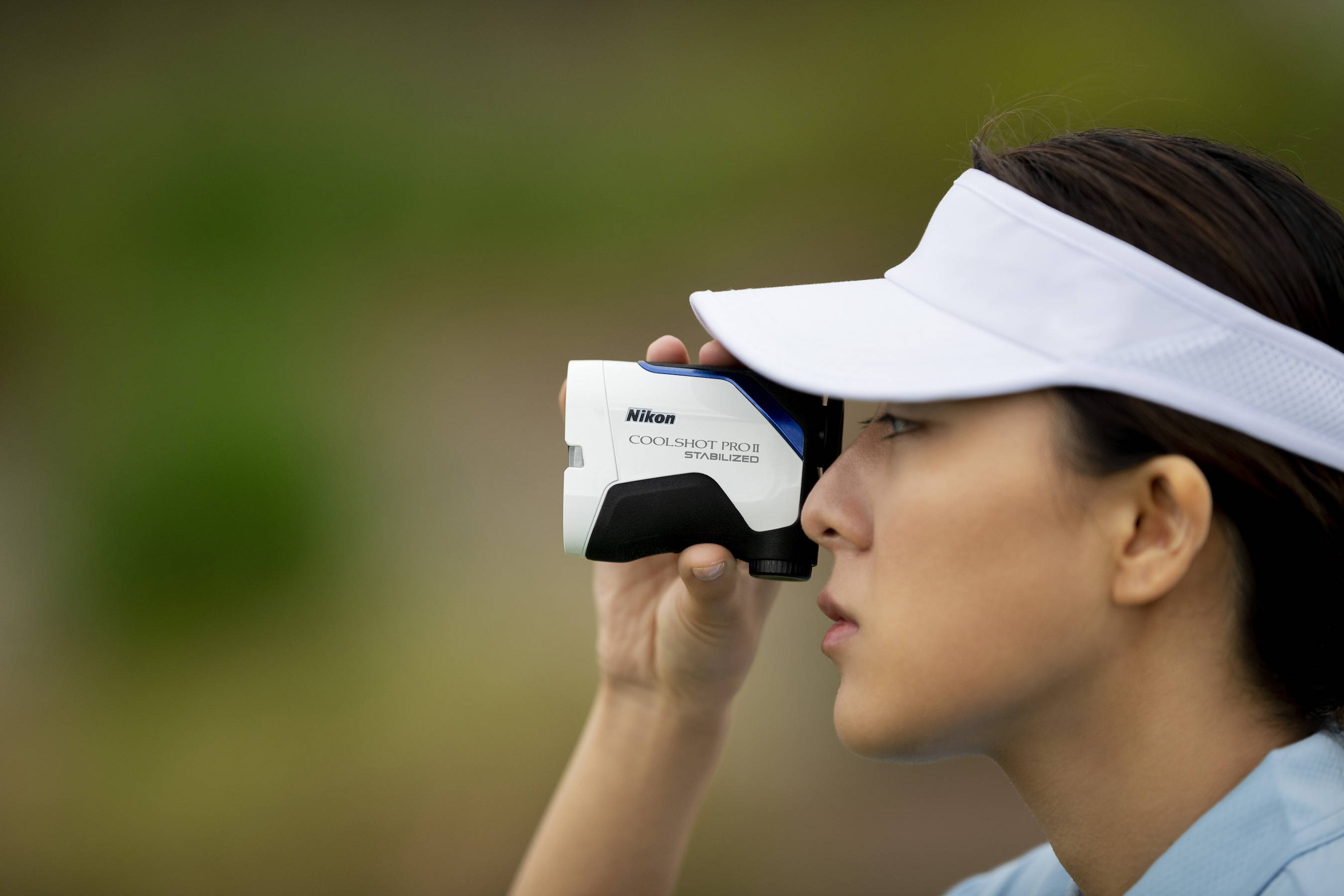 You Can't Go Wrong with Nikon or Bushnell
If you're in the market for the very best golf laser rangefinder in the high-end segment, you can't go wrong with either of these models.
Both the Nikon COOLSHOT PROII STABILIZED and the Bushnell PRO XE will give you an edge — no doubt about it. Your decision will likely come down to which edge suits you more. If you frequent a variety of courses, Bushnell's Elements feature might be a no-brainer. If you have issues with hand shake, the COOLSHOT PROII STABILIZED is a game-changer.  
We've provided you with a comparison and further analysis of the unique and impressive features for both of these top rangefinders to help you decide. For more options, check out our extensive line of rangefinders to find the one that has the edge with your name on it!
---
Free 2-Day Shipping
Free Buy & Try 60-Day Returns
on PlayBetter.com
Free 2-Day Shipping
Free Buy & Try 60-Day Returns
on PlayBetter.com