Now Available! Trusted Bushnell Golf Rangefinder Technology on Your Wrist.
Learn, Compare, Buy, Explore.
Introducing the 2022 Bushnell iON Elite — A Golf GPS Watch Featuring Advanced Slope Technology & Wind Data
Try the Bushnell iON ELITE with Free 60-Day Returns + Free 2-Day Shipping—always on PlayBetter!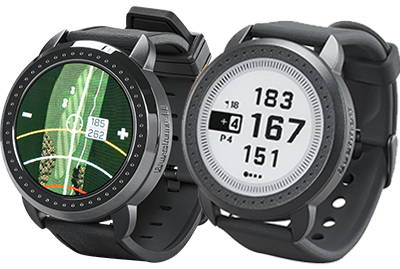 Compare Bushnell iON Elite
How advanced is this new GPS watch from Bushnell golf? And how does it compare with the iON Edge and other golf watches?
Coming Soon! iON Elite Review
Now Showing: Bushnell iON Elite review. See it in action from our go-to golf reviewer, Gabe, at Let's Play Thru.

---
Bushnell iON Elite | Table of Contents
---
Bushnell iON Elite Review from Gabe at Let's Play Thru
---
---
About the Bushnell Golf Brand
Bushnell is the creator of the #1 rangefinder in golf. 
But don't take our word for it.
The Darrell Survey, one of the most respected research firms in golf, has confirmed that Bushnell is the rangefinder of choice for more professional tour pros and caddies than any other.
98% choose Bushnell in the PGA. That's not just popular ... that's proof of quality and accuracy backed by the pros!
And now, you can experience some of that most trusted rangefinder technology in the new Bushnell iON Elite golf GPS watch.
Read on to learn more about features like slope with "Elements" and wind data in this 2022 golf watch.
New Features on the Bushnell iON Elite Golf Watch
Get tour-trusted distances with the iON Elite.
It is the first ever GPS watch with "Elements" compensated distances, which doesn't just factor in slope, but accounts for temperature and barometric pressure (altitude).
You'll also get wind data, which provides headwind, tailwind, and crosswind data based on the golfer's line of play.
This stylish watch also features a color touchscreen display.
Additionally, you get hole maps with shot planning.
iON Elite Full Feature List
Get the evolution of a Bushnell golf watch with the slope technology of their most trusted rangefinders.
Bushnell Golf's Patented Slope Compensated Distances

Dynamic Green Mapping (front/center/back distances based on golfer's line of play)

Color Touchscreen Display

GreenView with Moveable Pin Placement

Hole Maps with Shot Planning

38,000+ Preloaded Courses

Scorekeeping with Statistics

Auto Course Recognition

Auto Hole Advance

Shot Distance Calculator

12+ Hour Battery Life

Bushnell Golf Mobile App Included
Compare Bushnell iON Elite vs ION Edge
Bushnell golf watches put ease-of-use and the features golfers want in a GPS wearable.
Both of these golf watches are easy to use and have next-level features like:
Large, easy-to-read front, middle, and back distances to the green

40,000+ preloaded courses

GreenView with movable pin placement

Dynamic green mapping for distances based on the golfer's line of play

Additional benefits with the free Bushnell Golf app

Auto course recognition and auto hole advance

Shot distance calculator

Scorekeeping
The Bushnell iON Elite puts even more on your wrist with:
Slope with Elements compensated distances

Wind data

Hole maps with shot planning

Color touchscreen display
And, of course, there is the difference in cost.
Bushnell iON Edge Price: $149.99
Bushnell iON Elite Price: $299.99
New Color Touchscreen Display
Finally, Bushnell puts a stylish color touchscreen on your wrist.
The brand that prides itself on easy-to-use, precision-based golf gadgets is upping the ante in the style department.
The iON Elite features a highly responsive color touchscreen display while offering a simple, icon-driven user interface.
The sleek, modern design and durability of this new Bushnell golf GPS wearable allows it to also be worn as an eye-catching everyday timepiece with a visual clock face off the golf course.
Slope Technology on the Bushnell iON Elite
Get slope-adjusted distances like no other GPS watch in golf.
The iON Elite's built-in slope offers more precise compensated distances to account for a hole's incline or decline providing golfers with even more precise yardages.
But this golf watch doesn't stop there. Bushnell's patented Elements technology is also packed in to account for temperature and barometric pressure (altitude) as well when calculating slope disance.
A clearly visible blue ring surrounds the screen to let you know that slope distances are being calculated and displayed. Purple ring indicates slope with Elements is calibrated, and an orange ring shows that no slope is showing.
You can easily disable Slope Technology to make it legal for tournament play.
Bushnell iON Elite Golf GPS Watch Wind Data
Outsmart the wind with the Bushnell iON Elite.
The wind data feature provides headwind, tailwind, and crosswind data based on the golfer's line of play.
GreenView and Green Mapping on the iON Elite
Get more precise distances to the flag and make more strategic decisions with iON Elite!
GreenView with moveable pin placement lets you cycle through the different pin locations and select the one you want for a more precise distance to the flagstick.
Dynamic Green Mapping provides distances to the front, center, and back of the green based on your line of play.
Get extra information with a view from above the hole.
A simple tap provides access to a visual layout of the current hole in play allowing you to understand what lies ahead for blind shots or doglegs.
Bushnell iON Elite Battery Life
Play 2+ rounds with the Bushnell iON Elite on a single charge.
The iON Elite provides 12+ hours of battery life.
This is a little less than the 15+ hours of the Bushnell iON Edge golf watch, but considering the added benefits of the new features on your wrist and the addition of a color touchscreen, it will likely seem like a small sacriface after a day of golfing with this GPS wearable that is like no other in golf.
Bushnel Golf App Features
Take advantage of the new Bushnell Golf Mobile app.
The Bushnell Golf app provides additional product benefits, information and data to further help improve your game, as well as access to easily be able to update your GPS device (for 2021 GPS products and beyond).