Shop our top 5 home golf simulator setups on PlayBetter! Financing available!
Learn, Compare, Buy, Explore.
Best Golf Simulator for Home in 2022. Complete Packages for Bushnell Launch Pro, SkyTrak, FlightScope Mevo+ & More!

Buy Bushnell Launch Pro Golf Simulator for Home

A Bushnell Launch Pro simulator is quite an investment. But if you want the best home golf setup, it's the way to go!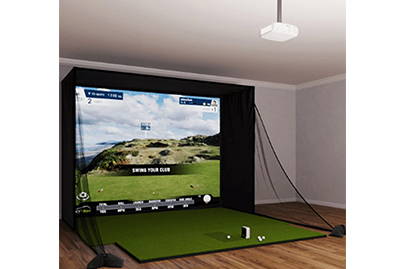 Buy a SkyTrak Complete Golf Simulator Package
Give yourself the ultimate golf gift with a SkyTrak home golf simulator. You only need a 10'(W) x 16'(L) x 9'(H) space for maximum fun!
Buy FlightScope Mevo Plus Home Golf Simulator Package
Get a super-accurate, super-portable FlightScope Mevo+ complete simulator package for your indoor/outdoor setup.
MORE HOME GOLF SIMULATORS FOR SALE ON PLAYBETTER!
Tiger Woods's Launch Monitor — Full Swing KIT Simulator Package
Garmin Approach R10 Golf Simulator Packages
FlightScope Mevo+ Pro Plus Package Upgrade (Software Only)

---
Best Golf Simulators for Home | Table of Contents
---
PlayBetter SIG Complete Golf Simulator Packages fo Home

At PlayBetter, we offer complete home golf simulator studios in 3 space sizes:
PlayBetter SIG8 Simulator Package: 10'(W) x 16'(L) x 9'(H)

PlayBetter SIG10 Simulator Package: 12'(W) x 18'(L) x 9'(H)

PlayBetter SIG12 Simulator Package: 14'(W) x 20'(L) x 10'(H)
Each SIG golf simulator studio includes:
Golf hitting screen

Simulator enclosure

Side barrier netting

Landing pad turf

Choice of golf hitting mat

HD 1080 Golf Simulator Projector

Ceiling mount

15' HDMI

HDMI to lightning cable
Purchase these complete golf simulators separately or bundle with one of the best golf launch monitors of 2022 below!
Bushnell Launch Pro Golf Simulator Packages
The Bushnell Launch Pro is near GCQuad quality golf technology for not nearly the price.
This is a Bushnell device powered by Foresight Sports. Translation? It's the best launch monitor you can get for your in-home simulator in the 4-fugure price range.
And when you pair it with a PlayBetter SIG12 golf simulator package, you're never going to want to leave home.
As a triscopic camera-based unit, you won't need extra feet behind the ball to use it.
To make it the center of your indoor golf studio, you will need a gaming computer and either the Silver or Gold subscription plan for the Foresight Sports simulation software.
Yes, it's an investment. But one well worth it.
SkyTrak Home Golf Simulator Packages
SkyTrak is one of the most popular simulation tools on the market—and for good reasons.
It integrates with a wide variety of simulation software options for both iOS and PC. No gaming computer necessary like with the Launch Pro.
This photmetric golf launch monitor (not doppler radar) doesn't need any extra space behind the ball.
All you'll need is at least a 9'-ceiling you can swing freely under and 10'x16' space for the PlayBetter SIG10 complete simulator package.
Smash the button below to find out how you can start smashing golf shots at home!
FlightScope Mevo Plus Complete Simulator Setup
The FlightScope Mevo+ is the solution for anyone who wants simulation software options and LOADS of data from the golf launch monitor side!
Choose from E6 Connect, TGC, or Creative Golf 3D simulation software options when you buy a Mevo+ SIG10 golf simulator package.
Plus, this highly portable and super-accurate unit provides 16 data points whether you're in your indoor studio, in your backyard golf setup, or at the range.
And things get magical when you add the FlightScope Mevo+ Pro Package upgrade with improved accuracy and 11 more data points!
Hit the button below for more details!
Garmin Approach R10 Indoor Golf Simulator
Shave $1,400-$3,400 your overall home studio cost with a Garmin Approach R10 golf simulator package.
Get the super affordable golf launch monitor that is compatible with E6 Connect, Awesome Golf—plus, get Garmin's own Home Tee Hero simulation software with a Garmin golf membership for only $99.99 a year or $9.99 monthly. Try it for free for 30 days!
The Garmin R10 is easy to set up and super portable for when you want to track your metrics in the backyard or at the golf range.
And play virtual courses all over the globe in your indoors golf setup during the off-season. It can be that easy!
Full Swing KIT Home Golf Studio Packages
Hey. Psst. This is Tiger Woods's golf launch monitor.
He doesn't just own it. He actually asked Full Swing to create the KIT according to his standards.
And now Tiger's launch monitor offers integration with simulation software. All you'll need is an iPhone or iPad and an E6 Connect subscription.
Now on PlayBetter, you can order a complete Full Swing KIT SIG golf simulator package—and practice at home like one of golf's greatest.
You will need 10' behind the ball and 8' from ball to screen/net.
Thinking about an outdoor simulator setup? PlayBetter has all the equipment you need.
We recommend the Net Return Pro Series V2 golf hitting net package that comes with one of the best practice nets on the market, plus:
Side barriers

Pro Turf — 6' Wide x 10' Long (42 oz. Nylon / 54 lbs. / 3/4" Thick)

Two Rubber Tee's - 1.75" and 2.25"

4 x Sandbags

Duffle Bag
One-person net set up takes only 5 minutes!
Then choose a golf launch monitor to complete your outdoor simulator:
Garmin Approach R10 Practice Golf Setup
Need a more affordable simulator setup to practice your golf game anywhere?
We recommend you DIY your own Garmin Approach R10 practice package.
With a Net Return Home Series V2 golf package, you'll get an easy-to-set-up practice net and turf mat that can go anywhere.
The Approach R10 comes with a phone mount that easily attaches to your golf bag so you can see your data or play virtual rounds on the Garmin Golf app.
You'll have your own pop up simulator anytime and anywhere you want!
Financing for Home Golf Simulators on PlayBetter
Interested in financing a home golf simulator package? PlayBetter can help!
Before you check out on PlayBetter.com, you can prequalify with Affirm and choose a way to pay over time.
Affirm allows you to budget for more expensive purchases that you may not otherwise feel comfortable purchasing.
Plus, there is often an option to select a shorter, interest-free installment term.
Longer terms will add interest, but you will know exactly what you owe and how long it will take to pay off.